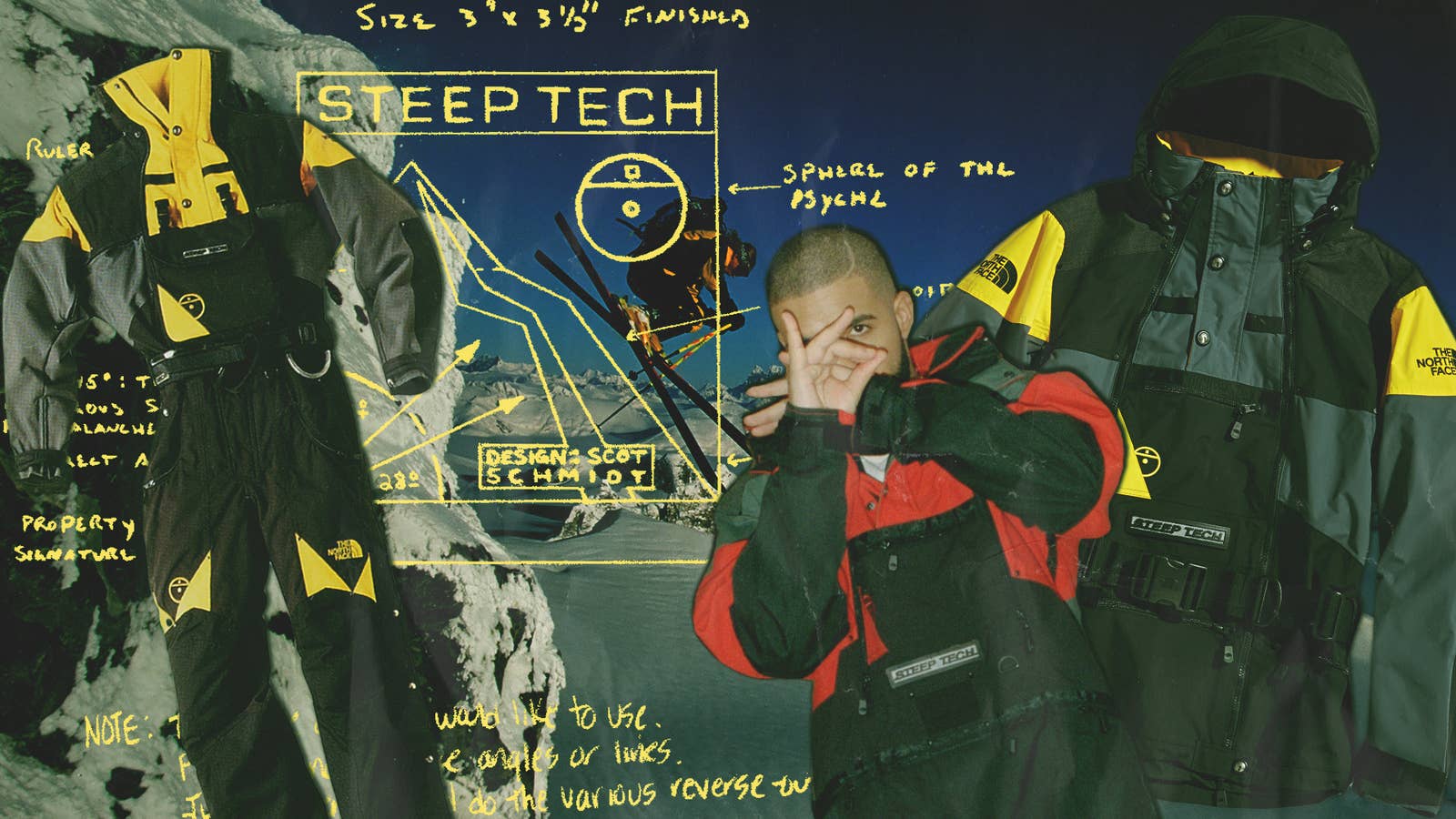 When freeskier Scot Schmidt pitched The North Face his own line of skiwear in the late '80s, he faced some harsh critics. 
Schmidt arrived at The North Face's headquarters with pieces of skiwear heavily reinforced with materials like Cordura, a fabric seldom used for ski apparel. Dense plastic foam pads were even built into the knees, shoulders, and elbows, which were meant to withstand the impact of rocks and tree stumps hidden beneath snow. He also presented these unconventional samples alongside garments that inspired his designs, like European motorcycle jackets and parachutist suits. It was something The North Face team had never seen before, or considered. 
When Dave Wachs, a graphic designer who helped Schmidt create his first samples, flipped through storyboards depicting Schmidt as a skiing superhero with body armor on, he remembers one product designer responding disdainfully to the collection
"She said something like, 'You guys don't understand that The North Face isn't about fashion. Our heritage is mountain climbing, alpinism and mountaineering,'" says Wachs. "It got kind of heated and I said: 'Well, it is fashion. If it's not, why do you make the same jacket in different colors?' That woman turned fluorescent red, she hated my guts. I wasn't trying to take her job or anything, we were just trying to bring something different to the table."
Not only did Schmidt and Wachs bring something new to the table, but they revolutionized skiwear and The North Face forever. This winter, The North Face relaunched Steep Tech, a skiwear line designed by Schmidt that was first released in 1991, killed in 1998, revived in the 2000s, and has sporadically popped up since 2007. Steep Tech helped The North Face build a cult following in cities, pursue ambitious collaborations with luxury fashion houses like Gucci and streetwear brands like Supreme, and even became an early predecessor to contemporary functional outerwear designs known as techwear today. But one of the brand's most impactful lines almost didn't happen. 
"It was a little difficult because nobody was building anything like that back then. It was a pretty complex design," remembers Schmidt. "The designers kept saying, 'This is too complex, there are too many pockets, and too many functions. We don't think we can do it.'"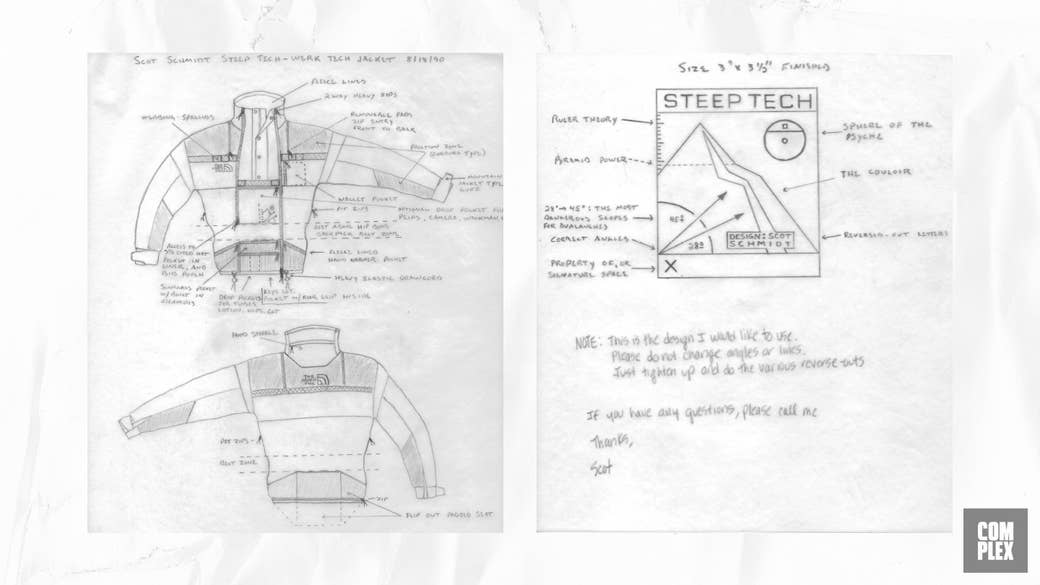 "[Steep Tech] became a benchmark. It was proof that you could make something extreme, without compromise, even if everything else in the market was just a sea of blandness."-Errolson Hugh
Schmidt wasn't a trained designer; he was a pioneering freeskier from Helena, Montana known for jumping off cliffs as tall as the Sears Tower into powder snow at over 50 miles per hour. He first rose to fame in the early '80s for skiing off a mountainous ridge called the Palisades on the slopes of Squaw Valley, an official Olympic Training Center in California. Although Schmidt originally moved to Squaw with dreams of becoming an Olympic ski racer, he quit racing to join a burgeoning freeskiing scene where long-haired skiiers went down dangerously steep gorges, or couloirs, at 60-80 miles per hour. In 1983, The North Face became Schmidt's first sponsor and outfitted him in skiwear that he famously wore in movies by Warren Miller and Greg Stump. But Schmidt, who is still The North Face's longest-sponsored athlete, thought '80s North Face skiwear was good but not ideal for a skier who was really ski mountaineering. Schmidt wasn't taking lifts at ski resorts. He was trekking up mountains so steep that he sometimes needed helicopters to drop him onto high peaks. He skied in restricted areas where life-threatening avalanches were always a possibility. He needed something tougher to wear. 
"I was stitching and sectioning off areas [of my ski suit] to make sure my backpack and harness didn't cover anything. It was that first North Face Extreme Gear suit that spawned Steep Tech," says Schmidt. "I wanted to make something like the Carhartt jacket of the ski world. Like a working man's mountain jacket. Having a cool look was unexpected and a byproduct of what I was attempting to do. For me, it was about function."
Wachs, one of Schmidt's closest friends, was working at Nike Design during the launch of the Air Jordan brand. Wachs was a climber and avid skier himself, who first hired Schmidt to work as a ski tech at a shop in Helena, Montana years before Schmidt became a famous skier. When Wachs realized there weren't any American ski heroes built into the marketing of ski products, he saw a business opportunity for his close friend.  Although Nike shut down his pitch to build an Air Jordan-esque brand around Schmidt, Wachs knew what Schmidt was designing and knew he had the star power to be the "Michael Jordan of skiing."
"We had this idea to approach The North Face with a really good product design. But to make it legitimate, it needed Scot's name on it," remembers Wachs, who helped create the first storyboards, concepts, and samples for Steep Tech. "Because how many people would say: 'I need Cordura knees and elbows because I'm scrubbing off speed in icy and rocky couloirs.' People wouldn't just make that connection. But once you see him doing it and using it, it makes perfect sense."
But even if Steep Tech, which was originally named Landing Gear, was connected to one of the world's most popular skiers at the time, it did not take off at first. After their tense initial pitch meeting, it took nearly four years to bring Steep Tech jackets to the market. Steep Tech wasn't just heavily criticized by purists and skeptics at The North Face—it was also unlike any garment the brand produced before. 
"This was the most complicated ski-specific garment system that the company had ever attempted," remembers Lee Turlington, who worked at The North Face from the late '70s into the early '90s, and was the brand's skiwear director at the time. "It had a lot of components that were difficult to construct and that was a challenge. For this to be authentic to Scot, and to be informed to the highest degree of functionality, we had to work really hard to keep the integrity of the concept all the way through to the end." 
Schmidt's original drawings for the first Steep Tech Work jacket and ski bib included over 50 notes that meticulously detailed the layout of his garments. An excessive amount of zippers and pockets, which were designed to Schmidt's personal specifications as an extreme skier, define the look of Steep Tech jackets. His vision included 10 pockets specifically marked to hold avalanche beacons, keys, a wallet, a knife, and even tubes of ChapStick or lotion. Loops and nylon daisy chain webbing were labeled to hold essential tools like ice picks, radios, and water bottles. Schmidt even shaded sections of his garments as "friction zones," which were areas he wanted to reinforce with Cordura fabrics, rather than regular nylon, to make the jacket tougher and abrasion-resistant. Additional features like removable shoulder pads and flip-out padded seats attached to the back of the jacket made it one of the most ambitious designs for The North Face to produce. 
"In those days you would send sketches and prototypes to China and then wait months for a sample to arrive back of their interpretation. This process was a little frustrating because it was really hard to get the jacket right since it was so complicated to begin with and mixed with communicating long distance," says Schmidt. "In the end we did a pretty good job, but if we had a little more time, it could have been more dialed in I would say. The North Face said: 'We'll do a limited run for you and a few of the guys but we don't think we'll sell many of them.'"
When the Steep Tech jacket first hit stores in 1991, it was the most expensive piece of skiwear sold by The North Face and quickly became a status symbol on ski slopes in America. In 1994, a Steep Tech jacket and ski bib cost $740, approximately $1,322 today. The line was a hit and sales grew right away.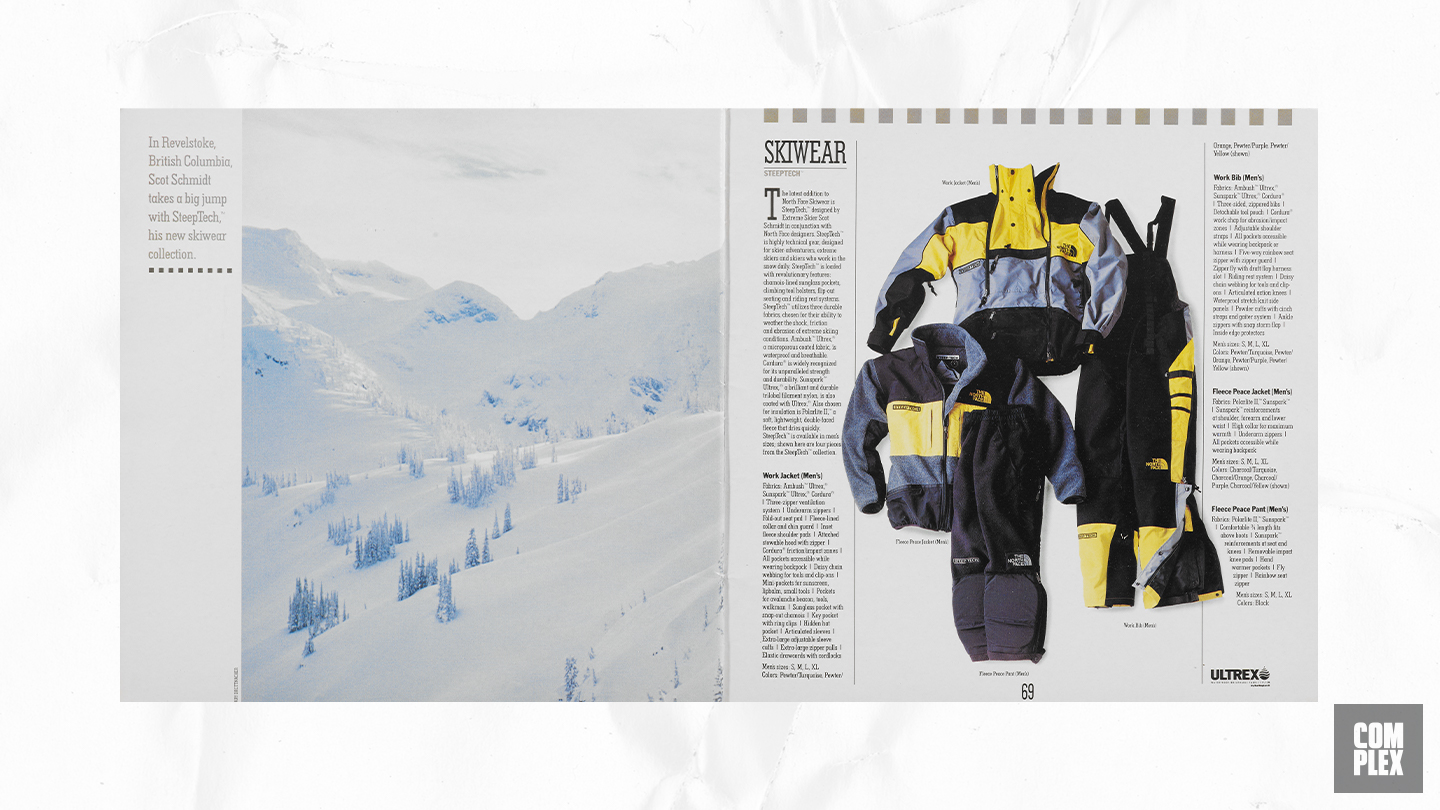 The design of Steep Tech resonated with Errolson Hugh, co-founder of the German technical apparel brand ACRONYM, which is known for making some of the most coveted pieces of functional outerwear today. Hugh first interacted with Steep Tech jackets as a college student when they released in 1991. The idea of designing a piece of apparel to solve specific real-world problems, and transferring those experiences and perspectives to a wearer via clothing, is something that Hugh found within the Steep Tech line and put into his own brand. 
"I wasn't a skier, but I immediately understood that I was looking at something 'above and beyond' when I pulled it off the rack in the store. The pocket layout, the integrated padding, other details I hadn't seen before—all of it spoke to an incredibly specific purpose and a clarity of vision that few items of apparel can boast," says Hugh over email. "It became a kind of benchmark. It was proof that you could make something extreme, without compromise, even if everything else in the market was just a sea of blandness."
The utilitarian look and aspirational appeal of Steep Tech launched Schmidt's jackets off the Chugach Mountains of Alaska and into the streets of New York City in the '90s. The jacket was co-signed by members of Method Man's entourage in the 1993 Wu-Tang Clan music video for "Method Man."Diddy wore a late-'90s Steep Tech while nearly crashing an 18-wheeler on his way to meet Black Rob in the "Whoa!" video. And New York skate legend Harold Hunter face planted onto the floor while rocking a mid-'90s Steep Tech Azimuth in the "1999" music video. Although Schmidt's jackets never garnered the large sales numbers the Nuptse puffer did in the '90s, rappers, graffiti writers, and shoplifters in New York City took to Steep Tech and other ingenious designs by The North Face for its cool look and functionality.  
"You had tons of pockets where you could stash anything. I mean, people were stashing their weed into two hidden pockets inside the collar of their Steep Techs," remembers Cypha, a Queens-based North Face collector who bought his first Steep Tech in 1995 and remembers discovering the jackets on Fordham Road in the Bronx. "The '96 [Steep Tech] had a harness in it, so if you were getting robbed for it, it was hard to take it off. If somebody else came out, and the muggers ran off, you managed to keep your jacket on. If you ain't know nobody on Broadway [in Lower Manhattan] back in those days, mid to late '90s, you were putting yourself at risk wearing a Steep Tech. It was the equivalent of wearing Polo [Ralph Lauren] in Downtown Brooklyn." 
Schmidt says he never expected Steep Tech to take off in the streets and only realized how popular it was when Bill Brown, The North Face's East Coast sales director in the '90s, invited him to sign posters at local ski shops in the New York City area in 1998. Brown wanted to drive the skier around the city to show him exactly how respected his designs were outside ski resorts. While driving up Sixth Avenue in Midtown Manhattan, he stopped the car at a red light and noticed a man standing on the corner in a one-piece yellow and black Steep Tech Apogee suit in the pouring rain.
"Scot just looks at me and goes, 'What's he doing?' I'm like, 'Dude,that's what's happening with Steep Tech. It has become an icon. That one-piece suit is something that everybody wants, but nobody can afford,'" Brown remembers saying. "In his mind, [it seemed] he just could not wrap his brain around it. With all the thought that he put into building this equipment for the body and dropping off big cliffs, why in the world somebody in Manhattan on a rainy night in October would be wearing this thing around. But then he was like, 'OK, I get it. It's protection. It's raining, his entire body's protected, and he looks really cool. He looks like The Terminator.'"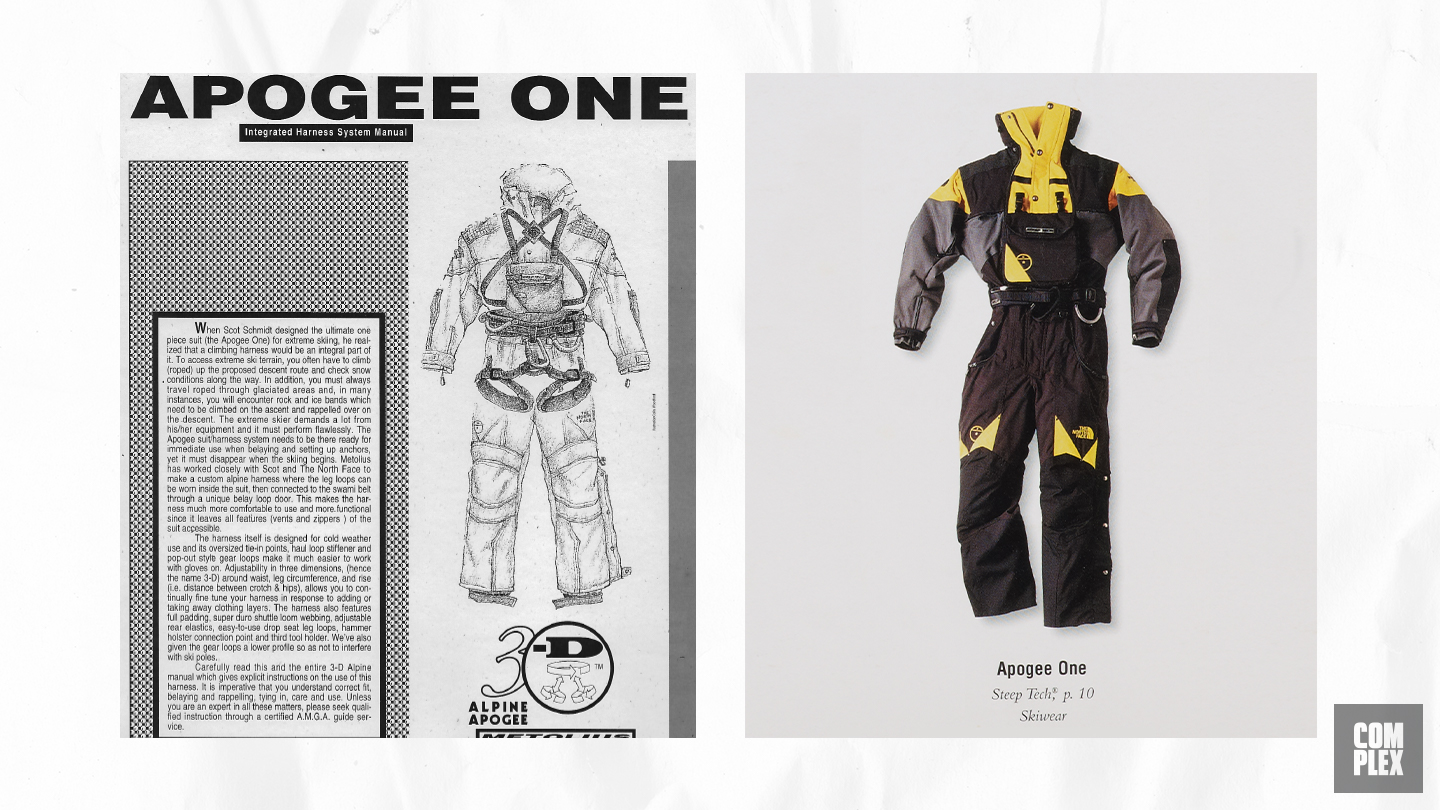 Schmidt continued to design Steep Tech until 1998 and released new designs every year that expanded on his original concepts. Models like the 1994 High Line jacket resembled the look of motorcycle jackets Schmidt was originally inspired by. Others, like the 1996 Apogee jacket, included radio chest packs and built-in waist harnesses—ideas which were conceptualized, but couldn't be integrated into Schmidt's debut 1991 Steep Tech collection. 
"The main thing with some of these changes was that we kept trying to make Steep Tech tougher. It was never tough enough in my opinion," says Schmidt. When Schmidt released the last Steep Tech he designed in 1998, it looked almost like full-on body armor rather than a ski jacket. But even if Steep Tech was celebrated by the ski industry, its expensive price tag and unconventional design did not necessarily sell well in comparison to items like a Mountain Light jacket or other, more affordable, North Face skiwear lines. But The North Face continued to produce Steep Tech throughout the '90s. Not because of revenue, but because it brought a unique look to the brand.
"We referred to them at The North Face as the '2 percent pieces,' since it represented only about 2 percent of sales, but drove the brand in a huge way," remembers Brown. "That's what lines like Steep Tech, Heli, and RTG were—aspirational products which helped grow the brand. If you're wearing a Black Nuptse for $199, you look the same as everybody else. But if you got money, you got a Steep Tech jacket on."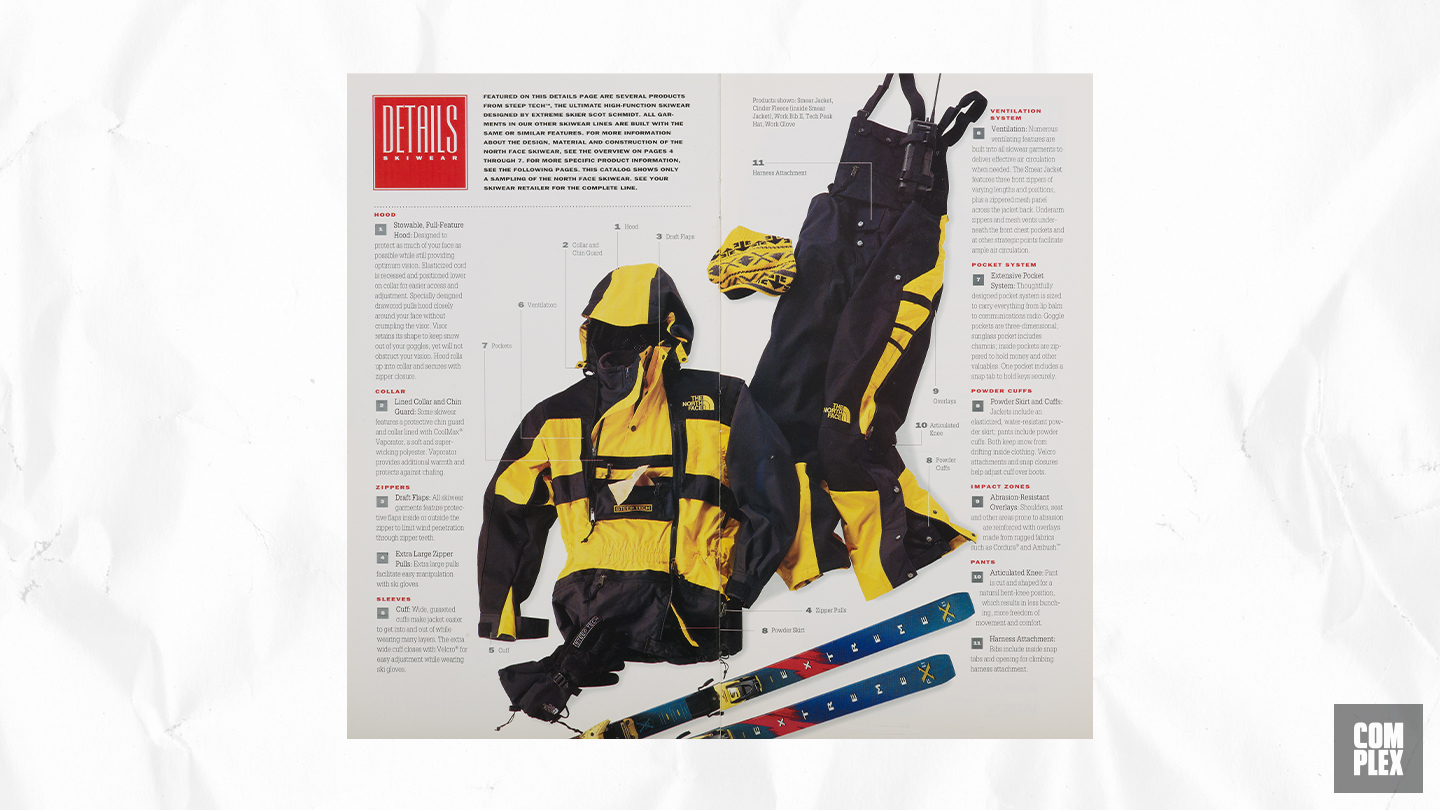 Although Brown was a Pennsylvania native who grew up in ski shops idolizing skiers like Schmidt, he was also one of the first employees at The North Face to recognize how the outdoor brand could thrive within the realm of streetwear. After the Steep Tech line was killed in 1998—for reasons that are still unclear to Schmidt and other sources in this story—Brown relaunched the line with Schmidt's permission in 2000 with a focus on reaching the urban market. To do that, Brown increased the jacket's size range to go up to 3XL, worked with designers to release products like Steep Tech snorkel jackets and hoodies, and began stocking the jackets at clothing stores like Dr. Jays rather than just outdoor retailers like Paragon in Manhattan. Brown kept the price point the same, selling models like the Apogee for $375 while also releasing more affordable branded streetwear style pieces like hoodies. The line's relaunch was a financial success, reaching an eight-figure sales number for The North Face between 2000 and 2007. Brown says that when sales began to slow down, instead of killing the line, the brand decided to preserve Steep Tech as a sub-brand by waiting for the right occasions to bring it back. He says that the popularity of Steep Tech within the streets was a great discovery for the brand.
"A lot of people don't know this, but Steep Tech really was a great vehicle to introduce and embrace diversity and streetwear for The North Face," says Brown, who after relaunching the Steep Tech line, architected The North Face's first-ever brand collaboration with Supreme in 2007 with Augie Galan. "Streetwear for The North Face kind of died out in the late '90s and 2000s. It went so crazy, and then it started to slow down. [Steep Tech's relaunch in the 2000s] really lit it up again. It made people say, 'Wow, The North Face is back.' Supreme picked up on that because they were always so far ahead and saw that coming."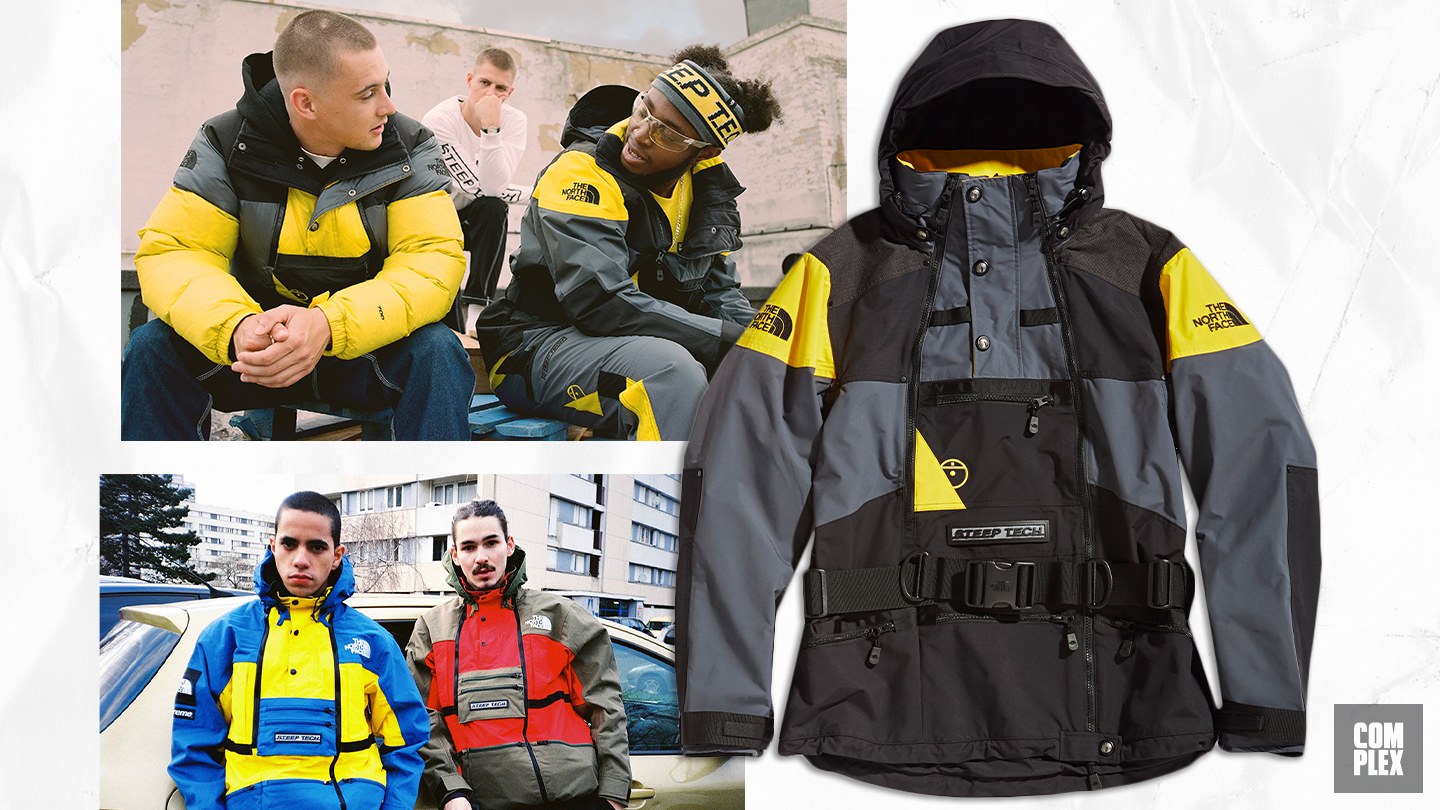 Supreme would eventually tip its hat to Schmidt by reviving '90s Steep Tech designs for one of its most popular collaborations with The North Face in 2016. Aside from ambitious outerwear designs, Steep Tech's biggest impact was opening The North Face's eyes to adventurous collaborations that solidified the outdoor brand's devout following amongst urban contemporary streetwear enthusiasts. Today, The North Face frequently collaborates with streetwear brands and fashion designers. And since working with Supreme in 2007, the brand has partnered  with other streetwear labels like Brain Dead and high fashion brands like Maison Margiela. But years prior, a collaboration was unheard of for The North Face. Schmidt and his Steep Tech line marked the first descent down a path of collaborations that have since defined the brand's image. Today, vintage Steep Techs are still sought after by hardcore North Face collectors, and rappers such as Drake, Travis Scott,Princess Nokia, and Westside Gunn wear the line. Certain elements of Steep Tech designs, like the jacket's zippers, inspired modern "techwear" designs like Nike's ACG apparel and jackets produced by ACRONYM. 
Surprisingly, Schmidt says he's never been approached to design anything for any other brand. He still works as a full-time professional ski ambassador at the gilded Yellowstone Club resort in Montana. Although Schmidt's favorite Steep Tech models will always be the first jacket, ski bib, and backpack he released in 1991, he said that newer iterations—particularly Supreme's Steep Tech collection—have done a pretty good job of maintaining the look of his original designs. When it comes to his influence on fashion and streetwear, he thinks the outdoor industry has always influenced the wider world overall. 
"The utility design made sense. It looked cool. It was functional. And even on the streets, we all want function," says Schmidt. "I always wanted to make it authentic again and take it to the next level for ski mountaineering. But that urban market was so strong that we just went with it. I'm happy to see concepts work wherever they fit."