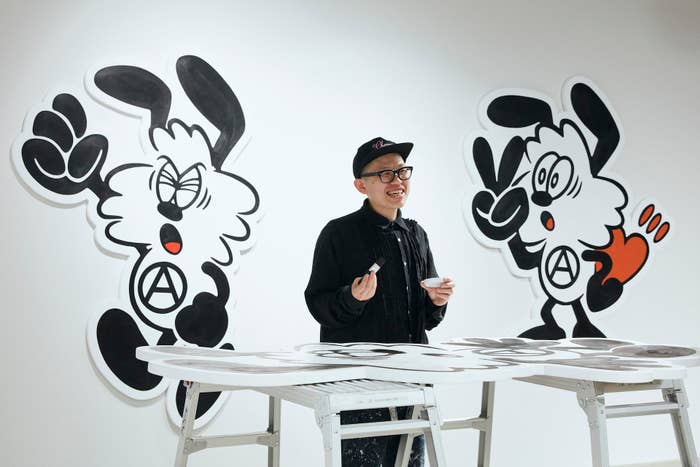 There are few creatives within the world of streetwear who could be considered multi-hyphenate talents. Verdy is one of them. The 34-year-old Japanese designer isn't simply a graphic artist known for his whimsical cartoon characters like Vick. He's become one of Japan's premier cultural tastemakers much like his predecessors NIGO, Jun Takahashi, and Hiroshi Fujiwara, who all blew up Japanese streetwear in Ura Harajuku in the '90s.
Anyone who's been invested in streetwear these last couple of years can't miss his work. His brands, Girls Don't Cry and Wasted Youth, have released hyped collaborations with the likes of Budweiser, Nike SB, Undercover, Human Made, and more. But beyond his highly sought after releases, Verdy is the leader of a pack who's waving the flag for a new generation of Japanese labels and streetwear designers. This weekend, he will take the baton from Takashi Murakami by hosting ComplexCon this year and looks to introduce attendees to the latest and greatest from Japan's burgeoning creative scene. 
ComplexCon is nothing new to Verdy. He has been presenting at the festival since 2017 and previously told us that attending ComplexCon inspired him to launch his own two-day culture festival (Verdy Harajuku Day) in 2019. Verdy will bring his characters and brands to numerous collaborations releasing at the event and on exclusive ComplexCon Gift Shop merch. He will also curate a special music selection on the Pigeons & Planes Stage both days. 
Here, Verdy speaks to us about the Japanese labels he's bringing to ComplexCon, how he approaches collaborations, and what he's most excited about this weekend. 
In past interviews, you mentioned how flea markets and festivals like Summer Sonic Festival influenced your taste in culture. What do you think is the impact of ComplexCon on culture overall?

ComplexCon is important to the emerging outlook of the culture. Being open to the public, while showcasing a mix of established brands and fledgling imprints, it promotes an inclusivity not commonly seen at other events. Additionally, the experiential nature of ComplexCon allows for brands to stray away from trends to offer fans one-of-a-kind moments that stand as markers in the culture.
There's so many Japanese labels here that it's almost like your own 'Harujuku Day' in the United States. You represent a new generation of Japanese labels who are walking in the footsteps of designers like NIGO, Jun Takahashi, and Hiroshi Fujiwara. What do you want Americans to understand about Japanese fashion today?

I want Americans to learn about the emerging designers and brands coming out of Japan. In the age we live in now, people have the opportunity to explore an up and coming expansive viewpoint of Japanese fashion. Following those that paved the way, I want to be the bridge that helps place the new generation of designers and brands that have yet to be recognized into the cultural lexicon in America.
You have a number of emerging Japanese brands being represented in your Brands to Watch space. What can you tell us about the brands represented there and why are they up next?

It is very important for me to work with people I really respect. Although it is also special for me to collaborate with the brands I like, I find a distinct fulfillment in supporting those around me. Throughout the COVID-19 pandemic I have watched the names included in the emerging Japanese Brands to Watch program survive and thrive, I think it is time for the world to see their efforts and how far they have come.
You have some great collaborations with brands like Undercover and Awake NY coming exclusively to ComplexCon. Whether it's Nike SB or Budweiser, your collabs always generate a lot of hype. How would you describe your approach to collaboration?

For me collaborations have to be organic. I find that my successes can all be attributed to things being at the right time. No matter how big the name, the feeling behind the collaboration has to be genuine and authentic, fitting to the moment. I also pride myself on acting on my instincts, and trusting and following my viewpoint.
Aside from clothing, you're also curating some live music on Saturday and Sunday. What can we expect from VERDY Sounds?

VERDY Sounds will showcase my friends and family from Japan, just as with my Brands to Watch they will offer their craft to those in attendance, the same sonic sensibility that inspires my work and everyday life.
You've developed a rich relationship with a lot of the LA-based brands here long before ComplexCon. What's so special about LA to you and how do these brands influence your work as a creative today?

When I first came to Los Angeles in 2018, despite being unknown, Paulo Calle and Anwar Carrots took the time to take an interest in me and my work. On my next visits those lifetime friends and new friends I made shared a look into their experiences. The creative freedom I saw truly inspired me to be more confident in myself and focus on progressing my artistry and brand. LA will also be like a second home for me as it is the place where Girls Don't Cry and Wasted Youth really became what it is today.
What are you personally most excited about when it comes to attending ComplexCon?

I'm very excited to see in person what my friends have put together and everything me and my team have worked so hard on in the months leading up to ComplexCon. The tireless work we have done is the latest in my personal growth. Seeing it all come together will be a sense of exciting accomplishment and satisfaction.
As a role model for many young creatives worldwide today, what do you want attendees to take away from ComplexCon this year beyond just merch?

I want attendees to be inspired, taking in the unlimited opportunities on display. I think those in attendance should take in the dedication behind the brands featured and understand how everything is possible for everyone.