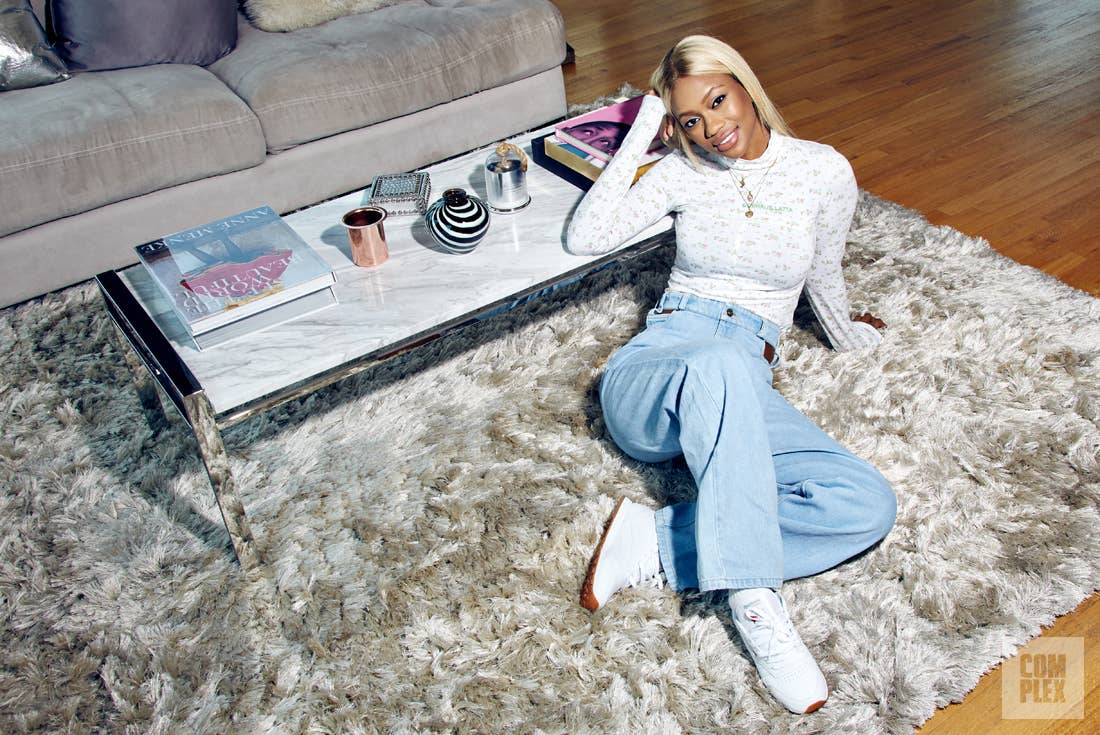 Fatima B. is laying on a fluffy shag carpet in a high-rise penthouse apartment in Harlem getting ready for her photo shoot. As the stylist behind some of the most fashion-forward men in the music industry, it is not uncommon for her to spend most of her days on set but today is different: she's her own client. She wears a thermal long sleeve, soccer mom jeans, and a fresh pair of white Reebok Classic Leathers, which live up to their name. "You can find the everyday woman who's going to work at the hospital to a girl sitting front row at a fashion show in a pair of Reebok Classics," she says. Though she seems at ease, Fatima—who prefers not to use her last name—is not used to being in front of the camera. Despite an Instagram feed full of flashy club-bound looks and behind the scenes festival style, she is a self-professed "aunty" who stays glued to her couch whenever she can get away from work. The daughter of a translator mother and a United Nations-affiliated father, Fatima spent five of her formative years growing up in Tokyo before breaking into the fashion world in New York.
Getting her start in styling proved to be a game of strategy and sheer fortitude for Fatima. Working as a receptionist at an accounting firm in the early aughts, she began to think twice about her career decision when one of her coworkers offhandedly mentioned that Fatima should consider styling since her personal style was so exceptional. "I was like what does a stylist do? I knew of styling, but I didn't know anything about the business side of it," she says. Like most others working in the field, she made her way into the industry through assisting and interning for established stylists, trading free labor in exchange for hands-on lessons in the craft. Back in the nascent days of social media, Fatima used Myspace to hit up stylists and offer her services as an assistant. In 2008, she got her big break, becoming the assistant to Brandon Atherley, who was styling Missy Elliott at the time, and getting to dress Missy's backup dancers for their performances.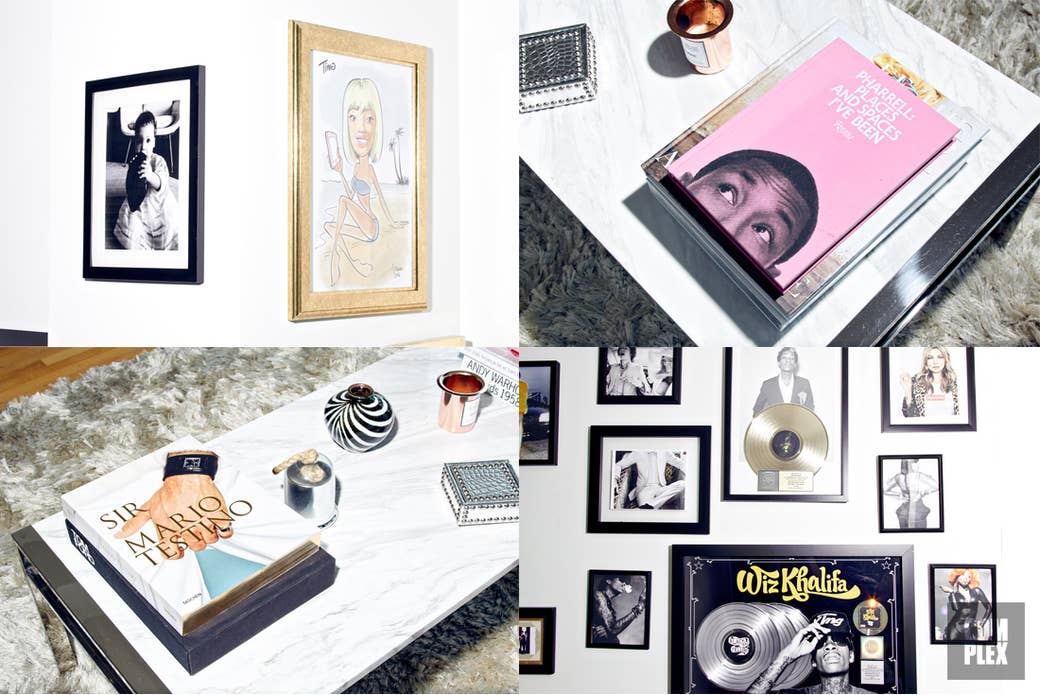 After two years of assisting, Fatima's network grew—"I just had a lot of plugs," she admits, humbly referring to her subsequent clients, which included Tyga and Christina Milian. She worked as a fashion editor for the now defunct hip-hop magazines Black Beat and Right On!, the latter of which affording her six pages of editorial freedom to style and direct to her heart's content. Like most young creatives, she leveraged that freedom—despite little to no pay—to her advantage and grew her roster of celebrity clients. "The fact that I don't have any patience is what kept me moving forward in my career," says Fatima. Connecting the dots from editorial to personal styling eventually led to her securing work with Nicki Minaj and Wiz Khalifa.
Of all of the different types of styling that Fatima has done over the past 10 years, working with musicians has become her most fervent passion as well as a never ending challenge, one that requires her to think outside of the box and to constantly adapt. "For editorial, you can move off of trends and what's hot right now," says Fatima. "But with an artist, they could feel one way this week and another way the next week. It's about figuring out where that person is in their life and bringing that to life for them." As far as communicating her vision to clients, Fatima knows that it takes a little faith and a lot of effort to constantly win them over with her creative prowess. In her line of work, one has to be unorthodox, unflinching, and unclassifiable to meet the ever-changing minds of a high profile client. "The finesse has to be strong," she says.
For Fatima, learning to trust her own creative intuition has evolved into a life-long pursuit. "There have been times when you're sitting in the room and you may [doubt] your own work. Like, 'I don't know if this is hot, maybe I'm [messing] up here.'"
One of the most public examples of this uncertainty came to Fatima in 2012, when she styled the cover of Wiz Khalifa's O.N.I.F.C. album. Her daring creative direction placed the then-emerging rapper in fitted striped trousers, a dalmatian printed fur coat and little else. In a year that was full of thick gold chains, prints piled on prints, bucket hats, and way too much leather, Khalifa's look was an outlier, more akin to the stylings of Kurt Cobain or Lenny Kravitz than 2 Chainz and Rick Ross. It was a big change for Khalifa, as he went from rolling papers, camo shorts, and Chuck Taylors to a chest-baring, rock-inspired look that sent the blogosphere into a tizzy and left Fatima trending on Twitter for two days as the culprit. "I was leaving the club one night, and [then] all of a sudden my Twitter feed [was] going off on how horrible of a stylist I [was]."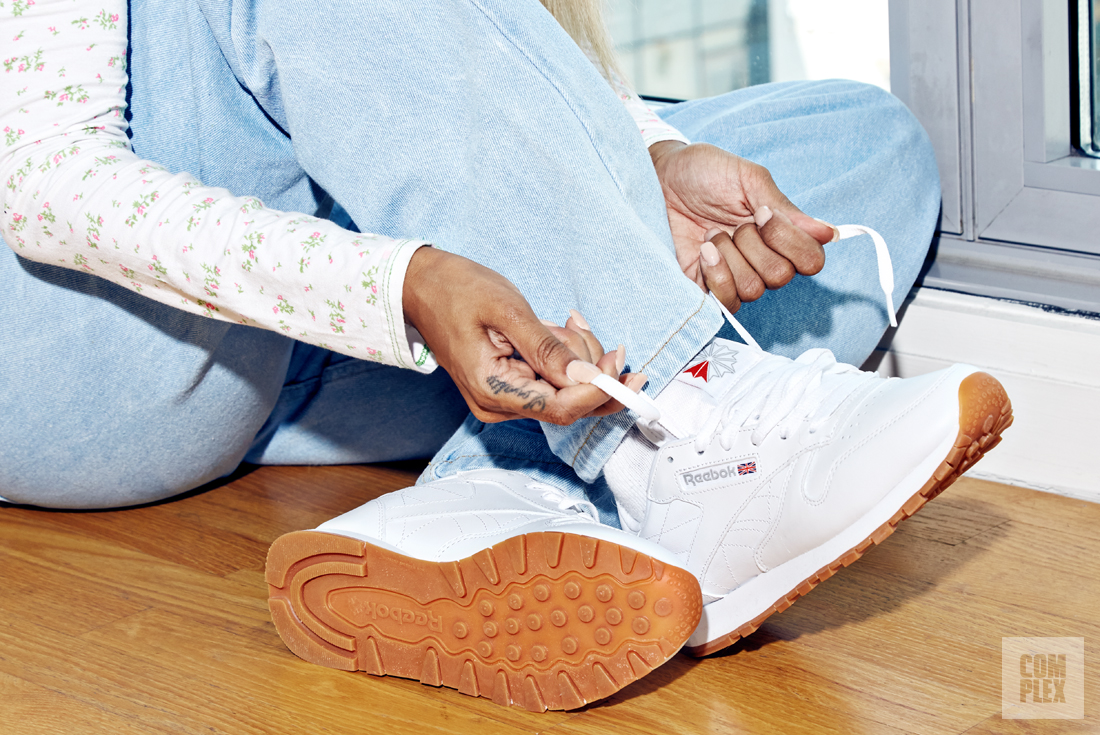 Looking back, Fatima now knows that Wiz's look was clearly ahead of its time. As difficult as it was to endure the backlash of rap fans then, her avant garde creative has, in its own way, helped to push forward the way that rappers dress today. "Everyone hated it then, but everyone loves it now," Fatima admits. "It's so crazy that four years later, we have all these artists that can express themselves, and it's accepted: [Young Thug] can wear a dress and it's amazing. Future is Jimi Hendrix."
"The finesse has to be strong."
Thankfully, the aftermath from the O.N.I.F.C. cover fallout has only served to make Fatima more resolute in her vision and daring in her choices. "Now I'm in a space where I believe in what I'm doing even more than before," she shares. Moreover, the current nonconformist state of menswear makes her job that much easier and, frankly, a little more fun. Fatima's diverse roster of clients—which now includes D.R.A.M., Meek Mill, 6LACK, Swizz Beatz, and Steve Stoute—requires her to keep a keen eye on the full spectrum of style.
"I'm working with five different people right now and they are all individuals," Fatima explains. "When I'm working with Meek Mill, I have to look at his audience and see who he caters to—the dope boys and the young flashy kids. So when I style him, it can't be minimal. It has be a little flashy, a bit more ghetto fabulous."
Playing to each client's strengths keeps Fatima on her toes and is an essential key to her success. While one client can be guarded, another can be completely open to experimentation. "Then moving on to someone like D.R.A.M.—who's this happy-go-lucky guy with a Sesame Street vibe—things can get a little weirder."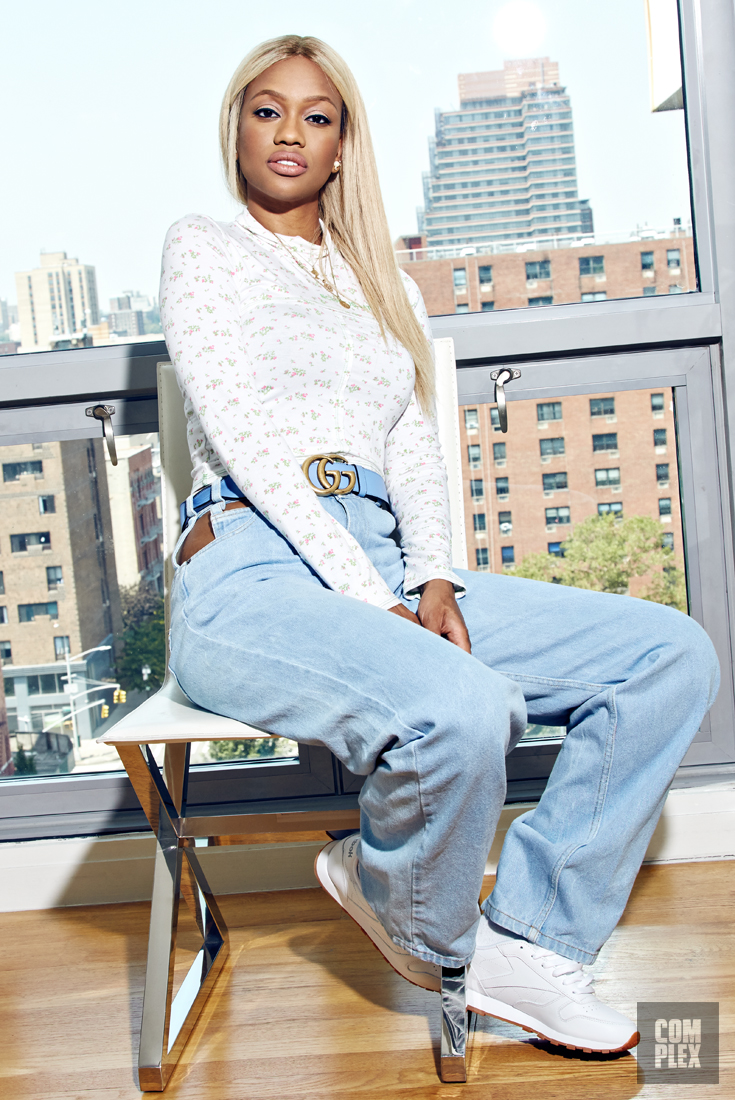 As a female creative expertly navigating the terrain of menswear, Fatima knows the importance of switching things up and ultimately shifting the boundaries of style norms, but even she understands the prevalence of a truly classic style. "It's so funny, because I always say, as much as I love putting different things on guys, I love a guy who just has a crisp white T-shirt, a good pair of jeans, crisp sneakers and a good hat—a guy who knows how to keep it classic."