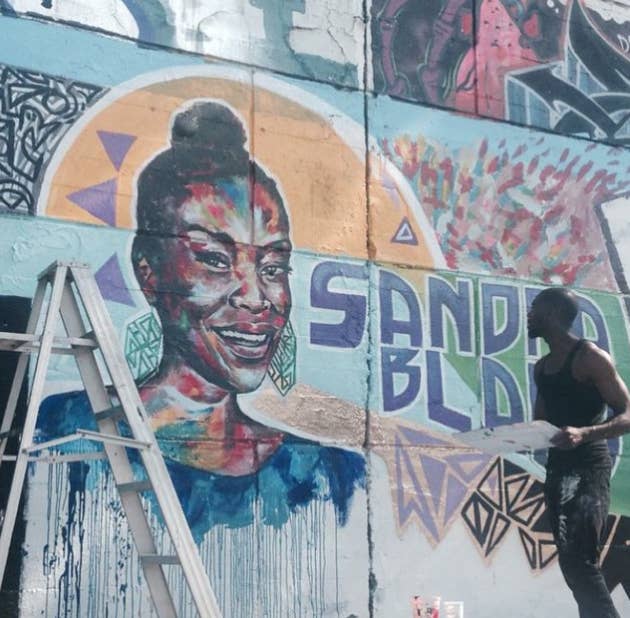 A mural paying tribute to Sandra Bland, painted by two members of a group of artists known as Blak Collectiv, was defaced just hours after it was finished in Ottawa, Canada, according to BuzzFeed. Bland was recently found dead in police custody after being stopped for a routine traffic stop. Authorities have said Bland committed suicide, but her death is being independently investigated.
The mural was painted on a public wall dedicated to graffiti, known as the Tech Wall, in downtown Ottawa. Activists started using the wall earlier this month and had written "Black Lives Matter" and tagged it with the Blak Collectiv signature. This initial mural was also defaced with the words "Stay Off" and the Blak Collectiv signature crossed out. Apparently, members of Ottawa's tagging community were unhappy with the work's quality and the fact it was covering up other art. "I'm all for people protesting, but think of what you're doing first," artist Mike Gall told Metro Ottawa. 
Kalkidan Assefa and Allan Andre, two independent artists who hoped to resolve the conflict between the Tech Wall's regulars and activists while still showing support for the Black Lives Matter movement, responded by painting a vibrant mural of Bland. Unfortunately, the mural to Bland was treated with the same disrespect as earlier works. Just a little over 24 hours after the completion of the Bland mural, someone had already written "All Lives Matter" over her name. Ottawa's Black Lives Matter coalition wrote on its Facebook page that it "will NOT accept this as a reality of our city's treatment of the importance of Black lives and will continue to take a stance against such racist actions."
Activists responded by painting Bland's name back over the diminishing phrase within two hours.
This follows the even more heinous action taken by a hotel manager who mocked Bland's death by hanging a black doll from his doorway.
You can see the changes made to the Tech Wall over the last month below.