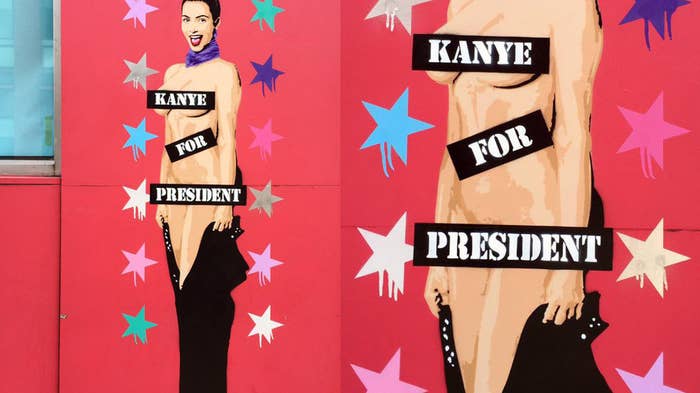 If there's one thing that Kanye West's campaign to be president in 2020 isn't lacking in, it's grassroots support. It took less than 24 hours for the community to start printing all sorts of campaign merchandise for the rapper-designer-future leader of the free world. Plus, we'd be tempted to support even Donald Trump if he offered everyone Yeezys, like West did. Now, British street artist Pegasus has thrown his support behind West with this mural, Mashable reports.
The mural is based on Kim Kardashian's infamous Paper cover, which featured the reality star fully nude. The words "Kanye for President" act as censors on Kardashian's otherwise naked body. 
Pegasus also provides some reasoning for why we should elect West as president. "He is a global superstar and American politics have kind of become a part of celebrity society," he told Mashable. "He is the best in the world at what he does so I guess he is highly qualified. Plus the idea of having Kim Kardashian as First Lady is entertaining."