 Sneakers, T-shirts, shade, and, if you're really desperate, sandals. This is the summer essentials pack for any normal person, but as celebrities have proven time and time again, they are not normal people. Celebrities: They're not like us at all.
Maybe it's because they know cameras are constantly trained on them, so they must be in their best at all times. Maybe it's because they know there's only minimal time spent between getting out of an air-conditioned Black Car Uber and getting into another space where the cool air is pumping. Maybe, just maybe, once celebrities are inducted into the Illuminati their sweat glands are evaporated.
Whatever the case may be, celebrities have a tendency to wear sweaters, coats, hoodies, and even LEATHER JACKETS when it's blistering hot out.
"I definitely think one of the reasons is it's a trend for some of them," says Krystle Rodriguez, Krystle Rodriguez, wardrobe director for Pharrell and Mariah Carey's tours. "When celebrities do things like that, it's because they want to be different or because they get all these free things and they just want to wear them sometimes."
Rodriguez also says that sometimes celebrities just have a very clear image of what they want. "I've had conversations with people who don't care. They have a certain aesthetic that they're going for, and they're going to wear it and do it no matter what the situation or the weather is," she says.
That proves true for many celebrities. Kanye is guilty of rocking a sweater in extremely warm weather. Jeff Goldblum apparently couldn't get enough of his Saint Laurent varsity when the temps were more suitable. Pusha T is a little more understandable, though. First, you have to be seen in Gucci while it's hot—pun intended. Second, Pusha T is making his way into the BET Awards, where it is probably much cooler than the red carpet he was baking on.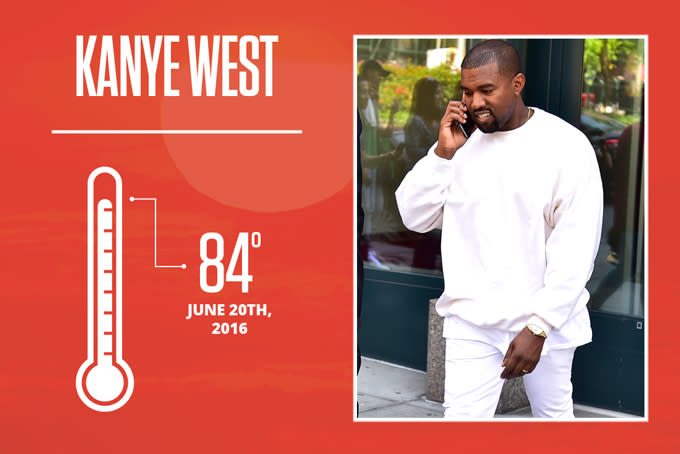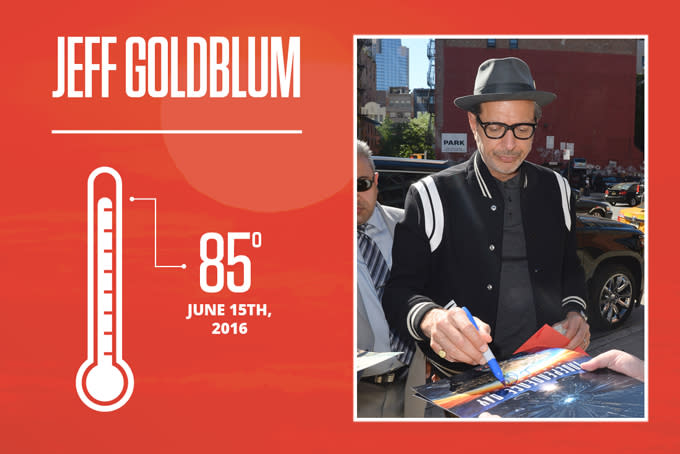 These images are striking to normal people who have to walk around outside, walk to the train station, and go about their everyday lives in the heat. Rodriguez says that's another reason she encourages celebrities to dress for the weather they have.
"I'm a firm believer for dressing for the climate that you're in because, to me, it makes you feel more real to everyone," she said. "If you're walking around in hot climates with winter clothes on, it makes you seem as if you're not normal."
Maybe this is just another way for them to assert their stardom over us. Not cool, guys.