Tyler, the Creator Talks Growing Golf Wang, BET Awards Performance, and His New Love For Vintage Cartier Watches
We talked to Tyler, The Creator on growing Golf Wang & Golf Le Fleur, his BET Awards performance, & what he hopes fans take away from 'Call Me If You Get Lost'.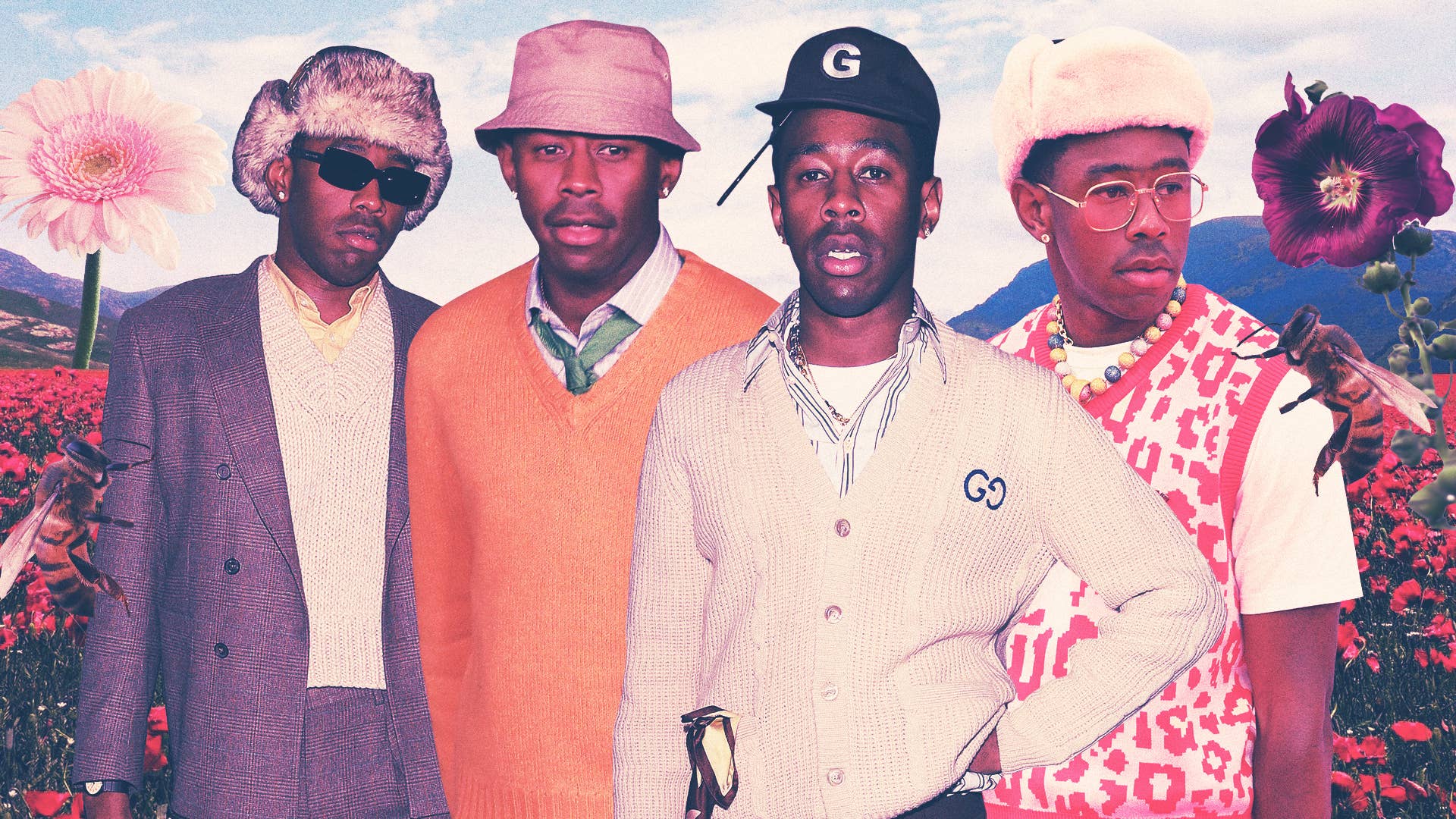 Complex Original
Image via Complex Original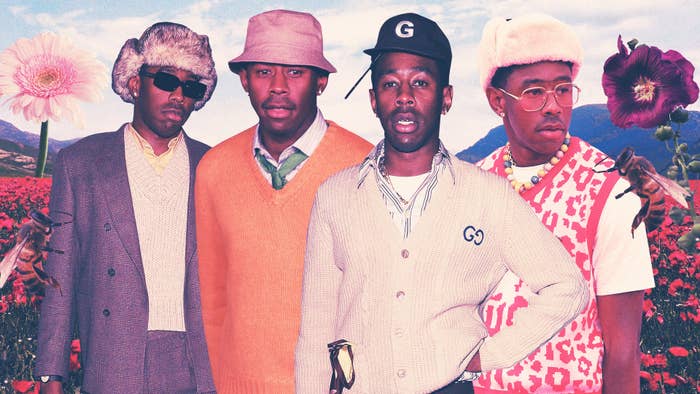 It's around 10 a.m. in Los Angeles and Tyler, the Creator is energetic and cheery over our audio-only Zoom call—despite telling me he's drunk when I ask him how he is. 
He's en route to some destination. In the middle of a question, the audio goes completely silent for 10 seconds before Tyler jumps back in. "I'm driving down my hill, so there might be moments where I could sound like I'm breaking up, but don't hang up. I'm still here," he says.
I can't help but try to visualize the hill he's on, the house he's just left, the car he's driving, or the outfit he's wearing. Since he entered the music industry, initially as part of the Odd Future collective, almost 15 years ago, Tyler's been very good at creating worlds we want to be a part of, or at the very least intently observe. With every album release, we've watched Tyler grow up, evolve as an artist and musician, and make his ideas, big and small, come to life—whether that is creating flavors like Snowflake and Pluto Bleu for Jeni's Splendid Ice Creams through his brand Golf Le Fleur or adding a bike rack to a Rolls-Royce, which he hasn't been able to accomplish in real life but made happen in the "Lemonhead" video off his latest album Call Me If You Get Lost.  
Another one of his interests is design. Tyler started designing merch for Odd Future out of his grandmother's house that was eventually sold in over 300 stores, including an Odd Future shop on Fairfax that would close in 2015. Eventually, Tyler pivoted from merch to introduce apparel brands Golf Wang in 2011, and Golf Le Fleur in 2017, which coincided with the opening of a store on Fairfax.  
Many celebrities have dabbled in the fashion business, but very few have been able to maintain lines that consistently release good ready-to-wear collections that go beyond merch. And while Tyler does still make merch, he has always wanted his collections to feel special and well made. In 2014 he told Billboard: "I don't want it to be like fucking Rocawear or, I don't know, a lot of things that come and go." Instead, he's invested in steadily building up Golf Wang and Golf Le Fleur with a small team of designers that he oversees.  
"I never liked making Tyler, the Creator merch. I never liked it. I never liked putting my face on merch. I've done it two or three times probably," says Tyler on our Zoom call. "But when people call Golf Wang merch, it's like, it's not fucking merch. It doesn't say Tyler, the Creator on everything. These are actual clothing pieces. It's a store. It's ran like a line. Don't call it merch."
The Summer 2021 collection, which dropped last week, includes a buttery leather utility vest in soft shade of green, a wool varsity jacket with a lining that features a Black cowboy graphic, and ivory workwear pants with hot pink stitching. They are wardrobe staples with special details that feel distinctly Tyler, who says he's still very hands-on. 
"I still edit the lookbooks. I still make sure that the blacks and shadows are right. Like I still give a fuck about all of it," says Tyler. 

Here, we talk about growing Golf Wang and Golf Le Fleur, how meaningful his BET Awards performance was for him, his new interest in vintage Cartier watches, and what he hopes listeners take away from Call Me If You Get Lost.
I know that in that past you've sketched the pieces for Golf Wang. Are you still doing that? I want to hear more about the process with designing each collection.

We've grown so crazy in the past few years. So I have an ill team at the office and I kinda oversee most of the design. I'm just like, "Yo, come up with ill shit." And then, you know, I give a helping hand overall, like, "Do this. Do that. Try this out. What's the intent with this design? Here use these colors. No, that color palette doesn't work. You can't put red with brown like that. It looks gross. This design doesn't have any shape. What does that word mean? Stop trying to sound like a 2021 clothing brand with a stupid sentence." That's kind of how we do it now. I work with a group of people and I trust their taste and their ideas.
How big is the team? How big has the team grown?

If we are talking about designers, it's, like, four or five right now that I think are all good at different things. Like, some people are really good at graphics. Some are really good with cut and sew and shape. Some are really ill with accessories and hats. And while that doesn't seem like it's hard to do… No, you have to have a very meticulous eye when it comes to those things.
For sure. That's one of the reasons why I wanted to speak, because there aren't a lot of celebrities who have consistent, good ready-to-wear lines in the same way that you do. Because there's a lot of people who I think want to have a line but aren't able to. Or they do it through another brand. So clearly you have a team, but how are you able to do this and dedicate time to it?

I would correct you saying that they can't or that they want to [run their own clothing line]. I don't think they really want to. I think they liked the idea of, "Oh, I want to have a clothing line, blah, blah, blah." But they don't give a fuck. Like, they don't actually care. They like the idea of caring or just having it under their belt or, in the long run, cashing out and selling it to someone and keeping 10 percent and getting royalties and staying rich. But I don't think they actually give a fuck about if the hoodie fits weird or if the shade of blue is off. I don't think that they really care. So when they don't do it, or it's not done at a level where people would think, I'm never shocked because I could see through that. It's like, oh, this is a cash grab for some of you. Like, I still edit the lookbooks. I still make sure that the blacks and shadows are right. Like, I still give a fuck about all of it. Even if you go to the website when we put clothes out and it's squares of all the clothes—even how that's put together. Like, you can't put that hoodie by that shirt because they're both yellow and it gets muddy.
You're probably right. So you've talked a lot about not wanting to give your ideas to larger corporations and doing it on your own. But you still collaborate with brands like Converse and Lacoste. How are you deciding who to work with? 

Yeah. I mean, it all depends. I mean, I've been wearing Lacoste since I was a small child. The Lacoste thing was with Le Fleur; we didn't do that with Golf Wang. They are two separate entities. With Golf Wang, it's just like, man, "What do we fuck with? What do I fuck with?" Same with anything I collab with. Like, when I did the Golf Le Fleur Jeni's thing. I fuck with Jeni's. I still go there. I was like "Yo, I got ideas—let's do something." I feel like Jeni's is a small boutique brand that's just making the best ice cream. And I'm like, yeah, let's do that with Le Fleur. Le Fleur ain't the biggest thing; I like it small and for a certain consumer. And with Golf Wang, we did an ill motorbike. We did it in our color palette. And those little bikes are fun, and that's, like, a piece of what Golf Wang is about. So that's why I picked that. I don't really go for what's gonna make the most money, what's going to be the hypest thing. It's just like, nah, that'll be tight. And that's what we approach it.
I was watching your interview with Kerwin and you showed a pair of Church's shoes that you collabed on. What happened with that? Why did it fall through?

Well, those were a pair of the Le Fleur Church shoes. I couldn't get the end design right. And not just design, but just the way it felt, the way it moved when you walked in them. I canned it for now, but you never know, that might come out, you know, in the future. I just didn't want to put the unfinished concept out. So I'm still trying to perfect that, but those were, those were the Le Fleur joints.
In your eyes, what's the difference between Golf Le Fleur and Golf Wang? Le Fleur is more elevated, right?

Le Fleur is, you know, sweaters, slacks, you know. Rolls-Royce, you playing chess, you know, like, listening to whatever the fuck, Sade demos. That's that shit. And I really wanted to model Le Fleur off of where I've just been at the last three years. Um, just getting into that pocket. Trench coats, perfumes, and, like, making sure your skin is good. That's that. With Golf Wang, it's like, man, we gotta make the illest T-shirts, the illest hoodies, the illest utility vest. Like, man, that's that fuck shit. I say fuck shit  [Laughs.] But making it nice. I still love the idea of a T-shirt and a good hoodie or some good pants. The Golf Wang stuff is more fun in that sense. It's more skateboard roots and loitering in front of spots. Le Fleur is like, all right, the jet is here.  
That makes sense. It's been slow and steady growth with both of those lines, but it is hard to sustain a fashion brand for a long amount of time—especially a brand from a celebrity. What are you doing to make sure that the line is sustainable and stays around for a long time? 

Just making a résum​​é for it. And making the right choices. It's been, like, eight years since Golf Wang was a thing thing. I never liked making Tyler, the Creator merch. I never liked it. I never liked putting my face on merch. I've done it two or three times, probably. The new Call Me If You Get Lost shirts. And I think I did it for Igor for, like, two shirts, and maybe one during Wolf or something. But when people call Golf Wang merch, it's like, it's not fucking merch. It doesn't say Tyler, the Creator on everything. These are actual clothing pieces. It's a store. It's ran like a line. Don't call it merch.
Everyone's like, yeah, we gotta get in this store and that store, and I'm like, "Why? Make them come to you." I remember when I was 17, 18, and the music blogs that were the hot shit. They wouldn't post anything that we were doing. So I was like, fuck it, I'll make people come to us. And that's when I really monetized on the idea of Tumblrs and Blogspots and I made them come to me. And it was that same approach with the clothes. It's like, oh, you know, fuck all them stores. We don't need them. Don't make them feel important because they don't control it. So I was like, no, hey, this is what we're going to do. Fuck it. In 2011, every city we went to, we built a store out and did a pop-up shop and had people come to us. And that was the shit we were selling. It wasn't no middle man. And then that's what we do now. I only sell online, and I sell at the store in LA. It's, like, one spot in Australia that I fuck with that we sent a few things here and there. But it's like, "No, you have to own your shit and always have the upper hand." But that's for me, you know. That might not work for everyone. And that's no diss to anyone who's doing it like that, but you know, that's how I want to run it. 
So if Dover Street Market reached out and said we want to carry Golf Le Fleur, what would you say?

I mean, everything is figureoutable. At some point I'm going to probably definitely be in a few stores that I personally like. And they've always showed love, and I love how they curate things. So I'm not against it. But you know, I started with it like, "No, I'll make them come to us." So we have the upper hand. So when we select where we go, it's like, oh shit, they put Golf Wang, they put Le Fleur in their store. N**** we special cause they don't do that.
I think that's smart. I mean you are always so great with color and that's a gift. And the palette is tweaked just slightly from collection to collection. I guess I'm curious how you developed this skill for working with color and what were you thinking about in terms of color for your most recent collection?

I don't know. I don't even have an answer for that. I just think color and saturation, and the harmonies of when you can put them together and it actually works is just super ill. Again, I don't know what I'm doing. I don't know much about color theory. I never went to school for it. So I don't know the rules. I just know what I think looks good and what I don't like. For example, I hate red, brown, and purple together so fucking much. It's the worst color combo of all time. But the only time I seen it work was Dru Hill's first album. If you look at Dru Hill's first album, it's the only time purple, red, and brown worked to me. Aside from that, it's fucking disgusting dude.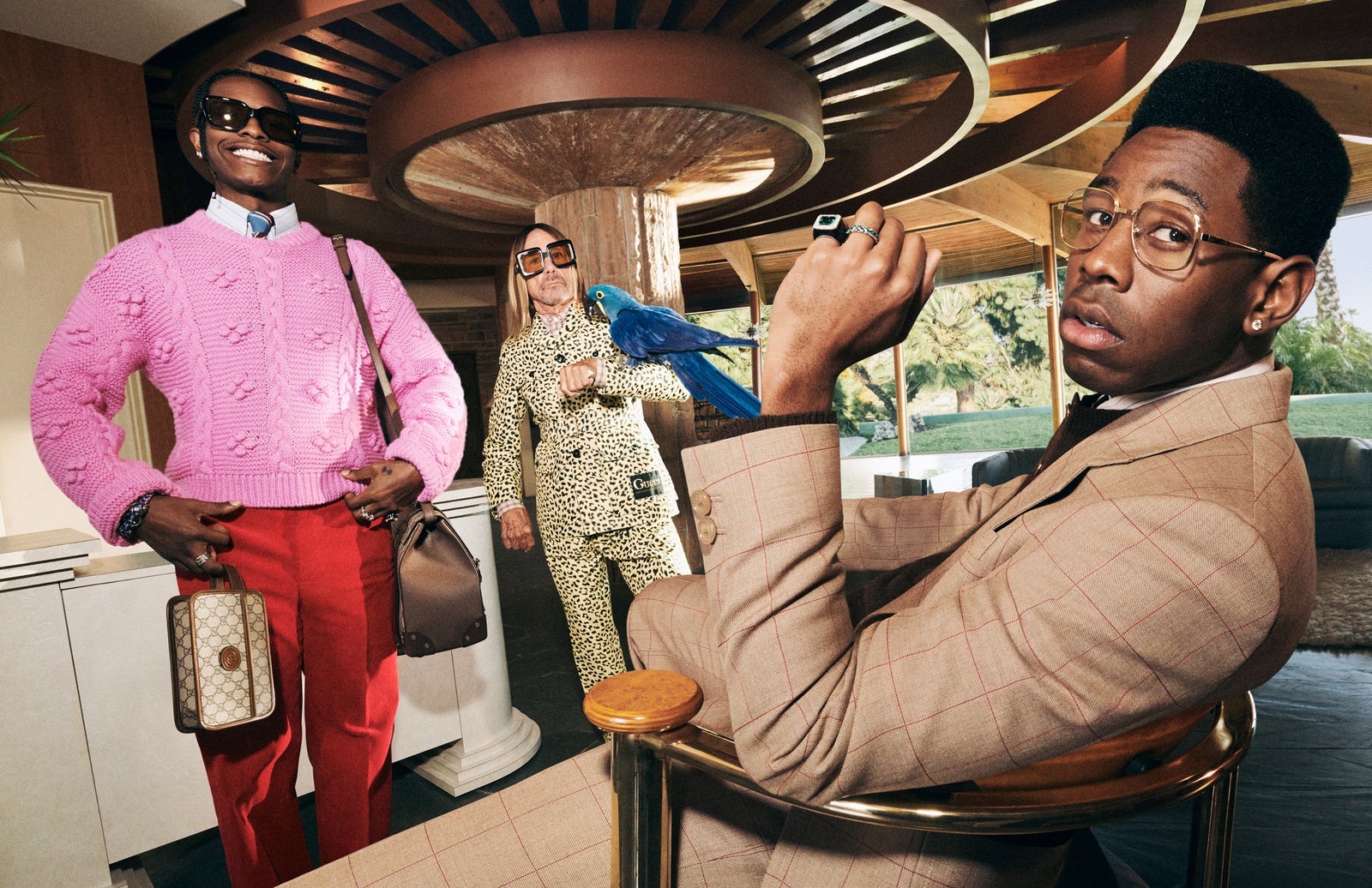 So you've talked about before, that you hate fashion, love clothes. I loved the Gucci campaign with you, Rocky, and Iggy Pop. What made you say you wanted to work with Gucci? Why did it make sense for you?

Uh, I liked what Alessandro [Michele] was doing. When he came to Gucci, it just kind of lined up to what my taste was molding into. And I just loved how the photos and things were shot. It had, like, moments where it was like, oh, that's some shit I would've done. So that's why. Because, like, before that, I wasn't really too much into Gucci. And I think it's just because of the way that a lot of my peers wore it. It was just super gaudy and like, "Oh, I got on Gucci." But it's like, "Hey that piece isn't even good. You're just wearing it just so people could be like, 'Oh, he got on Gucci.'" So I was always like, eh, that's not the shit. But when Alessandro got there, I started noticing, like, this is good and this is in line with what I want to wear. And then Rocky had a relationship with them, and that's my boy. So I was like, hell yeah, I'll do something with my bro and Iggy Pop. Right before I went onstage for the Grammys—like, literally, like, "All right, Tyler, you got to walk onstage"—I was listening to "Shake Appeal" by The Stooges. That song by The Stooges is one of my favorite things. It always got me amped, so doing something with Iggy Pop was like, "Yoooooo!" 
I know you are a fan of Old Céline under Phoebe Philo. How are you feeling about her returning with a namesake brand? 

I literally saw that the day before yesterday. I thought that was ill. I really liked so many random Céline pieces from when she was there that people wouldn't know were Céline. Like I have these bright green pants and people always thought were, like, work Dickies, but they were actually women's Céline pants. I just got the biggest pair. And, like, so many bags. So much random shit from her that I've always liked. So I'm interested to see like what she does. Um, she's tight.
You said on the "Blessed" interlude or song that you have a new store coming. Is that true?

I hope. That's one of my goals at some point.
I'm assuming that you opened your store to be kind of like a community spot where like-minded people can hang out. But it seems to have turned into a tourist destination. How do you feel about that?

Yeah. I wanted it to be like the ill hangout spot. But a lot of these kids are fucking weirdos and don't know how to, like, talk or, like, social cues and it sucks. Because I had the ill books in there. And I had a projector in there that I never pulled down because some people will, like… just be weird. But it is a tourist place, and I don't allow pictures in there because I do like the idea of people going in there and, like, not knowing what it looks like and, like, being like, "Oh wow, this is it," instead of already having a reference point of it. 
And I have to ask about the BET Award performance because it was so amazing. Can you talk about that? Are you able to say your thought process behind it? 

I was so hype to perform at the BET Awards. Like, I don't think people understand, dude. Having Durk and Lil Baby and Styles P just tell me how good the performance was meant a lot. I just never felt like my style of music would ever have been, not even appreciated, but allowed on there. And because of that, I would mock it. It was like a defense mechanism because I felt like I wasn't accepted by that audience. But when they asked me this year, man, I was enthralled. I was so happy.
So I was like, I didn't want to do anything good or bad. I just wanted to do something that had people say, "What the fuck was that?" whether they liked it or not. And, um, I think I did that and I was like, man, I have to perform, like, one of my hardest rap songs on there. 'Cause that, that channel taught me how to rap. It taught me about just all the stuff I know. So, man, shoutout to the BET team. 'Cause they were awesome. They were great. We got a bunch of calls and they were just so cool. And especially being, like, after the pandemic, man, they really handled that show very well.
How was the response to it?

So I'm at this spot called Naturewell and I'm chillin'. And, like, this super-gay older Black dude with his two dogs and his purple shirt, he walked up to me. He was like, "Yo, Tyler?" And I was like, "Oh yeah, what up, bro?" And he was like, "Man, that BET performance was amazing. You don't know how important that was. People think that when you do a performance with a concept or at a level like that, that it has to be for the Billboard Awards. It has to be for the Grammys. But when they go to BET, they think that they have to tone it down and make it cheap." Then he told me that he was so happy that I did something like that at a place like that, where it doesn't get the same respect as other places. And, man, my eyes started watering when he said that. Because I was like, man, you got this older Black guy, whose reference point of not even just BET, but of music, is older than me. 
The guy was 60 and has probably been tuned into music since he was 13. This man was alive when In Living Color was new. Like, was alive when D'Angelo put out his first album. He's seen these changes of just art. So for him to see me do something, and for him to hold it that high and feel like, "Oh my God, yes, this is as good as stuff that's in my bowl of reference for good art or good music or a good performance." Like, he would see Michael Jackson or Janet Jackson do things. That shit meant a lot. But if a 20-year-old told me it was good. I'd be like, "Sick, thank you." But, man, this dude was, like, 60 and has lived a life. That shit meant a lot. So I was happy that if everyone hated that performance, at least it cut through to one person to see how ill that performance was.
OK, I have to talk about jewelry. I know you work with Alex Moss. I love the pearl Fleur belt. That was amazing. Are you drawing your pieces out?

Man. No, dude. Oh, fuck. No, dude. No one talks about my pearl belt and that shit is so fucking hard. It's so ill. Um, but yeah, I drew all those up. It's, like, a page in my book—the pearl belt, the bellboy necklace, and a few other items. And working with Alex is fun because that guy is like a young kid. He's not like a seasoned vet who has an ego and is not hands-on anymore and just gives it to the other guys to do it. Like, he cares and he's very meticulous. And he'll call me about some dumbass detail that doesn't matter, but I appreciate it. 'Cause it's like, oh, you actually give a fuck about the craftsmanship. And that's something that I think is missing in a lot right now: people that care. We spent time putting out the lyric pages on Twitter that no one probably gives a fuck about, but I wanted it to look good. 
I want the coloring of every video to be on point. I want every jewelry piece to be on point. I want every shirt I wear to be on point. So to find someone in their own world that cares about their craftsmanship as much as Alex does is ill. And he's never done nothing like that pearl belt. So to see him want to take on the challenge, it was like, OK, we're going to have a long-lasting relationship because you give a fuck and I give a fuck and the sky is the limit. Just don't fuck me over with these prices.
And I see you are wearing the Cartier Crash watch. It's gorgeous. Are you just getting into collecting watches?

So I've always, like, since Day 1, loved jewelry, chains, rings, little knickknacks. I used to have like this kitty-cat key chain iced out. But I never got into watches because my reference point was only, like, ugly-ass Richard Milles, bulky-ass APs, a fucking regular, basic-ass Rolex. So I was like no, I don't really like watches. I'll stick to my $20 Casio because I could just wear it all the time. It's lightweight. And some time back, I came across this random Cartier watch that had this baby blue strap. And I was like, yo, that thing's kinda like nice. Like, oh, well, I didn't know much about Cartiers. I thought they only made, like, that Santos watch that looked big as fuck. Then I just started researching more and I was like, oh, I'm into all of these vintage Cartiers because of the size. They are light, they are small, and some of them have these very spectacular shapes when they were experimenting. So I have, like, five of those in a green alligator strap and they have the numbers. They're, like, Aerial bold, but it's, like, three different papers on top of each other. And it has, like, this lapis… It's crazy. I'm really into those. Um, didn't think I would be a watch guy, but you know, my reference plan at the time was only what certain rappers were wearing. But now that I have a better gauge, man, I'm really into it.
Let's just talk about the Converse commercial you just released. What's going on with that partnership? 

With the commercial, I noticed everyone's doing this, like, we hear you, inclusive, your gender to sell the shoe and having somebody random just talk about why they wear the shoe. And I'm like, yeah, but, like, no one really gives a fuck. With Converse everyone wears the Chuck. Gangbangers, moms, skateboarders, baseball players, old men, 3-year-olds. Everyone wears Chucks, bro. So I was like, I need to put everyone from these demographics under one roof. And that's why you got, like, a Henry Rollins,  who was fucking doing front flips in front of people with a guitar. And you got fucking Vince Staples. And you just have all these random people whose common thread is that they wear Chuck Taylors. So let's put them all under one roof, but I just don't want them standing there and just say, "Oh, that's a cameo." I was like, no, no, no, no. Let's try some narratives. So I got with my boy Lionel Boyce, who I've done, like, Loiter Squad and Jellies and all types of stuff. I was like, yo, let's write something that makes no fucking sense that makes us laugh, but has a narrative to why everyone is in that room. So, man, we did that, shot it, filmed it. It was hilarious and an amazing commercial. Converse let me do whatever I wanted. I love them for that, but it all has an intended purpose. And I think it was fun to do a commercial that I couldn't rely on cool music or a verse if it sucked. Or I couldn't rely on someone's heartfelt, warm story to say if it's good or not. It's like, hey, we got to make something tight or with intent. And even if people hate it, you have to make it a thing. So that's what that was. And it's a few more things coming with Converse. Uh, I mean, which is kind of obvious, I'm in a deal with them, but I was never into, like, doing sneak peeks or giving people previews before it's out. It's like, hey, it's either done or not. But when people put snippets up of, like, you know, the 10-second song on Instagram just to test if people fuck with it because they don't have enough confidence to put it out. That shit was always just gross to me. 
Well that's great. I love Call Me If You Get Lost, by the way.

Thank you. What's your favorite song?
"Runitup." I listen to that when I'm running upstairs during my workouts. "Massa." "Wilshire." So many. So congrats. And thank you for caring.

No, thank you so much. I think that's the most important thing. I just want people to start caring more about the shit that they really love and be geeks about it and share that information. I get mocked a lot because of how I'm into details, like, "This is track seven, and those chords, blah, blah." But because I care is why I'm still here. Because I give a fuck about those details. And it's so many people that are geeks about things that they want to share, but they don't want to look like that geek guy. They want to be cool and shit. No, the coolest shit is giving me a random fact about this thing that you think I don't give a fuck about because you don't know what parts of my brain that penetrates. I just hope that people hear this album and it just opens them up, pause, to want to geek out and treat the shit they like like it's the illest shit. Treat that Casio watch like it's a million-dollar Richard Mille. Ride around in that Honda Accord like it's a muhfucking Lamborghini because they love that car. That's why I'm rapping about, like, mint tea and Oreos and my little Fiat, because that's the shit that penetrates my fucking dick. And I want people to get their dick penetrated by the shit that they love.