Casting Director Kat Mateo is Redefining What the Fashion Industry Considers Aspirational. Here's How.
Kat Mateo is a casting director, stylist, and all around creative who's worked with Pyer Moss, Vic Mensa, Alife, and more.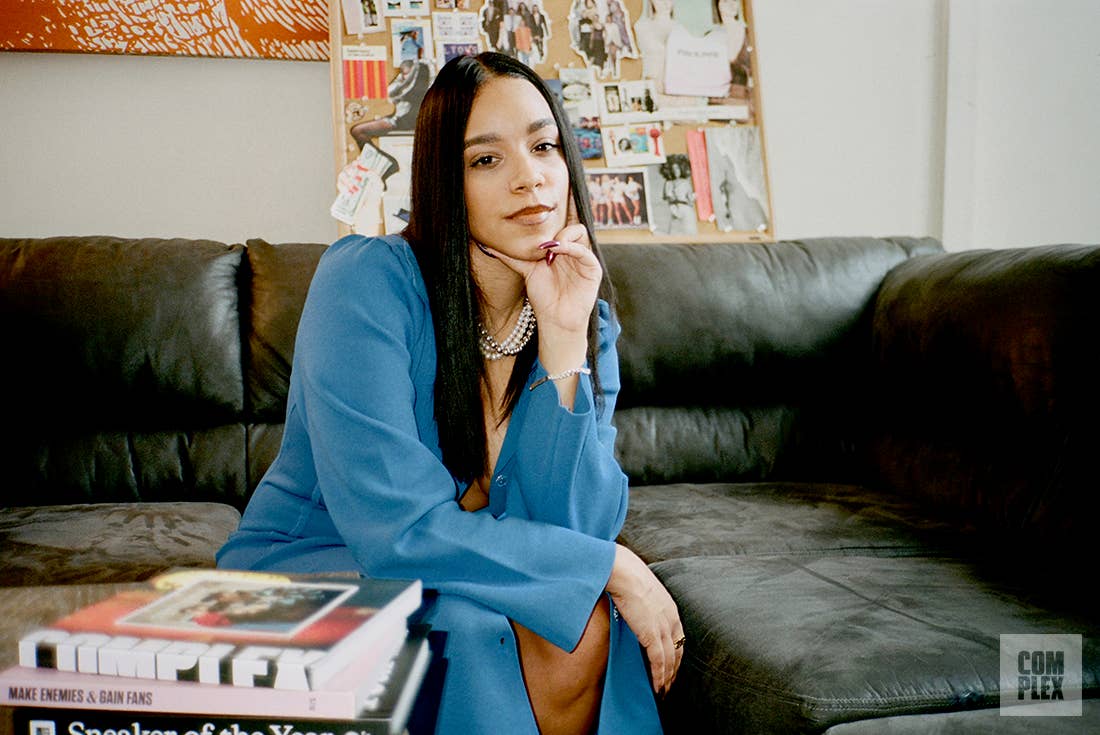 Complex Original
Photo by Chandler Kennedy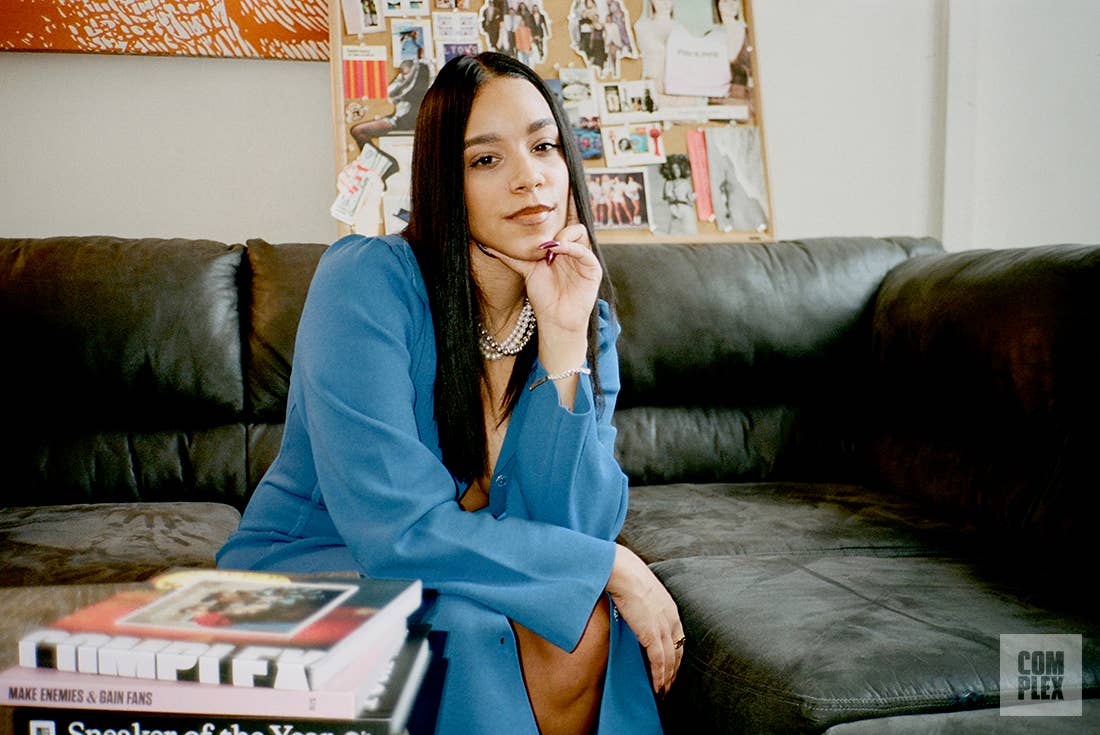 Pyer Moss fashion shows have become cultural resets. For Kerby Jean-Raymond, the designer behind the brand, the fashion show isn't just a way to showcase his clothes, but it's a platform to spotlight his culture. That might not sound profound, but if you've grown up observing fashion shows, you know that Pyer Moss' events and campaigns defy what the industry once posited as aspirational, which usually involved models with alabaster skin who were tall and skinny. But the Pyer Moss runway shows and campaigns present a beautiful tableau of Black life that consists of various skin tones, hair textures, heights, identities, and ages. 
Kat Mateo is responsible for casting the models who appear in these shows. She's the person who selected the brown-skinned model with an afro wearing a white silk cape dress as she walked hand in hand with a Black child during the opening of Pyer Moss' Collection 2 show, which took place in Weeksville, Brooklyn in 2018. She also selected the older, regal-looking Black gentleman with soft gray locs wearing a mint green jacket and crimson pants who walked the runway for the Collection 3 show, which took place at the Kings Theatre in Flatbush, Brooklyn in 2019. 
"Casting tells you a lot about the times," says Mateo. "I feel like for such a long time, there was just this one way to do fashion, and we've been like, 'Well, no. We can do fashion this way, and we can all feel high fashion. We can all walk these runways, and make it upper echelon.' Just because we book people of color does not mean that our show is less than.  If anything, we add so much more magic to it."
Mateo fell into model casting while interning for Pyer Moss. The New Jersey native, who grew up in Orange and studied business marketing at William Paterson University, joined the then-small Pyer Moss team shortly after she graduated college in 2015 where she helped wherever she could, whether that was with its social media accounts or packing boxes. Then one day Jean-Raymond tasked her with casting one the brand's earlier runway shows in 2016.
"They were like, 'You know what, Kat? Can you do the casting?' And I was like, 'OK.' I didn't really have a choice. They were just like, 'You have to do the casting. We don't have anyone to do it,'" says Mateo. 
Selecting models to appear in a fashion show sounds simple, but it's a tedious process that requires being creative, organized, and open. Mateo says it starts with a team meeting to discuss the concept for the collection, what story the brand is trying to communicate to the audience, and what type of models they want to tell that story. At the Pyer Moss shows, Mateo says they always try to include a 50-50 mix of new faces and more established models, along with some unexpected celebrity appearances who usually just happen to be friends with Jean-Raymond. During Collection 2 for example, Brent Faiyaz, who also performed at the beginning of the show, walked the runway along with Doja Cat and Stranger Things actor Caleb McLaughlin. Mateo shoots every model that comes into the casting, then works with Jean-Raymond to choose who will be in the show. Then they do fittings, seeing who makes the most sense for each garment. Pyer Moss has also made the process more inclusive with its Open Studio campaigns, which allow anyone to submit a picture and if selected, dress up in Pyer Moss clothes for a day to and be photographed for the campaign.
"We always try to mix it all together, just because I feel like there's just weird connotations of, 'Oh, if you're not this height, you can't be a model or you can't walk the runway. If you're not this weight, you're not going to look good in garments,'" says Mateo. "That's not how we approach our shows at all. It's kind of like, 'OK, what do the clothes look like? OK, let's see a pool of so many different people.' And see who would work and who wouldn't. So, we really go into it wanting to just see everyone. I'm kind of blown by how many people start off with us, whether that's a show or an open casting, and then end up with a Wilhelmina deal. If we hadn't given them this opportunity, they would've never been able to really showcase that." 
Jean-Raymond is the creative engine, but Mateo says they work together so well because they are both opinionated.
"Sometimes I can see something in a model that he probably won't see without her hair and makeup being done," says Mateo. "So we go back and forth on who will look good next to each other; how do we make sure everyone shines? Everyone has a hand in what the overall picture will look like, so it's nice when you just don't have a whole bunch of people saying, 'Yes, yes, yeah,' to whatever you say."
Mateo never dreamed of working in model casting, a field that doesn't have many women of color—Mateo is Afro-Latina. She says she always wanted to be a stylist and everything she did professionally was in an effort to make that happen. She interned at Essential Homme, a men's magazine, before joining Pyer Moss, then left Pyer Moss to work for Black Frame as a fashion publicist. Mateo says she wanted to learn about the process of requesting clothes from brands, which is a big bulk of styling or assisting a stylist. After Black Frame she wanted to know more about actual styling and how magazines work, so she got a job in the fashion closet at Marie Claire where she assisted the accessories editor. Mateo says she was tasked with finding new designers and learned how to be an actual stylist. This was sprinkled with various jobs shadowing and assisting stylists.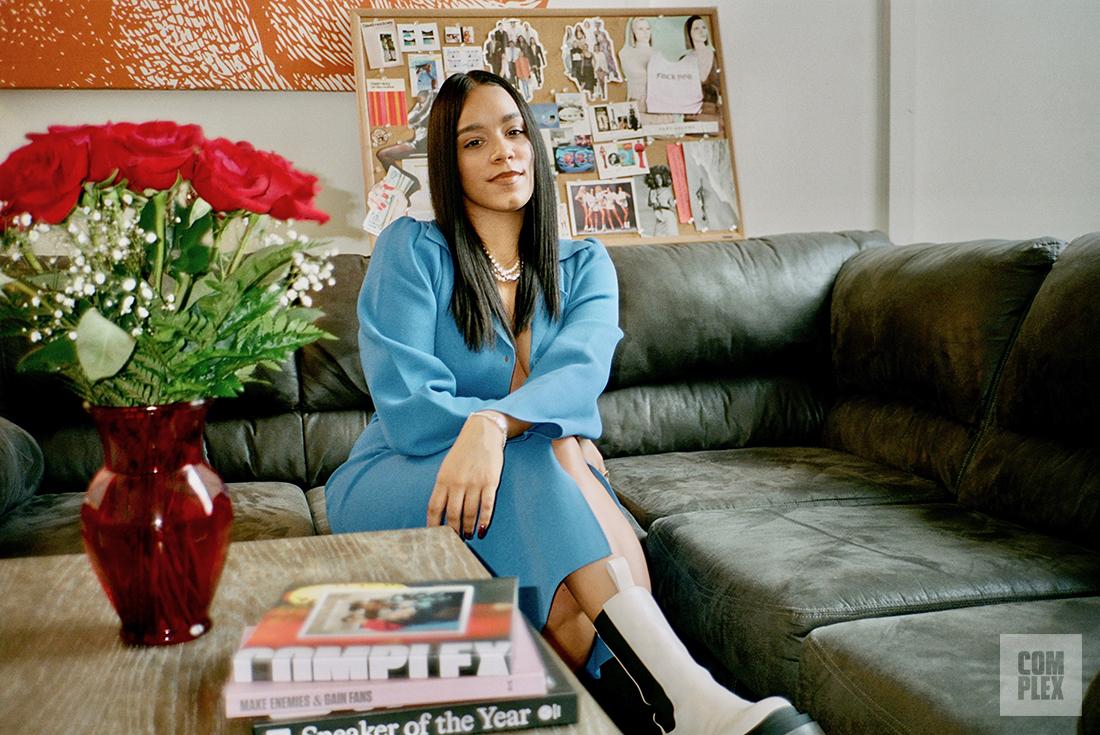 "There's really no shortcut and no matter how popular you are, the big title or job doesn't come unless you've really gotten your feet wet in the industry and done the due diligence of learning how all these things work," says Mateo. "And I say that often just because sometimes we look at certain people and we're like, 'They should be further along because they're so popular,' but really the fashion industry doesn't care about that. You can't skp the process. You really have to go through it." 
Today Mateo balances styling jobs with casting jobs. She recently styled Vic Mensa in a mix of Rick Owens, archival Raf Simons (sourced from Artifact), and emerging designer Emichell Noyola for his "Shelter" music video, and was able to combine both of her skill sets when working for The M Jewelers—she styled the shoot and cast the model. Mateo says she takes styling jobs as they come, but she's developed a real love for casting.
Outside of Pyer Moss, she's worked with Alife on casting for its Historically Black Colleges and Universities campaign with Champion and Urban Outfitters that featured HBCU students and alumni, and runway shows, presentations, and lookbooks for designers including Sergio Hudson, Jason Rembert, and Tia Adeola.
Mateo says she's able to successfully work with so many different clients who have different needs because she listens but also offers her opinion.
"I always go in-depth with the designer to understand what they want," says Mateo. "It's about being organized and communicating clearly. It's really a full collaborative effort and speaking up, but not taking things personal when people don't like or align with your thoughts. And it took me a while to not get mad when people don't think my idea is great or the best one. And honestly, that came from Kerby. I used to get mad or want to explain my idea further if he didn't like it, and I had to accept that this is what the creative process looks like. It's a lot of back and forth to get to the best idea."
Mateo says a big part of her job is also presenting clients with model options they might not have considered. 
"You have conversations with the brand about what they want, but then it's your job to come to the table with options they might have not asked for, but now they're like, 'Wow, I love this person. Where did you find them?''' says Mateo. "It's about pushing boundaries and curating the collection and making sure it's playing on all fields. Don't just go to one agent and get one type of model and 10 different options. If they need 30, come with 100 options. Now that's a pool that you can really play with and mix new, unexpected choices in."
Mateo, who was in Los Angeles during the interview working on a Pyer Moss project, currently freelances as a casting director, stylist, and all around creative—she recently directed a Clarks video campaign that featured Slick Rick. Her ultimate goal is to continue to do all of these things and not subscribe to one box or way to be creative.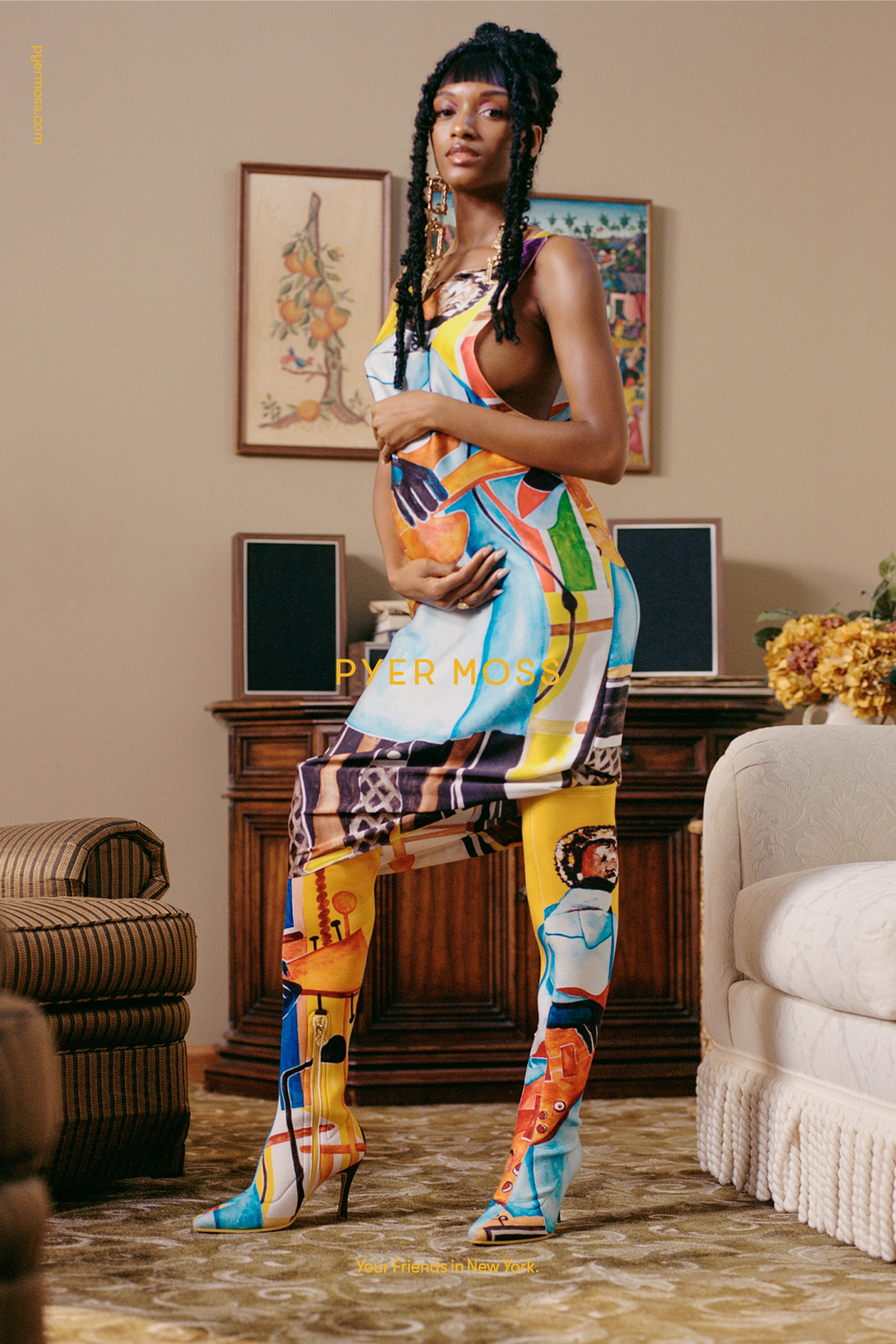 "I think my biggest challenge, honestly, is to show people that it's OK to be a jack of all trades. You don't have to be a master at one," says Mateo. "I feel like it's just those things that we put on ourselves or people or society puts on us, that are just like, if you're going to be good at something, you have to be good at one thing, because if not, you're just going to be half here and half there. But that's not true. I learned at Pyer Moss that being mediocre at anything isn't an option. They really trained me and got my ass ready for what the fashion world is really going to be. My skin was so tough already. It was just like, 'OK, you know what? If I love it, I can do this, no matter how hard it is.'"