How to Style Clarks Originals Wallabees
Here Are All the Best Ways to Style Your New Clarks Wallabees With Everything, Including Jeans, BDUs, Shorts, Skirts, Sweatpants, Chinos, and Socks.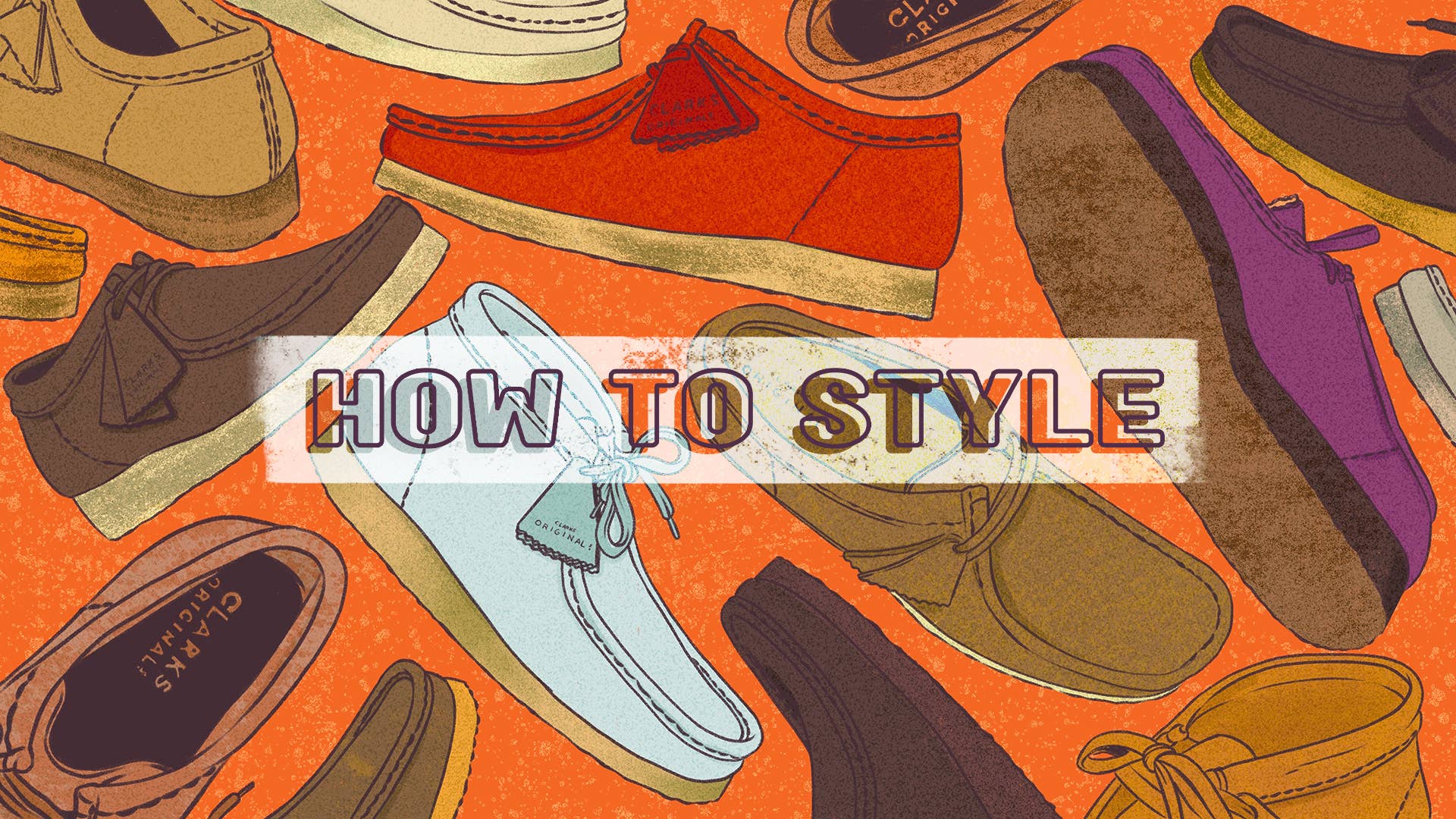 Publicist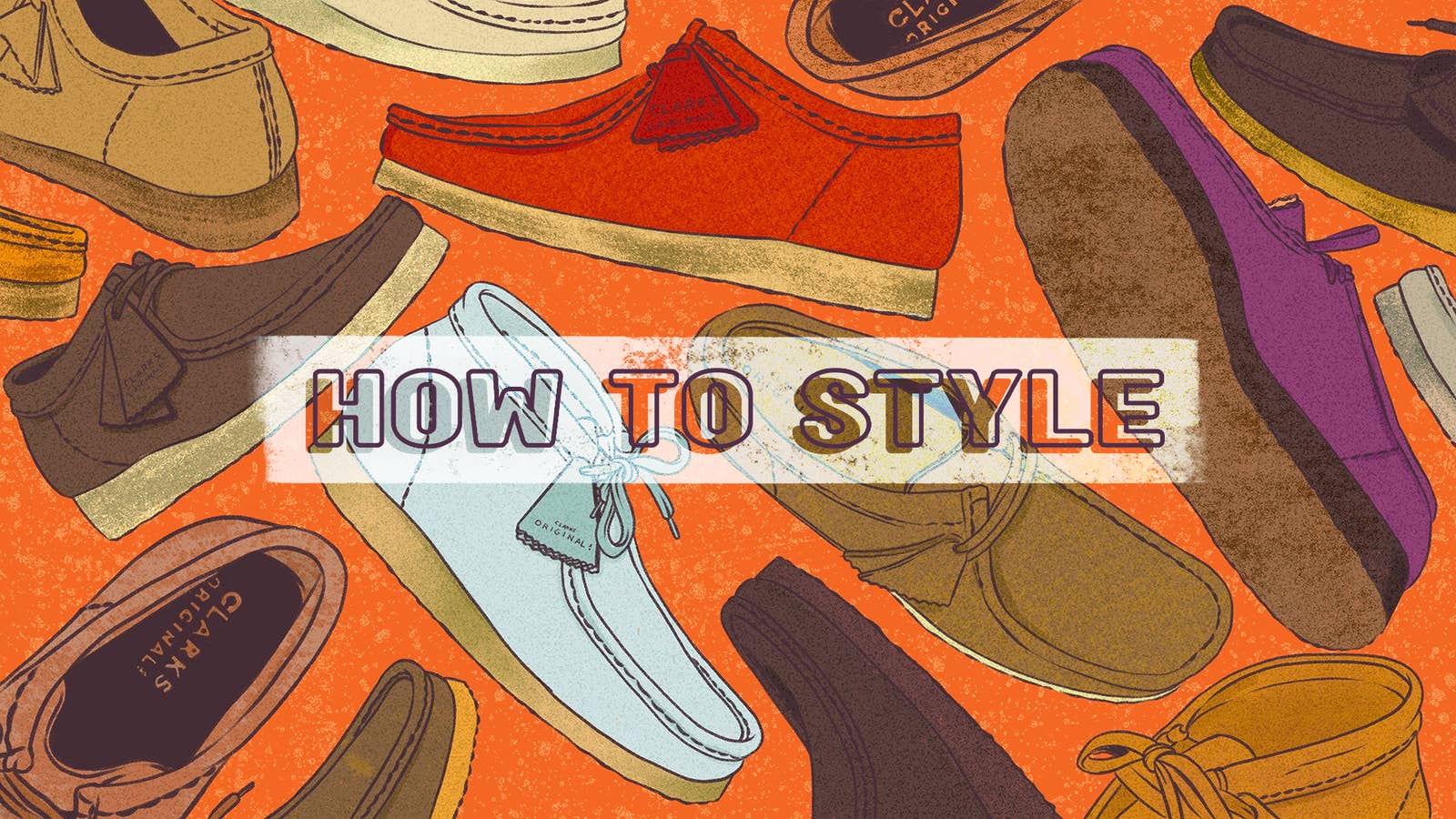 There are no other shoes like Clarks Originals Wallabees. With cush crepe rubber soles and effortless moccasin-style uppers, Wallabees stand alone, combining comfort, utility, and eye-catching styling. That's made Wallabees a favorite among fashion idols and subcultures going back decades. 
From Jamaican sound system DJs to contemporary dancehall superstars, Wallabees have long been the shoe for reggae artists, while also popping up on the feet of New York rappers and Brit Pop rockers. Simply, Wallabees are unrivaled in versatility and unique looks, a rare, almost impossible combination. Even better, they look equally dope on men and women or people who prefer not to define themselves by gender.
Still, if you're new to Clarks Wallabees and considering trying them for the first time, you may have questions about how to wear them. Luckily, we're here to help, breaking down the ins and outs of wearing Wallabees—from fit to FOBs and all the kinds of pants, socks, and other clothes that make them look best. 
Read on and learn how to style Clarks Wallabees for yourself.
Boot or Shoe? And Sizing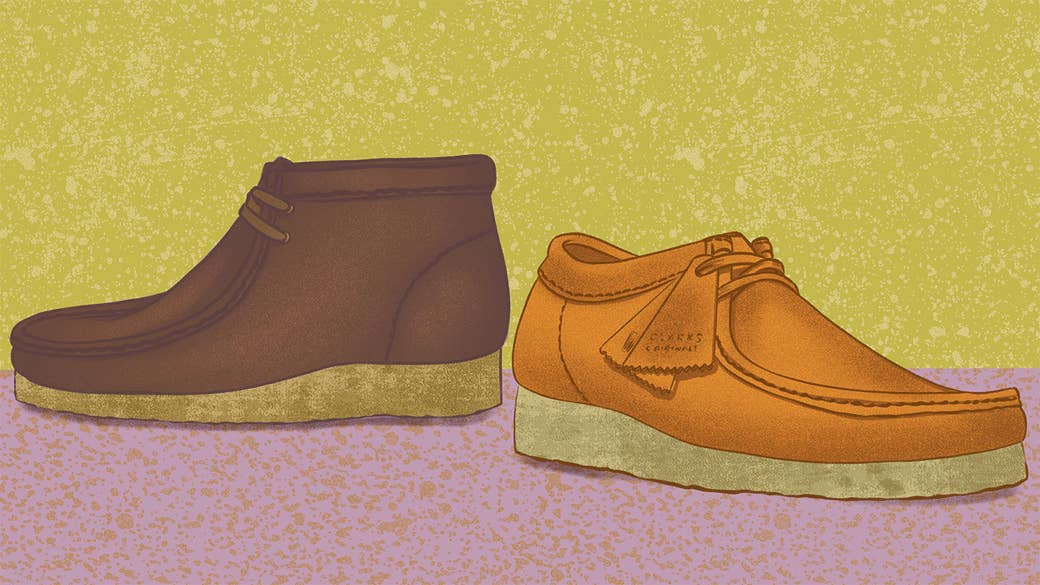 Wallabees come in two styles: a boot that sits just above the ankle and a low-cut shoe. 
Do you go low or high here? Really, you can't go wrong either way. Both are certified masterpieces and can be worn with all sorts of outfits. 
So be yourself and grab whichever one you like best. Or, cop one of each. 
But no matter which style you choose, make sure you get the right size. Many Wallabee fans tend to size down a half a size or so, but the best way to find your correct size is to try them on yourself. 
OG Maple Suede or Colorful?
Maple Suede is the OG Wallabee colorway, but Clarks offers the shoe in a number of bright and bold color and material options too.
Once again, this is a can't lose situation, so trust yourself and choose the color that suits your style and needs best. 
A Maple Suede Wallabee is a nice neutral that will work with almost everything in your wardrobe, while looking right across all seasons. But an intense Purple/Green Wallabee is fly and audacious, if only slightly less adaptable. 
Both options are dope, so do you. 
Keep the Fob On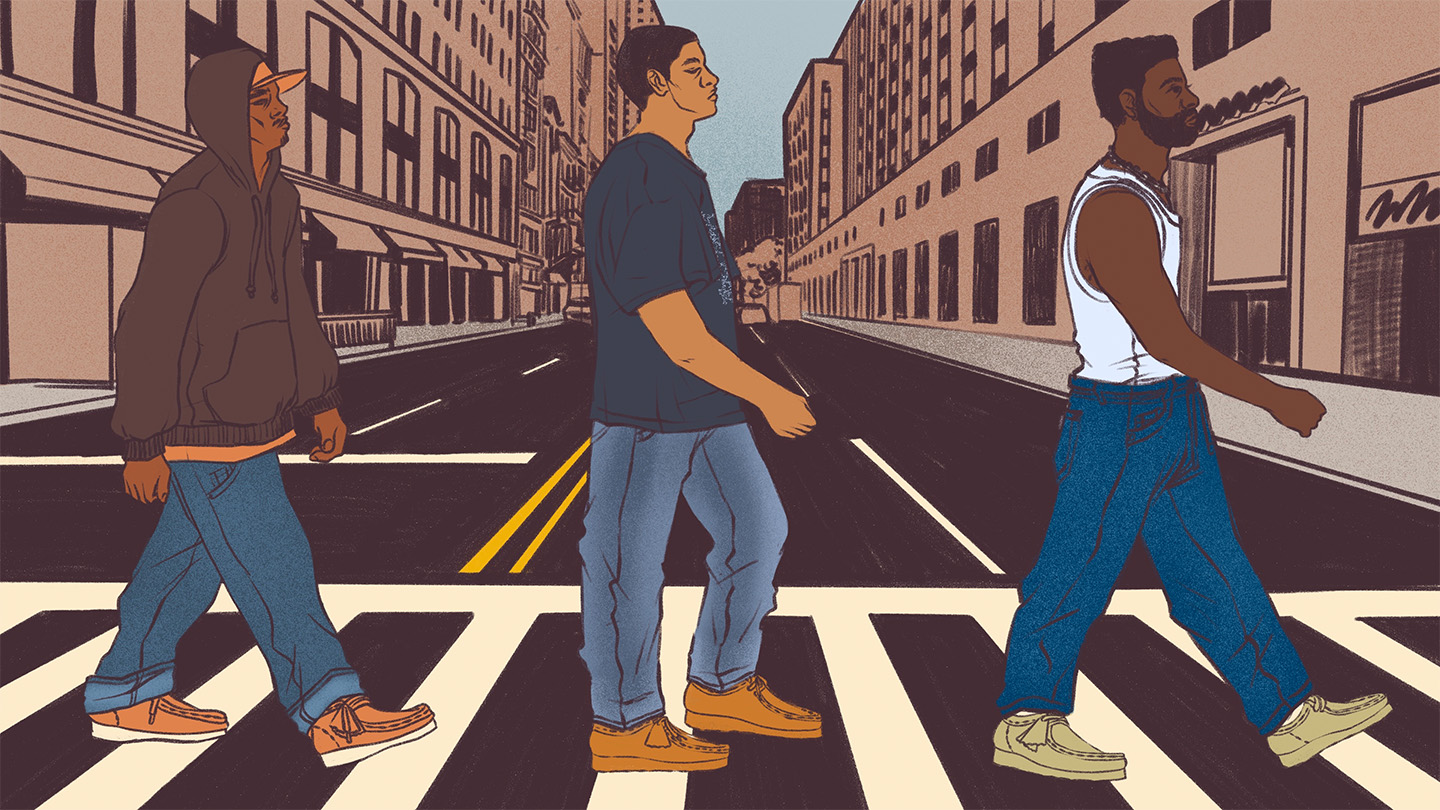 One question that always arises when talking Wallabees is what to do with the fob that comes on the right shoe of every pair?
Our advice: keep it on.
The fob provides extra flavor and visual texture, while letting you rep your Wallabee pride. True heads keep the fob on and rock it on the right shoe. Now you know. 
Experiment With Your Pants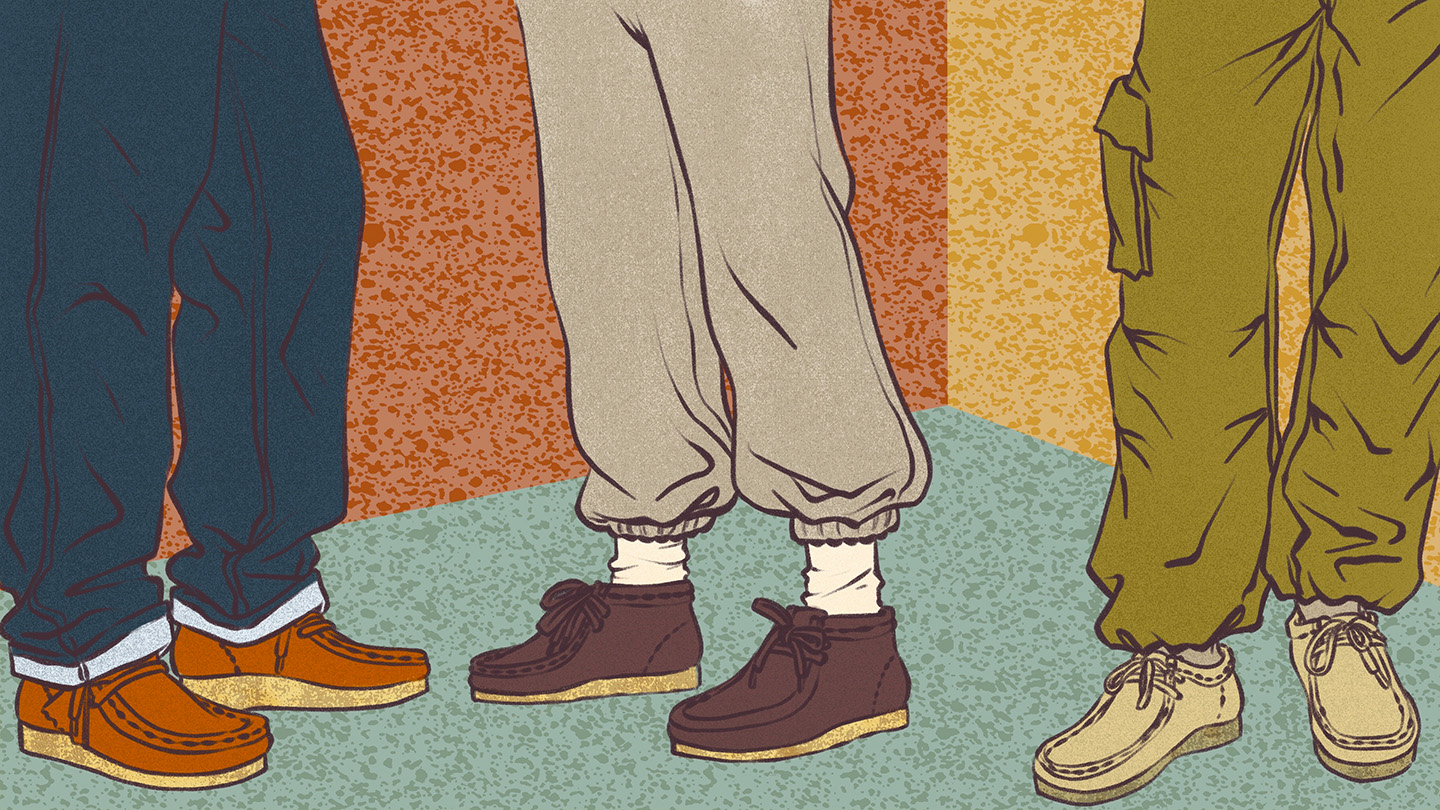 As you might imagine with a shoe that spans global culture and multiple decades, the Wallabee looks good with all sorts of pants. So this is a chance to experiment with your trousers, deciding which you like best with your own Wallees. 
At Complex, we're partial to a couple a few particular styles however. 
For starters, a nice, baggy BDU cargo pant that's voluminous up top but tapers down to tie bottom sits on a Wallabee perfectly. For extra style points, opt for a ripstop version and tie them up to show your Wallabees off in full. 
If you prefer something more cozy, pair your Wallabees with some elevated sweatpants and a nice sock. As with cargo pants, that loose silhouette with a tight cuff looks dope with this shoe. You can even add an extra touch of style by hiking them up and letting your socks show too. 
And, as you might imagine with a shoe so synonymous with a certain strain of '90s New York hip hop, a wide, straight pair of baggy denim looks good with Wallabees as well. Here, we suggest opting for raw, unwashed blue jeans that are a size or two bigger than your normal fit, then flipping up the cuffs and wearing your Wallabees loose. 
Tennis Anyone?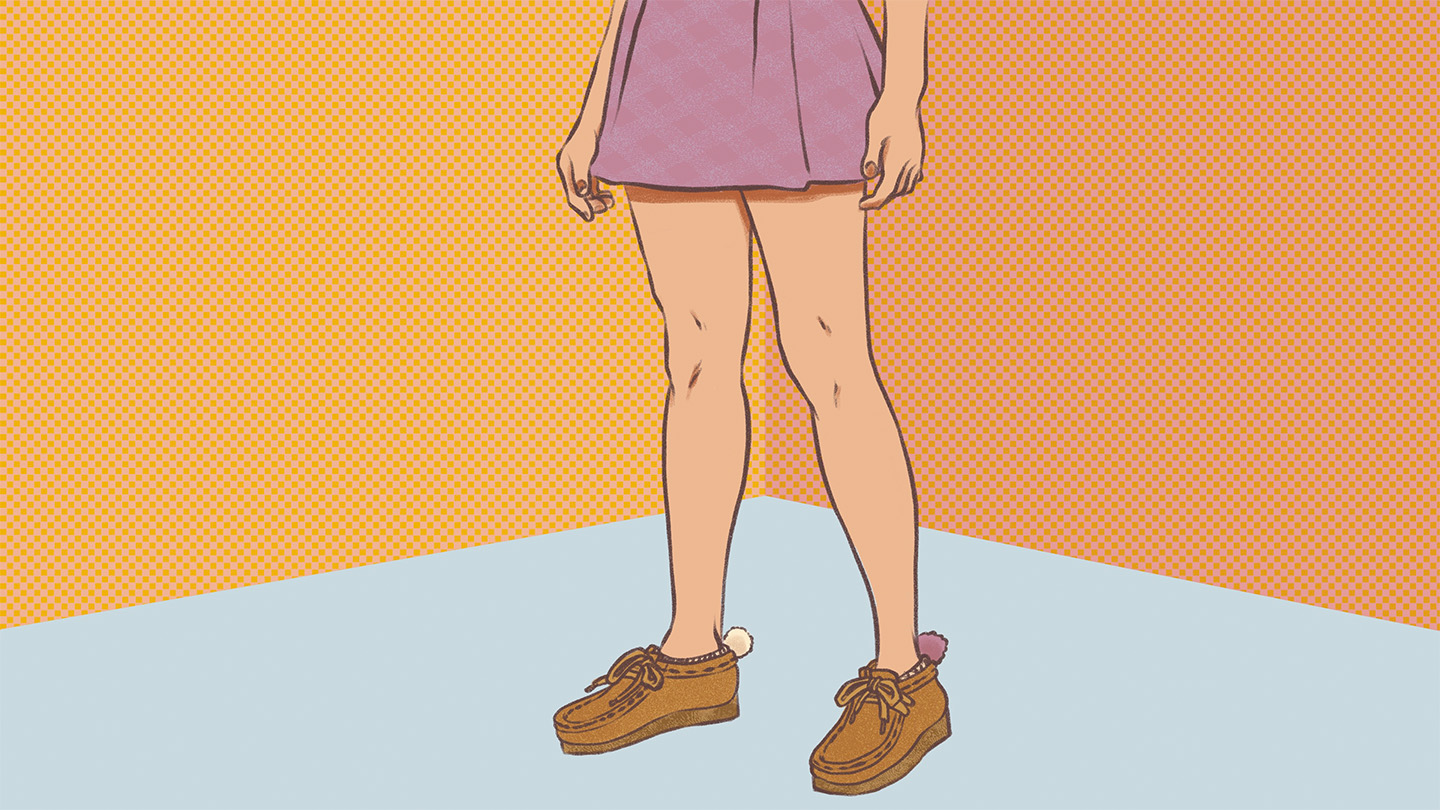 While all kinds of pants look right with Wallabees, you may not have considered a skirt. But those work too. 
Here, juxtapose the Wallabees' cozy, earthy construction with something fresh and sporty, like a tennis skirt. That combination evokes a '90s raver girl with a Downtown twist, the kind of person who's equally at home shopping for techno records or rap singles. 
To add even more flavor, we suggest going for the low-cut Wallabee and pairing it with some under-the-ankle pom pom socks. 
Or Try Shorts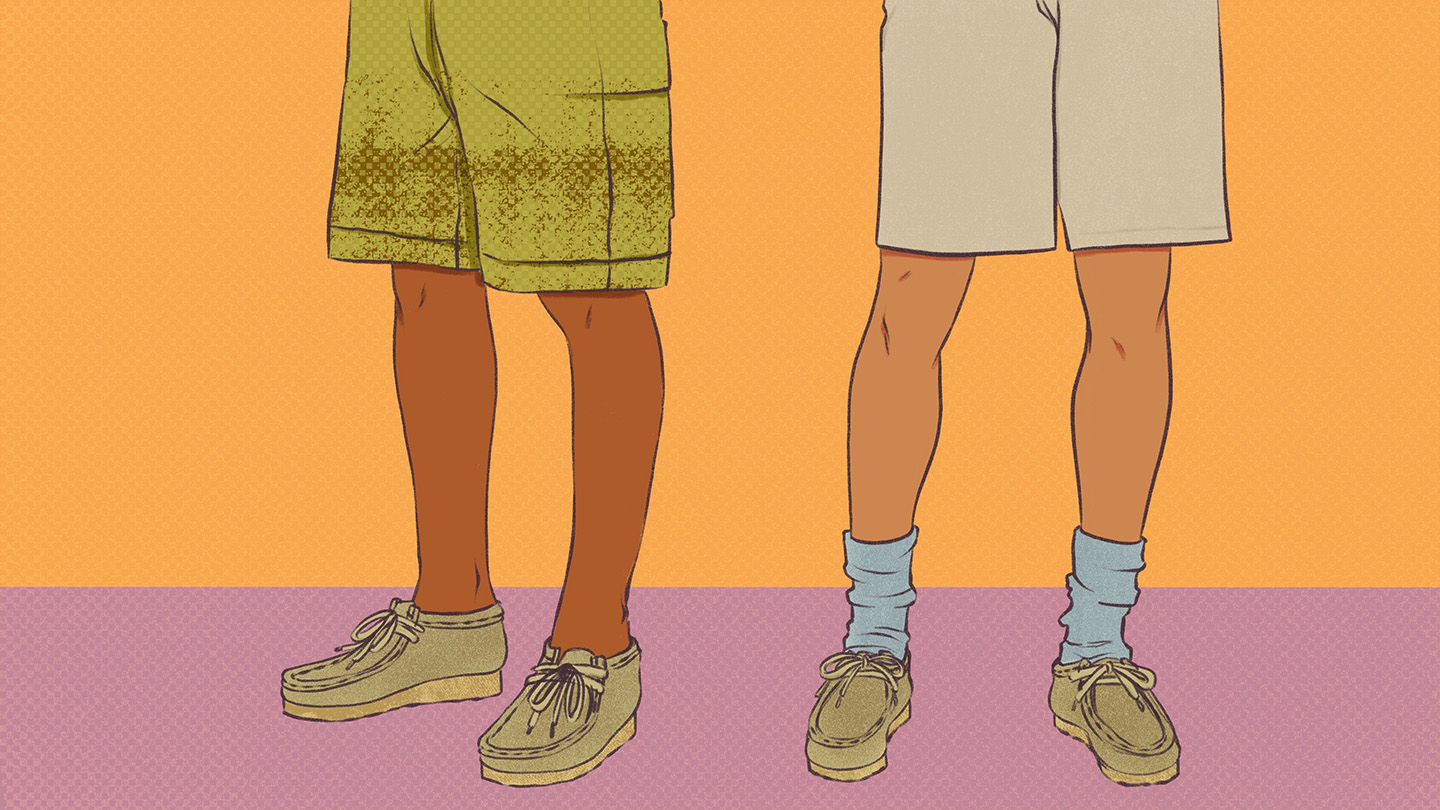 Unsurprisingly, Wallabees work just as well with shorts as anything else. 
First, we suggest keeping your shorts above the knee.
But beyond that, there are a couple of ways to play this.
One option is to go "sockless" with no-show hosiery that displays the ankles and creates a nice, naturalistic line from shoe to short.
Another, funkier styling choice is to wear your Wallabees with shorts and chunky, slubby socks, which anchors your outfit and adds a dash of winking, "in-the-know" cheekiness to your look. But a warning: socks with Wallabees is only for advanced fashion heads, so know yourself and what you're getting into when you try that look.
Dress 'Em Up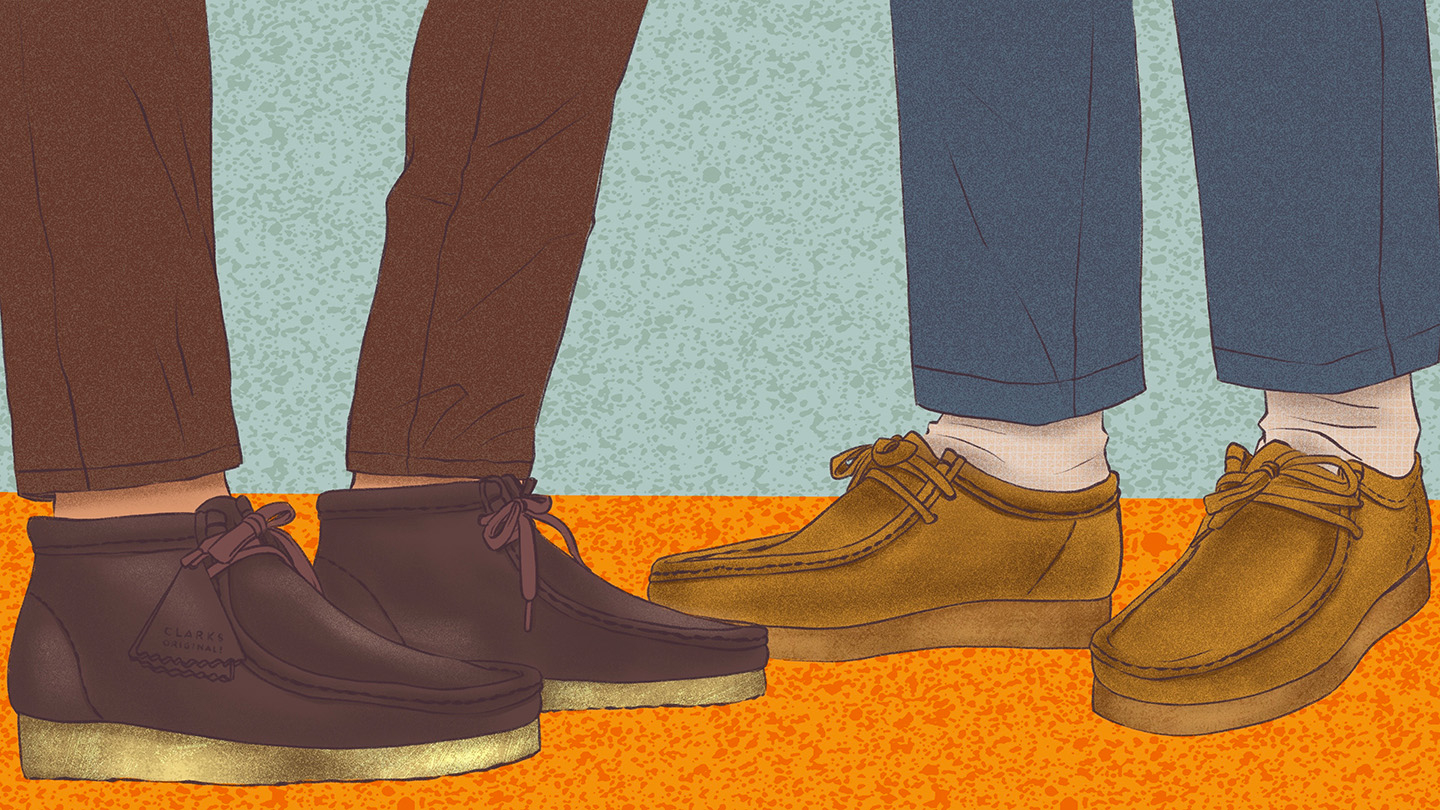 As we said earlier, Wallabees are versatile. That's one of the shoe's best qualities. And that allows you to take your Wallabees from forward-facing street style to something a little more dressed up.
When dressing your Wallabees up, a straight-fit chino works perfectly, especially with a cropped hem that sits between one and three inches above your shoe, creating a Mod look that shows off some sock.
Now that you've figured out how to make your Wallabees a bit more formal, you can wear them to the office or wedding just as easily as a concert.