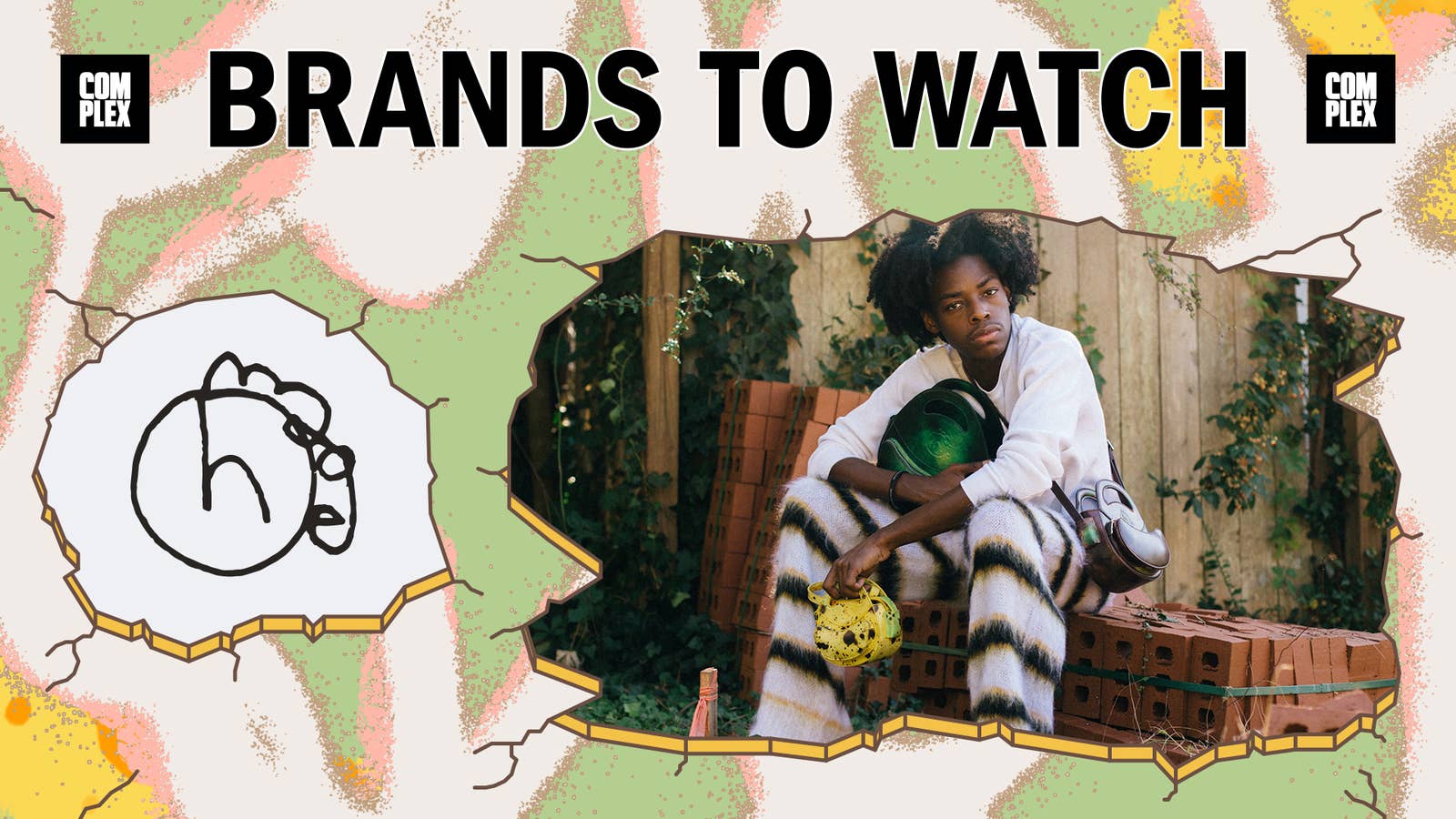 For years, Antoine Manning had been ruminating on what the future looked like for him. He saw possibilities in becoming a teacher or police officer, feeling the pressure to choose a more conventional career over the creative aspirations he formed as a kid reading manga with his brother Courtney. Then in 2014, their father passed unexpectedly. It was a pivotal moment for Manning, a realization of sorts. Life is ephemeral, why live it without fulfilling your dream? 
He's been dedicated to his creative pursuits ever since. 
Now, at 23 years old, Manning is running his brand Homage Year, home of the up-and-coming It bag, the Ova, and one of Complex's Brands to Watch for 2022. Crafted in the throes of the COVID-19 pandemic, the Ova bag's distinct shape is rooted in the notion of transformation. Taking notes from the organic shape of an egg, Manning wanted the bag to instill the possibility of new life, of change, at a time where having hope was in vain. "When I created the bag, it was COVID. Everything felt really weird. I wanted to create something that was fun, that was organically shaped, that was almost like a refresh," he says. "The time felt almost like an egg, a rebirth of the new life that we're gonna go into. I just wanted to bring a sort of refresh and new age symbolically through this bag." 
Although the bag was first released in 2021, the brand has been a work in progress since 2015 when it was first brought to life with a small drop of statement tees. It began as an expression of grief, a creative outlet for Manning to cope with the death of his father, as well as others close to him that passed along the way. To this day, Manning has a list of dates memorializing the deceased in his Instagram bio—a reminder of why the brand exists. "My grandma, she often says two of the most important words in the Bible are 'come' and 'remember,'' says Manning. "That's just really what it is, is to remember everything that we've been through, but also like paying homage to the people that we've lost along the way."
During his time at Georgia State University, where he studied painting, Manning continued to pursue design to express himself. He added hoodies, tees, hats, and jewelry to his repertoire, building a local community of followers at school. Merch was emblazoned with the quote "I Have No Words," a callback to expressing oneself through art, not words. The Homage Year logo decorated bandanas and boxers, and was even the pendant on a series of necklaces and earrings. "I started selling clothes on campus. I had friends in all sects of the school that supported the brand. I got to see the brand start to create some type of community for people despite the backgrounds that they had," says Manning.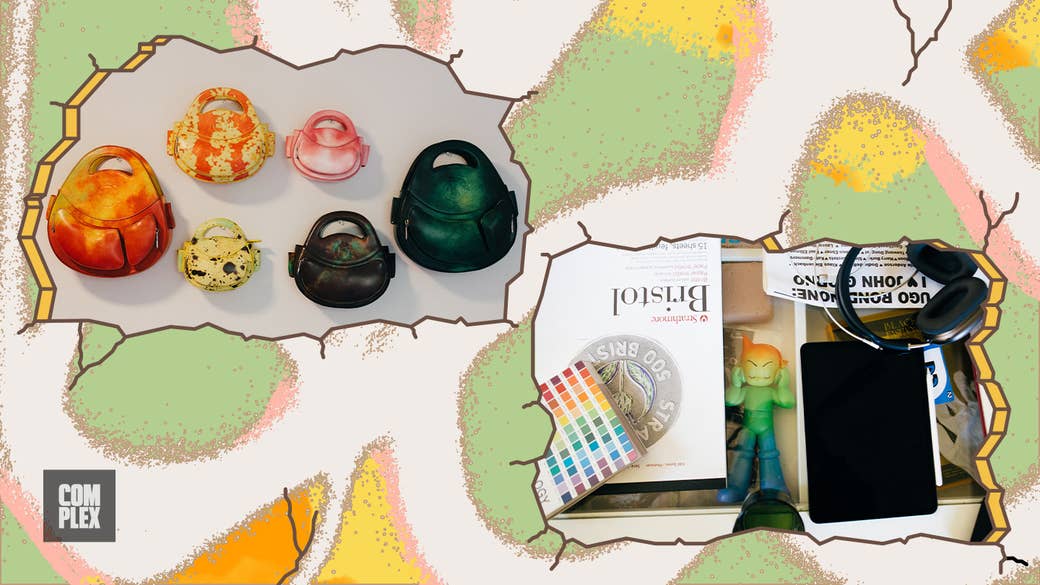 While at GSU, Manning landed an internship at Yeezy. Without formal training in design or fashion, it was there he learned how to dye samples and speak the language of the industry. "I was there so much. And I enjoyed being in an environment where I was learning, seeing so many different things happen," he says. "I felt like I was really involved in the design process. I almost felt like I was in design school." For a semester, Manning assisted designers, modeled samples, and sketched out designs. When it was over, most of the designers went back to Los Angeles, leaving Manning without a job.  
Unemployed and coming off the heels of working at Yeezy's atelier, Manning was feeling inspired to try something new. That was when a friend and fellow former intern made a suggestion: "You should make a bag." And so began the evolution of Homage Year as it is today. 
"I went home and I just drew out designs. It almost came like second nature to me. I got three samples of the bag made in three different ways, and one of the three was the winner. And then I just made it happen," says Manning. "It's strange. Honestly, if my friend didn't say it to me, I probably wouldn't have made it."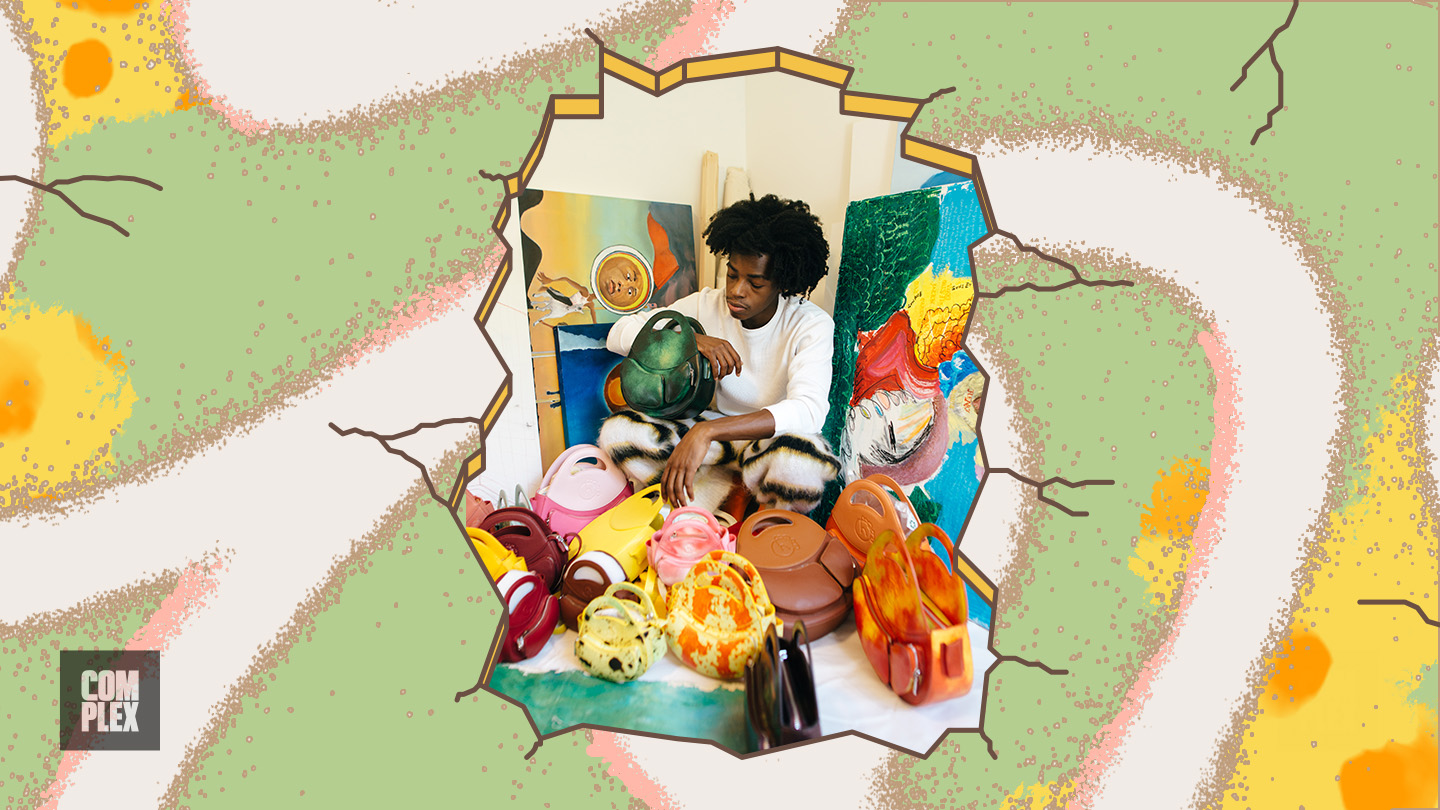 The first Ova bags, priced at $175, dropped online in February 2021. Offered in green and orange colorways, the vegan leather bags were fabricated with two biotic-shaped front pockets and a top handle. It took less than a month for the drop to sell out, and Manning was inundated with DMs, replies, and comments on social media with people asking for more. More colors. More bags. More, well, everything. The second drop sold out in 10 minutes. Demand was high but Manning was able to deliver. The next drop introduced Homage Year's Manifestation campaign— the next phase of bags named after spiritual desires— and featured two new colorways, Protection Yellow and Passion Pink. That drop caused the brand's server to crash. To put this in perspective, Manning first dropped 50 bags of each colorway to kick off the launch of the Ova. Now, drops with 100 to 200 bags per color completely sell out.  
The demand for the Ova isn't unprecedented. As the calls for social awareness in fashion rise, Black and POC-owned brands are finally getting their flowers. Designers including Telfar Clemens, Raul Lopez, and Brandon Blackwood have risen to prominence as they prove luxury handbags can be affordable. Manning refers to this trend as the "Harlem Renaissance," a groundbreaking time wherein Black creatives are successfully sharing their work, and opening doors for others in their community to do the same.  
Manning attributes some of his early success to the photo shoots he collaborated on with his photographer friend Jalen Amir. Leaning into the ideas of nature and rebirth that led to the bag's design, the shoots featured Black models depicted as embodiments of nature, covered in moss, leaves, and flowers. The images were ethereal, bringing Manning's followers right up against the essence of the brand. The distinctive set designs were a departure from the prosaic campaigns all across the web. After all, Homage Year isn't just trying to sell bags. The brand is selling vision. And of course, this vision spread like wildfire on social media. Once the shoots dropped on Twitter and Instagram, Homage Year was bombarded with orders. 
Manning is bringing this elemental vision to this year's ComplexCon, where Homage Year's latest Passion Fruit collection (bags range from $185-$375) will be ripe for the picking (more on this collection, later). There, Manning wants to transport attendees back to their grandmother's house where they'll be able to choose their favorite fruit from the lineup.
"Our goal is to be something much more intentional, to be something that touches the spirit or the soul of somebody else," says Manning. "You feel it internally. It's not something that you want because of how it looks, but more so how it makes you feel, how you relate to it, how you can feel attached to it."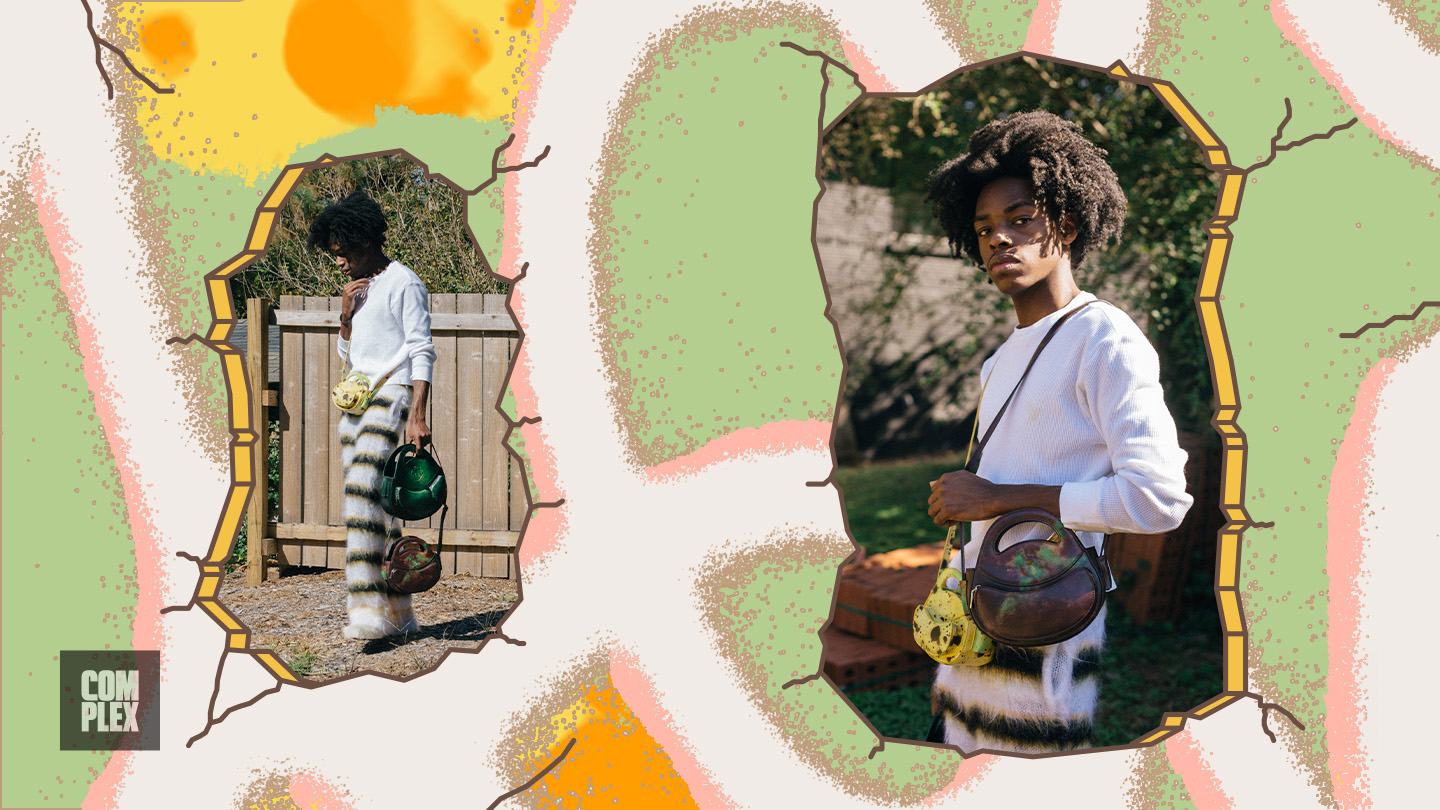 By September 2021, the Manifestation line was complete with eight colors: Intuitive Blue, Growth Orange, Abundant Lavender, Protection Yellow, Tranquility Green, Control Red, Solidarity Brown, Passion Pink. With the help of friends, Manning named the colorways as a spiritual guide for consumers: what will fulfill you? "The colors help people channel what they actually want in this world," he says. "It's catered to you and what you really need."
It had only been seven months since the first drop, and demand was higher than Manning ever imagined. Tierra Whack got her hands on one. Dame Dash was photographed holding one. PrettyLittleThing even tried to knock off the Ova. For the next year, the small Homage Year team—Manning, one employee who works on visual direction, and two contractors, Trent Munson and Paracosm who work on visuals and art, respectively, along with help from people in the industry like Antoine Grégory from Black Fashion Fair—worked on sales, restocks, new colorways, and additional sizes of the Ova bag. Manning held pop-ups, put up wheatpastings in New York City, and continued to use imagery of the natural world to share his vision.
Manning's pursuit of nature in design has ushered in a new phase for Homage Year. Well, sort of. After watching Ashton Kutcher's portrayal of Steve Jobs in the eponymous film, one line from the movie stuck with him: "It has got to be something that you're passionate about because otherwise you won't have the perseverance to see it through." Passion. Passion. Passion. The word stuck with Manning. It was a feeling, it was a fruit, and it even called back to his own family, to his grandfather who was a wealthy farmer back in Jamaica. Above all, it was symbolic of what led him down the path to create the Ova bag in the first place. So, he decided to make it a permanent part of his collection.
"The things that we do every day, and the time that we spend in our craft, those are our passion fruits," Manning says. "We may not reap the fruits a week from now or a month from now or a year from now, or 10 years from now, but we'll reap the fruits eventually as you continue to grow."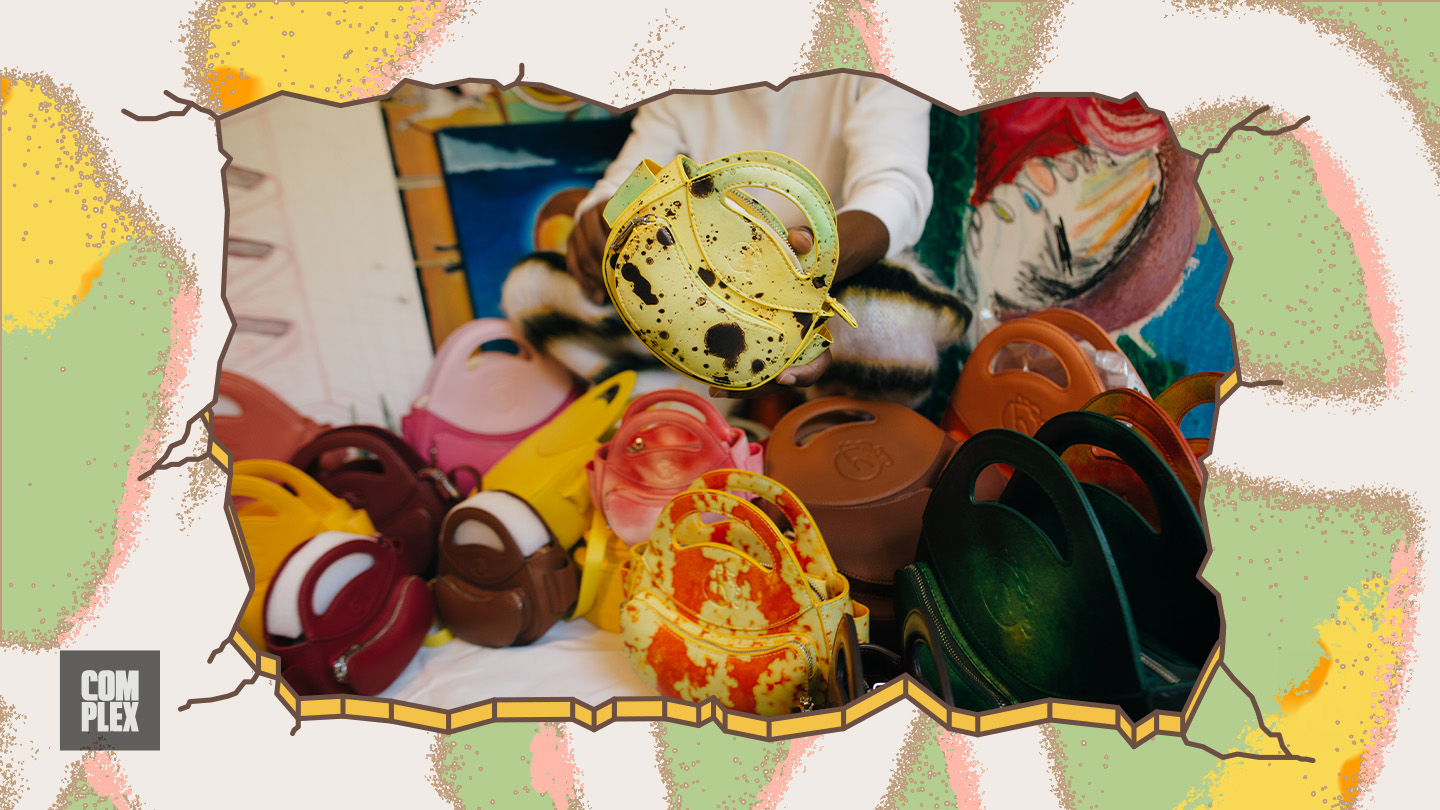 The Passion Fruit line consists of six unique Homage Year fruits: Poise Peach, Purpose Passionfruit, Benign Banana, Celebration Carnival Squash, Accountability Avocado, and Mindfulness Mango. The collection was a difficult process to complete. It's the first printed bag Manning released, and it was important to replicate the texture and color of the fruit. "The process of creating it and getting it done was hard because between us [creating the design] and then sitting with our manufacturers and them making samples, the quality of the prints were pixelated and really bad," he explains. "It was a long, hard process, but we eventually got it done. We basically just found different foods that we wanted to recreate and duplicate. And then we just did it through Photoshop."
Beyond ComplexCon, Manning is looking to expand Homage Year. The Ova is already available in stores like Saks Fifth Avenue and Telsha Anderson's store, t.a., but the designer is thinking big. This means possibly releasing ready-to-wear, and definitely keeping up with the demand of the Ova bags. 
"Being so young and being in a position where everything we do right now can make or break us in the next 10 years makes me more intentional and more thoughtful about what I'm doing," he says. "It helps me want to learn as much as I possibly can within this time period so that when I get to 25 or 26, we can be like one of the major contending and impactful brands around."
Homage Year is sowing the seeds of success. And as for Manning, he's proving that grief isn't just the end. It can be the beginning of something special.