AWAKE NY Founder Angelo Baque on Creating His Brand's First Collab Shoe With ASICS
With AWAKE NY going from strength to strength, the timing feels just right for the brand to be dropping their first ever shoe – a collab with ASICS.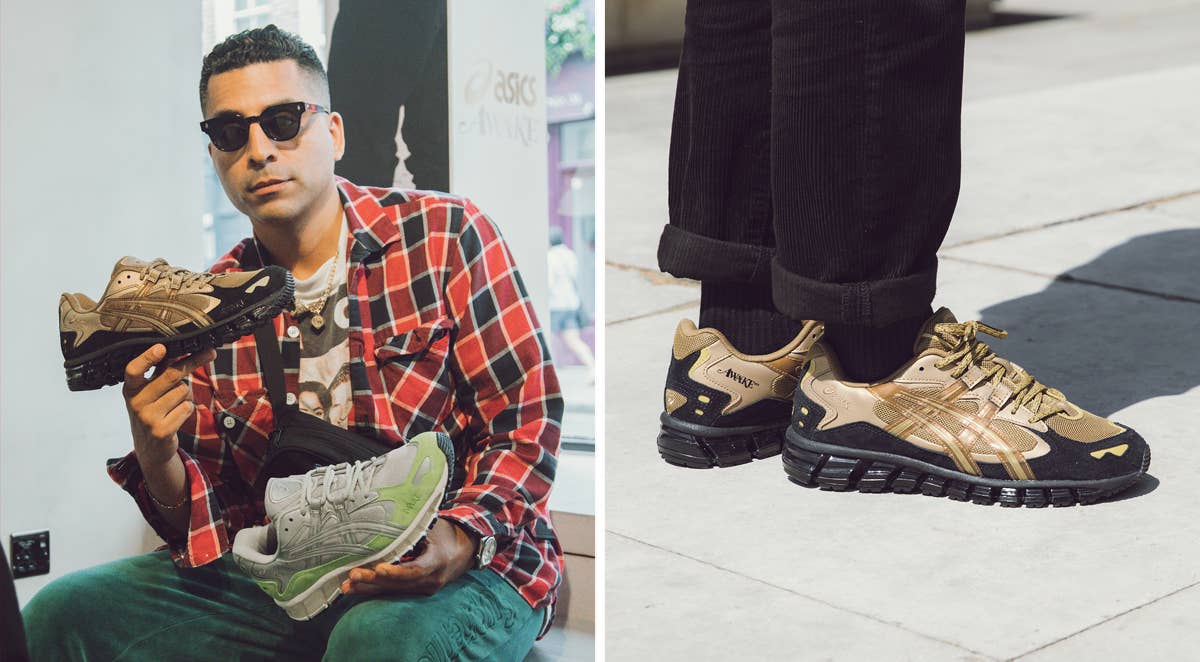 Publicist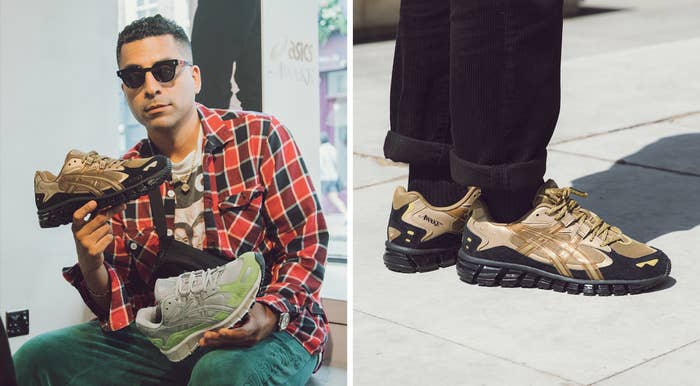 After a culturally significant and immensely successful decade spent working at Supreme, most notably as Brand Director, Angelo Baque decided, in 2016, to strike out on his own. First came his eponymous creative agency, and then a bookstore, amongst other ventures, before the launch of his own label, AWAKE NY, that debuted at NYFW in May 2018.
With AWAKE NY going from strength to strength, the timing feels just right for the brand to be dropping their first ever shoe – a collab with ASICS, on the GEL-KAYANO 5 360 model, rendered in two distinct colourways that draw on Baque's deep well of cultural memories and reference points.
Complex caught up with Angelo just after the friends and family launch for the shoe, at London's equally legendary Footpatrol store.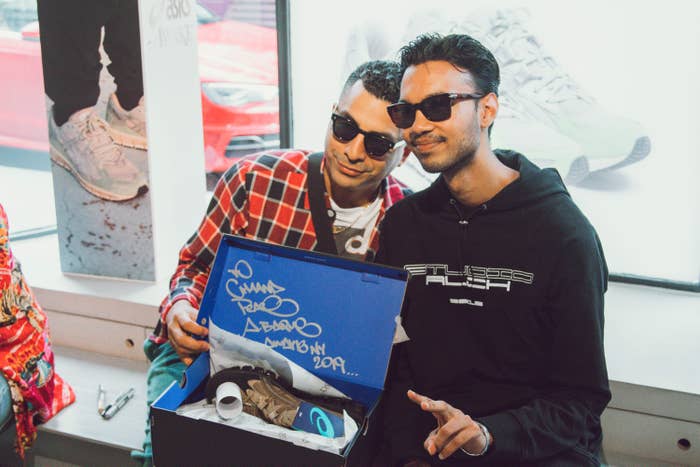 Firstly, congrats on the release of your first shoe. Can you talk a little about how this collab came about, like who reached out to who?
Thank you. It started with ASICS reaching out and getting in touch with me. It was a bit of a shot in the dark from them – I think initially they presumed I would say no. But one of the reasons why it works so well is there's a tonne of humility in both companies. We were a little bit like when you're a kid at the school dance, eyeing up a girl across the dancefloor. You think she doesn't want to dance, she thinks you don't want to dance. Finally you end up talking, realise you have a connection and both end up going "you're cool, yeah I think you're cool too!... " [laughs]
You grew up in New York in the late 80s, early 90s – what sort of profile did ASICS have for you back then?
In short, it didn't. That's the truth – I'd be bullshitting if I said otherwise. Early 90s New York was very dominated by Nike – it was hard for anything to come close – maybe Reebok did a little bit with the Pump – even adidas was nowhere to be found.
I knew then that ASICS was always seen as an expensive trainer, but I didn't understand as a kid the true value of ASICS as a training shoe. It was only later, through developing more of a global perspective and understanding, and having conversations with people like Gary Warnett (RIP), that I learnt to fully appreciate the value of the brand.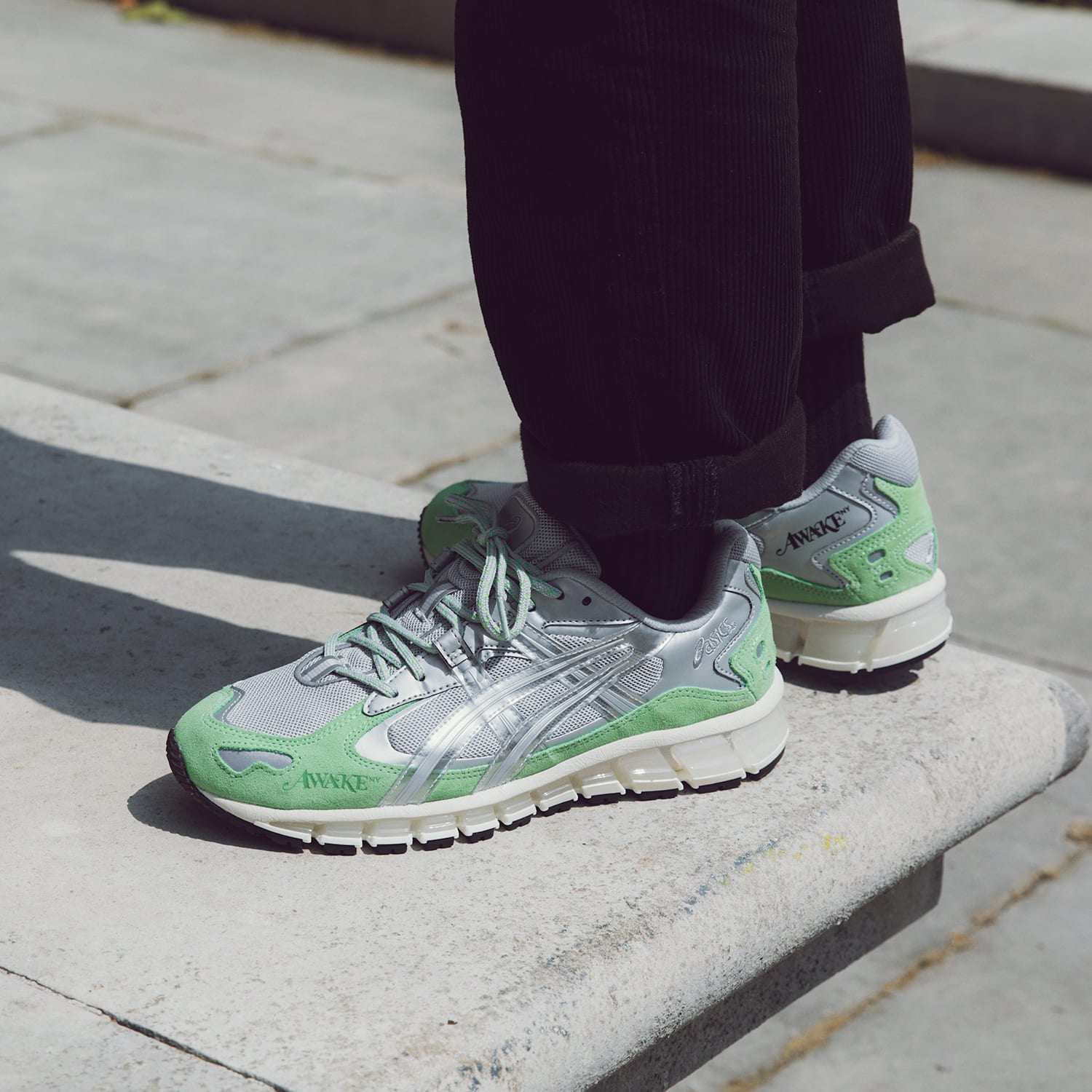 Back then, did you ever think you'd be in this position, having your own brand, having your own shoe? 
Not at all. I had no clue this would be my career – I definitely wasn't one of those kids who had a masterplan at the age of 10 or 12. The way my career has developed has been very much natural, organic growth.
In terms of having my own shoe, I think every kid born in the 70s, 80s, 90s, growing up in a big city, wants their own shoe. Now, every guy, every girl in the world wants their own shoe, so it's definitely a big deal. Also I like to be seen as left of centre – although not in a totally abstract way. Which is why linking up with ASICS for our first shoe was perfect – it was a little bit unexpected.
And how was the process? How did you decide which shoe to work with?
I knew when we started that I wanted it to be new and young, something different. Obviously ASICS have done a lot with the old school GEL-LYTE, and we could easily have done something from the early 90s, but I was also interested in how historically their $180 running shoes had been appropriated by European youth culture – the Parisian guys wearing them with tracksuits and Gucci hats.
I was asking what was on the table – what kind of energy we can bring to the market – so when they showed the GEL-KAYANO 5 360 to me, I was like, 'this is it!'.
In terms of working with the construction of the shoe, there's only so much we were going to do to it – I'm not Raf, or Jeremy Scott, I'm not going to put wings on it! [laughs].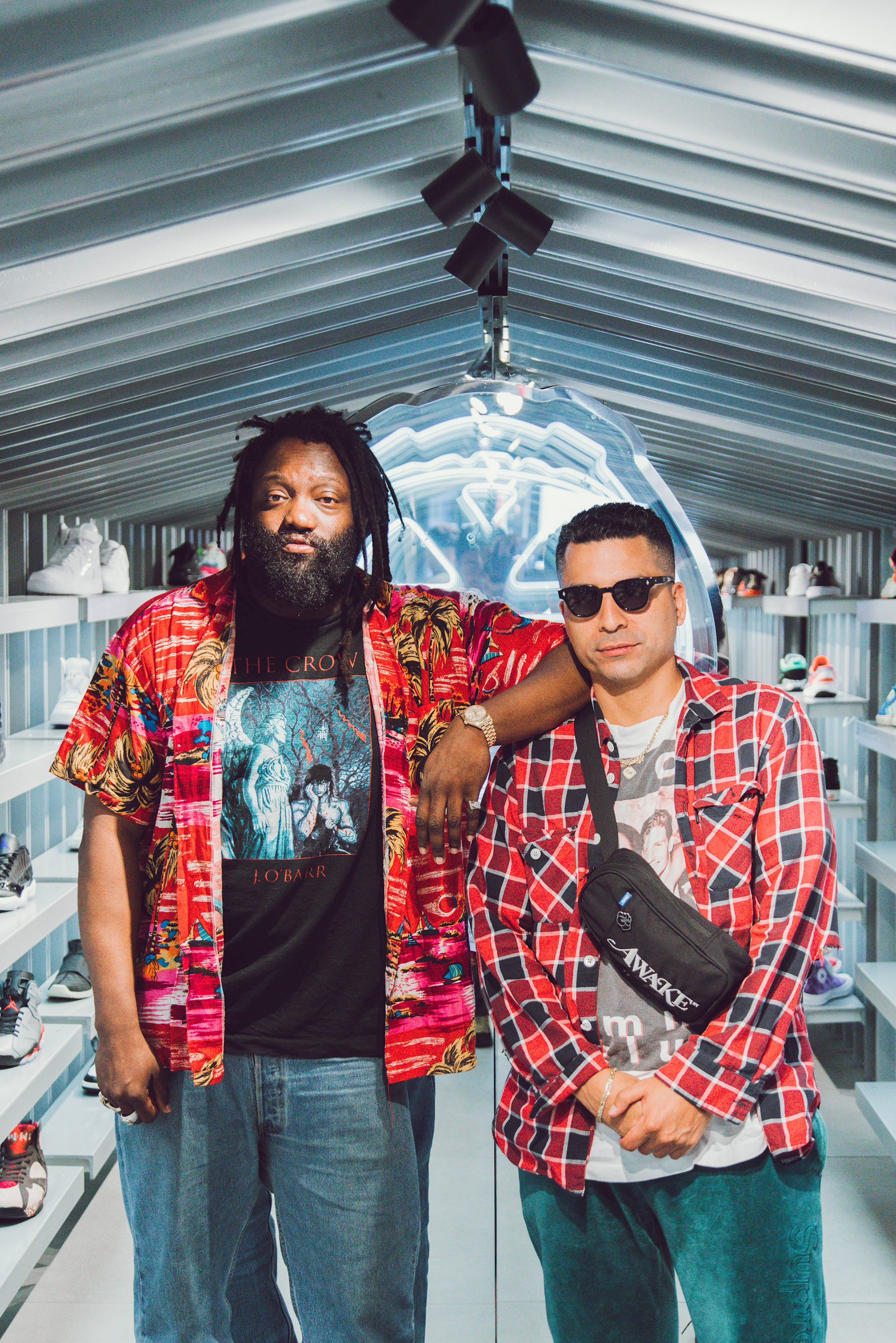 And the two colourways – what was the inspiration behind those?
The silver and green one was inspired by Flushing Meadow Park in Queens, New York. Each borough has a landmark, and growing up in Queens, that was ours, that was our hangout spot. The centrepiece of the park is the Unisphere, which was from the World's Fair. It's chrome, so the colourway reflects that surrounded by the greenery of the park.
The sister shoe, the black and gold, was inspired by Paris. The golden light you get at that particular time, with the streetlamps, plus the guys I mentioned earlier, in their all black tracksuits. 
How different did the final versions end up being from what you had in mind at the beginning of the process?
When I started it was a f***ing mess! We threw the kitchen sink at it, and then we had to regroup and rethink it. I knew I wanted to tap into certain themes – the London roadman, Paris streetstyle, while still feeling New York, and for me that meant taking it back to Queens. So I was thinking, how can I get these stories out, but I did feel the pressure. 
It wasn't really an option for me to have a long learning curve, I don't have space to put something wack out – it needed to be right from the beginning, or I'm going get criticised 100 times more.
A lot of people probably think my background at Supreme works in my favour, but actually in some ways it works against me – it means I'm held to higher expectations. Especially with working with the shoe we did, one that wasn't on the tip of everyone's tongue, there was more room for error – if it had been an Air Max 97, or a Jordan 3, I'd have had to have done a lot to fuck it up.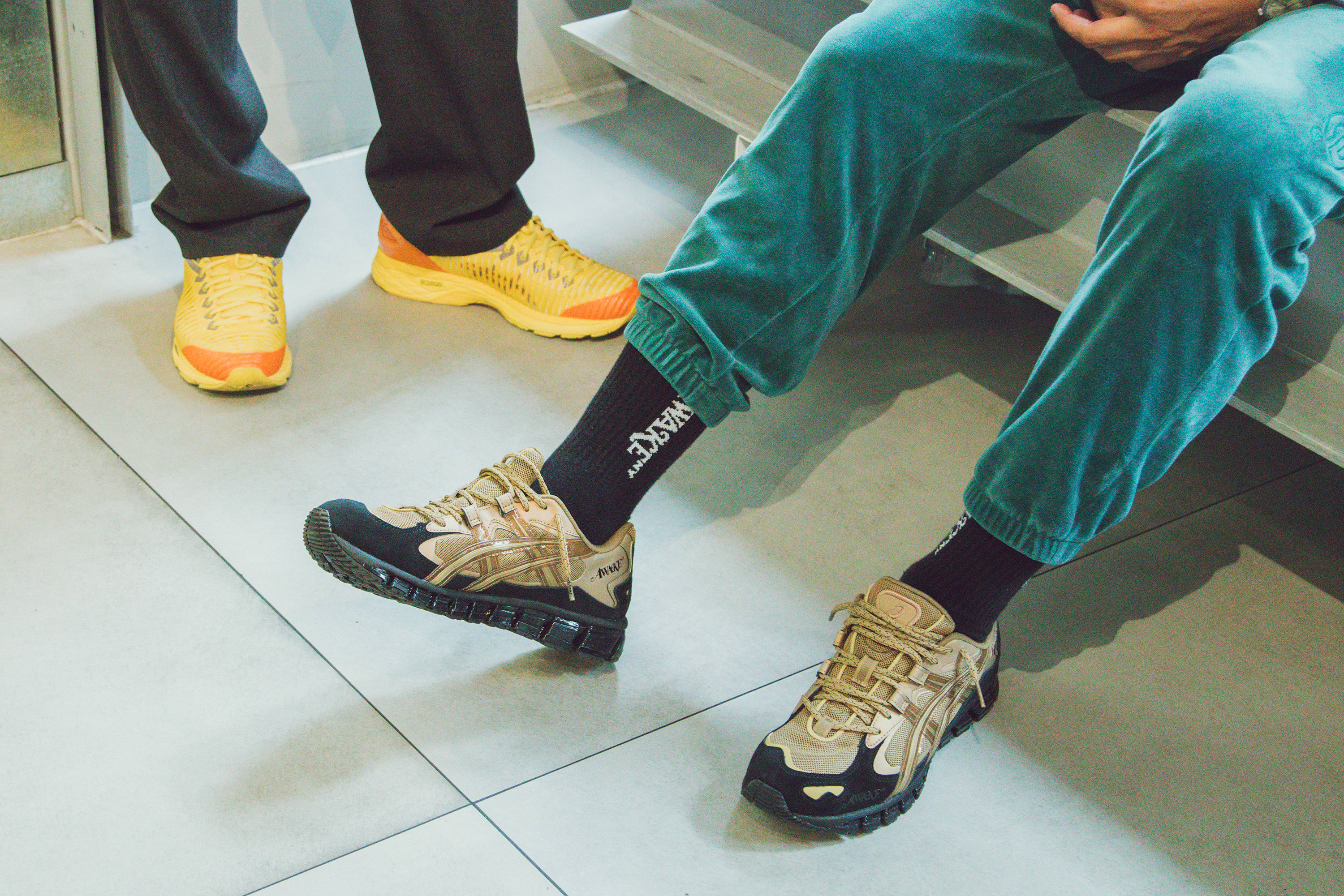 Was the way you approached this shoe reflective of your approach to design more generally? What is that like and is it much different when you're working on your own brand, to working on a collab?
For AWAKE NY, it's a constant process of evolution. We're still relatively small scale, so we can make changes at the last minute – if we suddenly see a book, a colour scheme, etc, that we want to incorporate. It can be frustrating for my employees, but it's great to be able to work like that. It also allows us to be more strategic, to drop things at particular moments.
When I launched it I had zero expectations. I didn't have a goal or three year plan or whatever. I just wanted to try to make the best collection each season that we could.
The best feedback we get is that what we're doing feels right, it feels organic, none of it feels forced.
The other thing – the main thing I learned from my time at Supreme – is a hard work ethic. It doesn't stop, it's 24 hours a day, 7 days a week.
Working on collabs is different, of course, but dropping them at specific times in the mix feels like a nice exclamation point.
With ASICS, neither of us wanted it to be a one-and-done, so there will be another shoe next year – we're looking at doing something for the Tokyo Olympics.
Exciting times – we look forward to seeing that. Last question – you've mentioned before that part of your intention, or motivation, with AWAKE NY, is to be able to offer support to upcoming talent, and also to causes you believe in. Can you talk a little about any talent or causes that are front of mind for you right now?
For AWAKE NY, with the lookbooks particularly, we use those as a training ground for new photographers. It's something we used to do with Supreme, that was part of my role. Now I'm specifically looking to give young kids of colour a chance to shoot.
Aside from that, right now I'm in the process of bringing more attention to the border camps we have here in the US. We're doing a collab with Chroma, a PoC female owned agency, doing a collab tee. A lot of people caught up in those camps don't know their rights, so the tee is going to have them printed on, in Spanish and English.
That's how I see my role, it's about giving back, using my position to try to bring more awareness.
Head to the AWAKE NY site for more information, and to the ASICS online store here.