March Madness is one of the most exciting times of year for basketball fans, and as we head into Final Four weekend it seems even Toronto label Hayley Elsaesser has caught the ball bug. Often inspired by movies and pop culture references in its own collections, the team drew inspiration from underdog sports movies for its latest video piece, and called upon a few friends to help bring it together including Toronto's art/ball/culture collective VANGUARD®​, stylist The Sandy Lion and Montreal-based rapper Nate Husser.
Hayley and Nike have worked together on both the Air Society campaign to launch the VaporMax shoe, as well as the SS18 runway show for the latest HE collection, "Teenage Wasteland," so continuing that working relationship only seemed natural. In addition to the obvious trend of fashion and sportswear becoming one and the same, marketing director Connor Elsaesser also gave us some more insights to the partnership: "I see a ton of overlap in the core design goals of the two brands: merging timelessness and innovation and constantly trying to encapsulate the seemingly oxymoronic goals of nostalgic futurism and fashion-forward comfort." While there are certainly similar values, Connor also acknowledges the differences that actually provided inspiration for the "March Madness" video: "Though I see the design symmetry, I can't ignore that at face value, there is a stark contrast between the outward aesthetic of the two brands. I thought it would be fun to roll with this concept and play up that juxtaposition; pitting a team of Hayley-clad 'fashion freaks' against a well-oiled athletic machine of Nike athletes."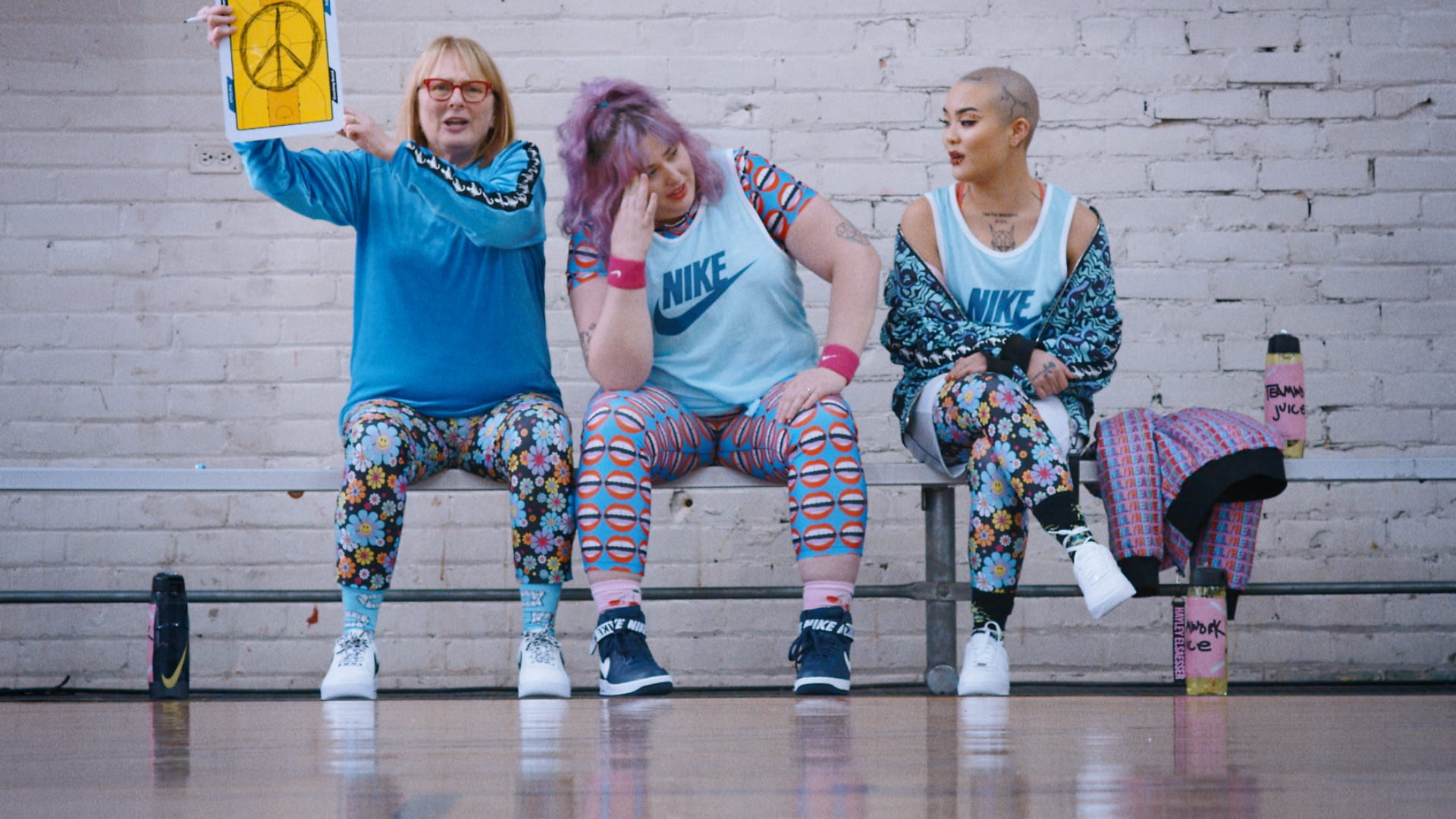 VANGUARD®​ are a unique collective in Toronto that weaves together their passion for "ABC's — Art, Ball & Culture." In addition to capturing content and experiences that encompass all three, the VANGUARD® are all high-level athletes and the perfect contrast to Hayley's motley crew that includes frequent collaborators (who you might recognize from past campaigns and runway shows) and family members. The cast rocks a combination of pieces from Hayley's "Teenage Wasteland" collection as well as some Nike pieces and footwear, including the LeBron 15—an ode to the rumors about LeBron starring in a Space Jam reboot. Connor even wrote the backing track, "Jock Jams," which features Nike and basketball references, as well as some familiar sports sound bytes.
"Fashion often takes itself very seriously and tries to create an air of exclusivity and elitism," Hayley shares. "With my brand I want to make clothing that flies in the face of that." Enjoy the video above, and shop the "Teenage Wasteland" collection on the Hayley Elsaesser website now.