Virgil Abloh sat down with GQ's Zach Baron, who did his best to keep up with the designer/artist/creative director's hectic work life. In between the tales of Abloh's jet-setting was a nugget about a T-shirt that had an outsized effect on Abloh. "Virgil often says the moment he realized he was ready to go into the industry was in 2012, when Balenciaga did a graphic T-shirt that superimposed the phrase JOIN A WEIRD TRIP over a screen-printed image of a sphinx—pure streetwear, with a high-fashion label stitched on."
The T-shirt isn't just iconic in retrospect; it immediately commanded the attention of fashion critics and celebrities. Everyone appeared to be onboard the second the design first appeared on Balenciaga's fall/winter 2012 runway. Vogue's critic at the time, Nicole Phelps, noted that "[Balenciaga's then-designer Nicolas Ghesquière] moved the fashion conversation along today in a few different ways, by deliberately trafficking in items of questionable taste (those black satin sweatshirts with spacey slogans like "JOIN A WEIRD TRIP" and "OUT OF THE BLUE" are instant collector's items.)" 
And prescient Phelps could not have been more right. Once the design hit shelves, celebs flocked to it. Go back a couple years and you can find Rihanna, Justin Bieber, Kendall Jenner, Miley Cyrus, Rita Ora,  Robert Pattinson, and Andre Igoudala all wearing the T-shirt. As GQ notes, the T-shirt was an early indicator that streetwear was about to infiltrate the runway. 
Ghesquière has long advocated for streetwear in high fashion, dating all the way back in 2007. "[My collection] started with the street, really, and it's been a long time since the street was inspiring," he told The New York Times. "I wanted to show a luxury style in the street. Why should street wear always be casual? My ideal was a mix-and-match—you want to see a girl in that type of jacket, but with a real sense of luxury and quality." 
There's a pretty clear connection between that quote and what Virgil is talking about a whole nine years later in GQ. "There was couture," he said. "And then there was Yves Saint Laurent. Like, 'Hey, news flash: No one wears these clothes.' So here comes ready-to-wear. And now: streetwear." The GQ article also notes that Virgil says, "These days a hoodie is pretty much the new suit jacket."
Five years after that interview with the Times, Ghesquière utilized these weird phrases and graphics that would have been at home on any streetwear tee. The difference was that this time, it was shown on a high-fashion runway, made with high-fashion materials, and sold for high-fashion prices. You can see where Virgil spotted the design and saw it as clearance to move forward with his own diagonal-striped shirts and slogan tees that are printed with things like, "I Only Smoke When I Drink."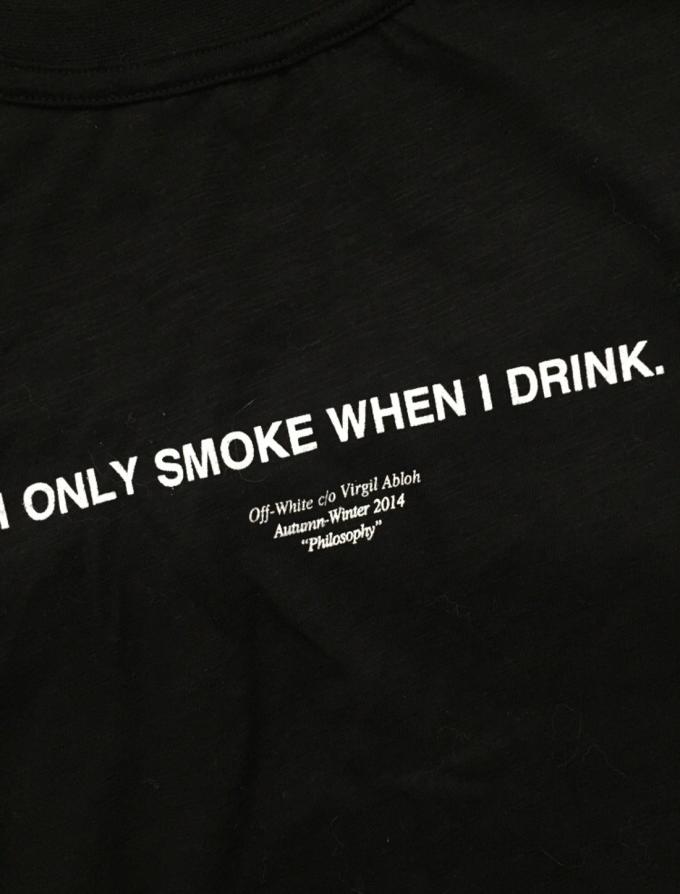 "That shift in fashion? I'm pointing straight at that," Abloh told GQ about fashion's continued love affair with streetwear—a love affair that maybe became Facebook official when Balenciaga threw a single T-shirt down its runway.