Laremy Tunsil Is Over the Gas Mask Incident. Why Isn't Everybody Else?
Almost six years and a lot of reflection later, the Texans left tackle finally talks about his infamous drop in the 2016 NFL Draft and how he put it behind him.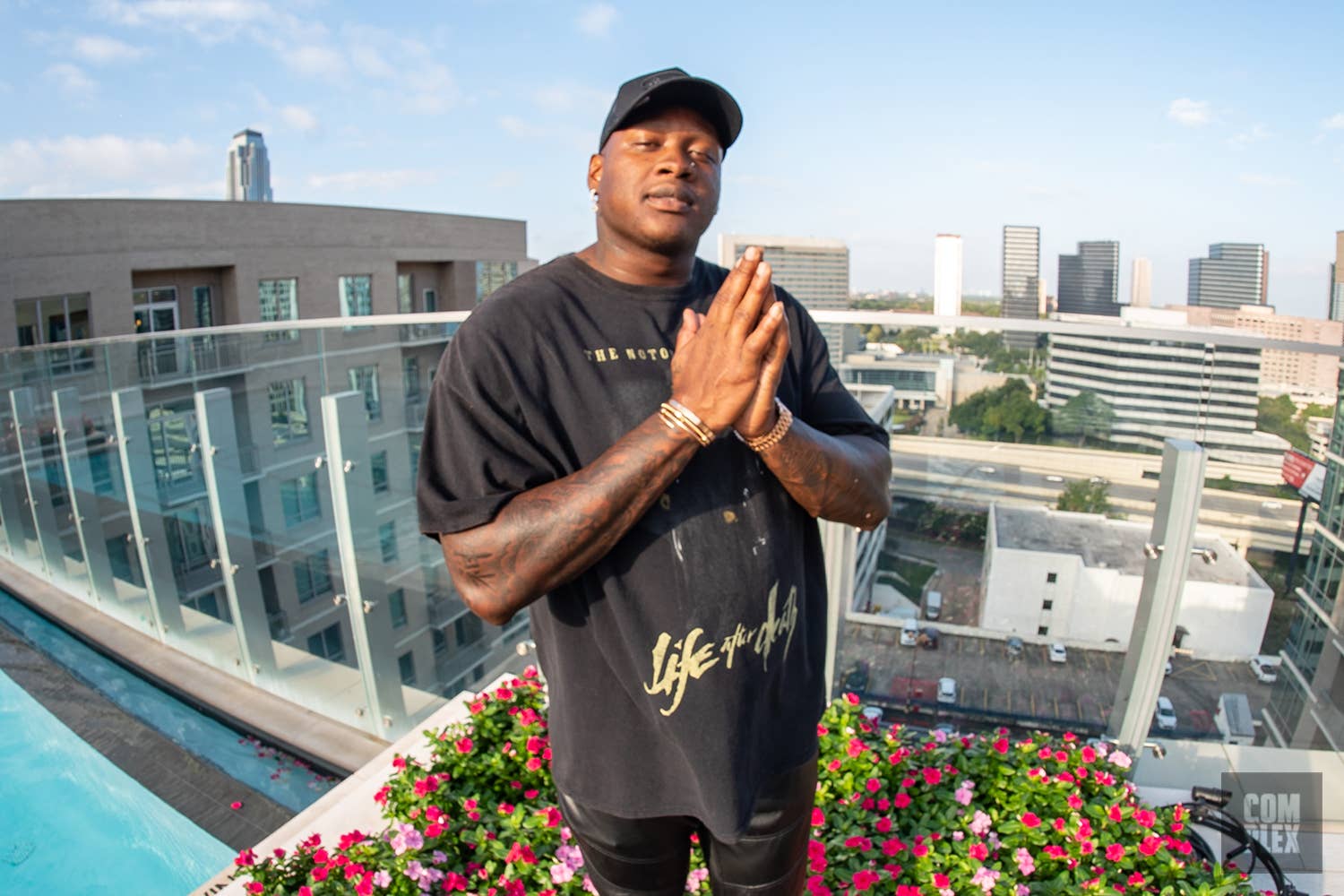 Publicist
Laremy Tunsil Flower Bed 2021 Wide Lead Horizontal
Laremy Tunsil's calling. You pick up and ask how he's doing. "Solid," he warmly responds in a voice that almost makes him sound like the north Florida version of Freddie Gibbs.  
Solid, according to the best left tackle in football, means something different than what it says in the dictionary. To Tunsil, solid means he's chilling, that he's running around with no complaints. Essentially, life is good. It's a term he only recently adopted, an upgrade over his former favorite response—"straight"—which he'd break out whenever someone asked him for a status update.    
If you asked Tunsil how he was doing on the biggest, most important night of his life, which was supposed to be a celebration of his talents and his coronation as the cornerstone of an NFL franchise, he would've lied to you. He would've said he was straight. Because that's the kind of person he is, preferring not to project his problems and feelings onto others. But the reality is that evening, with the whole world laughing at him and NFL teams scrambling to figure out what the hell was really going on with one of the top prospects in the draft, Tunsil tried to suppress every awful emotion coursing through his body as he watched the unimaginable unfold. When it was time to explain how one of the most insane, unfair ordeals in NFL Draft history happened, impossibly, he looked poised, polished, and composed. He was anything but.  
"I was not poised. I was fucked up," says Tunsil. 
Players falling in the NFL Draft is a tradition unlike any other, and there have been some famous ones over the years, from Aaron Rodgers to Brady Quinn to Warren Sapp. But none of 'em—and I mean none of 'em—compare to what Tunsil went through on April 28, 2016. Sitting in the green room at the Auditorium Theatre in Chicago, moments before he was about to realize his dream as a top selection in the draft, a nightmare crashed the party. He felt a tap on his shoulder. "Listen, don't panic," his agent quietly told him. "Just check your Instagram and Twitter." 
"Probably one of the worst feelings I ever experienced in my life," says Tunsil. "I don't wish that situation, that experience on nobody else." 
Almost six years and a whole lot of determination, dedication, and reflection later, Laremy Tunsil is finally ready to talk about the incident—the mistake—that caused him to fall to the Dolphins at No. 13 when he should've been selected way earlier. Having stayed silent about it for all this time, and sick of the stigma attached to him as the gas mask guy, Tunsil long ago put the jarring incident in his rear-view mirror—and his standing in the game certainly shows it. 
But getting to the point where he was comfortable talking—besides with friends, family, and trusted teammates—about the night pictures and video of him smoking marijuana out of a gas mask bong stained his reputation, caused his draft stock to nosedive, and robbed him of millions was a process. A natural introvert who prefers to keep his head down and just take care of business, Tunsil, like all the best blockers, is now out in front of the narrative. Confident in his abilities on the field and content in his evolution off of it, he's taking a few beats to appreciate how far he's come from one of the worst introductions in NFL history.  
"I don't want the past to have any control over me," says Tunsil. "I'm in a better place, I'm in a better mindset, and, bro, I'm really done with that. And that's why I'm talking about the situation, because clearly I'm over that."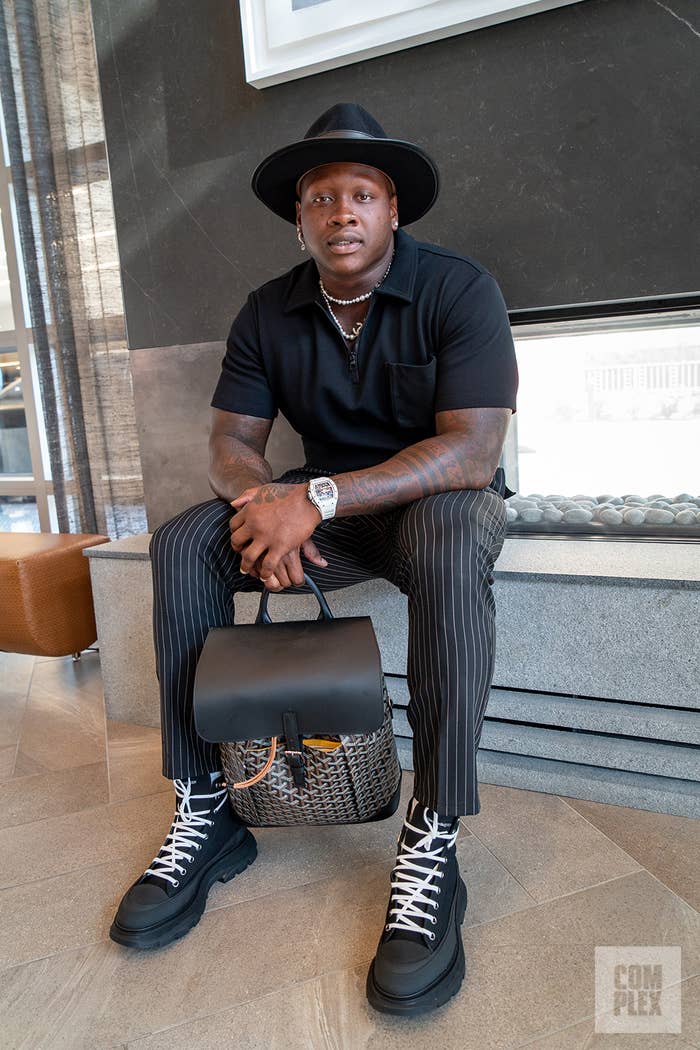 " I couldn't control the video getting out. Do I regret making the video? No, I don't. Because I was having fun at that time. I had fun at Ole Miss."
Sitting at a dais and fielding questions from reporters roughly 90 minutes after the drama first unfolded, and moments after the Dolphins mercifully rescued him from green room purgatory and he dapped up NFL commissioner Roger Goodell, Tunsil looked like he had his shit together. He calmly, coolly, and honestly answered the inquiries. But internally he was a mess, and it was the last time he talked specifically about the incident on the record. 
While he sweated through his dress shirt as if he had just been practicing for hours outside in Florida's humidity, reporters fired question after question at Tunsil. Who leaked the video? Was that really him? How could this happen? And what about the text messages that leaked on IG alleging he received improper benefits at Ole Miss? Did he violate NCAA rules? The session with reporters lasted less than four minutes, but to Tunsil it felt like a lifetime. 
"When is this shit going to be over with?" he remembers thinking. "I wish you would've seen under my suit I was sweating so bad. I really kept my poise, but inside I was really fucked up. I just wanted to get to a space with my family and friends and just unwind because that was a lot that night. That was a lot." 
The night was supposed to be a triumph for a kid from Lake City, Florida, who was a five-star offensive line prospect despite the fact he preferred playing defense. After three decorated seasons at Ole Miss, Tunsil declared for the draft and at one point ESPN's Mel Kiper Jr. projected him to be the No. 1 pick. 
Everything was cool in Chicago leading up to the start of the draft. Tunsil was living out a dream, feeling fresh, looking fly in a shawl collar jacket with a gold chain accentuating his fit, and laughing it up with his Ole Miss teammates Laquon Treadwell and Robert Nkemdichee, who were also projected to be first-round selections. Sitting in the green room as the draft was about to kick off, all was right in the world. The only thing he was worried about was going to a cold-weather city. Then came the tap.  
Sexton told him not to panic. Tunsil immediately thought his social media accounts had been hacked because of the agent's tone and because it happened to him before in middle school and high school. He expected it to be something minor and inconsequential. Sexton didn't want Tunsil to react, since cameras were on him. He checked Twitter and saw the video—made a few years back on a random afternoon at Ole Miss when he was just doing college kid stuff in his dorm, comically taking a big rip from a gas mask bong—and he thought his dream of being a first-round pick was over. 
"My heart dropped," says Tunsil. "An unexplainable feeling. I didn't know what to say, like I was speechless. In my mind, I'm like, 'Oh, please, don't let this mess up my night. Please don't let me drop to the second-round because I'mma be going crazy.'"
Chaos ensued.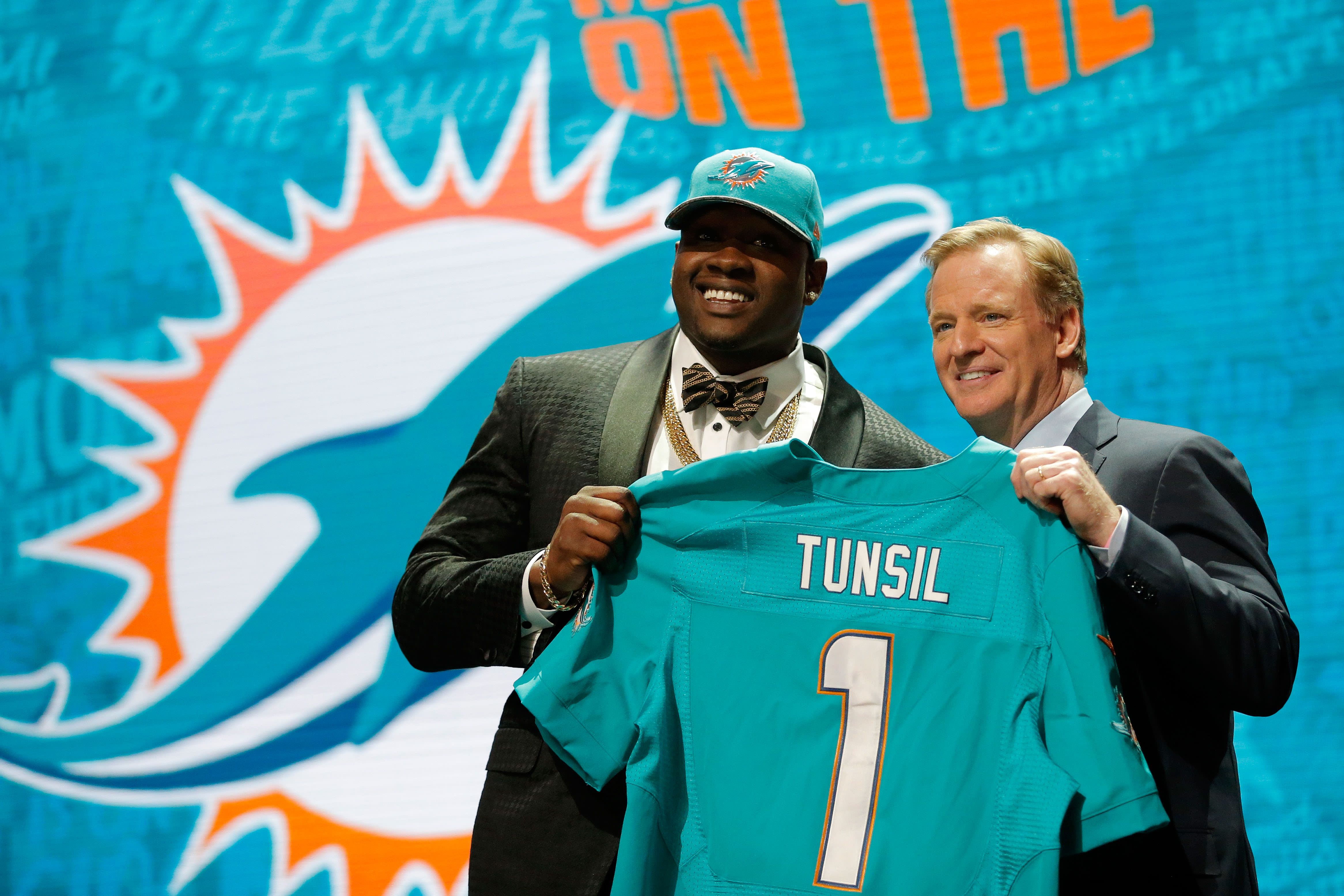 "Not to speak in hyperbole, but you can make a case that it was the most dramatic moment in draft day history," says ESPN's Jeff Darlington, who was covering the draft from Philadelphia that year. "I understand that maybe people don't relate to Laremy Tunsil because he's a tackle and we think more about Ryan Leaf and Peyton Manning or Brady Quinn's slide or Aaron Rodgers' slide. But what happened to Laremy Tunsil, it wasn't about football." 
While NFL teams are incredibly prepared for multiple situations come draft day, this was different. Everyone—reporters, networks, NFL front office people—scrambled for intel. Sexton, a power agent in the professional and college ranks, worked the phones as the Chargers took Joey Bosa at No. 3, the Cowboys selected Ezekiel Elliott at No. 4, and the Jaguars drafted Jalen Ramsey at No. 5.
But before the Jags made their pick, Tunsil thought the 49ers could trade up to the fifth slot to grab him. That's when Sexton handed Tunsil his phone. It was San Francisco. Tunsil believed he was talking to new 49ers head coach Chip Kelly because "Jimmy told me from his mouth it was Chip Kelly."  
Sexton, who stopped working with Tunsil in 2020, did not return multiple emails seeking comment for this story. A source close to Kelly, now at UCLA, denies a conversation between the coach and Tunsil took place. Sources who were present in the 49ers' draft day war room that night tell Complex Sports Kelly never called Tunsil because he didn't have personnel power and wouldn't have been tasked with talking to draft picks, nor do they recall who made it. 
A member of the 49ers asked Tunsil: "Did you post that on your Instagram and Twitter?" He says he told the truth: yes, it was him, somebody hacked his accounts, he made a mistake in college, he was young, he wasn't thinking it would come back to hurt him, and he had no idea why he hadn't deleted the video. The conversation continued briefly and then Tunsil says there was a pause for two minutes—an incredible amount of time to remain silent on the phone—until he was told, "Well, I hope this doesn't mess up your night," and the call ended. 



"When that video came out that actually messed me up internally, mentally. Whoever put that video out tarnished my name, wanted to bash me. I just wanted to keep it inside and work on myself mentally and when the time was right I was going to talk about it."
The sixth pick belonged to the Ravens, the team Tunsil thought he was destined to end up with entering the draft after Tennessee—who needed an offensive lineman—traded out of the No. 1 spot weeks before. There were no calls, just silence as Baltimore chose tackle Ronnie Stanley. That's when Tunsil really knew things were bad. The Titans were the next logical landing spot at No. 8, but they took Jack Conklin. Tunsil, who says no team asked him about past drug use leading up to the draft, thought the Lions might trade up to nab him since he had a good meeting with them, but Detroit wasn't interested. Hugh Freeze, Tunsil's coach at Ole Miss, tried to keep his former player calm during the craziness. 
"I remember vividly Laremy was sweating and certainly there was a lot of uncertainty as his name began to fall down the draft board," says Freeze. "I just remember having this conversation with him saying, 'Man, the people that know you love you and that's not going to change. And you're not defined by which slot you go in the draft, and remember this is called draft night, not draft career.' I tried to keep harping on him that this one night does not make you or define you, and certainly you'll get through it."
The next spot that made sense was New Orleans at No. 12. Tunsil says the Saints called up Sexton and asked if Tunsil would be cool with playing a position other than left tackle since it wasn't a need for them. "I'll do it. Whatever it takes. Just let me get drafted," Tunsil says he told Sexton. New Orleans chose linebacker Sheldon Rankins. Then came Miami at No. 13. 
Like every other team, the Dolphins had done their due diligence on Tunsil. Mike Tannenbaum, who was Miami's executive vice president of football operations at the time, says the Dolphins had Tunsil as the top player on their board and knew the kind of person he was, but never expected he'd be available when they were on the clock.   
"You spend nine months for those situations," says Tannenbaum, now with ESPN. "You have to be prepared for the unexpected. We just pulled out the reports, talked it through, pulled the trigger, and felt really good about it. And, again, it has to do with nine months worth of work."
Adam Gase, who was hired as Dolphins head coach in January of that year and given full control over the 53-man roster, was hyped to get Tunsil. He didn't care that he smoked weed, considering so many players did, too. After making sure owner Stephen M. Ross was onboard with the pick, Gase made the call. He told Tunsil he was going to draft the lineman still squirming in the green room. "We'll take you right now. We don't care about the gas mask," a relieved Tunsil remembers Gase telling him.

"What always bothered me was, how could somebody do that to that guy?" says Gase, who spent three seasons as Miami's head coach. "He's legitimately a really, really good dude. Super laid back. For somebody to do something that harmful and hurtful to him, I was floored by it."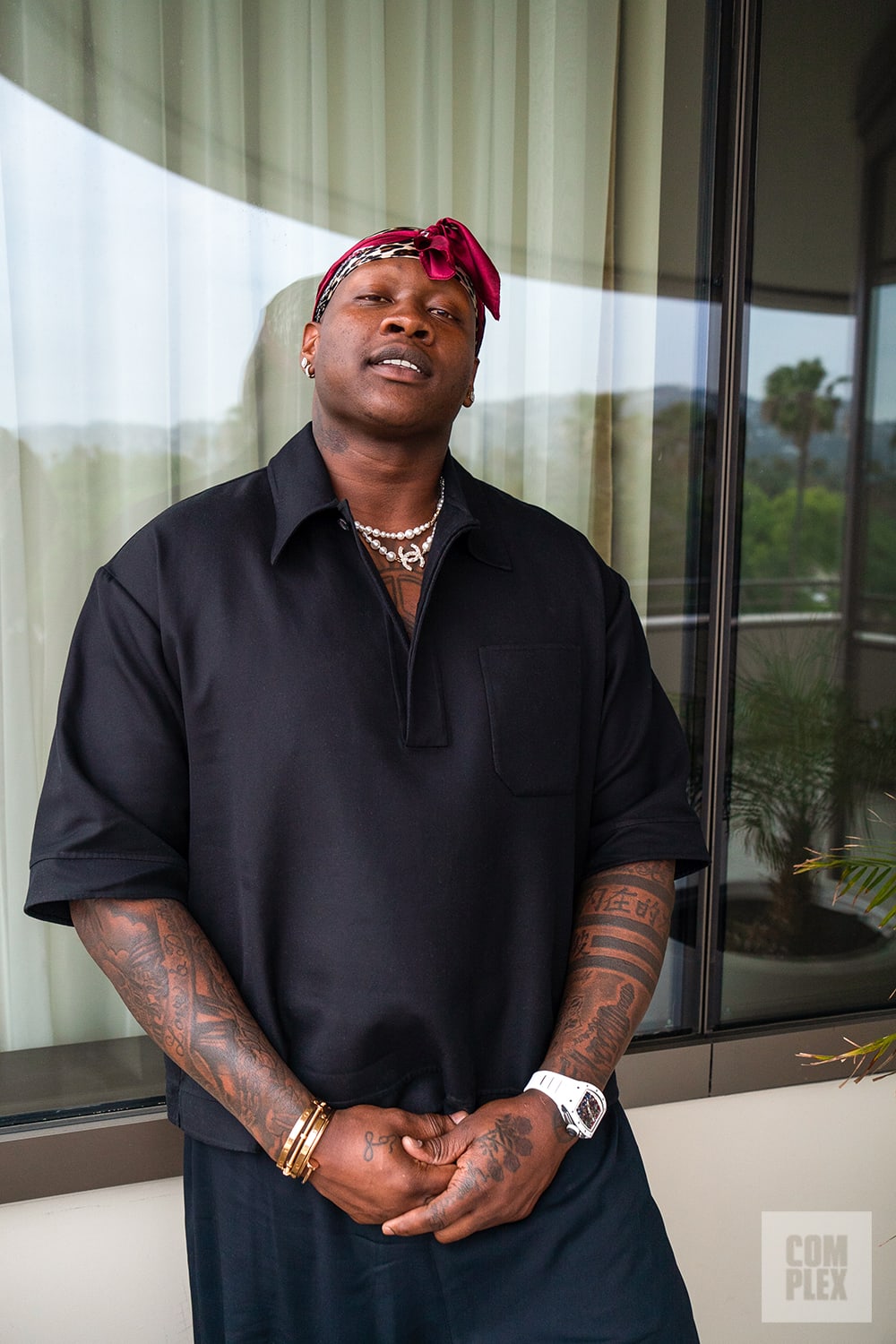 When Tunsil retires, or decades upon decades from now, when somebody's writing his obituary, where do you place the gas mask incident? You obviously can't leave it out because it happened, it was excruciating, and nothing else in NFL Draft history compares. It ain't up top, but is it somewhere in the middle? Or does it belong near the end as an anecdote?
"I think he's already defined himself as a premier left tackle with that anecdote to follow," says Darlington. "It's always going to be part of the story. It's just a matter of how far down it is."
Nobody talks about Deflategate with Tom Brady anymore, Darlington notes. But it will always be a tiny part of Brady's story. And maybe that's the best example of how Tunsil can expect to be treated by history. Keep doing your thing impressively and passionately, like he's been doing, and your worst day will end up being an afterthought. At least that's how it's supposed to work, right?   
So why is now the time to talk about the incident—or "mistake," as Tunsil calls it? He's had plenty of opportunities to tell his truth. The timing just never felt right. Now that he has been to two straight Pro Bowls, has twice made the NFL's Top 100, earns a boatload of money, and, at only 27 years old, is entering his athletic prime, he wants to control the narrative. 
"That was my mistake and I had to learn from it," says Tunsil. "But I was just a college kid living, bro. Like I was having fun. I couldn't control the video getting out. Do I regret making the video? No, I don't. Because I was having fun at that time. I had fun at Ole Miss." 



"When they see a picture of me, they think 'gas mask,' and that's the part that really bothers me, because I'm more than that."
Those closest to him wish the incident—remember, the video was two years old by the time it surfaced on draft night—would be forgotten by football fans. His pals hope his play on the field speaks for itself and his philanthropy and community work—Tunsil donated $250,000 toward COVID-19 relief and offered help to those in Texas and Florida struggling to pay their bills during the height of the pandemic—are much more notable. Unfortunately, the gas mask stigma lingers.
"Every NFL Draft, we talk about it, because somebody's talking about it," says Laolu Sanni, Tunsil's friend and manager. And that's why the big guy refuses to watch. "It seems like every time the draft come, on I'm the main attraction," says Tunsil. Why go through the trauma? Why subject yourself to reliving the worst night of your life? Why get sucked down a hole of negativity when you've climbed out of an abyss and accomplished things none of the fools who still tweet gas mask pics at him with their double-digit follower counts could ever fathom? And why, Tunsil wonders, do the networks that broadcast the draft—he says they've tried for years to get him to talk—keep bringing it up?  
"We're going on six years almost now," says Freeze. "At some point, you gotta believe that the majority of people will say let's talk about what he's done recently." 
We know why they don't. Negative headlines make the world go round and social media thrives on toxicity, so fat chance Tunsil stops becoming a talking point during future drafts or the target of social media's lamest users. But at least he can laugh about all the memes, tweets, and posts directed at him now. It took years to find humor in the absurdity of it all, but nowadays if Sanni or one of his boys in his close circle sees something on social media, they show him and chuckle together. Tunsil actually has a few favorite memes. Since enough time has passed, he's damn good at his job, and comfortable in his own skin, the outside noise no longer registers.  
"When that video came out that actually messed me up internally, mentally," says Tunsil. "Whoever put that video out tarnished my name, wanted to bash me. I just wanted to keep it inside and work on myself mentally and when the time was right I was going to talk about it."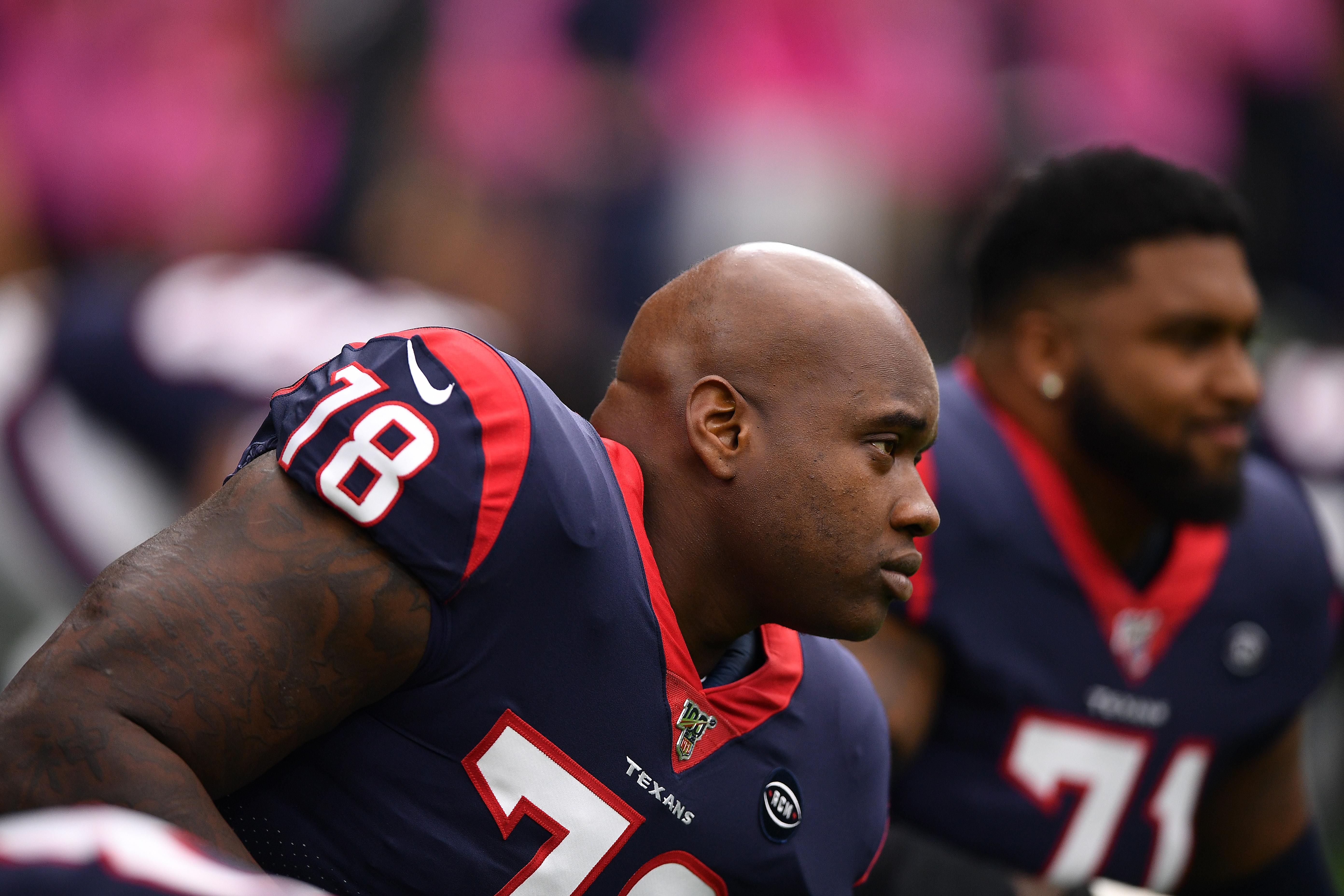 Precisely who hacked Tunsil's social media accounts remains partly cloudy. The Palm Beach Post reported that the Dolphins believed his former financial adviser was behind the leaked gas mask bong video on Twitter. While the Post notably did not name the financial adviser, it did write that he was fired before the draft by Tunsil. Other reported pieces sprouted up in the wake of the incident, and there's even a mini-documentary on YouTube that tries to get to the bottom of it. Football fans may call bullshit, but when you ask Tunsil directly if he knows who leaked the video, he swears he doesn't. Nor does he care to ever find out.
"I'm actually over it, bro," says Tunsil. "I really evolved from that. I just leave that where it's at."
You'd assume Tunsil would still be pissed and love to punish the villain who tried to cancel him before he played a down in the NFL. Miami general manager Chris Grier would later say the team knew of the video's existence before the draft, but Gase doesn't remember if somebody in the organization ever told him about it. He does remember Sexton later explaining someone who formerly worked with Tunsil was most likely behind the leak, but Gase says he never asked for details or doesn't remember them. The Dolphins could've gotten to the bottom of it with a thorough investigation, but neither the team nor Tunsil had an appetite for that. 
"Once he was there, we were just trying to move forward," says Tannenbaum. "I didn't get the sense that he wanted to spend a lot of time on it, either. We had a season to prepare for, so I don't remember spending much time on it at all."
It wasn't an easy transition for Tunsil when he arrived in Miami. Naturally an introvert, he just wanted to stay in his shell, keep his head down, and learn a new position, since the Dolphins stuck him at guard. Opposing fans would mercilessly mock him. He remembers standing in the tunnel of Seattle's Lumen Field, ready to run onto the turf before his first game, when he saw a fan in the stands rocking a gas mask. It was jarring. To this day, he hears taunts like, "Hey, Tunsil, lay off the weeeedddd." He used to wince at things like that. Now he laughs. 
"I don't care that people know I've smoked marijuana," says Tunsil. "I don't care at all. It's just the thing where when they hear Laremy Tunsil, they think 'gas mask.' When they see a picture of me, they think 'gas mask,' and that's the part that really bothers me, because I'm more than that."



"I'm in a better place, I'm in a better mindset, and, bro, I'm really done with that. And that's why I'm talking about the situation, because clearly I'm over that."
Making a leap mentally and emotionally allowed him to take his game to another level. He thanks his friends, family, and brothers on the offensive line in Miami for listening to him unload about the incident, whether it was on an airplane, in the locker room, or just chilling at home. Sanni noticed Tunsil's play improved the less he allowed the incident to weigh on him, and it wasn't until his third season that Tunsil says he was finally over it. "There was just a different way about him," says Gase. "He knew his guy wasn't going to beat him." By his fourth season—his first in Houston after he was traded for a haul of draft picks—he made the Pro Bowl.
"A lot of people are not built to withstand something like that," says Saint Omni, the director of football at LifeLine Financial Group who helped Tunsil during his extension negotiations. "But I think all of this speaks to his character. Before your career gets started, you have the whole world, essentially, laughing at you. People truly are not understanding how taxing that is on your psyche." 
While October thumb surgery may ultimately derail his All-Pro First Team and Pro Bowl dreams this season, and prevent him from suiting up against the Dolphins in Miami this weekend, Tunsil Island will be back in business shortly for the rebuilding Texans. Culley marvels at Tunsil's consistency and compares him to a guy he coached in Philly burdened by his own set of stigmas—Terrell Owens. "The one thing about him that I always admired is that every day he came to work, he wanted to be the best at his craft," Culley says of T.O. "I feel the same way about Laremy." 
"He and I have this little thing we've kind of formed," the coach continues. "I ask him how he's doing and he says, 'Solid.' I say, 'Not only just solid, but solid as a rock.' I don't want you to be solid, but solid as a rock."
Almost six years after the ugliest drop in NFL Draft history, Laremy Tunsil's solid. Secure in his past, present, and future. He's over the gas mask incident—been over it. Everybody else should be, too.