Star Basketball Trainer Chris Brickley Talks His Journey, Training J. Cole, and More
Superstar basketball trainer Chris Brickley trains everyone from Carmelo Anthony to J. Cole. We sat down with Brickley to talk about what's next for him.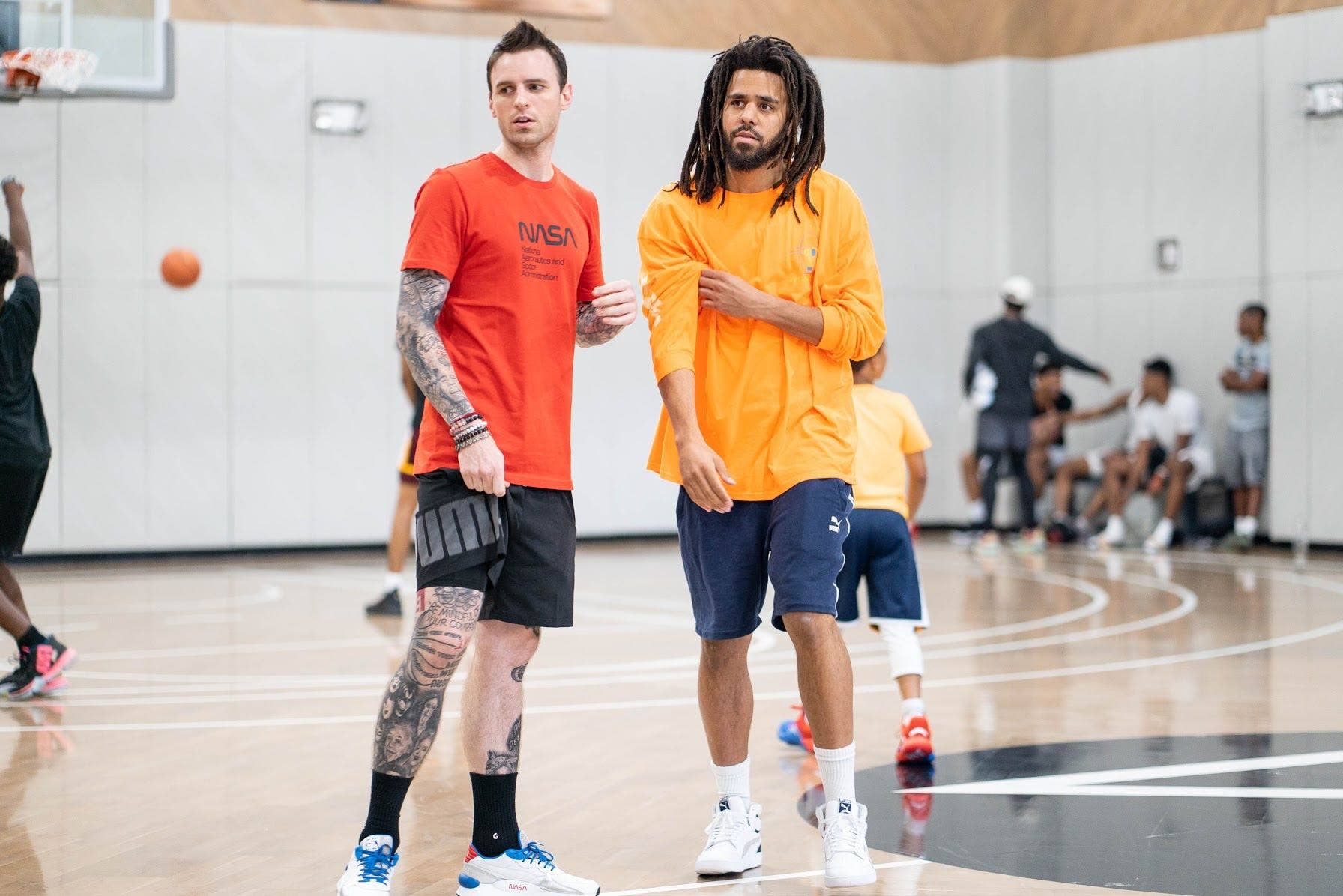 Publicist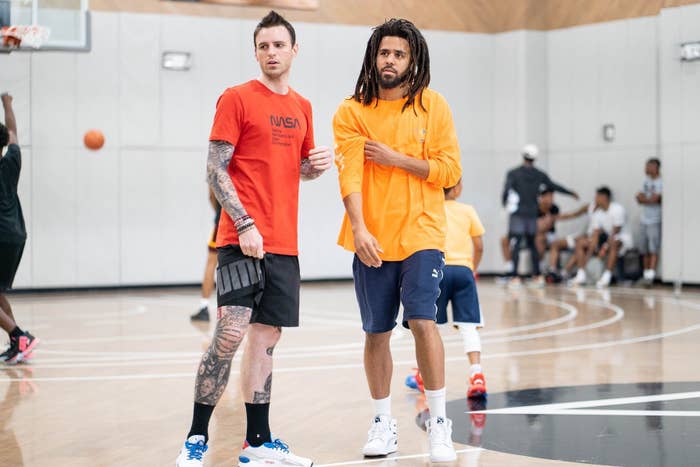 Chris Brickley has grown past the title of just a basketball trainer. A Puma deal, an ESPN+ show, and a segment in NBA 2K20's MyCareer mode has turned Brickley from a walk-on at Louisville to one of the most renowned names in the basketball community. You've for sure seen his workout videos with the likes of James Harden, Donovan Mitchell, D'Angelo Russell, and CJ McCollum. His NYC runs are stuff of legends, featuring stars like LeBron James, J. Cole, Carmelo Anthony, & more. Brickley always had a plan to live in the Big Apple and impact basketball culture in some way but he never envisioned it to reach this magnitude. 
"Never, ever in a million years," Brickley says. "I never thought it was going to come to this level. It's still ... It's crazy just walking here. I came here ... I walked here from the Summit. There were like six people. The UPS guy was like, "Brickley!" Three people asked me for pictures. It's amazing, it truly is."
The basketball world isn't the only area where Brickley has made an impact. Whether it's going on tour with Travis Scott, Quavo pulling up to the runs, training J. Cole, or setting up basketball runs with Meek Mill, Tory Lanez, & Chris Brown, Brickley has left a strong mark on the music industry. It's not always him reaching out to the artists either. J. Cole contacted Brickley on his own to let him know he wanted to work out. Brickley reconstructed J. Cole's jumper and as you can see from the footage, he doesn't miss. 
Hoopers want to be rappers and rappers want to be hoopers. Brickley has excelled at bridging the industries together. We sat down with the star trainer to discuss his journey, Carmelo Anthony, J. Cole's skills, and much more.
(This interview has been edited and condensed for clarity.)
Since our last convo, you've had Puma deal and ESPN Show, Smart Water, obviously 2K20, and more. Has it sunk in yet that this has all become a reality?
No, it hasn't sunk in yet. It's tough for it to sink in. Like, I never take breaks, so even during the winter time, it's like the No. 1 question that people ask me, "What do you do during the season?" I'm talking to Donovan and CJ. I'm talking to like ten guys every single day on how the games were, that whole feedback thing kind of helping them through the season and then just being there, supporting them. I always try and get a high school guy, so it's been Cole Anthony  last few years that I've been working with and then the Knicks and Nets guys. I work with those guys at night.
You were a walk-on from Louisville. Now you're one of the most renowned names in the basketball world. Did you really expect it to reach this level?
No, never, ever in a million years. Literally every single day on the treadmill I would think about "I want to live in New York City, and I want to play a big part in basketball culture." But I never thought it was going to come to this level. It's still ... It's crazy just walking here. I came here ... I walked here from the Summit. There were like six people. The UPS guy was like, "Brickley!" Three people asked me for pictures. It's amazing, it truly is. I'm super thankful that people ... that I can inspire people, I guess.
So my father came yesterday, and he observed the workouts. So he got here at nine in the morning. I literally had workouts from nine in the morning and ended at 12:30 at night and did like ten workouts. And the day's done and I'm like come in to my dad, like "Man, what a long day." And he was like, "This is why all these good things are happening. You're not taking any shortcuts." I really do sacrifice my personal life. It's tough having a girlfriend when you work from sunrise to sun ... It's tough. 
You're not only training the players, you're training the rappers as well now.
Yup. 
What's that been like, putting your foot in another category beyond sports and training these guys and building those relationships?
Yeah, it's amazing. I've always been a giant music fan. Always. I have a bunch of musicians tattooed on me just from growing up. Musicians that I loved. Like the first cassette tape I ever bought the Wu-Tang Forever album. It was like a double album, double tape. Got that tattooed on me. So I've always been like really, really into music, especially hip-hop. So the fact that J. Cole's reaching out and asking ... and saying, "I want to try and take basketball serious and see how good I can get" is amazing. Later today, I have Meek Mill, Trey Songz, Sheck Wes, & Tory Lanez. They're coming in for like a little four-on-four game. I went on tour with Travis Scott, worked with YG, Quavo, Chris Brown. Me and Drake are talking about doing a black ops run. Justin Bieber's come through and worked out at the summit. So you look at like every superstar artist in the game, and I've built a relationship through the game of basketball with them.
How has training J. Cole been?
It's cool, especially when they want to take it seriously because it's actually good for a trainer. For J. Cole, we're working on reconstructing a shot. It's good for me because you work with pros a lot and you're not working on the super fundamental stuff. So it's good to go over that stuff because it re-brings up to me, it's like re-teaching myself. So there's benefits to it.
The Lil Durk-J. Cole one-on-one. If it happened, who'd win, in your opinion?
Ooh. If Lil Durk and J. Cole to play one-on-one. You know what? I really don't know. If I were to explain it NBA-wise, Lil Durk is like an Aaron Brooks. Remember Aaron Brooks? Little guy? He was just like a specialist, good shooter. So Lil Durk is like a Aaron Brooks. J. Cole is like a 6'5" shooter. So imagine Aaron Brooks playing one-on-one with a ... Who was more like a catch and shooter? Kyle Korver. So as far as one-on-one goes, let's set it up. I'm all for it. Maybe I should tweet that out. But they're both really good. I've worked with Cole more. He lives in New York City now. So we spend a lot of time together, but me and Durk have, too. But that'd be amazing. We have to set that up.
Switching to basketball guys, you've trained a lot of players. D'Angelo Russell one of them. 
It [the trade] crushed me.
Do you feel like this is going to motivate him to take his game to the next level? 
Basketball's a business. At the end of the day, my personal life ... I only have X amount of hours in the day. But you only have a handful of real friends. I don't have that much extra time. D'Angelo's one of them. So he was the guy I'd go to his house at night. He'd come to my apartment. We'd spend a lot of time off the court. So we became really close. The fact that he's not in New York anymore ... It sucks, and you lose a friend. From a basketball standpoint, this guy was 22-years-old, led the Nets to an all-star season. Before that season, no one thought the Nets would be a playoff team. He made the all-star team and led the team to the playoffs, and he's like one of the most popular players that I feel like could attract free agents.
So literally like right when he made the All-Star Game, I was like, "They're definitely bring you back. You got it." He was a young guy, he's popular, he's going to bring free agents. But then Kyrie Irving comes in the mix. And obviously Kyrie Irving, he's a mega-star still in the peak of his career. I feel like there's going to be a lot of pressure on Kyrie this year since KD won't be able to play. It's pretty much the same team as last year, so it'll be interesting to see if Kyrie can do what he did last year. I hope he can. I want to see our New York teams do well.
How do you think D'Lo fits in with that Warriors team?
Subtract KD, add D'Lo. KD shot 15, 20 shots a game. So D'Lo still has those shots. It's going to be in a different context. The Warrior style of play over the last few years starts with Draymond. He'll bring the ball to the court a lot for the first three quarters. Fourth quarter goes into Steph's hands. So I feel like ... but now D'Lo can have the ball, the first few quarters. So it'll still work.
I know the big question is, okay, when Klay comes back, how's that going to work? But the game's a bit smaller now. I think everyone's so quick to talk about the Clippers and the Lakers. People are kind of writing off the Warriors, in a sense. They could easily win a championship.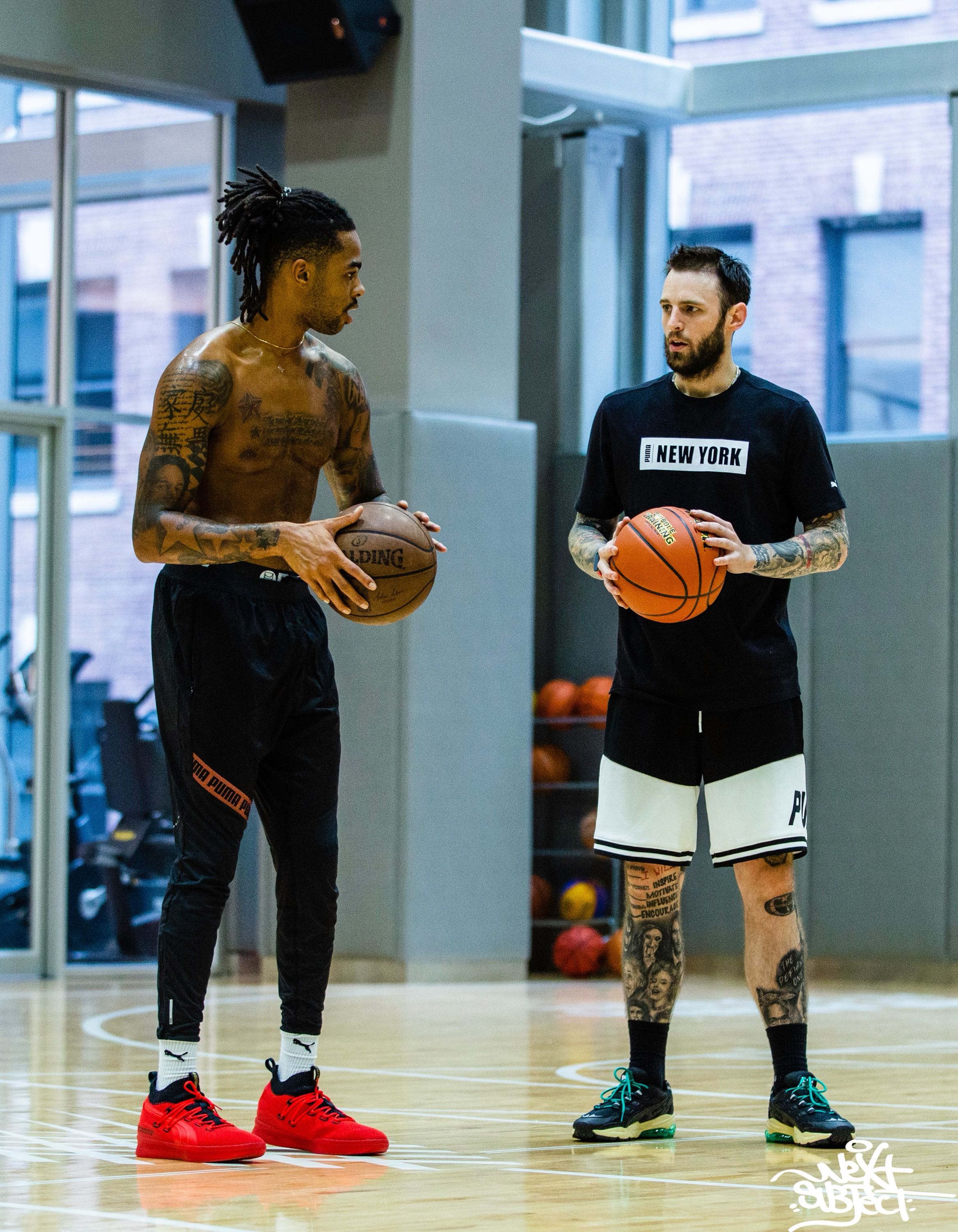 Trae Young has been grinding this summer as well. Do you think he could be an All-Star this season?
Through experience of playing the whole season, he's gotten so much better. Guys improve, but he improved on a whole other aspect. He just loves the game of basketball. Trae Young and McCollum in a few years, could be two of the best guards in the NBA. I truly believe that. Trae's the real deal.
What's your goal as a trainer? 
When I'm 60, I want people to be like, "this guy taught this many generations of players," and that's what I want to be known for, just someone who helped decades of generations of players get better. It hasn't happened yet. No trainer's gone 20 years… it's hard. When I'm not on the court, I'm texting the players. It's a 24/7 job. My ultimate goal is to be a trainer that literally helped decades of players. That'd be pretty cool.
This all started with Melo right? What are your thoughts on his free agent situation? 
I wouldn't be where I'm at if it wasn't for Melo, point blank. If Melo didn't give me the opportunity early on in my career to be his trainer, a lot of stuff wouldn't have fallen into place the way it has. I just want his NBA career to end on a good note. He deserves it. He works from the heart. He's an amazing, amazing father. I just want what he's earned. 
How many years do you think he could keep playing in the league?  
To me, he has three, four years left of basketball in him. So we'll see how it plays out. That's all I want. The cool thing about Melo is how much he helps the younger players. He's teaching them a bunch of stuff. What Melo does for the game of basketball is amazing. There's not many players that are willing to be helping young players the way he does. So you've got to give props to that.
Talk about having your own ESPN+ show, Declared.
Declared, yeah. That's an amazing ... when I grew up, me and my father, and we watched ESPN every night, and I woke up before school and we turned on ESPN. Always been a giant supporter of ESPN. The fact that on the ESPN network, the ESPN+ is doing a show, it's a giant blessing. I'll go on ESPN.com, and you go to ESPN+ and it has the originals. It's like there's a Kobe show, there's a LeBron show, there's a Peyton Manning show, a Chris Brickley show, and then it's like a Kevin Durant show. And it's like, "Is this real?" To have my name in the same list as those guys, it's surreal.