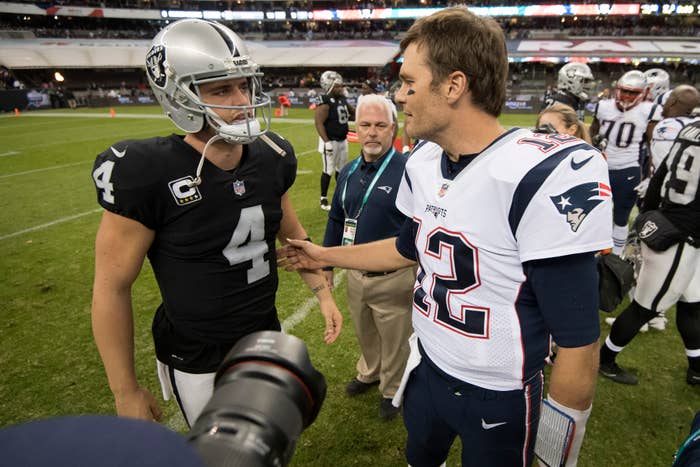 The Tom Brady free agent rumors are heating up, with the latest report stating that the Las Vegas Raiders are preparing to offer Tom Brady a $60 million deal over two years. That's insane money, but for a team that's trying to make their mark in a new city, it's not that surprising. This is also the Raiders were talking about, so nothing should come as a surprise.
While the NFL free agency period doesn't officially start until March 18, rumors are already flying around Brady's next move, with many expecting the six-time Super Bowl champion to switch teams next month. Along with the Raiders, Brady has also been strongly linked to the Los Angeles Chargers, as well as some suggesting he might end up with the Dallas Cowboys. The rumors are only going to ramp up as we move closer to free agency, but the Complex Sports team put together a few reasons why Tom Brady to the Las Vegas Raiders isn't that crazy, and even makes some sense. 
Big Splash In Las Vegas 
What better way to open up a brand new stadium in a brand new city like Las Vegas than signing the G.O.A.T.? Overall, this would be a huge look for the Raiders, but also the NFL, as they try and bring football to Vegas. For Brady, he'd get to wrap up his career under the lights of Vegas and get paid well doing it. 
The Money 
Throughout his career with the Patriots, Brady took a good amount of paycuts to make sure the team could put weapons around him on both sides of the ball. It obviously worked out very well, but at this point, it sounds like Brady wants to get paid, and paid a lot. If the Raiders are really willing to pony up a $60 million deal over two years, it would likely be pretty hard for Brady to ignore it. 
Raiders Have Weapons 
The Raiders haven't made the playoffs since 2016, but they've continued to stockpile young players on both sides of the ball. Josh Jacobs is one of the best young running backs in the NFL and the Raiders already have Brady's former teammate, Trent Brown, locked in at OT. Even more, the Raiders have developed TE Darren Waller into an absolute force on the football field. And knowing how much Brady loves his TEs, this seems like it could be a big selling point. Add in a heap of young defensive talent and the Raiders aren't too far away from making some real noise in the AFC. 
Raiders Don't Seem Tied to Derek Carr 
Maybe the biggest indicator out there that Tom Brady might be heading to Vegas is that the Raiders don't really seemed tied to Derek Carr anymore. Carr is a 3-time Pro Bowler for the Raiders, but when the season ended, neither side really committed to one another, leaving a lot of doors open. Maybe everyone just sees the writing on the wall? 
Why It Doesn't Make Sense  
Time to throw some cold water on Raiders fans. Could Tom Brady, the QB who could retire this very moment and be the greatest of all-time, really sign with the Raiders? While a lot of what we already pointed out makes a ton of sense and the rumors seem to back it up, there's still the feeling deep down that you could just never really see Brady doing this. Does he really want to play in Las Vegas? Is he really about to tie up the last few years of his career with Gruden and Mayock? Those are legit questions and concerns, despite where the rumors are pointing to.