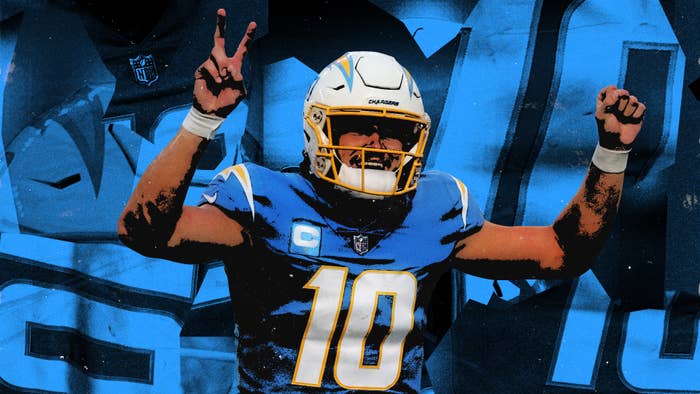 Justin Herbert is quickly becoming one of the most popular athletes in Los Angeles. In a city with LeBron James, Mookie Betts, Kawhi Leonard, and more, that's no small feat. However, if you ever get the chance to speak with Herbert, you would not get the impression that he's currently rivaling LeBron for a spot atop the LA crown. Which is wild to think about for any member of the Chargers since they've only been in Los Angeles a few seasons.
Herbert is just a regular guy who likes Christopher Nolan movies and playing football. He makes sure to put his shopping cart away at the grocery store and hasn't been starstruck in Los Angeles yet. Simply put, he's just a normal guy who is very, very good at football. Like, really good. 
Herbert and the Chargers have surprised many so far this season, but for the young QB, he's just doing what he's always done, and that's working out quite well for everyone involved. We had the opportunity to talk to Herbert about this season, his love of Nolan films, his Got Milk! collaboration, and much more. 
(This interview has been edited and condensed for clarity.)
Let's start by talking this season and specifically your new coach Brandon Staley. He's really changed things and it seems like you guys have really connected. 
He's been awesome. Ever since I talked to him the first time, as soon as he got the job, he gave me a call and he emphasized relationships and building trust with his team and he's done exactly that and the guys respect him. They want to play for him and he's the same guy in the film room, out on the field, or in press conferences and he's done a great job handling everything and he believes in us and we believe in him and I think he's done an incredible job of getting the coaching staff, the players all on board with his plan.
He loves to go for it on fourth down. What's it like to have that kind of confidence from a head coach? 
It's kind of a belief knowing that we've got the right guys, we've got the right play calls and going out there and executing and we've been fortunate to get most of them. We didn't get quite as many as we needed to. So that's obviously tough that if you're going to make those calls, you have to live with the other side, too. And that's just the tough part about the NFL, but it's awesome that he believes in us because we believe in each other and we believe that we can go get it. So it definitely helps our offense and our defense as well.
What was it like going from Oregon to Los Angeles? Have you had any "Wow, I live in LA" moments? 
The first one was I came down in January and February and you don't have to worry about rain. You don't have to worry about anything. It's always going to be sunny and that was the best part. Coming from Eugene, it's rainy seven out of the 12 months of the year. So it's something you just have to get used to.
Do you ever get starstruck walking around? Where you're just like, "Oh wow, there's Brad Pitt walking down the street" or anything like that?
No, I haven't seen anything like that but I think being teammates with Joey Bosa and Keenan Allen and I kind of think the same way, too. I grew up watching those guys now that we're playing together, I think it's kind of the same thing.
In that ESPN piece from earlier this year, the part about how you're adamant about putting carts back at grocery stores. Did you think that would blow up like that?
I got a lot of good comments about that. So I was thankful that Gabe Nabers, who was the buddy that shared that story. I thought it was a funny story and it is just something that my dad taught me growing up and I felt that was one of those things that I really stand for is putting the shopping cart back. So I'm glad that one came out.
You obviously have to be locked in on football the majority of the time, but what do you like to do outside of the game? I talked to Austin Ekeler and he's big into gaming. 
Yeah, that's a great question. I'd say I love to go golfing. I'm not very good, but going out there and especially golfing with the teammates and kind of creating that bond, I think that's awesome. And kind of like Ek, I like gaming, but I'm not very good at gaming. And so I kind of got to work on that, but movies, TV, I love being outside. So hiking, fishing, swimming, LA is the perfect place for that.
What TV have you been watching? Did you watch Squid Game?
I actually haven't watched that one yet. I was big into like Game of Thrones, New Girl. So there's a bunch of TV shows that I watched growing up.
Any good movies you've seen recently?
I actually watched The Prestige for the first time the other day. The Christopher Nolan movie.
Oh wow, how have you not seen that?
That's a great question because I love all the Christopher Nolan movies. So that was next above my list. So I had to make sure to watch that one.
If you couldn't play football, what would you want to do in life? I know you were a biology major. 
If I couldn't play football, I'd want to coach football.
Take football out.
If I couldn't coach football, I probably would've wanted to have been a doctor. My older brother, he's going to medical school at Columbia right now and he's definitely the smartest of the family, but kind of being able to see what he's done. I kind of wanted to do the same thing and always loved biology and needed to have a plan if football didn't work out. But I'm really thankful football worked out though.
You mentioned coaching, that's interesting. Obviously your career just started and you have so many years left, but would you want to coach after life in the NFL.
I would love to, I love the strategy behind football and how you need to have an answer for everything and the offense, defense, having an answer for pressures, for fronts and all these different things the defense do. I love that and being able to coach and be around the game but I'd love to play for as long as I can. And if I'm given that opportunity of coaching later on down the road, I'd love to do that as well.
Interesting that you brought up the strategy. How hard is it to play or coach an NFL defense these days with how good these offenses are? 
Yeah, I think playing defense is incredibly tough. With all the things that has come out offensively with the RPOs, the run game, the pass game, it creates a whole bunch of different problems for the defenses and to be able to match up. And especially with the guys that you've got in the league that you have to cover, and you have to worry about the run and the pass, the play action, all these different things. I think defensively would be one of the toughest jobs. And so being able to hold people to below 20 points in the NFL, I think that's an incredible job.
Let's talk about your Got Milk! collaboration and kind of where this came from. And then I have to ask you also regular or chocolate milk. You have to settle the big debate?
Yeah. First off I'd go chocolate milk. I think that's clearly a better option, but no, it's been an awesome partnership and it's been genuine. It's been authentic because ever since I got into sports milk has been a huge part of my diet. I grew up drinking milk and I feel I'm at my best when I drink it. And so when they approached me with this partnership, I was fired up. I was excited for it because it was real. It was me and it's something that I've been very passionate about. So it's been an awesome opportunity so far.
I love that. Do you put milk in your cereal before or after? 
No, see it's definitely after you never know how much milk you need. So it's always cereal first, milk after.