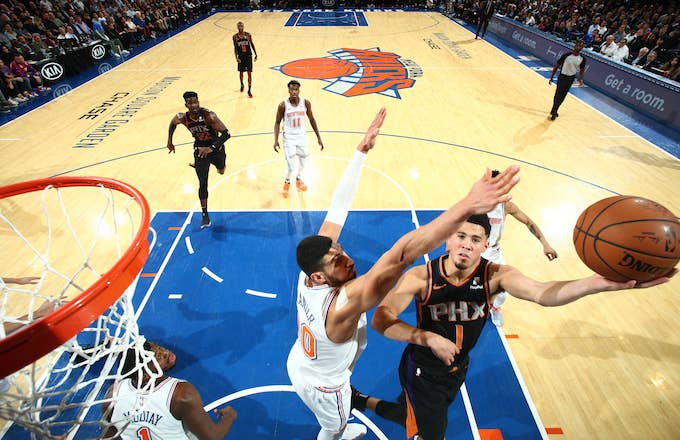 Last season, Enes Kanter took a shot at Devin Booker on Twitter after his Knicks beat the Suns. It's part of Kanter's steelo and other players have allegedly encouraged him to continue the practice of dragging guys on Twitter. Except, Kanter—while a real-life inspiration for free speech—remains on the Knicks.
That shot at Devin Booker came back to haunt the Knicks center when the Suns won their third game in a row (!!!) with a 128-110 Monday night win over the Knicks on their home floor.
After the game, it was clear Booker had been relishing this moment, because quote-tweeted Kanter from last season with a rather accurate assessment for every Knicks scouting report.
Kanter remains an offensive rebounding monster with a deft touch around the rim. It's how he's stayed in the NBA despite being one of the worst defenders in the Association's history. This season he's ranked No. 410 out of 455 players listed in ESPN's defensive real plus-minus, and only Tim Hardaway and rookie Kevin Knox give up more points per possession for the Knicks when they're on the court.
Booker read the scouting report, which is part of why he poured in a game-high 38 points for the victory. Kanter's histrionics leave him vulnerable to this sort of comebacks, but it's unlikely he really cares. When you're the enemy of your home country, it contextualizes the rest of life's petty squabbles.