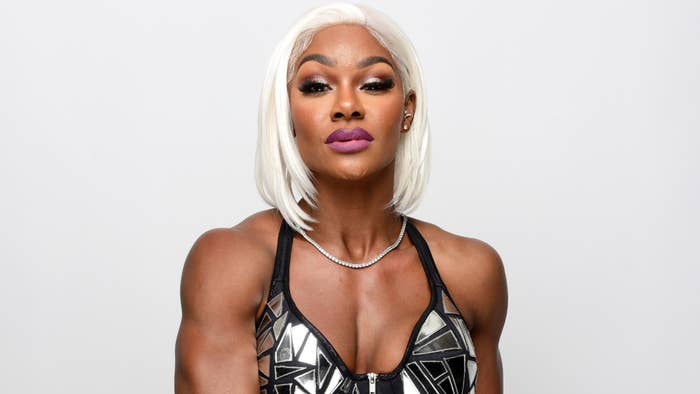 To ask if Jade Cargill is ready for the big stage is an understatement. The newest World Wrestling Entertainment (WWE) signee has been steamrolling her way through the competition since she debuted in rival company All Elite Wrestling (AEW) in November 2020, and things are about to get even bigger for her.
News of her AEW contract expiring this month was one of the biggest talking points in the sports entertainment world. A free agent like Cargill doesn't come around often, and the commotion of whether she would resign or find a new home was all that fans could talk about.
Despite all the chatter, one thing was for sure: Fans wanted to see the 5'10" powerhouse compete in a WWE ring. The professional wrestling gods heard those prayers on Tuesday as the sports entertainment behemoth announced Cargill had signed a multi-year deal with the WWE.
There hasn't been a WWE signing with this much hype behind it for quite some time, and there's a huge reason for that. Big Jade's intoxicating confidence has already attracted eyes, but her nearly three-year tenure in AEW was legendary, and not many can say they had a fiery debut like hers.
She arrived in AEW working a program with the American Nightmare Cody Rhodes and his wife Brandi that saw her team up with NBA Hall of Famer Shaquille O'Neal in a winning effort. What was more impressive was her dominating singles career that saw Cargill become the inaugural TBS champion, which she held for a record 508 days and included an incredible 60-match win streak.
A résumé like Cargill's can only be found amongst the elite talent in the industry, and she's fully aware that she's in a rare space most of her peers aren't even close to reaching. As she tells Complex, she's the combination of everything that makes a superstar, and it's hard to deny that with what she's accomplished already.
"Everybody knows who Jade Cargill is," she said. "This wrestling community knows who I am. They knew who I was before I stepped foot over here."
She continued, "I'm the total package, I'm it. I step into the room, and the aura just flows through my skin, and people want to know, what does she do? You have no idea."
The expectations surrounding the 31-year-old are incredibly high given what she's accomplished already and being the first WWE signee under TKO Group Holdings, the new merger between Vince McMahon's company and the UFC. It's understandable if there's a feeling of anxiety once someone begins stepping with the big dogs, but in Cargill's case, this next stage isn't something she'll need to adjust to as she genuinely believes she can do anything.
Complex sat down with Jade Cargill to speak about her joining WWE, her legacy at AEW, the transition between companies, dream WWE matchups, and more.
You and the WWE shocked the wrestling world with this huge announcement. How are you feeling now that the news is finally out?
Mark, I feel I'm at ease. I've been going back and forth, tussling with my mind my agent, trying to figure out what was the best for me in this industry. I'm at ease, but that doesn't mean I'm not hungry. I'm very eager, and I'm ready to hit the ground running.
How has your experience been so far at the WWE Performance Center in Orlando?
It's been great. The staff is phenomenal, and they've made me feel welcome. The leadership of of Paul [Levesque], Bruce [Pritchard], Dan [Ventrelle], and Nick [Khan], you know, they've been great on helping me figure out where I wanted to be. There's nothing like it, there's nothing like this beast.
I've been at this phenomenal facility before, and there's nothing like it. With my 2019 tryout, I thought every ring was going to be like the ones I encountered here, and it's not. Everything here is top of the art.
What happened with your 2019 WWE tryout that didn't lead to you working with the company?
One of the things was my spouse was still playing professional baseball at the time, so me relocating was off the table. I couldn't do that because I had just become a new mother, and I just wanted to bet on myself in that aspect, and that's what I did. It's not like this was planned or anything. I just took the alternative route.
WWE is the premiere wrestling promotion in the world, and because of that, they do things much differently. What was one of the most challenging things you experienced with this new landscape?
Nothing really because I was aware of how different things were here all because of my first tryout, so it wasn't like I didn't know. But I'm a worker, and one thing I love is when people say I can't do something and tell me who I'm going to be. I love a challenge.
We saw that incredible work ethic in AEW. You had a 508-day reign as the inaugural TBS Champion with a 60-win streak. But you also suffered two losses…
What? What are you talking about? I don't know what you're talking about, I'm so sorry. You're going to have to wrap that up. I don't know what that means.
Okay, so those two losses never happened, and we're going to leave it at 60 wins?
We're going to keep it at that. We keep it at that.
You were a former fitness model and a collegiate athlete, so you're a natural competitor. I know those two losses to Kris Statlander had to tick you off a bit, especially when you're leaving behind a legacy as the longest-reigning TBS Champion.
I think that was all in preparation to get me to the grand stage, and I'm here right now. I think the woman who's carrying the TBS Championship is going to do a stellar, phenomenal job, and she's going to represent it very well, but it was just enough preparation to get here. I know what I wanted, and I went after that.
Being champion for 508 days, obviously, had you feeling on top of the world. Would you say those two losses humbled you a bit?
Not at all, because if I wanted to go back and take it, I could. But Kris is a phenomenal worker, she's great, and I don't think anybody is better than her holding that belt right now. It's not a sore spot for me, and I'm not a sore loser, I'm a winner.
AEW was pivotal in building you up to who you are now and Tony Khan made sure you had the tools to become that star. Was it difficult leaving them?
Yes, it was. They're great, but the leadership here is totally different. I wanted to create a household name. I want to create a legacy. I want to work with the best women in the world. You're not going to get somebody like Paul, Bruce, Dan or Nick. And I'm the first signing under the TKO umbrella. Where else can you get that at?
It was hard leaving because there's a relationship there, but again, you can't find the leadership that they have here anywhere else. You can't find the monster, the machine that this company has. They welcomed me, and the coaching staff made me feel great. They're honest and very open and tell you what you need to do because, at the end of the day, we're all here to create something great. It's hard feelings, but you know it's a business.
You have Cody Rhodes, another AEW alum who's in the WWE now as well. Has he given you any tips or lessons on making the transition easier?
Cody was one of the first people that I met and he was one of the first people that helped me understand the business. It's not an easy business to mentally grasp. He was one of those people because he understood that I didn't come from a wrestling background and he sat me down, spoke to me humbly about the industry and how it is and how you need to work coming from another industry. He was very honest even when it was brutal because that's who he is as a person, and he just made the transition easier for me. We had some hard talks but they helped.
Can fans expect you to continue the heel role you've been running with?
I don't think I'm a heel. I'm just me. I think people hate overly confident people like, oh, they're so conceited, they're so this, they're so vain. Because I know myself I'm vain? I work hard for my body, and I have a healthy mind. I know where I'm going, and I know where I'm at, and I make my dreams come true, but that makes a heel?
If you notice, everybody interrupts me or comes at me. I never came at anybody I just defended myself. I talk to people like they are kids because I don't have time. If that makes me a heel, so be it. I had The Baddies section where I empowered women. I wanted beautiful women who know themselves, but I'm a heel? Hmm, interesting.
You're coming into a company that has incredible talent like Charlotte Flair and Rhea Ripley, two big names in the business right now. What's going through your mind knowing you may cross paths with these beasts?
I know what I'm capable of, and I know what I'm gonna do, and I would have never signed if I didn't think I was able to do what I came to do. I know what I bring to the table, and I know where my legacy will end up. Nobody can tell me different.
I have a phenomenal stage now, and I have the machine backing me, what can stop me? I have the best coaches in the world here. I'm going to be unstoppable and everybody knows that. Everybody sees the hard work I put it in. They hear where I come from, they hear my journey, and what I want to do in this industry. Just watch and help me pull up these ratings. Come and watch me work guys.
WWE has three major shows with RAW, Smackdown, and NXT. Do you have a preference on where you'll debut?
It depends on who wants to lose. Who wants to take the loss tonight? That's all. I'll leave it up to them. Where do you want me to be? Who wants to take the first loss? I could rack up numbers. Me being on TV, the ratings will jump, and that's a face because people are going to wonder what I'm doing. I'm helping them out because everyone is wondering who's going to be my first opponent. That person probably has been on TV, or they may not have, so it doesn't matter at this point.
There are so many women that you can compete with, from Becky Lynch, Asuka, Iyo Sky, Bayley, and more. Even Nia Jax said on last Monday's Raw that she's going to destroy everything in sight. You're going to have a target on your back.
The bigger they are, the harder they fall. Bring them all on. I want them all. At the end of the day I'm going hard on my skills and I'm going to get better working with these ladies. Iron sharpens iron and I haven't worked with these kinds of veterans yet. I want to create dream matches, I want to have the top female matches of 2024, 2025. I want that so bring them all on. They all can get it, every single one of them.
The one match that everyone wants is one with Bianca Belair. You both were champions at the same time, both athletically gifted, and both of you have great ringwork. Two Black women at the top of their game going at it. What does that mean for you and the Black community?
One, the culture is going to show out for us. We both know that, and we definitely feel it, so we're going to put on the best match that we can. I could only see this being the main event at Wrestlemania. Working with her is going to be a stellar moment for myself and the company. They've never seen two strong, on-top Black females like this. It's going to bring more eyes to the product because people want to see two bulls go at it. It's going to be a great moment. I can't speak on it like that yet because when I speak about it I want to be in the moment. I want to give you feelings in real-time.
And it means the world that we're able to continue paving the way that Black female wrestlers put down before us. I break glass ceilings, that's why I have glass on my gear. I'm here to create something that you've never seen before. When I see those Black faces in the crowd I want to give them the best feeling ever that they want to come back and see this. I want more of us to pour into the wrestling community.