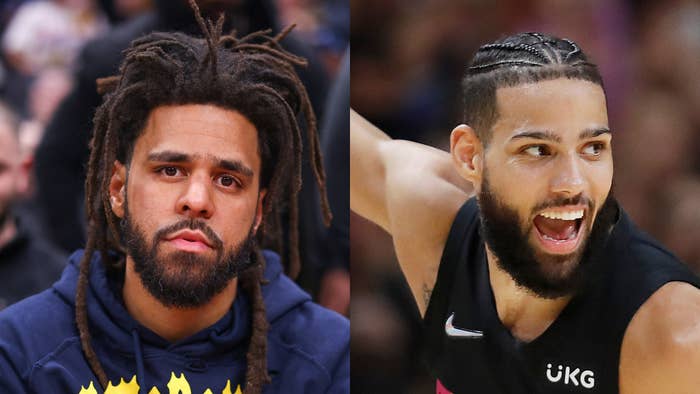 Caleb Martin may have never gotten to the NBA Finals without the help of J. Cole, who convinced the Miami Heat to give him a tryout.
In an interview with ESPN, the Miami Heat forward reflected on his journey coming into the NBA after going undrafted in the 2019 draft. He signed an Exhibit 10 contract—a one-year, minimum salary deal that can convert into a two-way contract—with the Charlotte Hornets and landed a regular role on the roster.
Unfortunately, he was waived by the team in August 2021 and was tasked with figuring out how to get back into the league. That's when J. Cole, who had a friendship with Heat assistant coach Caron Butler, made an assist that changed Martin's life forever.
J. Cole had been familiar with Martin's talent and developed a friendship with him in 2014 when he played pick-up games at the NBA player's college, North Carolina State. According to Martin, Cole is one of his good friends.
Because of that strong friendship, Cole made a call to Butler that would end up in Martin getting an exclusive workout with the team and eventually a roster spot.
"It's everything, man. He's got a million things going on. He could be doing a million things," Martin said about J. Cole's phone call. "But that also just shows you that it's bigger than basketball. That's my guy. He keeps up with every game. He's hitting me up just like my family's hitting me up."
Butler added: "There are certain people that when they call you about particular people, the message and the favor is a little louder than others. It was just one of those things where I was like, 'Damn, he actually called me about this kid,' and he's like, 'Yo, seriously, he needs that [opportunity].' It's not the first time he called me about a guy. He had asked me about Dennis Smith Jr. before, too."
Cole was especially ecstatic after Martin's Game 3 performance against the Miami Heat in the Eastern Conference Finals where he put up 18 points, 3 rebounds and 4 assists.
"He was jumping up and down, man. He was hyped just like everybody else," Martin said about his conversation with Cole after the game. "And he don't want no type of attention for it. Not saying that he doesn't like it or whatever like that, but he's a guy that's so out of the way."
Martin has been on a run throughout the playoffs, including his Game 7 stat line, where he poured in 26 points, 10 rebounds and 3 assists. He's looking to win his first championship with the Miami Heat as they'll be taking on Nikola Jokic and the Denver Nuggets in the NBA Finals. Game 1 is scheduled for Thursday, June 1, at 8:30 p.m.