 Irish UFC megastar Conor McGregor shocked the MMA world—along with the rest of the sports ecosystem—on Tuesday when he announced his retirement from mixed martial arts via short-and-sweet tweet. Skipping over how fantastically McGregor that is, the rumors immediately began buzzing about the 27-year-old fighting icon. Will he make his way into a WWE ring? The most optimistic of wrestling fans took to social media soon after McGregor's shocking announcement like digital Nancy Drews, noting that @TheNotoriousMMA had recently added certain high-profile WWE personalities to his "following" count:
His coach, John Cavanagh, didn't quash any of the rumors, and in fact added fuel to the fire with an Instagram post comparing his future role to WWE Hall of Fame manager Jimmy Hart:
WWE, not one to ever sit on mainstream buzz quietly, quickly threw up a video on their website, speculating whether McGregor was on his way to the company. Not that this means much, but they did the same sort of speculation regarding AJ Styles, Shinsuke Nakamura, Karl Anderson, and Luke Gallows; all four of those men are now employed by the company in one way or another. 
Now, however, we know that McGregor was just bluffing, and his retirement is not, in fact, a permanent one from MMA. For now, it appears that the WWE dream is dead, but that doesn't mean we can't speculate.
What WOULD a Conor McGregor run in pro wrestling look like? 
We all know he's a legit fighter the likes of which wrestling hasn't seen since Brock Lesnar returned in 2012, and he would probably be in the top 10 percent of talkers in WWE right off the bat. While he may not have the wrestling knowledge to pace matches correctly and sell like a pro, he seems like someone dedicated to whatever his craft may be. Plus, WWE has plenty of talented grapplers who can guide him through at least a "good" match if not a great one. And if he does get it off the bat and turns out to be a decent (or better) pro wrestler? To quote Sasha Banks's theme song, "Sky's the Limit."
So, with that in mind, here's how we're fantasy booking McGregor's initial run in WWE.
Debut
First Rivalry
Luckily for everyone involved, McGregor actually has built the base for an initial debut WWE feud: Back in 2014, the Notorious One had a mini Twitter spat with the Celtic Warrior Sheamus, "ending" with McGregor laying down a tag team challenge to the former WWE champ
While we don't think that's the right move for a first bout, getting into the squared circle with his Irish counterpart would do wonders for McGregor. First off, few people in WWE sell stiff shots quite like Sheamus (the fact that his pale body shows every bruise is a positive), which would allow McGregor to maybe go a bit harder with his punches than normal wrestlers would. Second, Sheamus is so reviled by WWE fans that even those that would be against the idea of McGregor joining WWE (and you know there would be some) would still root for the newcomer to destroy Reverse Beaker. Plus, it gives Sheamus something important to do, which he desperately needs.
Possible Stables
The IRA

That name might be a joke, but you're kidding yourself if you think that an Irish stable wouldn't happen at some point after McGregor's debut. Of course, the members would be Sheamus (remember, enemies can become the best of friends in the WWE), Finn Balor, Becky Lynch, and Conor McGregor, which is such a weird hodgepodge of personalities and alignments that it just might work. And we know that Becky is (rather conspicuously) recruiting McGregor already:
As long as someone tells Vince McMahon that he's got three of the biggest potential stars in his company (and also Sheamus) on one team, they should rise above stereotypes to create a cohesive unit that, for once, has a reason to exist. Barring that, well, at least it'll end the League of Nations.
Balor Club Mouthpiece

If that's not on the menu, this should 100 percent be. Keeping Finn from the last stable idea, we have the nascent Balor Club, a store brand bastardization of New Japan Pro Wrestling's Bullet Club. If you're not familiar with them, Bullet Club are basically heel foreigners who cause chaos in Japan and on social media. WWE's Balor Club, as of now, is just the eponymous Finn Balor, but it's heavily rumored that his main roster debut will see him ally with his old Japan buddies, Luke Gallows and Karl Anderson. What these three men have in intimidation and in-ring acumen, they lack in microphone skills; Finn especially has been a bit on the dull side as a babyface champion in NXT.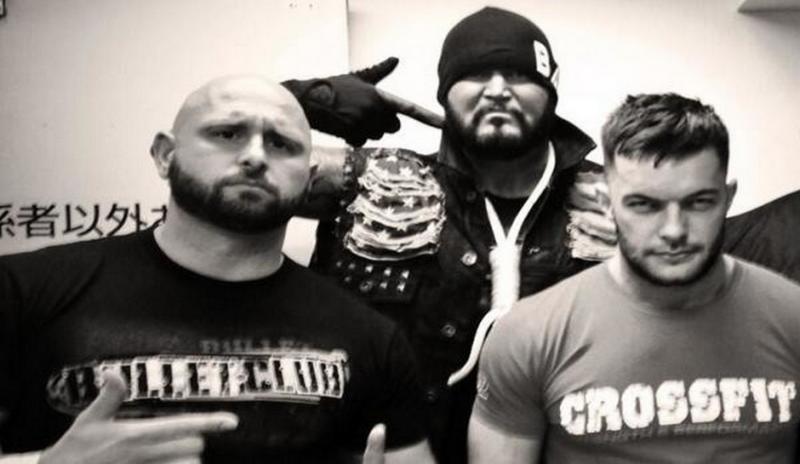 Well, here's where you add McGregor and blow everyone's minds. Not only do you put him at the forefront of a hot stable, but you also help mask everyone's weakness; Conor doesn't need to step into a ring until the situation calls for (and until he's ready backstage), while the other three members get someone to do their heel promos for them. It'd be like The Shield but 100 percent better. And when you're ready to pull the trigger on a babyface McGregor, you can easily have the other three turn on him. Finn vs. McGregor falls just short of a dream match, because it should be a reality match.
Dream Matches
The Ultimate Fantasy Booking