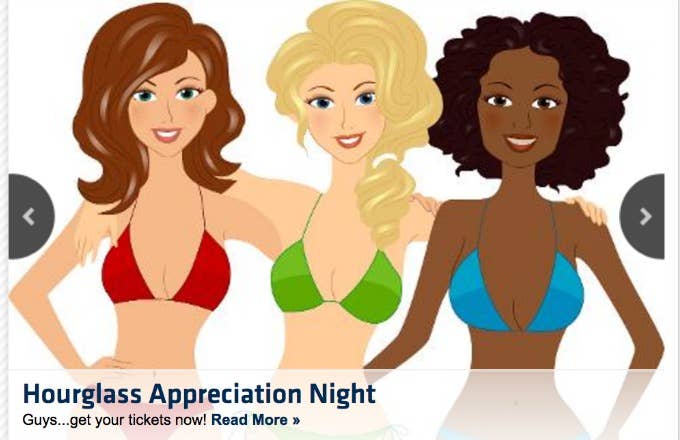 Everyone loves a good promotional night at the ballpark. Minor league baseball teams in particular are known for hosting wacky events to bring people out to games, like "Bark at the Park" nights for you and your canine friends.
Unfortunately, not all promotional ideas are winners. The Ogden Raptors—the Class A affiliate for the Los Angeles Dodgers—just announced they were planning on hosting "Hourglass Appreciation Night" at the ballpark, featuring appearances in the color commentary booth from 18 local women. The team's ridiculous press release promised to stream video of the event and the women in question.
"Fans will have the opportunity to pose for pictures with the lovely ladies as we showcase seriously splendid visual appeal," the release said. "Utah's legendary mountains, Dodgers and Reds farmhands—and gorgeous women whose curves rival those of any stud pitching prospect!"
Not surprisingly, the remarkably sexist promotion was panned on Twitter, and the backlash to it was so bad that the team scrubbed the release from their site.
liking sports is so tiring when the dialogue around it often shows how little of a shit they give about you

https://t.co/3We50AZetp
The top soon-to-be-cancelled minor league promotion of the year. It's exactly what you think it is:

https://t.co/MIpRvGyp8t
Minor league baseball teams in Utah seem to be having a lot of trouble coming up with promotions that aren't outrageously stupid or offensive. The nearby Orem Owlz came under fire back in 2015 when the Pioneer League team had to cancel their "Caucasian Heritage Night" after the public gave the idea a swift kick in the teeth.
It's really not that hard to come up with promotions to get people to spend a summer night at a baseball game. Sell cheap hot dogs, tell people they can win a prize if they dress up like Star Wars characters, hell, offer just about any small trinket to customers and they will show up and suck down a few overpriced beers at your stadium. You're offering a night at the ballpark in the summer, not trying to sell water to a well.
It shouldn't be this difficult for someone to do their job without trivializing a large percentage of your fan base. So the next time you have an idea for a promotion like this, crumple up the piece of paper it's written on and try again.