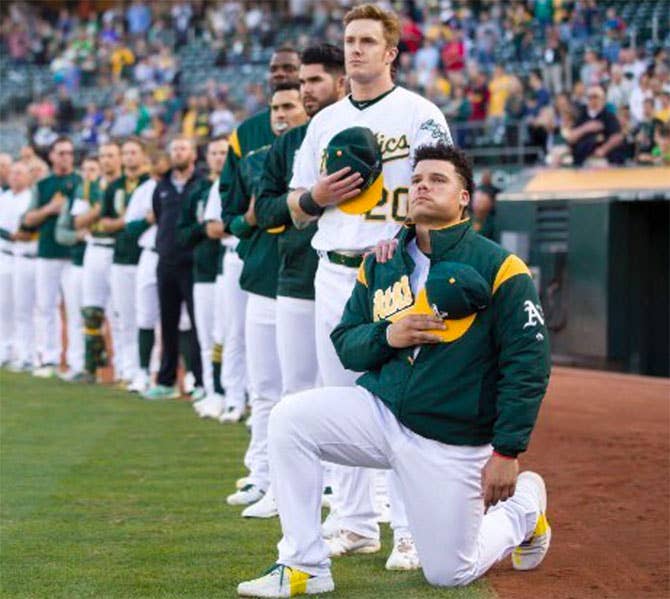 Just one day after Donald Trump attacked NFL players for kneeling during the national anthem, Oakland A's catcher Bruce Maxwell became the first Major League Baseball player to participate in the protest.
While Maxwell did remove his hat and place his hand on his heart during the anthem, he took a very visible knee at the front of Oakland's team line, the lone player on his team to do so.
This does not appear to be an unprovoked action. Maxwell's Twitter feed is loaded with lots of re-tweets concerning Donald Trump's forceful condemnation of NFL players. He spoke up several hours before the A's Saturday night game against the Texas Rangers.
"This now has gone from just a BlackLives Matter topic to just complete inequality of any man or woman that wants to stand for Their [sic] rights," said Maxwell. He even went through the trouble of warning the public that Trump's words would lead to an explosion of protests from athletes from backgrounds of all kinds.
Don't be surprised if you start seeing athletes kneeling in other sports now!! Comments like that coming from our president. WOW! ✊🏽✊🏽✊🏽
Inequality is being displayed bigger than ever right now as our president shows that freeedom of protest and speech is not allowed..
At the very least, his own franchise was prepared for action from Maxwell, as they released a statement in support of his rights just moments after Maxwell's action started reverberating across Twitter.
Before a bunch of egg avatars and Confederate flag wavers come calling for Maxwell's patriotism credentials, the 26-year-old catcher is the son of military personnel, and was even born on a U.S. military base in Germany where his father was stationed. A quick glance through his Twitter feed shows Maxwell takes great pride in his patriotism, and even shows him accosting fans in Boston earlier this summer for interrupting a moment meant to honor a veteran at Fenway Park.
Disrespectful in every way possible especially during the honoring of a military veteran! So much lack of class it's sickening!

https://t.co/iVlWnnQkac
This could either be the start of widespread protest across Major League Baseball, or Maxwell could end up sticking out like a sore thumb for having the guts to join the fight against inequality. Given the league's demographics compared to the NFL, it might be the latter, but the amount of anger created by Trump's "sons of bitches" comments could prompt protest on a much wider scale than we've seen to date.