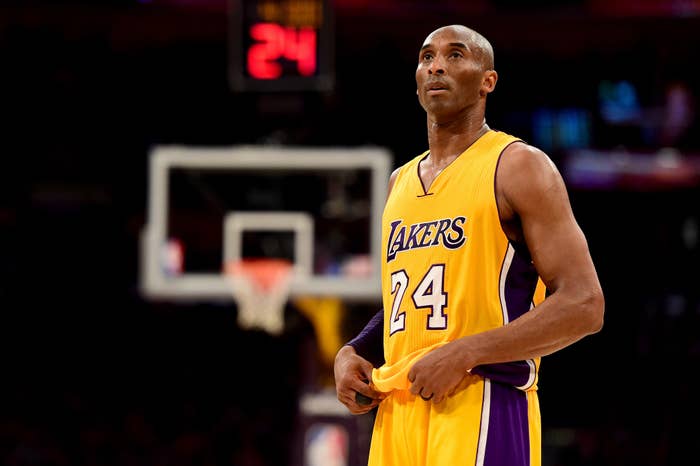 The sky is raining bricks. The sea is foaming blood. The trees are dripping poison. All absurd plagues seem ordained. Kobe Bryant is dead at 41. A city and several continents mourn with primordial grief.  If overstatement seems possible, run back the bewildering dissonance of those words: Kobe Bryant is dead at 41. Dead in a helicopter crash alongside his teenaged daughter Gianna Bryant, and seven others. The unthinkable turned numbingly real. The timeline is cursed, the stars are hexed, the greatest and most gravity-averse star of a generation has tragically fallen to earth. The only thing that's clear is that wherever he's going, no one will be able to guard him. 
It all started in better days, before social media, the internet, and cradle-to-draft hype shattered our capacity for surprise. Other prep messiahs orbited in the recent past (Kevin Garnett, Stephon Marbury, Felipe Lopez, Schea Cotton), but an incomparable voltage surrounded Kobe. He was already a myth before he appeared on Moesha, two months before his NBA debut. All you had to go off was Slam advance billing, the resume (a state championship, breaking Wilt Chamberlain's Pennsylvania scoring records), and the cable-televised McDonald's All-American Boys Game. But even then, future Seton Hall star Shaheen Hollaway took home the MVP, a formative snub that only redoubled Kobe's desire to remake the game in his image. 
He entered the conversation with an instantly iconic name and an origin story already seared into fan memory. His father, former NBA player and Italian league legend Jellybean Bryant, selected it in honor of a rare slab of Japanese beef. Until then, no one knew anyone named Kobe. Over the duration of his 20-year career, at least 14,000 babies would be christened with the moniker (a number that only figures to multiply exponentially). But there could only be one originator, stepping to Brandy to ask her to his prom with cold-blooded Apollonian confidence. At her "Sittin' Up in My Room" apex of fame, she didn't even know who he was, but he quickly filled in the blanks: "I'm the No. 1 high school basketball player in the world; my name is Kobe Bryant." A gesture filled with so much hubris that he'd either become immortal or die trying to get on TRL. 
The timeline is cursed, the stars are hexed, the greatest and most gravity-averse star of a generation has tragically fallen to earth. The only thing that's clear is that wherever he's going, no one will be able to guard him. 
Kevin Garnett was the first of the modern era to jump straight from high school to the pros, but Kobe seized and inspired the imagination. KG was a seven-foot Goliath who revolutionized basketball by pairing the size of a traditional center with a falcon's quickness, a zealot's intensity, and a sniper's precision from 20 feet and in. But Kobe spoke Italian, racked up Zack Morris SAT scores, and sarcastically goofed in interviews with Cindy Crawford. He played like Michael Jordan scientifically rebuilt to appeal to millennials. Barely 6'6" in high-tops, he faced constant skepticism as to whether his game could translate to the rigors of a league then characterized by brutalist eye-gouging lethargy. Yet before debuting as the youngest player ever to play the game, no less than the logo Jerry West said Kobe put on the "greatest workout he'd ever seen." Then-Clippers head coach Bill Fitch, who had coached Larry Bird, Kevin McHale and Hakeem Olajuwon, said, "[Kobe] did things in our workout that nobody had done. It was amazing." 
Forcing a draft-day trade to L.A. felt inevitable. Zero chance that Kobe was going to compete with Jeff Gordon for the throne of Charlotte. Sayonara, Vlade; here's a carton of Drina cigarettes for the trip back east. In exchange, Kobe arrived hard-wired with a superstar's ambition and ego, Milan runway cheekbones, and a blinding teen idol smile that put him up there with *NSYNC and the Backstreet Boys (lest you forget, go re-watch his appearance on All That, complete with Timbaland & Magoo posters on Amanda Bynes' walls). 
From jump, he was maddening to his detractors, beyond reproach to his devotees. Those four conference finals airballs against the Utah Jazz should've permanently maimed the confidence of a regular rookie. Instead, Kobe returned the next year with a demiurgic will to conquer his demons (and Bryon Russell—just like his idol).
Picking your favorite Kobe is just like choosing favorite iteration of 2Pac: in parts a projection of your own experience and temperament. For me, it was always the Afro'd, above-the-rim golden child of that first half-decade. No. 8 Adidas Kobe. Before the rivalry with Shaq turned sour and cracks in his halo aura began to show. The dunk contest champion vessel for the dreams of a million Angeleno teenagers. Just a few years older than me and my friends—somehow both relatable and Olympian, living at home with his parents in the Pacific Palisades, but starring in commercials for Sprite, Mattel, and Nintendo. Imitating Shaq was like imitating a locomotive, but Kobe seemed possible in his conventional infinity. Those corkscrew fadeaways and assassin's buzzer beaters were practiced on playgrounds and backyards from Pasadena to Pacoima, San Diego to Santa Barbara.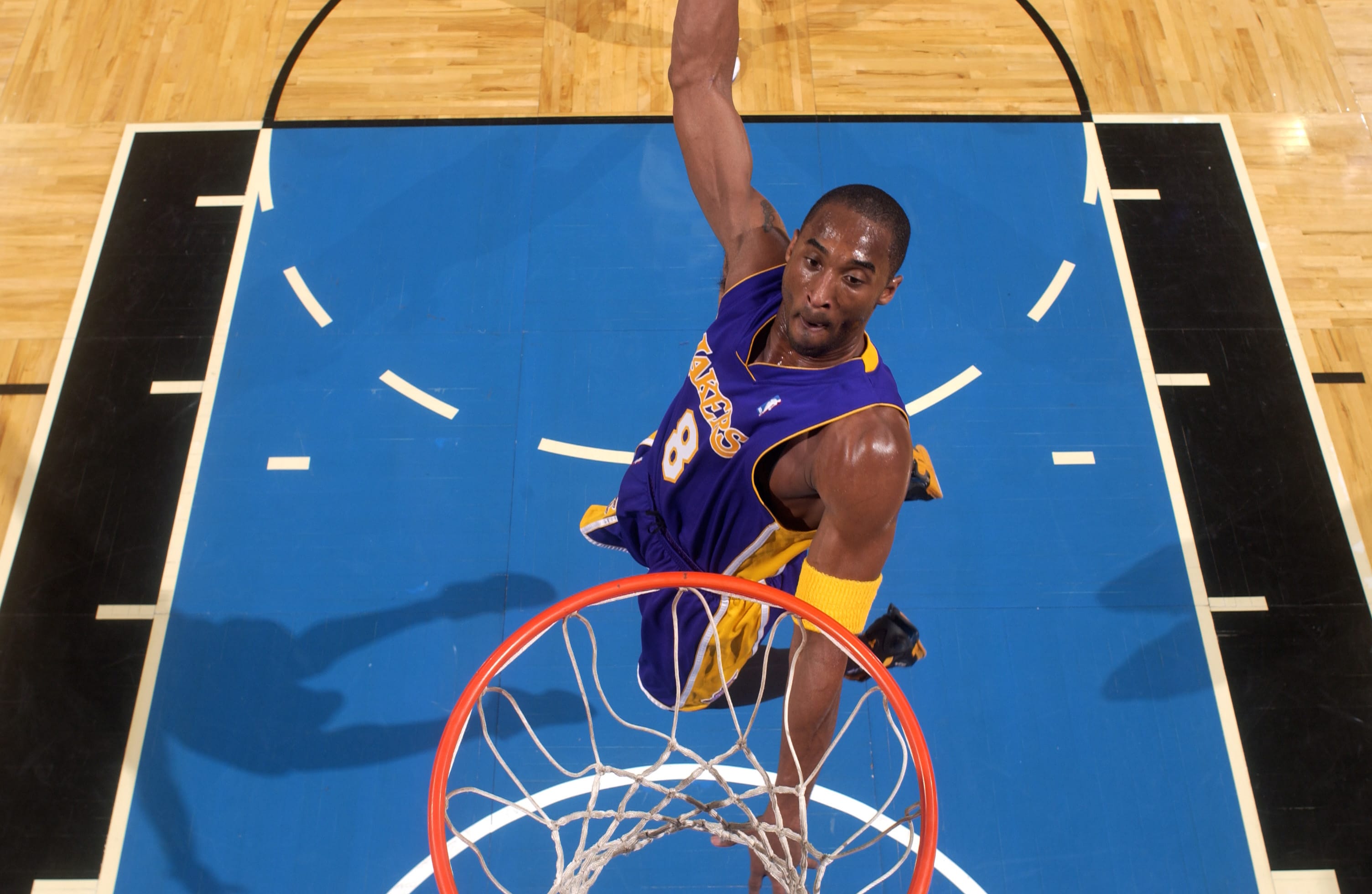 His refractory tunnel vision and aloofness were offset by the charity work he was careful to let the press know about: the innumerable visits for the Make-A-Wish Foundation and the Center for Abused Children. If Shaq had Power 106 on lock with DJ Quik beats and Biggie verses, we wanted to believe that Kobe's raps would be the conscious hip-hop counterpart—as cerebral and scientific as his devotion to his multimillion-dollar-a-year day job. Then we watched "K.O.B.E." and never discussed it or the furry Kangol again. It didn't suit the dream narrative that he had ruthlessly constructed and we so eagerly bought after the exile of the Sedale Threatt era.  
You can obviously argue that his terrestrial fundamentals and impossible-until-you-hear-swish fadeaways were obsessively patterned after Michael Jordan; but the moment his feet left the ground, there was a semi-automatic poetry to his movement. A hang time so otherworldly that it felt like you could learn a foreign language, until gravity eventually won out. Boom Shackalacka 180s, merciless tomahawk incursions to the rim, gladiatorial snuff-your-spleen jams over multiple defenders as helpless as tin soldiers. 
So many fabled moments that they all began to blur into one highlight reel of stunned rivals and smirking Jack Nicholson celebrations. The Lazarus comeback against Portland in 2000 culminating with the perfect alley-oop to Shaq, as indelible as any moment in this millennium. In the next series against Indiana, Game 4, the Big Aristotle fouled out early, leaving it to Kobe to fully inherit the throne of the recently departed MJ and beat the brakes off Reggie Miller. His first championship and it felt like a great awakening, the city shaking off the lingering grief of Magic Johnson's HIV diagnosis and forced early retirement, the '92 insurrection that attempted to redress decades of civic neglect and police brutality, and the murder of 2Pac. As fractured and disengaged, aloof and segregated as Los Angeles can be, Kobe and Shaq briefly embodied a platonic harmony, representing the city's global ambitions at the auroral dawn of a new century. Jerry Buss was still alive; so was Chick Hearn. 2001 bumped from every CD player. Kobe was just 21. It was the best of all possible worlds, until everything once again began to unravel.
The 2001 Lakers might be the most dominant team in NBA Playoff history, only losing a single game throughout their run, and only then in the Finals to Allen Iverson and the 76ers. The following year, the thread began to fray and only a last-second Derek Fisher dagger saved the Lakers from the Revenge of Divac. Strangely, I don't even remember anyone doubting that the Lakers would somehow pull it off. With Kobe on the court, they were suffused with a divine sense of destiny. This was part of his genius and what allowed him to capture the eternal idolatry of tens of millions—the notion that as long as Kobe was on the court, every miracle heave would find the bottom of the net, every deflected pass would ricochet into the right hands, every fourth-quarter deficit was not only surmountable, it would be overcome in cinematic fashion. Shaq might have been Superman, blessed with inhuman strength and agility, but Kobe was the Dark Knight, wounded but possessed, equipped with an ironclad will and a maniacal lust for vengeance that refused to accept defeat. 
It's impossible to eulogize Kobe without mentioning the summer of 2003. Specifically, the sexual assault allegation that occurred during a trip to Colorado, where he was scheduled to have surgery on his knee. A year later, prosecutors dropped the case when the accuser refused to testify. Afterwards, Bryant publicly apologized to her, stating, "Although I truly believe this encounter between us was consensual, I recognize now that she did not and does not view this incident the same way I did. After months of reviewing discovery, listening to her attorney, and even her testimony in person, I now understand how she feels that she did not consent to this encounter." A civil suit was settled privately; the financial terms were never disclosed. Understandably, this incident made it impossible for many to continue to support Kobe. Even if you believe his mea culpa, it complicated an already complex legacy. It remains a blight on his career, and it can be argued that it invalidates his merits in their entirety.
The next five years marked the most tumultuous of Kobe's playing career. His feud with Shaq reached irreconcilable proportions, giving the Lakers little choice but to trade their star center, leaving at least one or two championships on the table. This interregnum is filled with bizarre confrontations: the feud with Karl Malone over allegedly hitting on Kobe's wife, a bitter vendetta with Smush Parker, and that infamous Shaq freestyle after he won the championship with the Heat. He ripped Andrew Bynum and Mitch Kupchak in a fan-filmed parking lot video and drove Phil Jackson into retirement, only for him to write a book eviscerating Kobe for his selfish, uncoachable ways. The last half of his 20s were largely squandered in purgatory, trying to coax meaningful minutes out of Chris Mihm. Still, 81 points. Do I even need to explain? What was he supposed to do, pass it to Kwame Brown?
Redemption arrived with Pau Gasol, a seven-foot beatific Spaniard who came via a late Christmas gift from the Memphis Grizzlies in 2008. It triggered Kobe's second legendary championship run, featuring a more mature, if still throat-slitting version of the one-time prodigy. Jackson described the Kobe of this second act as being more generous and aware of teammates, a leader in the austere and occasionally cruel Zen monk tradition, but a leader nonetheless. If his public image could suffer from being slightly robotic and obsessively on brand, there were enough peeks through the stolid clenched fist pelican jaw drive to endear him to those who wanted to remain unmoved. As long as I live, I'll never forget the Lakers championship parade in 2009, where every building in L.A. seemed to empty out onto the streets to hail the team like Roman legions returning home after the conquest of Gaul, or at least Orlando. Kobe beamed with a rare serenity, basking in the adulation of the crowd. His contract was up, but he told 100,000 parishioners in the Coliseum, "Where am I going to go? This is my home." As if he needed to further enshrine himself in Laker lore, he vanquished the Celtics the following year, a rite of passage for every franchise immortal—his fifth title with the team, matching Kareem, Magic, and George Mikan. By now, the cult of Kobe had become a religion, one that might've topped the intense fervor of mere Laker fandom.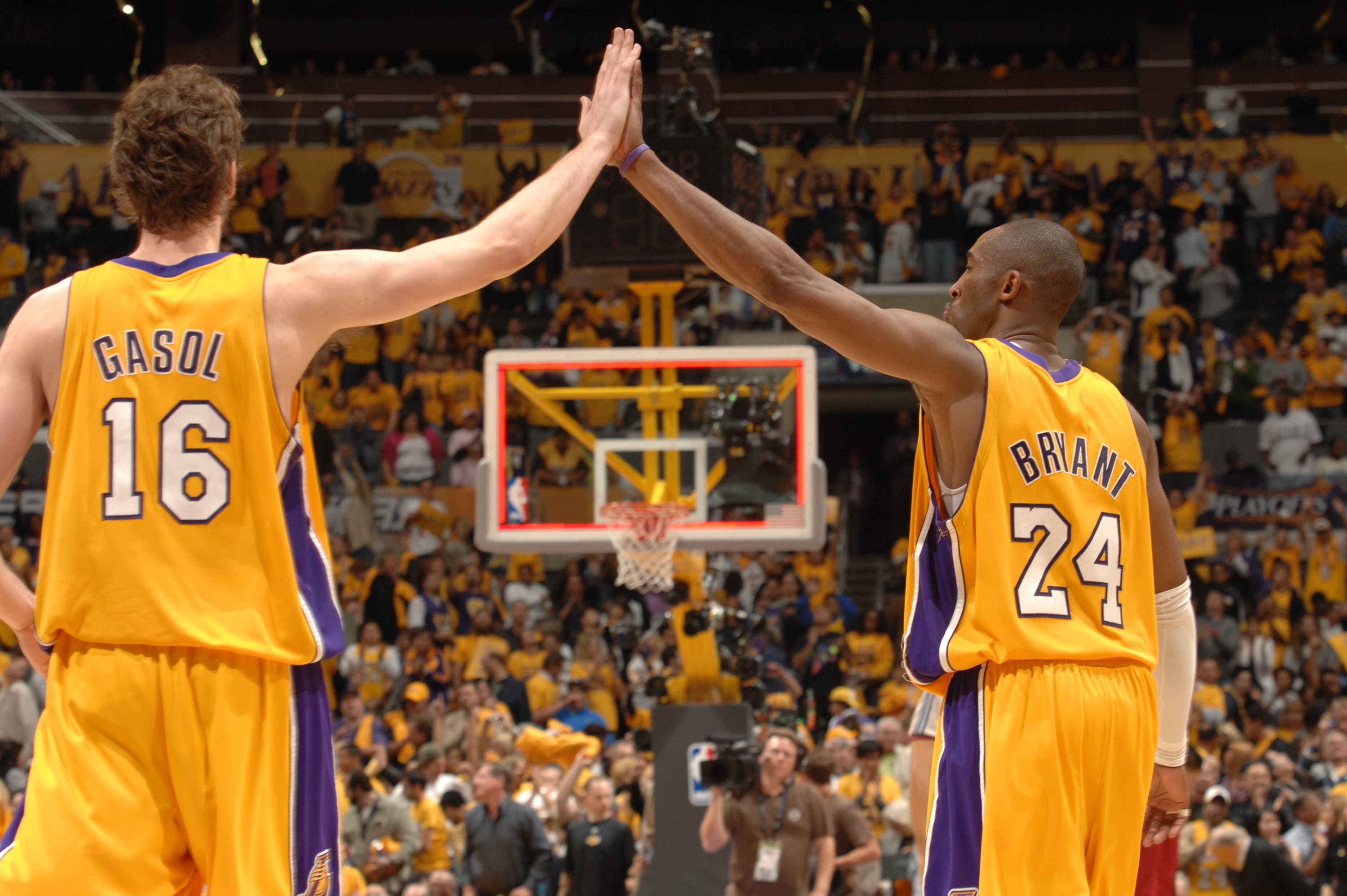 The pursuit of victory never ceased. We'll never know if Kobe would've bested Jordan had David Stern not nixed the Chris Paul trade. During those last years of his prime, Kobe thrashed against the slanders of father time like old man Santiago. In typically poetic fashion, he endured a punishing load of minutes to will an underachieving Lakers team into the playoffs. The underlying logic didn't need explaining. You believed that, even as an 8th seed, the Lakers could catch fire and upset everyone in their path until there was a parade on Figueroa. He blew out his Achilles, because of course Kobe could only be felled by a vulnerable tendon named after a mythological hero of the Trojan War. Still, he hit those two free throws with the muscles in his calves rolled up like a Fruit by the Foot. Even when humbled by human frailty, there was an indomitability to his character. As we shuffle about our existence, stifled and frustrated by the follies of humanity and the ravages of age, Kobe continued to resist the limitations that befall every mortal; he instantiated the religious powers of hope and faith, no matter how insane the odds. He could frequently be difficult to love, but even his most ardent haters had to salute his determination, work ethic, and courage. 
It's easy to elide those final injury-wracked years, saddling the Lakers to a bloated "thank you for your service" contract, shooting too many shots, and forcing us all to confront our own mortality. But for those covering the team, it was impossible not to be struck by his profound sense of gravity and a newfound humility produced by those demoralizing limitations. Even after a terrible game, while his teammates rushed to dress and head out into the night, Kobe would regale crowds of reporters until the last person was out the door. Mummified in bags of ice, the ailing superstar waxed philosophic about game strategy, his experiences traveling the world, and other assorted wisdom accumulated over the previous two decades. This Kobe was nothing like the calculated, Darth Vader ringtone-having public image he'd cultivated. He was funny and generous, warm and willing to accept responsibility for every failing on the court. Then there was that final game, a miracle so surreal that you'd believe it was staged. One last reminder that there would never be another competitor like him, no one so clutch or with such a flair for the dramatic. One more prophecy fulfilled. 
In his all-too-brief retirement, Kobe seemed to only grow more comfortable in his own skin, resolving his old, petty feuds with love, mentoring young players, and advocating for the importance of women's sports. He was a loving father and a devoted coach to his daughter. It was only fitting that he threw himself into the entertainment industry, fixating on the importance of storytelling with the same passion with which he'd assiduously burnished his own myth. To witness Kobe's evolution was to better understand why he inspired so many for so long. Rather than continue to chase the ghosts of past glories, he was embarking on new challenges, determined to conquer yet another field, even winning an Oscar for his short film "Dear Basketball," which was based on a poem he'd written to announce his retirement from the game.
If none of this feels real right now, maybe it's because none of this ever really did. Kobe lived in a deified, larger-than-life realm that few have ever encountered, let alone begun to properly fathom. The preternaturally self-possessed kid from Philly was a Greek demigod transplanted to 21st-century existence, gifted with otherworldly talent and all the baffling, contradictory, and beautiful qualities that make us human. Kobe was one of the greatest athletes to ever live, but more than that, he was one of the few who helped us see ourselves in the mirror. He had so much more to share and teach, but it's hard to conceive of anyone who had given so much to what they loved. If there is any meaning at all to be found from this senseless cataclysm, it is a reminder to go that much harder at whatever it is that gives your life meaning, to accept neither shortcut nor compromise, to squeeze the most out of every ounce of talent that you may possess. Until then, Mamba out.