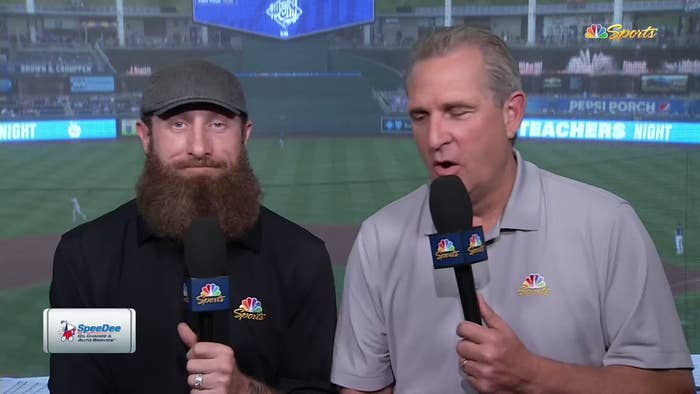 UPDATED 5/22, 6:17 p.m. ET: Glen Kuiper was fired by NBC Sports California after using the n-word on-air while discussing a trip he took to the Negro Leagues Baseball Museum, ESPN reports.
"Following an internal review, the decision has been made for NBC Sports California to end its relationship with Glen Kuiper, effective immediately," a statement from the network reads. "We thank Glen for his dedication to Bay Area baseball over the years."
According to ESPN, a source close to the situation said that "the decision was based on a variety of factors, including information uncovered in the internal review."
UPDATED 5/8, 8:10 p.m. ET: Oakland Athletics broadcaster Glen Kuiper
has been suspended until the completion of a review into his on-air
racial slur Saturday, a spokesperson for NBC Sports California confirmed.
Kuiper was talking about the National Negro Leagues Baseball Museum during a pre-game segment when he uttered the word. He apologized later in the telecast for what "sounded different than I meant it to be said."

"The word is painful and has no place in our society," Bob Kendrick, president of the National Negro Leagues Baseball Museum, said in response. "And while I don't pretend to know Glen's heart I do know that my heart is one of forgiveness. I hope all of you will find it in yourselves to do the same."
In their own statement, the A's wrote, "The language used by Glen Kuiper during today's pregame broadcast is unacceptable. The Oakland Athletics do not condone such language. We are working to address the situation."
See original story below.
What was supposed to be about the National Negro Leagues Baseball Museum and their fundraising campaign, has been co-opted—at least briefly—by baseball broadcaster Glen Kuiper, who used the N-word in place of "negro" for the organization's name on air Friday.

He has since apologized on the air.

Per The Associated Press, the National Negro Leagues Baseball Museum is hoping to raise $25 million for a new building to house its education center for what has become one of the world's unique collections of baseball memorabilia.

On the air, Kuiper, a former athlete said, "We had a phenomenal day today. N****r League Museum, and Arthur Bryant's Barbeque."
After welcoming fans back after a commercial break, he says, "I said something that didn't come out quite the way I wanted it to."
Bob Kendrick is leading the campaign efforts at the Negro Leagues museum. Their goal of $25 million is one step closer after a $1 million donation from Bank of America.

"We're building an organization that will continue to preserve and celebrate the triumphant story of the Negro Leagues but also fortify our position as one of the nation's most important civil rights and social justice institutions," Kendrick said.