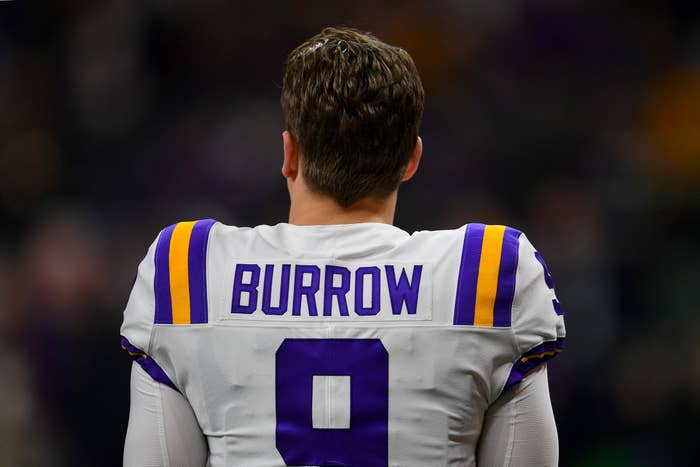 The 2020 NFL Draft will be completed virtually, marking a notable change to the format fans have grown to love. While teams may struggle to execute high-profile trades that we're accustomed to, there's no question the excitement still around the event is warranted. All 32 teams have the chance to quickly change the outlook of their franchise. 
This year's class looks strong thanks to several unique prospects at the top of boards. Some will outperform their projections while others fail to live up to their draft status. Few players will maximize their production if the scheme's wrong or personalities lead to other issues.
We're focusing on the on-field best case and worst case comparisons for 10 of the biggest names in the 2020 NFL Draft class. Playmakers will dominate the impact of this class for the next decade so that's where we begin.
Isaiah Simmons, LB, Clemson
Best case comparison: Derwin James
Isaiah Simmons is a rare defensive presence with his 6'4" and 220-pound frame. Not a pure linebacker or defensive back because his skill set is so vast and impactful, Simmons could be a more forceful version of Derwin James. Using him all over the defense is critical for his blossoming since he's not built to be the middle linebacker full-time. But nickel and dime packages will provides a clear upside for Simmons' talent since we saw how effective he was at Clemson in the role. 
Worst case comparison: Myles Jack
Myles Jack is a nice defensive piece, but a specific one despite his similar athletic advantages. Jacksonville figured this out after seeing Jack struggle mightily at middle linebacker, and will use him more as a weakside presence in the future. Moving Jack around in coverage is useful though, like it will be with Simmons even if he's pigeonholed like Jack has been. I can't see Simmons being anything less than a forceful outside linebacker or pseudo-safety in his worst-case scenario.
Jeffrey Okudah, CB, Ohio State
Best case comparison: Aqib Talib
The 2017 cornerback class had three comparably great prospects in Marshon Lattimore, Marlon Humphrey and Tre'Davious White, but Okudah has a better blend of skills than each of them did. He's as sticky as Humphrey, opportunistic as Lattimore, and versatile as White. He's not a perfect prospect, but if his ball skills continue to develop in the NFL, Aqib Talib's peak is attainable. Talib was a dominant corner for multiple teams thanks to a length and build very similar to Okudah's.
Worst case comparison: Darius Slay
How's this for a worst case? Okudah is already a stout cover corner with average ball skills, much like Slay was earlier in his career. He's straight-line fast and long, making it difficult to beat him over the top. His short-area quickness is a key part of his success though and it separates both players from many of their peers.
Chase Young, Edge, Ohio State
Best case comparison: Cameron Wake
How good has Cameron Wake been? He has 100.5 sacks in 11 years, ranking 31st of all-time despite starting his NFL career at age 27. Chase Young has 100-plus sack potential thanks to his similarly dominant get-off and strength to string counter moves together. Young's shear athleticism is a game-changer like it is for every top-tier edge rusher, and All-Pro expectations are fair with his skill set. 
Worst case comparison: Whitney Mercilus
Though Whitney Mercilus isn't nearly as athletic as Young, he's carved out a successful career with 50 sacks (so far) thanks to having enough of everything and high intelligence as a rusher. Young's athleticism and suddenness isn't everything when it comes to projecting production, but having a solid secondary rusher career even looks quite pessimistic as a worst-case.
Henry Ruggs III, WR, Alabama
Best case comparison: Peak Santonio Holmes
I was tempted to go with another former Steeler in Mike Wallace, but peak Santonio Holmes was so much more dynamic than Wallace despite the latter having more production overall. Ruggs is fast but more explosive than straight-line speed, and he's a plus athlete in short areas as well. He's a terrific fit in today's league.
Worst case comparison- Marquise Goodwin
Ruggs struggles in the same areas Goodwin has on the field. He's not as quick as Tyreek Hill in short spaces or as strong off the line as Ted Ginn became over time, so he needs to be schemed for a bit. His physicality can improve, but his worst-case is he doesn't, and his career falls more in line with Goodwin's anomaly 2017 year with 962 yards and two scores on 56 receptions.
Jerry Jeudy, WR, Alabama
Best case comparison: Marvin Harrison
Elite route-running paired with impressive quickness and the ability to maintain speed through cuts helped Marvin Harrison carve out an illustrious career. Jerry Jeudy is a near spitting image in many ways on the field, already boasting many of the nuances that half the league's more productive starters lack. His lower body is flexible and core is strong, which are critical for success as an upper-echelon starter. 
Worst case comparison: Emmanuel Sanders
Jeudy doesn't look or test the fastest but he's always open, which can be said about Emmanuel Sanders as well. Sanders was buried on the depth chart in Pittsburgh before breaking out and could still get near 10,000 yards in his career. Jeudy will hopefully be a healthier version of Sanders and benefit from immediate production.
CeeDee Lamb, WR, Oklahoma
Best case comparison: DeAndre Hopkins
CeeDee Lamb is big, fast and amazing with the ball in his hands, but he's not the uber-freak that Julio Jones or Calvin Johnson could brag about. There's going to be his fair share of contested catches, and he'll either flourish with those opportunities like DeAndre Hopkins has, or fail to win at that rate. I think Lamb will become the rare taller receiver who produces a lot of yards after the catch and win from any alignment, much like Hopkins has. 
Worst case comparison: Robert Woods
He may not be super flashy or be deemed worthy of a top-15 pick in retrospect, but Robert Woods has been an excellent secondary receiver for two franchises. Lamb is more talented as an athlete than Woods, but Woods is highly skilled in his role. If Lamb ends up with a bad quarterback or offensive scheme and doesn't win his contested catches as we're projecting, he should still be productive like Woods has.
Jordan Love, QB, Utah State
Best case comparison: Early Robert Griffin III
I wanted to say Jameis Winston here as a nod to how well Winston can play, but Robert Griffin III was a more explosive force prior to knee injuries derailing his career. Like Griffin, Love has a beautiful throwing motion and can connect on throws that only few are willing to try in the NFL. He can extend plays outside of the pocket and overcome inconsistencies on short and intermediate attempts. 
Worst case comparison: DeShone Kizer
Outside of being a great athlete, much of what I wrote above about Love applied to Kizer. Kizer also looked the part, which made me and other proponents overlook the flaws with decision-making and slow processing. Love could bust out of the league if he doesn't make significant strides both mentally and physically. His 2018 season gives more hope that Love's floor is more of an inconsistent starter like Josh Allen. 
Justin Herbert, QB, Oregon
Best case comparison: Carson Palmer
A big, prototypical power thrower who can hit key throws downfield is more of a traditional quarterback that's been lost in recent years. Justin Herbert fits that mold perfectly, and his accuracy can take a jump with improved footwork consistency and faster eyes when reading coverage. Proponents of his argue the offense and supporting cast held him back, and if it did and he cleans up his issues, Herbert has every physical trait needed to be a league-leader in passing one day.
Worst case comparison: Jay Cutler
If Herbert's weaknesses and mediocre play under pressure and on conversion downs don't improve, he'll be stuck in the tier of frustratingly talented but continually disappointing quarterbacks that the NFL is quickly shedding. Those few flashes a game are too often surrounded with head-shaking mistakes and misfires and the wrong coaching staff won't be able to survive a few years of that growth pattern. Cutler was much of the same as he relied on his arm talent instead of refining his muscle memory in the pocket. 
Tua Tagovailoa, QB, Alabama
Best case comparison: Drew Brees
The battle between Joe Burrow and Tua Tagovailoa would likely be razor thin had the Alabama product not suffered several lower body injuries over his two years as a starter. Tagovailoa has incredible touch and timing on his throws, and he routinely maximized his insanely talented receiving corps with his skill. He showed in 2018 to be a creative downfield passer, and then more of a point guard who excels in West Coast principles in 2019. He's a do-it-all quarterback.
Worst case comparison: Dak Prescott
If Tagovailoa loses some mobility, his passing prowess still favors a top-10 quarterback like Dak Prescott. He doesn't have the strongest arm or take the riskiest of throws, so his worst-case is carried by what his supporting cast could be. His accuracy and knack for big-game performances should keep him around for a long time unless injuries limit his availability in the NFL.
Joe Burrow, QB, LSU
Best case comparison: Tony Romo
Strong accuracy and mobility combined with a knack for big downfield plays equals a clean comparison between Joe Burrow and Tony Romo. Burrow doesn't have the strongest arm, which keeps him back from the likes of Patrick Mahomes and Russell Wilson comparisons. We should feel comfortable saying that Pro Bowl potential is within reach for Burrow considering his astonishing accuracy to all levels of the field and irrefutable feel for pocket pressure. 
Worst case comparison: Jimmy Garoppolo
The biggest flaw in Burrow's game is his arm strength. Though it rarely hindered him at LSU, the spacing will get tighter and defenders will be much closer to the talent level as his receivers than what Burrow experienced in 2019. That means the slight flutter to the far-hash on some of his passes are more likely to be incompletions or interceptions. Still, it's hard to imagine his quick-release and impeccable short game losing value, which means settling near average to above average with the right supporting cast is his worst-case.