 Hidden under the stands at the Thomas & Mack Center in Las Vegas, Los Angeles Lakers rookie D'Angelo Russell shares a laugh with an elderly security guard. About 10 feet away from him, his summer league head coach, Mark Madsen, fields questions about the second overall pick's performance. Russell's summer league campaign has just concluded with an 84-78 loss to the Utah Jazz—but his best individual showing since arriving in Vegas.
Russell's laugh disappears when it is his turn to face the media. Asked to give a self-assessment of his week, he doesn't soften his words for the camera.
"Not good," Russell says. "For me, not good. I know what I'm capable of and I know the work we put in before we came here as a team, and I don't feel like we played to our full potential."
With a Las Vegas Summer League record 12,422 fans on hand to watch, most of them in Lakers purple and gold and clashing with the red seats of the arena, Russell looked like the 19-year-old rookie he is. There were passes to get excited about that displayed his two-steps-ahead-of-everyone-else court vision, but also turnovers aplenty and a shot that was unable to find the basket for much of the week.
Russell says that the biggest challenge in jumping from college to the pros is getting used to executing at a faster pace and adjusting on the defensive end. With more one-on-one defense and every opposing guard a scoring threat, learning defensive rotations and being in the right place at the right time was even more crucial than in college. As the week went on, Russell's comfort level went up. The biggest key for his success was sticking to his game rather than trying to switch things up.
"I've never been that guy to be the strongest or the fastest," Russell says. "I try to figure out how to use my mind to its full potential and get it done. Just slowing down [was important]. The first two games started with turnovers and stuff like that. When I just slow it down and relax it's easier."
Coach Madsen agreed that his star rookie got better as the week went on, but was far more complimentary, stressing that summer league is a learning experience.
"D'Angelo Russell has a knack for making the people around him better," Madsen says. "He can find a way to get passes through where there's not much space. He can deliver the ball in the pick-and-roll. He can find shooters in transition. If I was a player in the NBA today, I would love playing with D'Angelo. He's going to get you open shots throughout the game. Over the course of his career I think he's going to have a lot of teammates taking him out to steak dinner because of those passes."
"One of the best attributes that [D'Angelo] gave us was he had two feet in the whole time. Never looked forward. Was always present."
—Jeff Boals

Ohio State Assistant Coach
Russell, 19, spent just one year at Ohio State and averaged 19.3 points, 5.7 rebounds, and 5 assists in 35 games. Declaring for the NBA Draft wasn't the plan when the season started, but it soon became an inevitable reality.
"We were practicing [before] going to the Bahamas and we had a bunch of our NBA guys and overseas guys back playing with us and D'Angelo. There were couple of times where he was the best player on the floor," says Ohio State assistant coach Jeff Boals. "That kind of perked our ears up a bit."
Russell eliminated any thought of the Bahamas practice being a fluke in his first go-round against college competition. Playing West Virginia in a pre-season scrimmage, he dropped 33 points and 8 assists and added the game-winning shot.
"They were pressuring him, playing 94 feet, denying him and playing physical," Boals says. "After the game, Coach [Thad] Matta was like, 'We better start recruiting another guard because we're not going to have him very long.'"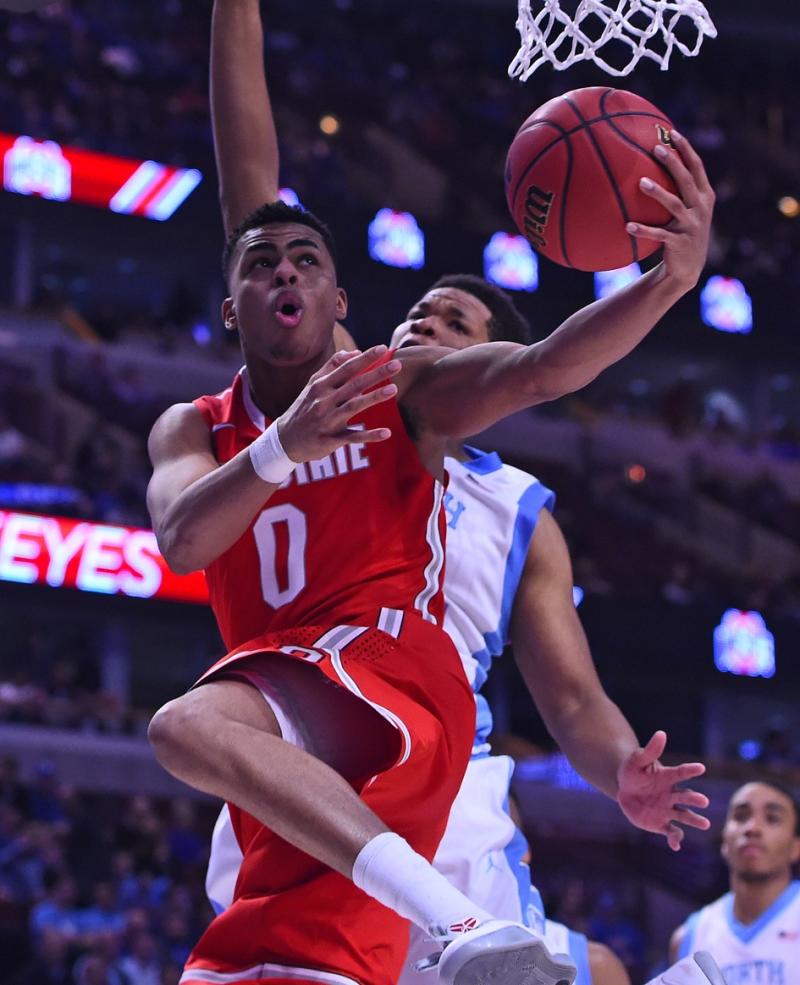 Those early college games feel a world away for Russell. After being compared with the NBA's best in the weeks leading up to the draft—Lakers coach Byron Scott referenced all-time great Magic Johnson as well as current Clippers star Chris Paul, who Scott coached as a rookie, when speaking about Russell's ability to distribute the ball and find his teammates—Russell spent his time in Vegas trying to acclimate himself to his new situation.
"Adjusting to this new lifestyle, the fast-paced NBA game speed, it's just a lot," Russell says after a morning practice session at Thomas & Mack. "It's comfortable knowing where you're at, where you're going to be. [The basketball stuff is] slowly coming. It's happening, but happening slowly with our team. We haven't been winning as much as we thought we would [here in Vegas], but it's the transition. You're playing with grown men, so it's pretty different."
As the days in Vegas passed, Denver Nuggets rookie Emmanuel Mudiay was turning heads and impressing. Meanwhile, Russell was failing to get his shot to fall as the Lakers' lone victory in Vegas came against the Philadelphia 76ers. Mudiay had control of the Nuggets offense and showed a comfort level that evaded most summer league first-timers, but the final stat lines for the two show how simply donning a Lakers uniform can make expectations soar.
Mudiay left Vegas averaging 12 points, 5.8 assists, 3.5 rebounds, and 5 turnovers per game. He shot 38.5 percent from the floor and 14.3 percent from beyond the arc. Russell averaged 11.8 points, 5.2 rebounds, 3.2 assists, and 5.2 turnovers per game on 37.7 percent shooting, 11.8 percent from three.
Both struggled from the floor. Both reminded everyone why the point guard position can be the toughest for a young player to adjust to at the pro level. Yet Russell didn't seem to get the same benefit of the doubt that his fellow rookie did.
"Any time you're the No. 2 pick, especially to L.A., you're going to have a bigger spotlight on you," Boals says. "D'Angelo will be able to handle it."
"There's a certain level of scrutiny," says Madsen, who was the 29th pick by the Lakers in the 2000 NBA Draft. "There's a certain level of expectation that comes with playing in a Lakers jersey. Every media member knows it, every fan knows it, every player knows it. D'Angelo handled that pressure, that scrutiny of wearing the purple and gold, beautifully.
"Summer league was great for D'Angelo," Madsen continued. "He learned a lot. He did a lot of very good things. There were moments where he took a step back and thought, 'OK, I can do that a little better. I can add this to my game. I can do that.' That part is crucial to being a student of the game."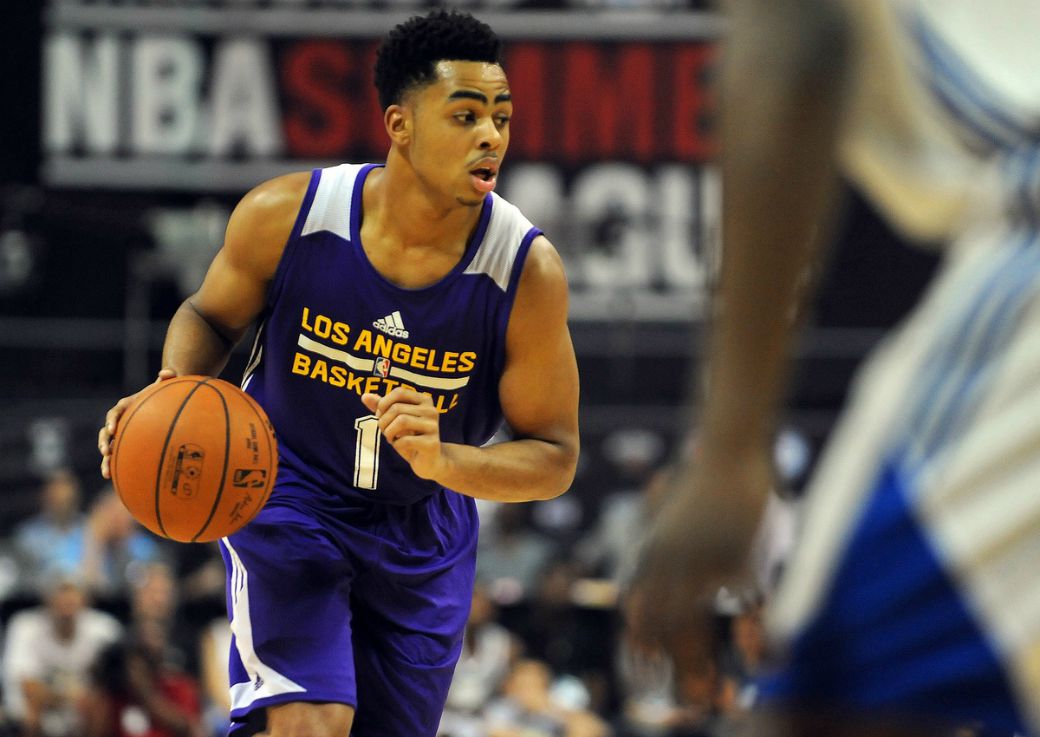 Russell's life has been filled with unexpected firsts lately: blowing up in his freshman season at Ohio State; celebrating on draft night with top pick Karl-Anthony Towns after being selected second overall by the Lakers; getting the Twitter approval and follow from new teammate Kobe Bryant; and most recently, Nike Basketball announcing it had signed Russell to an endorsement deal.
"Just going from my first [college] season being a rookie, to the process of doing the workouts, to getting drafted, to now, it's a lot," Russell says. "[The draft] feels like it was a while ago, honestly. So much has happened between that time."
The biggest positive that the Lakers coaching staff took from his experience in Vegas was watching how he reacted to adversity. Rather than getting flustered or frustrated with those around him, he paid attention to things he needed to improve on as well as the ways the NBA game is different than college. Russell was the same player to his teammates during practice sessions whether the team had won or lost its previous game.
"It is rare any time you have a rookie [with] so much confidence," Madsen says. "Most rookies enter the league so timid, really nervous. They were 'the man' in college and now going to the NBA, you're dealing with grown men, you're dealing with superstars. You're dealing with financial endorsements that are massive. The pressure is that much higher. D'Angelo's confidence never wavered and his love of the game never wavered."
Russell's love of the game shows when he comes home from practice, watches hours of game film, and then follows that up with even more highlight videos on YouTube. His connection with teammates, which extends beyond the lines of the court, is apparent when he walks into practice and lightens the mood as he jokes with players and coaches alike before getting down to business. And again when he deflects praise for his own passing ability and court vision to bestow it on a teammate's ability to finish instead.
"People need to know that D'Angelo is a fantastic teammate," Madsen says. "There was so much hype about being the No. 2 pick. Phil Jackson spoke about D'Angelo during the season and broke a rule and the New York Knicks were fined. There's been so much expectation, hype, and really pronounced media scrutiny on D'Angelo, but to see him interact with the others, with his teammates, with the coaching staff, with the fans, here's a great young man who not only wants to be great on the court, but he wants to be a great human being away from basketball."
"It is rare any time you have a rookie [with] so much confidence. D'Angelo's confidence never wavered and his love oF the game Never Wavered."
—Mark Madsen
Lakers Assistant COach
Before the team went its separate ways after that final loss to the Jazz, Madsen spoke with Russell. He wanted the point guard to leave knowing that the coaching staff saw and appreciated the effort he showed in every game and practice with the team.
Russell headed to Los Angeles and returned to the gym to get back to work in preparation for the upcoming season. His ability to focus on the task at hand separated him from many college freshmen thinking about potentially declaring for the draft. Never worried about what might happen next, Russell is concerned with making the most out of his current situation.
"One of the best attributes that he gave us was he had two feet in the whole time," Boals says. "[He] never deviated. Never looked forward. Was always present. When the season ended he took some time, thought about what he wanted to do, and ended up declaring for the draft. He's a mature 19-year-old."
The Lakers will open training camp with new acquisitions Brandon Bass, Roy Hibbert, and Lou Williams, Kobe Bryant entering his 20th season, Nick Young looking to get buckets, rookies Russell, Larry Nance Jr., and Anthony Brown, second-year player Julius Randle—who missed his entire rookie season after breaking his tibia in the season opener—and last year's standout rookie, point guard Jordan Clarkson.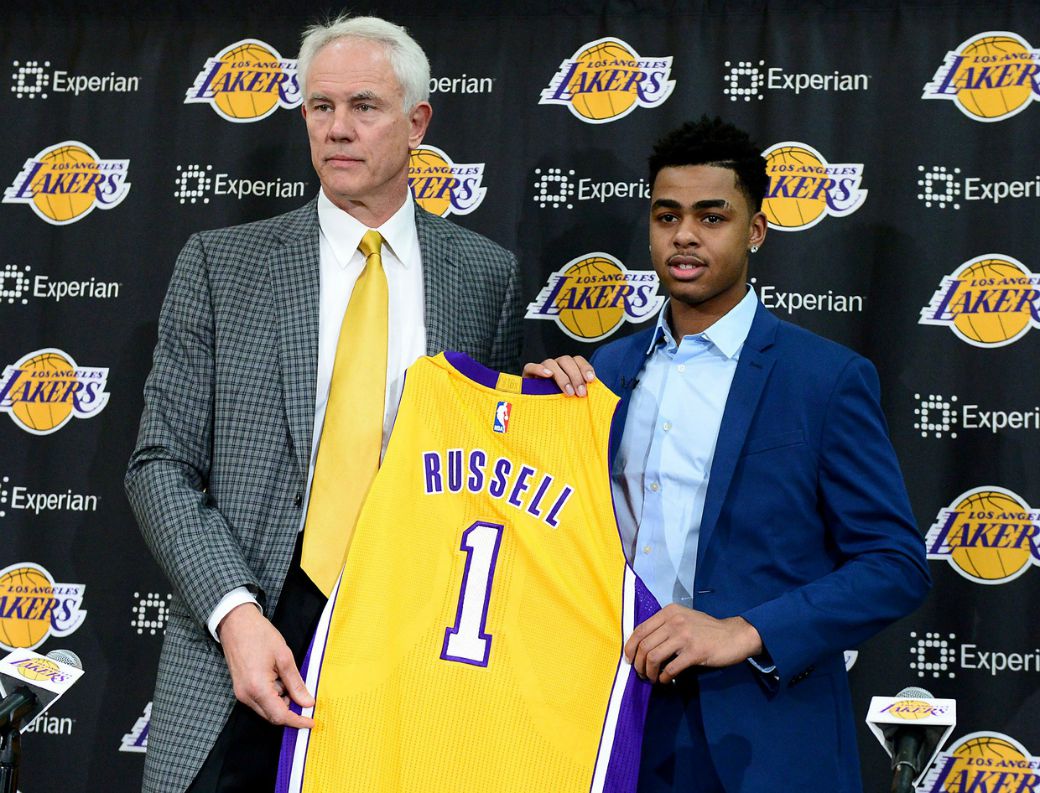 With the Lakers eager to get back on track after two disastrous seasons and playing in what could be Kobe Bryant's final year in the NBA, there will be plenty of pressure. The franchise's extended swoon combined with that significant roster turnover will likely turn training camp into a fierce competition for minutes, touches, and shots. If there's anyone on the roster equipped with the skill set to keep all of the mouths fed it is Russell—but he'll have to prove it.
"You're young, but you've still got a voice," Russell says of being a rookie point guard. "When you speak a lot of people listen, especially when the ball is in your hands, if they're trying to get a shot or if they're open and you're not finding them. At this level I know I'm going to be playing with a lot of top players that you've got to make happy. Being able to do that and be aggressive at the same time is a challenge I'm looking forward to."
Boals says Russell will respect his teammates, but his competitiveness will have him "going into practice to try to kick their ass each day." After impressing the staff that worked with him in Vegas with his coachability and desire to learn, he now has to show his veteran Lakers teammates why they want to share the floor with him.
"His teammates know that D'Angelo is going to make them better," Madsen says. "Also, [they know they have] to be ready for his passes. It happened a few times where passes were delivered and the other player didn't realize he was even open but D'Angelo did and got the ball to him. That's one adjustment that every player will need to make. Always be aware and available for the pass. To know that it's coming and to know that it's going to be there."
Russell won't complain about making nightly highlight reels with his assists, but he certainly isn't thinking about it when plotting his next move. His eyes are constantly scanning the court looking for his next target, and his unwavering focus is squarely on the win.
"If my guy is open I try to get him the ball," Russell says. "Ugly. Pretty. Whatever way it is. If it looks good, whatever."