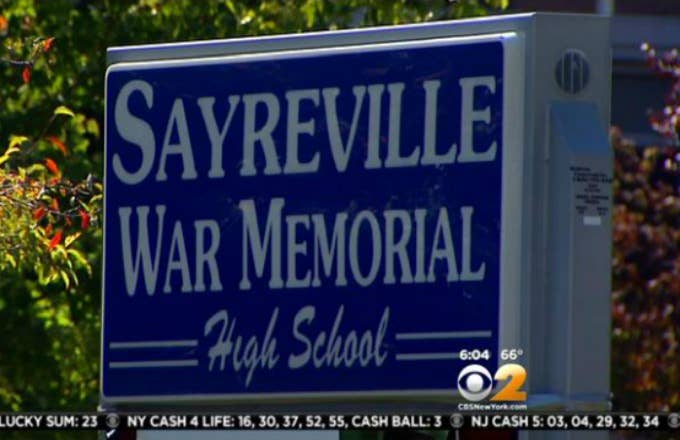 A disturbing report concerning Sayreville War Memorial High School of Sayreville, NJ surfaced today courtesy of NJ.com, uncovering details about hazing and sexual assault allegations against the school's football team. In the wake of these accusations, the area superintendent announced this week that the remainder of the team's season would be canceled, effective immediately. 
The punishment seems fair given the weight of the allegations. NJ.com's full report on these accusations offers a clearer picture of the alleged incidents. Initiated by older players on the team, the story details daily incidents of scare tactics and sexual assault bordering on rape. 



In the darkness, a freshman football player would be pinned to the locker-room floor, his arms and feet held down by multiple upperclassmen. Then, the victim would be lifted to his feet while a finger was forced into his rectum. Sometimes, the same finger was then shoved into the freshman player's mouth. 




...




According to the parent, whose identity is being protected because the parent feared retribution against the family and the player, the routine was initiated when an upperclassman would enter the locker room and make a wolf call or howling noise.




"[For] 10 seconds, the lights would go off and they would grab a freshman and they would go on," the parent said. "Right on the floor. … It was happening every day. They would get the freshmen."




He added: "Kids would just sit around and witness [stuff] like this."
It's a wrenching image, to say the least. At a recent meeting, the team's coaches claimed to know nothing about these alleged incidents. 
NJ.com notes that Sayreville has made the playoffs for 20 straight seasons, serving as a pipeline for nearby Rutgers University. The end of their season is a decision that was not made lightly. 
Stay tuned for further developments concerning the case. 
[via Deadspin]