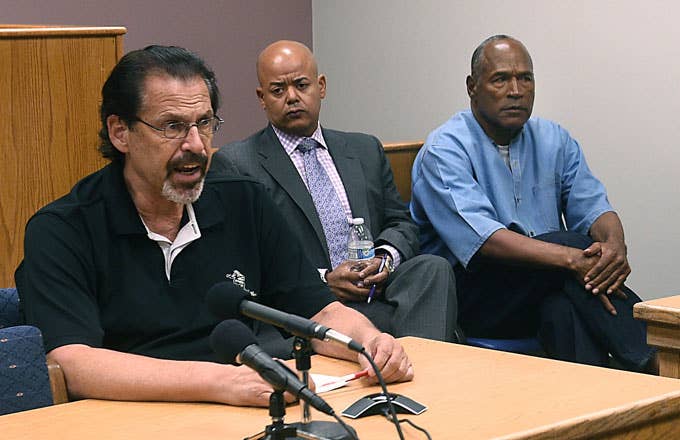 On early Thursday afternoon, during a hearing in Nevada, O.J. Simpson was granted parole for charges stemming from an armed robbery after nearly nine years in the slammer. Simpson will probably be released in early October. If you were on Twitter you couldn't escape it.
Since the entire thing was a spectacle that played out on live TV, there was an extended instance where O.J.'s discussion with his lawyer was caught on a hot mic. This particular instance saw O.J. and his lawyer talking about a prison guard (Jeffrey Felix) who wrote the book Guarding the Juice: How O.J. Simpson Became My Prison BFF. Additionally, Felix told ABC News that "O.J. Simpson is not suffering in prison. He's eating well. He's exercising well. He's got a flat screen TV."
O.J.'s hot mic cast doubt upon that BFF claim. "That guy, he's shameless," Juice said of Felix. Simpson also invoked that Time story that claimed president Trump gets an extra scoop of ice cream when the rest of his guests get just one. In case you forget, which would be normal, Time wrote the following back in May:
"As he settles down, they bring him a Diet Coke, while the rest of us are served water, with the Vice President sitting at one end of the table. With the salad course, Trump is served what appears to be Thousand Island dressing instead of the creamy vinaigrette for his guests. When the chicken arrives, he is the only one given an extra dish of sauce. At the dessert course, he gets two scoops of vanilla ice cream with his chocolate cream pie, instead of the single scoop for everyone else. The tastes of Pence are also tended to. Instead of the pie, he gets a fruit plate."
On Thursday, during a discussion which appeared to be about Felix and O.J.'s jail eating habits, Juice's lawyer Malcom Lavergne could be heard wrapping up the convo by saying "Kind of like President Trump. Trump gets two scoops. Everyone else gets one."
"Oh, I heard that," Simpson could be heard saying in response. "I heard that." The exchange (which you should watch in full below) occurred when the parole board was deliberating.
Dude may want to be more cognizant of his surroundings upon his release. There are a lot more cell phone cameras out there now then there were when he went into prison in 2008.
Just an observation.