 UPDATED July 31, 8:50 p.m. ET: The karma that began with Draymond Green's multiple dick-hits on opposing players came back to haunt him as his infamous dick pic accidentally went on display for the world to see on Snapchat early Sunday morning. The USA basketball team member is a true Warrior in every sense of the word and will press on.
Green stated to reporters in Houston about the mishap:
"There's so many things going on in my world for me to sit and complain [that] I can't catch a break. For me to sit here [and say] I can't catch a break [for getting] suspended for a game in the Finals or I can't catch a break for this situation, I'm living my dreams, I'm playing in the Olympics.To say I can't catch a break, I think that's disrespectful for everybody. How many people get to live their dreams? I'm not going to sit here and throw myself a pity party and say I can't catch a break. I'm fine. I get to joke around with these guys all day and get to do what I love for my country. I'm fine. I'm fine."
When asked if he was notified by someone else about the pic, Green said he caught this L on his own negligence. "I didn't get a call [about the Snapchat post]. I figured it out pretty quick," he said. "In this world, quick ain't quick enough. Once it's out, it's out. I thought I reacted pretty quick. I saw those screen shots and quick ain't quick enough in this world."
Green is going to use this situation to help improve his game. "I truly believe we all go through points in our life that help propel us to the next level," he said. "I'm at the stage right now where all this stuff will help propel me to the next level as a basketball player, but more importantly as a man. I don't live my life with regrets."
See original story below.
Draymond Green has been pretty active with his Snapchat account during the run up to the Olympics, pestering his teammates as they do a number of mundane day-to-day things. For example, here's Green and Kyrie Irving bugging Kevin Durant for putting his feet up on the team plane:
And here's a few snapshots he's taken of them sleeping: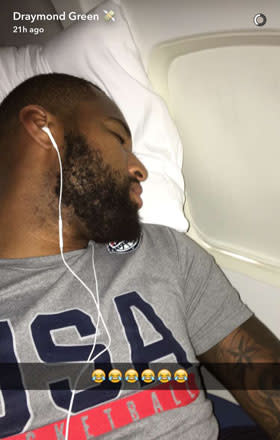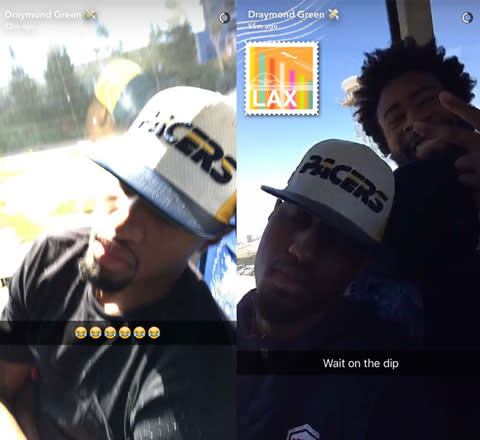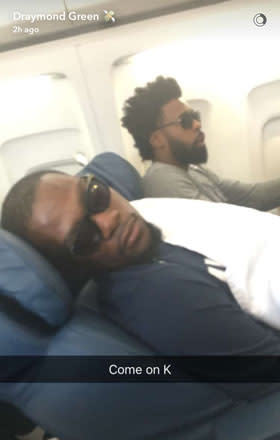 All of them have been relatively tame until Sunday morning, at which point a picture of an erect penis reportedly posted to his Snapchat story.
The photo was quickly deleted, though not without it being screen-grabbed first.
For his part, Green denied the picture was of himself and instead claimed on Twitter that he was hacked.
In response, fans took to Twitter to tweet "L" at him as well as voice their skepticism that his hack claims were legitimate.
He later took back his initial explanation, apologized, and then told reporters he "pushed the wrong button" and that it was "intended to be a private message" before immediately realizing his mistake.
Representatives for Draymond Green did not immediately return Complex's request for comment. We'll continue to update this story as more information becomes available.