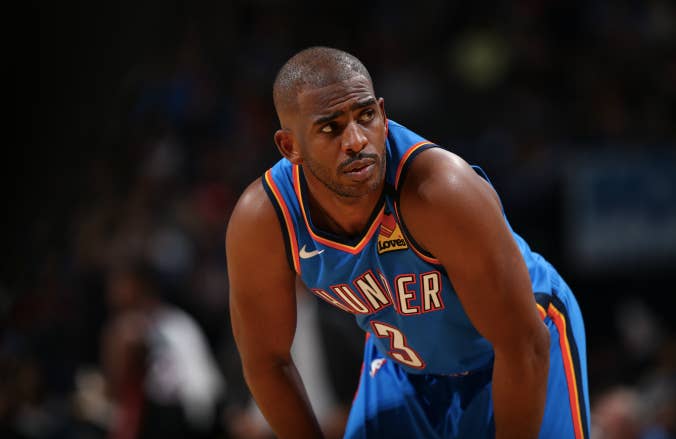 At one point, the pairing of Chris Paul and James Harden gave Houston the potential to set the NBA on fire. But for various reasons, the spark fizzled out before they could win a tite, and Houston sent CP3 to Oklahoma City. According to Paul, the Rockets proved that the business of basketball is not always as honest as players would like it to be.
In a Sports Illustrated feature that was published on Tuesday, Paul explained how the trade to OKC blindsided him. According to the star point guard, when Rockets general manager Daryl Morey first presented the idea to him he shot it down. At that point, Morey allegedly assured him that they wouldn't ship him to the Thunder. 
After the season I reached out to the [Rockets] and said, 'Hey, if you guys want to go in a different direction, let us know now. That way we can figure something out,'" Paul says. "They said we're not trying to go in a different direction. [Morey] asked me if I wanted to go to Oklahoma City. I said no, and he said, 'We won't trade you there, because you chose to come to us from L.A.' He doesn't owe me anything, but that's where the whole communication thing was.
Paul's brother, C.J., admitted that the trade left CP3 and his family in "shock." But, they were determined to make the best out of the situation. 
"That's when you really figure out this is business, it happened, and now we have to move on," C.J. said. 
Coming to the Thunder is turning into a full-circle moment for Chris Paul. As a bright-eyed rookie, Paul spent most of the year playing in Oklahoma City after the city embraced the New Orleans Hornets following Hurricane Katrina. He's also playing a style of basketball that better suits his skill set. Instead of sharing the rock with Harden, Paul gets to return to being an on-ball point guard which allows him to make more plays.
Also, Paul is proving that he is a valued locker room presence. Over the years, stories have surfaced about Paul rubbing his teammates the wrong way behind closed doors. That was especially true during his time with the Houston Rockets. Now, Paul is the established veteran presence on a young team with budding stars.
"Rookie swingman Darius Bazley has gotten advice from Paul on everything from work habits to figuring out how to find a woman he should settle down with," Sports Illustrated wrote before detailing how Paul flew Bazley's mom to Utah so that she could see her son's NBA debut.
Acts like this showcase Paul's dedication to a team that has been swarmed with trade rumors. Even though he didn't want to be traded to OKC, Paul has bought into the process and makes it clear that he's willing to take the road less traveled. 
"No chance. That's not happening. Nope," Paul said when asked if he would waive his $44.2 million option for 2021–22 to be traded to a championship-contending team.