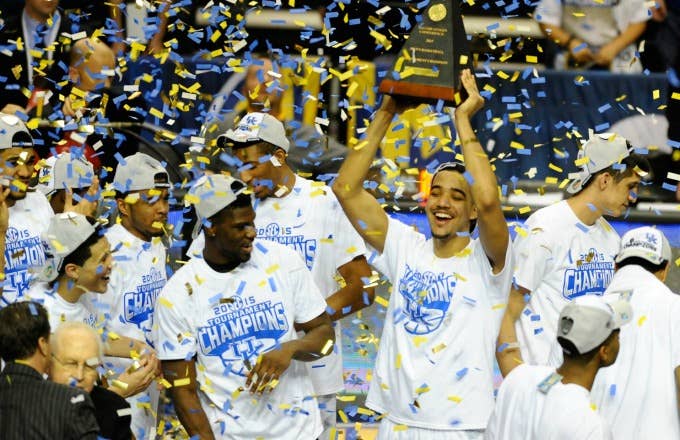 Could the 2014-15 Kentucky basketball team beat an NBA team in a single game?
It's a question that many people have asked all season long. It started back in November when Chris Briggs—the head coach of a small NAIA school in Kentucky called Georgetown that got destroyed by the Wildcats 121-52—told reporters that he believed Kentucky could beat a squad full of NBA players.
"I just told the guys in the locker room, they could have beaten some NBA teams tonight," Briggs said. "No doubt in my mind."
Kentucky head coach John Calipari didn't agree. After hearing what Briggs said about his team, he took to Twitter to reveal that there was no way his Wildcats would stand a chance against any NBA team. And he was sure to emphasize the word "any."
Case closed, right?
Uh, you'd think. But people have continued to talk about the idea of Kentucky knocking off an NBA team. And today, SMU head coach Larry Brown took the argument up a notch when he argued that the Kentucky team wouldn't just beat an NBA team in a single game. He said that he also believes they'd win many games against NBA teams and clinch a spot in the playoffs in the Eastern Conference:
To which we say: WHAT?!
Listen, it's fun to debate what would happen if Kentucky played against, say, the 76ers. The Sixers have guys on their roster who would legitimately struggle to crack the starting five if they played for Kentucky this season. But despite what you might think about them, the Sixers players are professional athletes and get paid a lot of money to do what they do because they're better than 99.9999999 percent of the other basketball players on this planet. So there's no way they'd lose to the current Kentucky team.
And as far as the idea of Kentucky making the playoffs? HA. That would require them to win many, many, many games against NBA teams. At this very moment, they'd need to have at least 31 wins to be a better team than the Heat, who are currently in the eighth seed in the Eastern Conference playoff race. So while we'd be willing to concede that the Kentucky players might (might!) be able to steal a single game from an NBA team under extreme circumstances, there's absolutely, positively NO way they'd be a playoff team in the NBA. OK?
Send all complaints, compliments, and tips to sportstips@complex.com.
[via @KYSportsRadio]