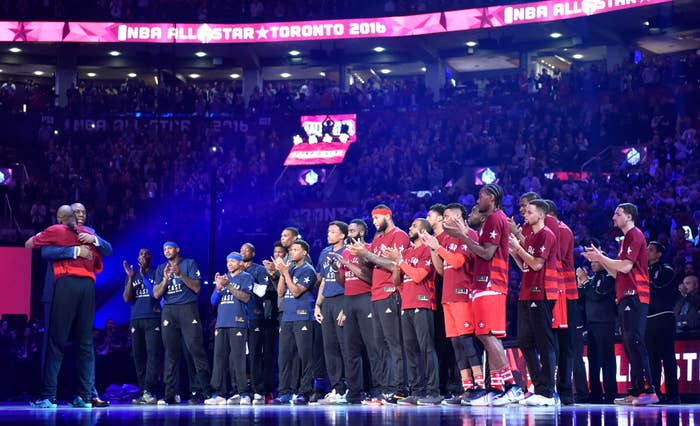 The NBA All-Star starting lineups are supposed to honor the best of the best in the NBA for that season. The NBA's players, fans, and media all vote who they believe should be in the starting lineup. But some starting fives are just a little bit better than others, whether that's because the fans voted for an aging star over a deserving up-and-comer or one conference—ahem, the Western—seems to be forever stacked. 
We wanted to know who the best starting fives in NBA All-Star history were, so we took a look back at the rosters over the past 30 seasons to determine which squads were head and shoulders above the others. 
1.
1993 Western Conference All-Stars
2.
2016 Western Conference All-Stars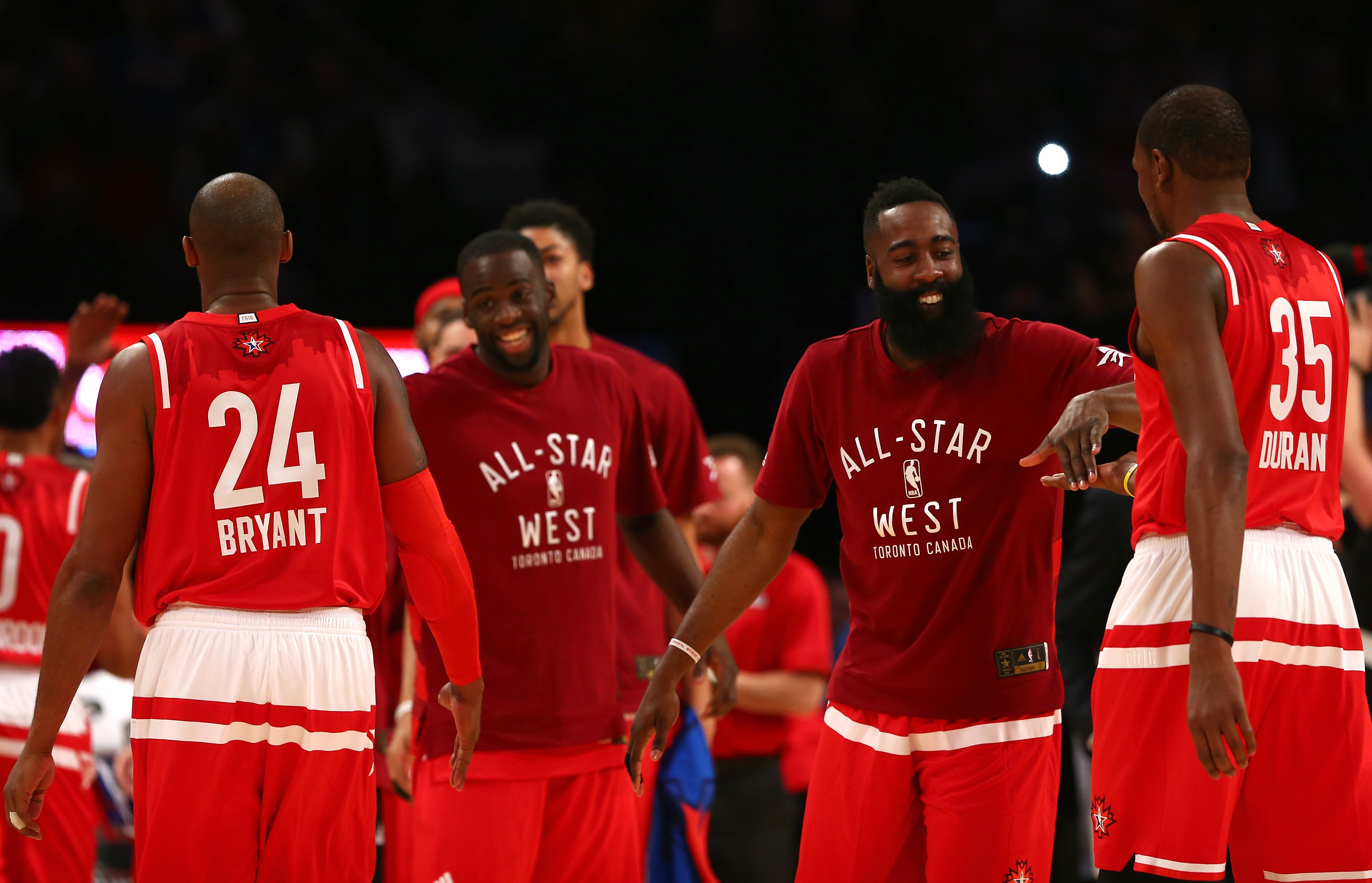 Starting Five:

Stephen Curry, Warriors, PG

Russell Westbrook, Thunder, SG

Kobe Bryant, Lakers, F/G

Kevin Durant, Thunder, F

Kawhi Leonard, Spurs, F
In Kobe Bryant's farewell season, he led the polls with over 1,891,614 votes, earning an 18th All-Star appearance. Sure, it was nice to give Kobe a send off as an All Star, but there were more deserving players, such as Damian Lillard and Dirk Nowitzki. The West dominated the East, winning 196-173, as Kobe would finish with 10 points, 6 rebounds, and 7 assists. The All-Star Game also set a new NBA record with a combined 369 total points. The West players offered to feed Bryant the ball in an attempt to get him a record fifth All-Star MVP, but he declined.
3.
2005 Eastern Conference All-Stars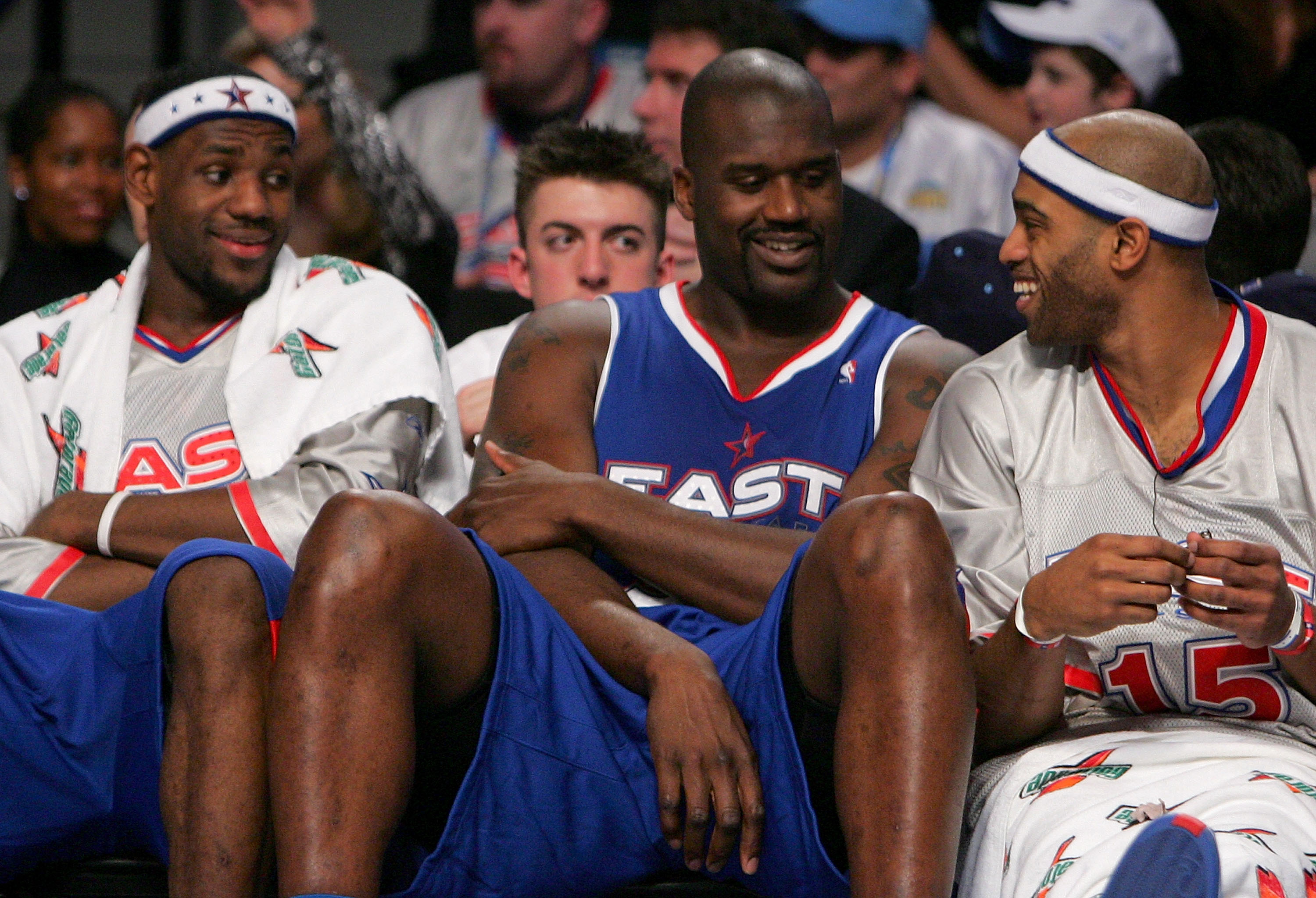 4.
2009 Western Conference All-Stars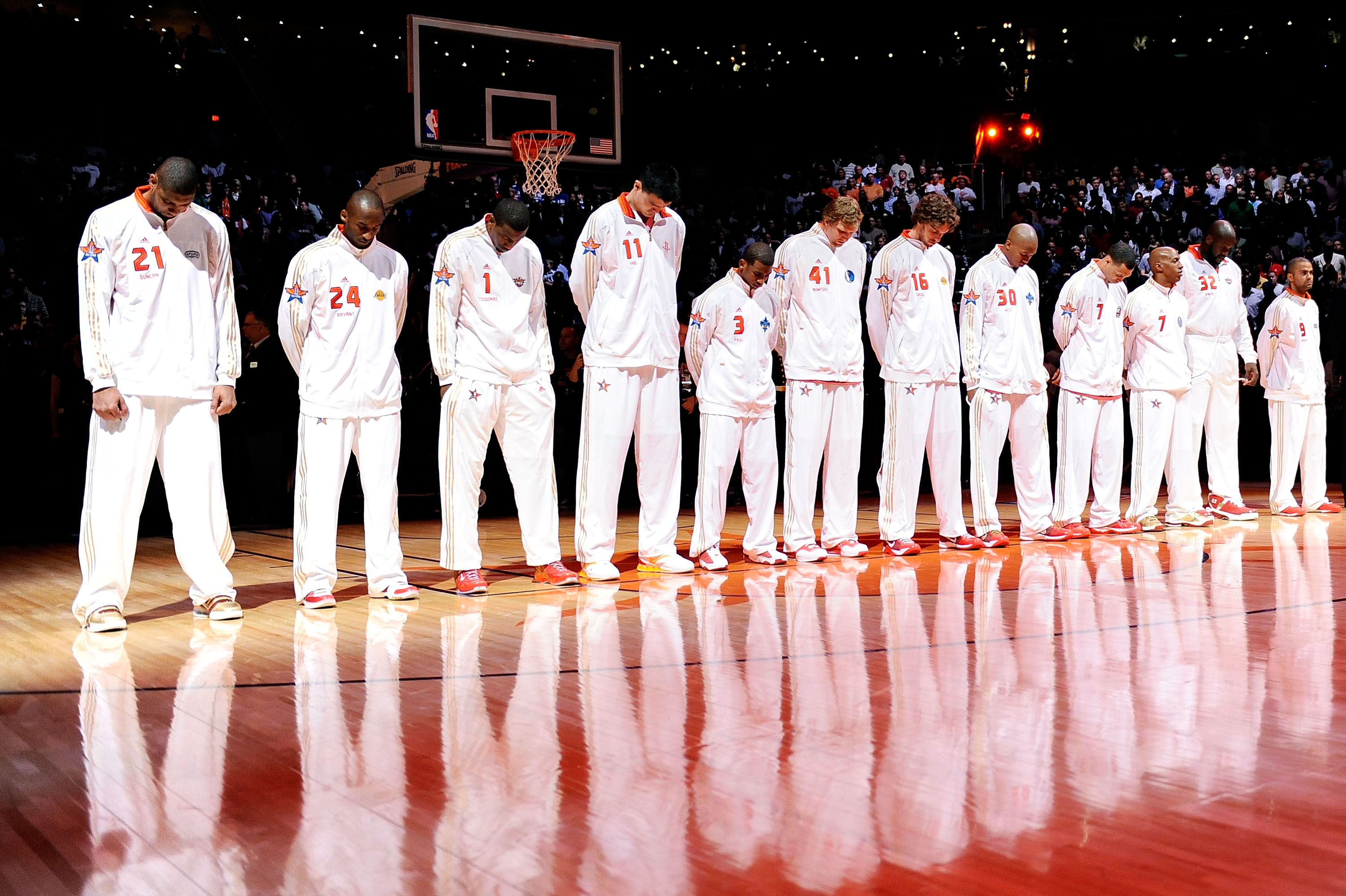 5.
2010 Eastern Conference All-Stars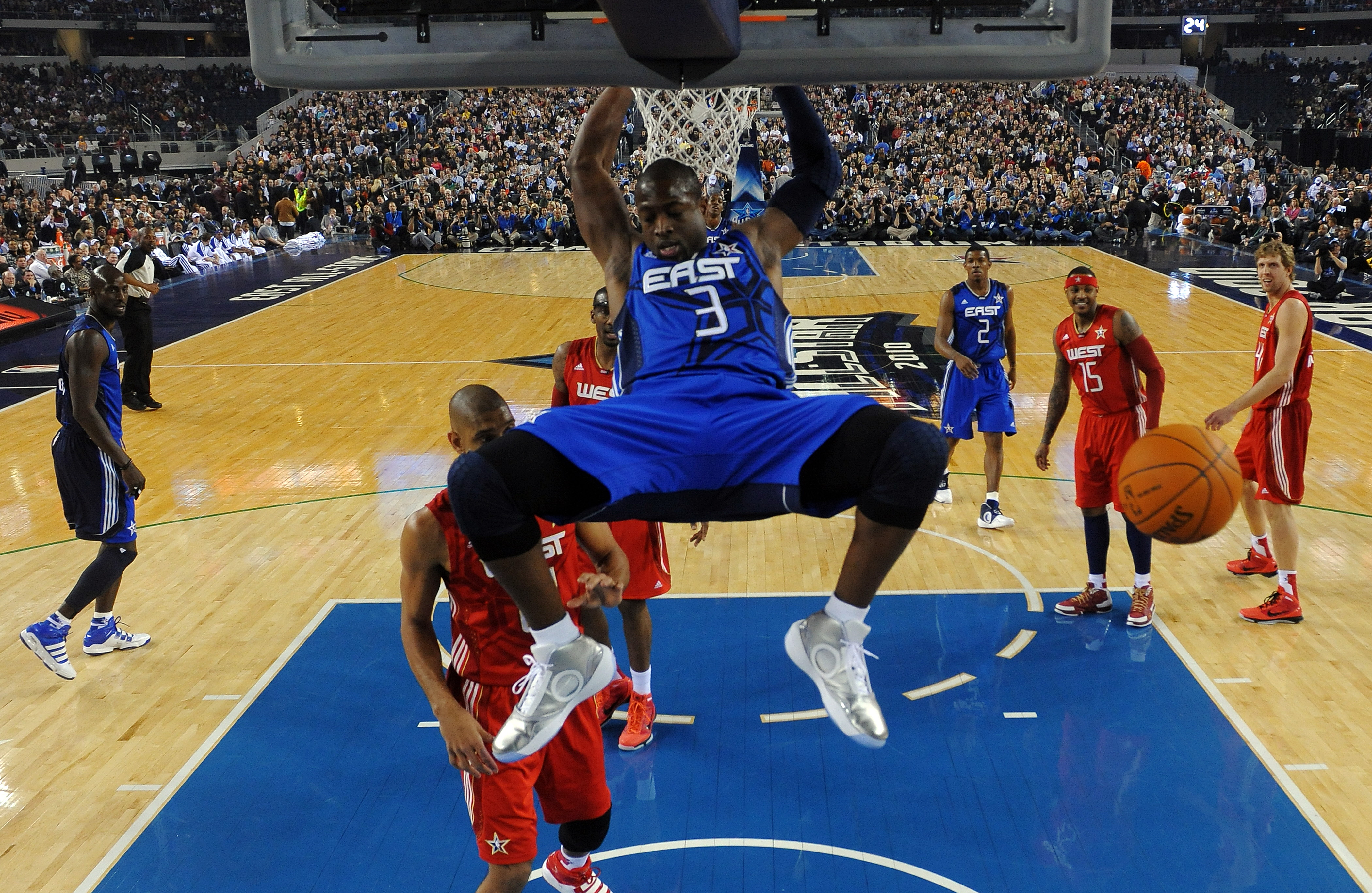 Starting Five: 

​Dwyane Wade, Heat, PG

Joe Johnson, Hawks, SG

LeBron James, Cavaliers, SF

Kevin Garnett, Celtics, PF

Dwight Howard, Magic, C
In front of a record-setting crowd of 108,713 fans at Cowboys Stadium, the 2010 All-Star Game didn't fail to live up to expectations. The country got a quick glimpse of what was going to come as Dwyane Wade, Chris Bosh, and LeBron James would lead the East to victory. (Some say that the plan for the Miami Big 3 was created during this All-Star break.) Wade was named the game's MVP with 28 points, 11 assists, and 5 steals, leading the East to a narrow 141-139 victory. Joe Johnson got the start due to Allen Iverson not attending the game because of personal reasons.
6.
1998 Eastern Conference All-Stars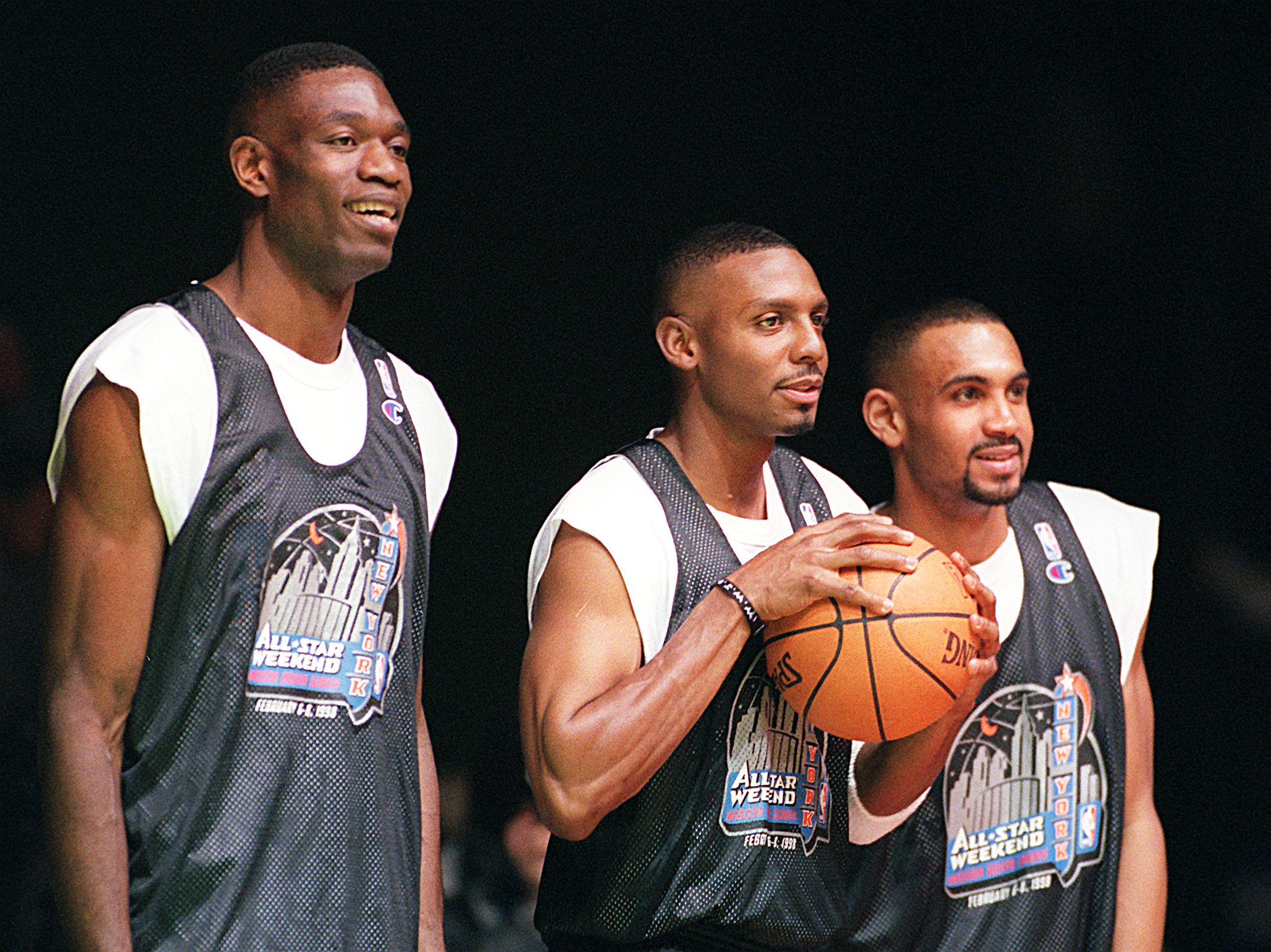 Starting Five: 

Isiah Thomas, Pistons, PG

Sidney Moncrief, Bucks, SG

Julius Erving, 76ers, SF

Larry Bird, Celtics, PF

Moses Malone, 76ers, C
Thomas lead the East to a 139-132 victory, becoming the first player to finish with 30 points and 10 assists in an NBA All-Star Game. Predictably, he earned the game's MVP honors. 
8.
2012 Western Conference All-Stars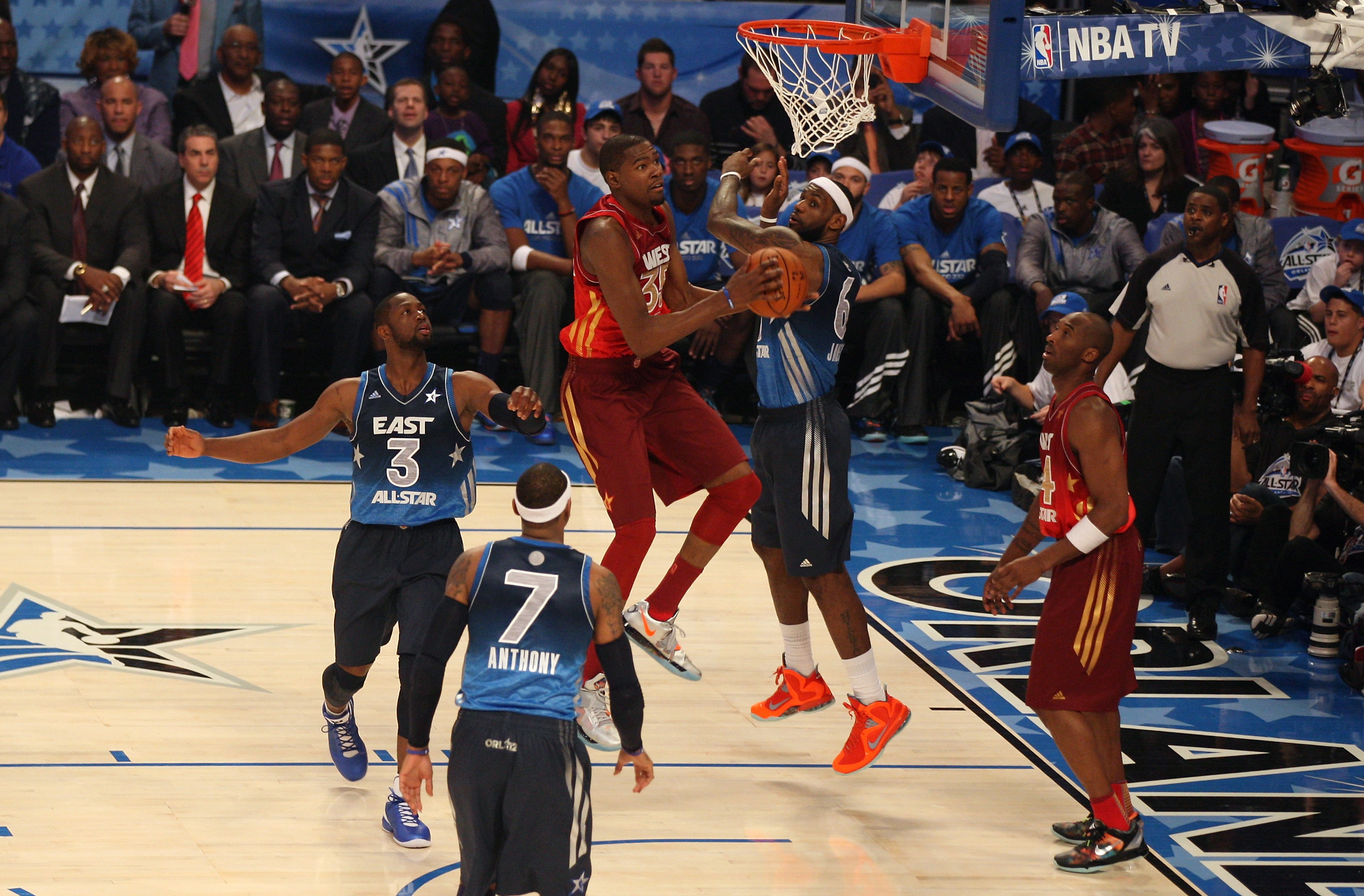 Starting Five: 

Chris Paul, Clippers, PG

Kobe Bryant, Lakers, SG

Kevin Durant, Thunder, SF

Blake Griffin, Clippers, PF

Andrew Bynum, Lakers, C
The West set an All-Star record scoring 88 first-half points, and the teams' 157 combined points at the half was also a record. Kobe Bryant finished with 27 points and became the leading scorer in All-Star history, passing MJ. Durant would be the leading scorer of the game, scoring 34 of his 36 points in the first three quarters of the game, earning him MVP honors.
9.
2004 Western Conference All-Stars