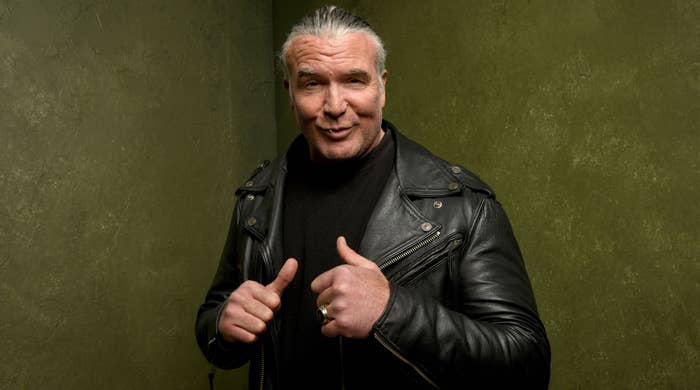 WWE Hall of Famer Scott Hall, a prominent figure in pro wrestling's golden era of the 1980s and 1990s, has passed away.
He was 63.
The news comes less than 24 hours after Hall's tag-team partner and close friend, Kevin Nash, revealed that Hall would be taken off life support after suffering three heart attacks on Saturday due to complications from hip replacement surgery.
"Scott's on life support. Once his family is in place they will discontinue life support," Nash wrote in an Instagram post early Monday morning. "I'm going to lose the one person on this planet I've spent more of my life with than anyone else. My heart is broken and I'm so very fucking sad. I love Scott with all my heart but now I have to prepare my life without him in the present."
"We were the 'Outsiders' but we had each other," Nash continued. "Scott always felt he wasn't worthy of the afterlife. Well God please have some gold plated toothpicks for my brother. My life was enriched with his take on life. He wasn't perfect but as he always said 'The last perfect person to walk the planet they nailed to a cross.'"
Nash added, "As we prepare for life without him just remember there goes a great guy you ain't going to see another one like him again. See Ya down the road Scott. I couldn't love a human being any more than I do you."
Hall is widely considered one of the most charismatic stars in WWE history. After entering the wrestling business in 1984, he became best known for his run as "Razor Ramon," who he played from 1992 to 1996. From there, Hall and Nash jumped from from WWE to WCW, forming a team called "The Outsiders" en route to becoming the founding members of the New World Order alongside Hulk Hogan. Although Hall never won the WWE Championship Belt, he held the WCW World Tag Team Championship seven times.