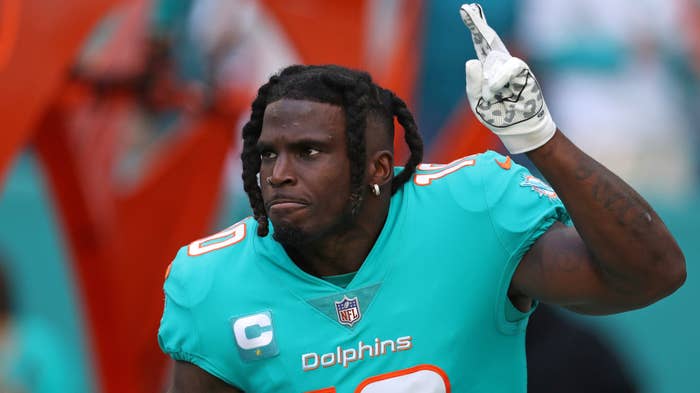 Miami Dolphins superstar Tyreek Hill is already thinking about his next career.
During a recent stream on Twitch with fellow Tampa Bay Buccaneers wide receiver Mike Evans, the former Kansas City Chiefs wideout, who's dominated in Miami since being traded to the Dolphins in 2022, revealed he wants to be a porn star after he retires from playing football.
Hill's remarks came after Evans told Tyreek he's going to have a big post-NFL career. "When you retire, you're gonna be all over the place," Evans said. "They're gonna put you on TV [and] everything."
Tyreek responded by saying he wants to pivot into the adult film industry after he hangs his jersey up.
"When I retire, bro, I really wanna be a porn star, bro," Hill said. "Like, dead serious. You think I got that?"
Evans' response to Hill's comments is notable considering the All-Pro wide receiver paused for a few moments, perhaps in stunned silence, before saying: "I mean, whatever you want, bro. I don't got an opinion on that."
Hill, 29, is already a four-time First-team All-Pro selection. The speedy slot receiver, who, alongside Patrick Mahomes and Travis Kelce, carried the Chiefs to the franchise's first Super Bowl win in 2020, has also made seven Pro Bowls. In other words, he's a surefire Hall of Famer even if he hung up his cleats today.
As such, it's not surprising that Hill's already thinking about retirement.
Back in April, during an interview with Sports Radio 810 WHB, Hill discussed his plans to retire from the NFL after the 2025 season.
"I'm going for 10 [seasons], man," Tyreek shared. "I'm gonna finish out this contract with the Dolphins and then I'm gonna call it quits. I want to go into the business side. I want to do so many things in my life, bro."
At the time, Hill's post-retirement plans were focused on the gaming space, though it sounds like he's since pivoted to the adult film industry.
"I really want to get huge in that and that's kind of what I'm doing right now. I'm using my platform, creating a gaming team, which isn't launched yet," added Hill. "It should launch by the end of this month. I'm gonna just sign like different content creators, different athletes. I just been working that, talking to different sponsors."