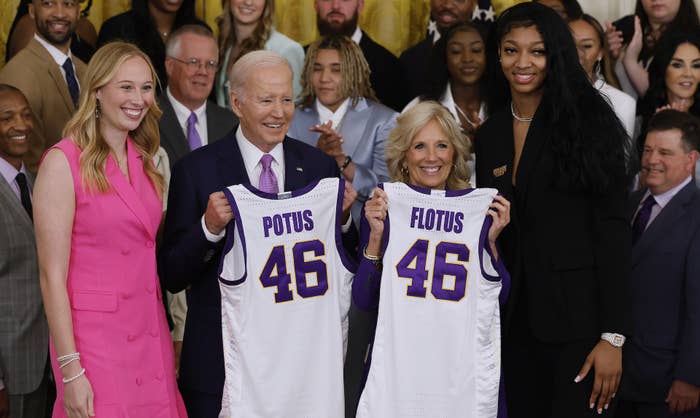 Fresh off of winning the NCAA Women's Basketball National Championship, the LSU Tigers celebrated their title at the White House with President Joe Biden on Friday.
Biden's speech was halted when LSU forward Sa'Myah Smith passed out. After a few minutes, Smith regained consciousness and was wheeled off by medical staff.
President Biden assured Smith that she isn't the first person to faint during a White House ceremony. "It's a lot of standing," Biden said. "I apologize. It's OK. It's happened lots of times."
Biden added, "White House guests have fainted in the past and required a checkup at a doctor's office built into the executive mansion."
Hours later, Smith confirmed she was feeling better during a conversation with Nola.com.
""I'm great, better — way better than earlier," Smith said. "I don't quite remember how everything happened. I just remember waking up pretty scared. The last thing I remember is telling one of my coaches, 'Hey, I think I'm going to pass out.'"
Meanwhile, Smith also received a parting gift from President Biden, who gave her an autographed basketball featuring words of encouragement.
"Sa'Myah -- it was wonderful (to) have you at the White House," the president's message read. You are the best. /Joe Biden 5-26-23."
The Tigers' visit to Washington comes after First Lady Jill Biden floated the idea of LSU and runner-up Iowa both attending the White House.
"I know we'll have the champions come to the White House, we always do. So, we hope LSU will come," Jill Biden said at the time. "But, you know, I'm going to tell Joe I think Iowa should come, too, because they played such a good game."