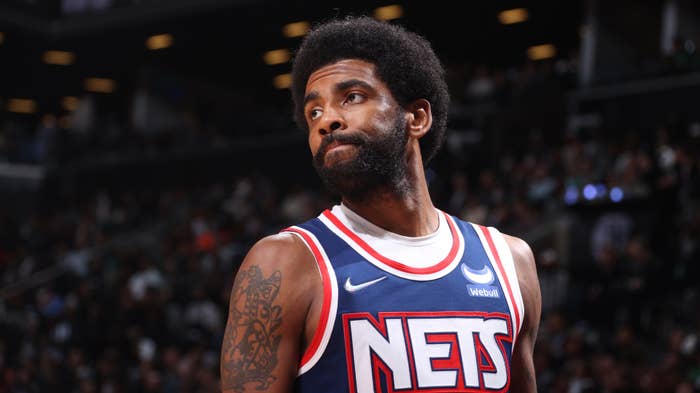 While chatting with Kyrie Irving on the red carpet at the BET Awards on Sunday night, Complex News' Pierce Simpson asked the Brooklyn Nets point guard a question that's on every NBA fan's mind.
"Do you want to be a Brooklyn Net still?" Simpson asked. Kyrie deflected and looked over to his stepmom and agent, Shetellia Riley Irving, who was standing to the point guard's left. 
"Pass it...pass it to my left," Kyrie joked.
After the clip circulated online, Kyrie took to the comments section of Complex's Instagram and wrote that there's more to the story. 
Kyrie's comments arrive as his time in Brooklyn seems to have run its course.
The New York Daily Newsreports the Nets have granted Irving permission to speak with other teams regarding sign-and-trade packages. Meanwhile, although Kyrie's decision will have an effect on teammate Kevin Durant's future, the latter maintains that he will not get involved in the point guard's situation.
During the latest episode of his The ETCs podcast, Durant said that he isn't interested in influencing Kyrie's decision.
"It's no involvement at all. I can't be involved with it," KD said last week. "This is this man's livelihood. This is much bigger than me. Being a free agent, it's one of the most important times in your career. That can't be swayed by anybody else. I just do me and wait for the time."
Durant continued, "There's nothing that can happen right now. I don't think he can even make a decision on opting out until the 29th, I think. I just let things play out and see what happens, but keep the regular contact up with Ky and see what happens. It's something that's so much out of my control that I don't want to be a part of it. We'll see what happens though."
As for where Kyrie could end up, ESPN's Adrian Wojnarowski reported last week that the Lakers are considered "the most significant threat" to land Irving should he leave the Nets.
"Now, the Lakers are considered the most significant threat right now for Kyrie Irving, but that would essentially entail him taking $30 million less than he can opt into in Brooklyn," Woj said. "There's a $6 million taxpayer exemption he can sign with the Lakers."
Unfortunately for them, the NYDN reports that the Nets are not interested in Russell Westbrook or any of the packages the Lakers are offering.