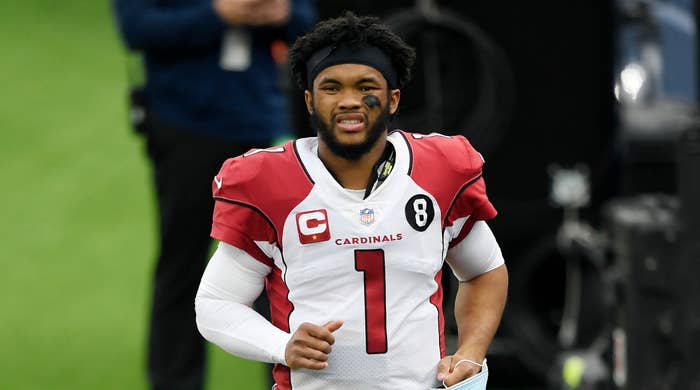 Earlier this week, Arizona Cardinals quarterback Kyler Murray faced backlash after it was discovered that his new contract includes a clause that requires him to study film for four hours per week during the season.
While speaking to reporters on Thursday, Murray addressed the criticism, taking issue with those who believe he doesn't take his job seriously. 
"I feel it's necessary, you know, with what's going on regarding me and the things that are being said about me," Murray said. "To think that I can accomplish everything that I have accomplished in my career and not be a student of the game and not have that passion and not take this serious is disrespectful, and it's almost a joke. To me, I'm flattered. I want to say flattered that you all think that at my size, I can go out there and not prepare for the game, and not take it serious. It's disrespectful, I feel like, to my peers, to all the great athletes and great players that are in this league. This game is too hard. To play the position that I play in this league, it's too hard."
Murray, who last week agreed to a five-year extension worth $230.5 million, making him one of the NFL's highest-paid quarterbacks, went on to blast people who aren't aware of the amount of time he puts in to master his sport.
"I've put in an incomprehensible amount of time, blood, sweat, tears and work into what I do, whether it's football or baseball," Murray explained. "People can't comprehend the amount of time that it takes to do two sports at a high level in college. Let alone be the first person to do it ever at my size, like I said, it's funny, but to those of you out there that believe I would be standing here today in front of y'all without having a work ethic and without preparing, I'm honored that you think that. But it doesn't exist. It's not possible, so that's all I have on that."
Murray's comments arrive just a few days after he signed the record-setting $230.5 million deal, which runs through the 2028 season, includes $160 million guaranteed for injury, and is highlighted by a clause in which the quarterback must spend four hours each week studying film. 
As reported by Sports Illustrated, the clause is defined as: "Player studies the material provided to him by the Club in order to prepare for the Club's next upcoming game, including without limitation any such material provided via an iPad or other electronic device. Time spent in mandatory meeting shall not constitute Independent Study."
Murray's annual $46.1 million ranks him second in the NFL behind only Green Bay Packers quarterback Aaron Rodgers, whose contract pays him $50.3 million per year.
"Player shall receive no credit for Independent Study for any period during which Player does not personally study that provided material in good faith," Murray's clause continues. "For the avoidance of doubt, Player shall not receive any credit for Independent Study with respect to any periods during which any material is displayed or played on an iPad or other electronic device if (a) Player is not personally studying or watching the material while it is being displayed or played or (b) Player is engaged in any other activity that may distract from his attention (for example watching television playing video games or browsing the internet) while such material is being displayed or played."