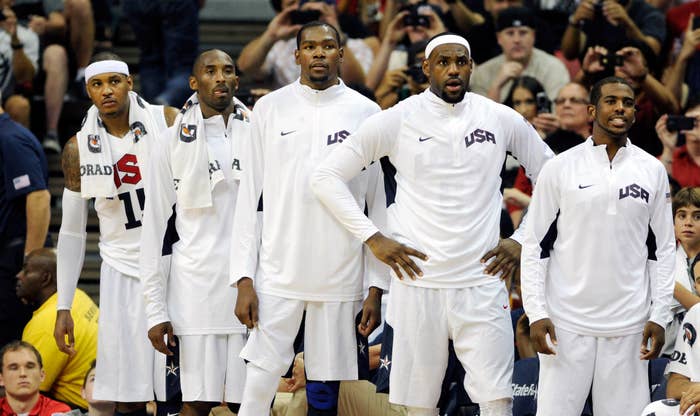 Ten years ago today, the U.S. Olympic men's basketball team capped off its dominant run at the 2012 London Olympics with a gold medal-clinching victory over Spain.
Team USA's unexpectedly close win was spearheaded by its all-time great trio of LeBron James, Kobe Bryant, and Kevin Durant, the last of which led the team in scoring with 30 points on 8-for-18 shooting. 
On Friday, Durant's media company Boardroom took to Twitter to celebrate the 10th anniversary of the 2012 gold-medal game, posting a video of Team USA posing with its gold medals alongside a caption that mentioned KD's 30-point performance. 
Ever-present on Twitter, Durant responded to the clip with a bold statement. "Outta respect for the sport I won't say this was the best team ever but shit, this was the best… nevermind," he wrote in a since-deleted tweet.
It's unclear why Durant deleted the tweet, considering it wasn't much of a hot take. Granted, most every basketball fan old enough to remember the Dream Team would disagree with KD, and for good reason. Widely considered the greatest basketball team ever assembled, the 1992 Olympic men's basketball team featured 11 future Hall of Famers: Jordan, Magic, Bird, Barkley, Malone, Pippen, Robinson, Stockton, Ewing, Drexler, and Mullin.
And yet, the talent gap between the Dream Team and KD's 2012 group is smaller than most basketball fans would admit. The 2012 team featured five NBA MVPs (LeBron, Kobe, Durant, James Harden, Russell Westbrook), in addition to several perennial All-NBA caliber players (Chris Paul, Carmelo Anthony, Anthony Davis, Kevin Love). 
That being said, it's unfortunate that Durant deleted his tweet, as it would've kicked off a fun debate between basketball fans.