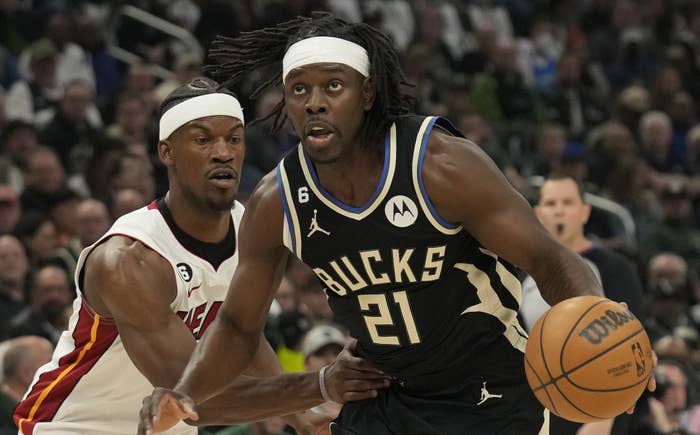 Over the past month, Jimmy Butler has put together one of the greatest postseason runs in NBA history, leading the Miami Heat to within one game of the NBA Finals. Back in April, Butler spearheaded the Heat's playoff run with a first-round upset of the No. 1 seed Milwaukee Bucks.
Despite being guarded by All-Defensive guard Jrue Holiday, Butler finished the series averaging 37.6 points per game. Butler's performance was highlighted by a back-and-forth with Holiday in Game 6, as cameras captured Jimmy trash talking Jrue, yelling "I own you!" during the Heat's fourth-quarter comeback.
Weeks removed from getting ousted from the 2023 NBA Playoffs by the Heat, Holiday praised Butler's performance during a recent appearance on Sideline Stroll with Ros.
The All-Star guard went as far as saying not even LeBron James or Michael Jordan could've prevented Butler from scoring in that series, as Jimmy was operating "at a different level."
"A lot of plays Jimmy made, there was nothing that I could do," Jrue shared. "There's nothing that anybody could do. It didn't matter if it was Brook on him, if it was LeBron James or Michael Jordan on him. It didn't matter who was on him. Jimmy was playing at a different level."
Holiday added, "How I look back at it now, it's fun. I play the game to go against the best players. I played defense to play against the best players no matter what position or however it may be. While I was in it, I was hot. I'm getting my a** busted. And then he started talking s***, I think, in the last game or something like that. And it's like yeah, that's what competitors do, and Jimmy is the ultimate competitor. But you hate losing. I hate losing."
Listen to Holiday reflect on guarding Butler in the clip below.