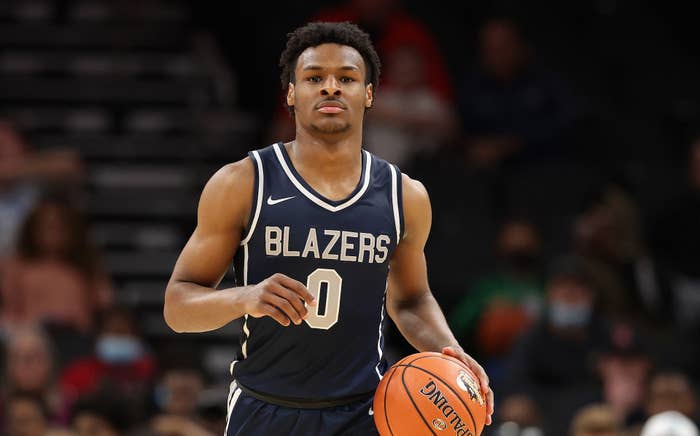 Just three months after his 17th birthday, LeBron "Bronny" James Jr. is already looking to build his own entrepreneurial empire.
Josh Gerben of Gerben Intellectual Property took to Twitter on Wednesday to reveal that Bronny has filed three trademark applications for a"B J JR" logo, "BRONNY," and "BRONALD." According to Gerben, LeBron James' oldest son intends to "launch a brand of NFTs, clothing, and video games."
According to Boardroom, each trademark was filed for use in the following areas: "Non-fungible tokens (NFTs) and cryptographic tokens; downloadable multimedia files containing artwork, text, audio, and video relating to sports, athletes, and music authenticated by NFTs; clothing and apparel; minting, creation, promotion, and distribution of non-fungible tokens (NFTs) and cryptographic tokens, including for use in an online marketplace; entertainment services, namely, providing online video games; and entertainment services in the nature of production of multimedia content for online viewing, television, and film."
A high school junior at Sierra Canyon, which is ranked No. 14 in ESPN's High School Boys' Basketball Top 25 rankings, Bronny is currently slotted as the No. 34 recruit and the No. 6 combo guard in 247Sports' Class of 2023 rankings.
In January 2020, LeBron James was asked if he'd ever one day consider pairing up with his son in the NBA.
"My son's in the ninth grade, man," LeBron said. "[He's] trying to worry about what project he has to turn in tomorrow. That's what we're worried about right now. That's what's most important. School, home, and being the best big brother he can be.