Mixed martial arts became the first sport to return to action earlier this month since the onset of the pandemic as UFC 249 went down in an empty arena in Jacksonville, Florida. The card, headlined by an interim lightweight championship fight between Tony Ferguson and Justin Gaethje was by all accounts a success in terms of the safety measures the company took to ensure the health of its fighters amidst the coronavirus pandemic. One fighter, Ronaldo "Jacare" Souza did test positive for COVID-19, and thus was immediately pulled from the card. Two of his corner men tested positive as well, but that did not stop the event from taking place, nor have any other positive tests been announced in relation to UFC 249 since.
The week following the event, the UFC hosted two more fan-less fight cards, each of which seem to have gone off without a hitch, and the company does not plan on stopping there. A UFC fight night is currently slated for May 30, and UFC 250 is planned for June 6. Additionally, there's the much discussed "Fight Island," an island in an undisclosed location that UFC president Dana White is using to build an infrastructure capable of hosting international fights. If "Fight Island" becomes a reality, it opens up a host of exciting matchups that will no longer need to wait for a pandemic free world.  
Here are the 10 UFC fights we want to see most in 2020.
Conor McGregor vs. Khabib Nurmagomedov II
In combat sports, grudge matches often end in mutual respect, and on some occasions, even admiration. When Conor McGregor fought Khabib Nurmagomedov in October of 2018, that was most certainly not the case. The night ended in a melee between the two fighters' camps that left a stain on the sport and the fighters who endured suspensions.  The build up to the fight was peppered with hate. McGregor famously threw a dolly at a bus carrying Khabib, and the verbal taunts went way beyond personal. The actual fight featured much less drama, unfortunately. Though McGregor became the first fighter to take a round off of Nurmagomedov, the other three rounds went exactly the way all Khabib fights do—virtual domination until McGregor tapped to a rear-naked choke in the fourth round. And yet despite the outcome, the truth is, audiences will always want to see people who genuinely don't like each other fight, and this spite-filled matchup is no different.
Since the first fight, tensions haven't come close to easing up. McGregor's personal attacks are consistent. As is Khabib's lack of respect for the former two-division champion. Each despises what the other stands for. At the moment, Khabib has been steadfast in his reluctance to grant McGregor a rematch. However, a lack of worthy and available challengers, combined with the enormous drawing power of both fighters, likely means fans will eventually get the rematch. Hopefully, it's this year.
Conor McGregor vs. Justin Gaethje
On April 1, Khabib vs. Tony Ferguson was canceled for the fifth time due to the global pandemic. The cursed matchup was supposed to finally determine the best lightweight in the world, with many people tabbing Ferguson as the only fighter with a chance to dethrone the consistently dominant Nurmagomedov. Although the fight was canceled, and the entire card had to be postponed, both Tony and the UFC were determined to fight on. Enter Justin Gaethje, a former NCAA Division I wrestling standout, known for his brawler mentality. Gaethje signed on to face Ferguson at the newly rescheduled UFC 249, and the rest is now history. Gaethje put a nail in the Khabib vs. Ferguson coffin by delivering a performance unlike any other in his career previously, as he used a measured boxing attack to absolutely pick apart Ferguson until the ref stopped the fight in the fourth.
Immediately, Gaethje became the biggest player in the lightweight division. Though he's stated his intention is to fight Khabib for the undisputed title, the money fight for both fans and the UFC, is a matchup with Conor McGregor, who immediately went on the attack on social media after Gaethje's win against Ferguson, demanding the fight. McGregor vs Gaethje is one of the most exciting and fan friendly fights the UFC could possibly offer. In a sport where money talks the loudest, it seems likely this fight is not a matter of if, but when.`
Francis Ngannou vs. Daniel Cormier
After destroying Jairzinho Rozenstruik in 20 seconds at UFC 249, Joe Rogen asked Ngannou, "You're in this position where the UFC's heavyweight division is on hold. How frustrating is that for you, and where do you feel you fit in the division?"  Ngannou was calm, pointing out his frustration in not only having no definitive time frame for his title shot, but also for the UFC not certifying that night's fight for the interim championship. While it's true the division is currently on hold as it awaits the rubber match between current champion Stipe Miocic and Daniel Cormier, after Ngannou's last performance the UFC could rethink its current plan. Stipe does not yet have a timetable for his return from injury, so it seems right, given all these things to switch gears and give fans an epic heavyweight matchup in 2020, by booking Ngannou versus DC for the interim title.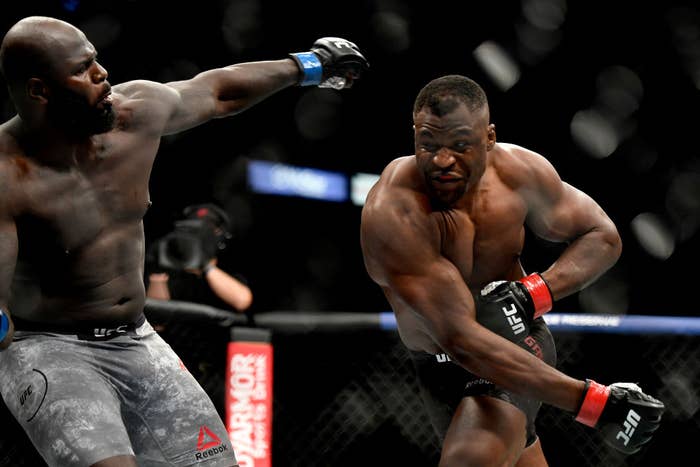 Jon Jones vs. Stipe Miocic
Talk of an eventual Jon Jones move to heavyweight has been considered a foregone conclusion for years. Aside from a couple challenging fights and a consistent string of controversy outside the octagon, Jones has been virtually untouchable while cleaning out the light heavyweight division. With his recent run of mediocre fights and lackluster victories, the pressure for Jones to move up in weight and seek new challenges is mounting. Historically, the UFC has granted champions from other divisions immediate title shots when changing weight classes. So a bout with current heavyweight champion Miocic is not only in demand, but also makes the most sense. Stipe is coming off a rousing comeback win against Jones' nemesis Cormier to regain his title. Though he's out until later in the year due to an injury, Miocic would welcome a super fight with Jones who's called Stipe "the greatest heavyweight of all time."
Israel Adesanya vs. Paulo Costa
In a list stacked with genuine grudge matches, this might be the most exciting one. Israel Adesanya's ascension to UFC superstar status and the top of the middleweight division has been meteoric. Paulo Costa is an undefeated monster and is the unquestioned No. 1 contender. He is 100 percent seek and destroy, both in and outside the ring. After Adesanya's much maligned win over Yoel Romero earlier this year, Costa had this to say at the post fight presser: "I was ashamed to watch that fight. Adesanya is nothing. Adesanya is the most shameful champion I have seen ever. He just run. He's nothing. He's nothing. He's scared. I think he doesn't deserve to talk about him. But it was shit, that fight was shit." Fortunately for both the UFC and its fans, Izzy has never ducked a challenge, so this fight seems likely to happen, hopefully sooner than later.
Zhang Weili vs. Joanna Jedrzejczyk II
On March 7, days before the country was quarantined, Joanna Jedrzejczyk and Zhang Weili went to war at UFC 248 with Weili's strawweight title on the line. After five rounds two of the three judges scored the fight for Weili, as she retained the championship by split decision in her first defense. In the two months since their instant classic, the conversation around the fight isn't focused on whether it is the greatest women's fight in UFC history, but whether it is the greatest fight, period.  Given the split decision result, and the widespread debate around its outcome amongst fans and media, it seems likely Dana White would move to book the immediate rematch once both have healed up, ideally by the end of the year.
Kamaru Usman vs. Jorge Masvidal
As far as grudge matches go, UFC welterweight champion Kamaru Usman vs. Jorge Masvidal is as real as it gets. The UFC's top two welterweights possess a genuine dislike for each other that had them nearly coming to blows earlier this year in Miami ahead of the Super Bowl.  The two were participating in separate podcast interviews on Super Bowl's Radio Row, when they got in a verbal sparring match and had to be separated.  In the months since, both fighters have been going back and forth in the media, blaming the other for the fight not being finalized. The bout was being planned for UFC 252 in July.  However most recently, on May 1, Dana White stated that Usman is not the only option for Masvidal, the promotion's mythical 'BMF' Champion, which added yet another layer to this ongoing saga.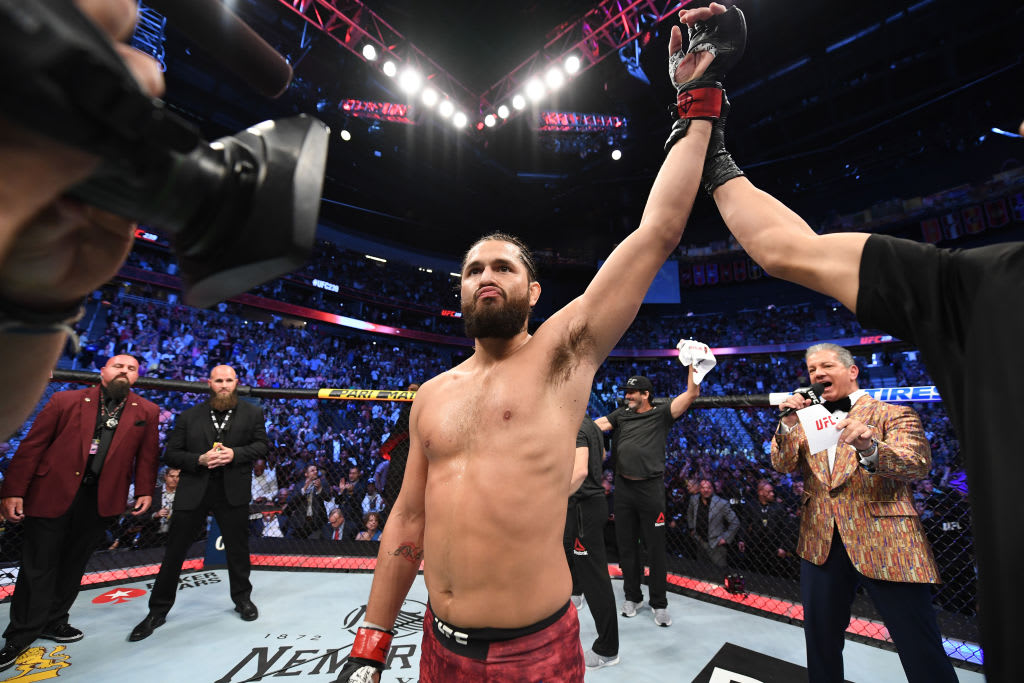 Jorge Masvidal vs. Colby Colvington
Typically in MMA, teammates do not fight each other. It's an unwritten code. When Cain Velasquez became UFC heavyweight champion in 2010, his undefeated heavyweight teammate, Daniel Cormier, famously moved down to the light heavyweight division, and was adamant he and Cain would never fight. At UFC 126 in 2011, Anderson Silva knocked out former teammate Vitor Belfort with an iconic front kick to the face, after what was an extremely contentious buildup given their history as teammates. Jorge Masvidal and Colby Colvington are currently teammates at American Top Team, and it seems all but certain they will go the Silva vs Belfort route. The two guys, who were once friends, basically hate each other at this point, with each side having different stories behind why their beef started. If Masvidal doesn't get Usman, it's possible this fight could be next, as each fighter looks to capture the elusive undisputed welterweight title.
Amanda Nunes vs. Felicia Spencer
The Nunes vs. Spencer matchup is the only fight on this list with an actual date. As of now, this fight will serve as the co-main event at UFC 250 on June 6, site TBD. Spencer burst onto the scene as a potential challenger to Nunes in July of last year, when she lost an unanimous decision to Cris Cyborg. Though she suffered defeat, the story coming out of the fight was Spencer's performance, as she opened a cut on Cyborg with an elbow and showed another level of grit in surviving Cyborg's well-known aggression. With stoppage victories against both Megan Anderson and Zarah Fairn Dos Santos, Felicia Spencer has some believing she poses a legitimate threat to the greatest female fighter of all time, Amanda Nunes. Early betting odds strongly favor the reigning champ, and deservedly so. Fortunately for fans, they only have to wait a couple more weeks to see what happens.
Khabib Nurmagomedov vs. Justin Gaethje
As previously mentioned, Gaethje shocked the world at UFC 249 when he punished Tony Ferguson over four rounds en route to a TKO victory and the interim lightweight championship. In his Octagon interview after the fight, he immediately took the belt off and cast it aside saying, "I'll wait for the real one," while stating his intention to fight the reigning lightweight champ, Khabib Nurmagomedov, next. The matchup has fans and media alike, salivating. Khabib's career and title reign have largely been defined by his dominance in one category, wrestling. He is absolutely relentless. Gaethje, while known for his standup, was a two-time Arizona state wrestling champion in high school, and a Division I All-American in college. In 28 fights, no one has been able to stop Khabib from taking them to the ground. Gaethje's wrestling pedigree gives him a shot perhaps no previous Nurmagomedov opponent has had—the ability to stop the takedown. If Gaethje can keep the fight standing, he has more than a shot at defeating one of the world's greatest mixed martial artists.