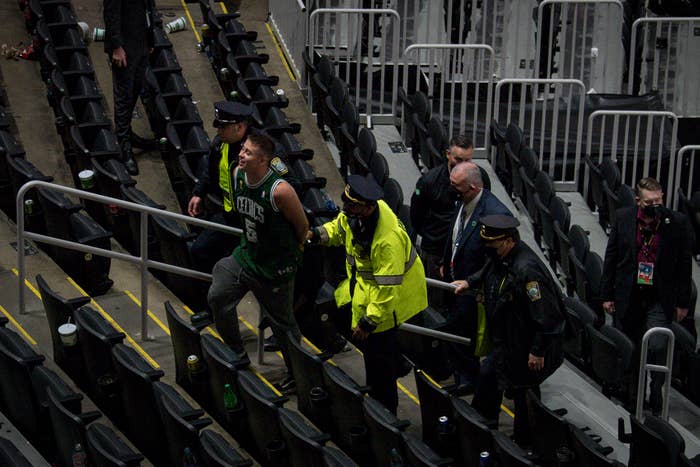 The dominant storyline of the first round of these NBA playoffs has not been about the health of LeBron James, the Clippers potentially finally figuring themselves out, or the three-headed race atop the East between the Sixers, Nets, and Bucks.  
It has been how fans have treated players as arenas start to return to full capacity. Through the first ten days of the postseason, we've already witnessed the following: a Knicks fan spitting on Trae Young, a fan in Philadelphia dumping popcorn on Russell Westbrook, several fans in Utah being kicked out after inappropriate comments towards Ja Morant's family, and this past weekend, a Boston fan in a bootleg Kevin Garnett Celtics jersey was arrested and charged with assault and battery with a dangerous weapon after tossing a water bottle at Kyrie Irving. The trend continued on Monday night, when a Wizards fan sprinted onto the court before being tackled by security. He was arrested and escorted from the arena.  
Damian Lillard was asked about the incidents and put it best when he said there is no perfect solution to controlling what fans do. There are, however, ways to curb this kind of behavior from fans. One easy fix solution would be to designate a player in the arena and allow them to confront people in the stands if needed. For obvious reasons, the league would never allow this, especially after all the steps they've gone to clean up the game after the "Malice at the Palace" incident in Detroit. But this would be a very effective way to shut down any of this kind of irrational behavior from fans.  
Here are some candidates — both past and present — we could nominate for the position.
Udonis Haslem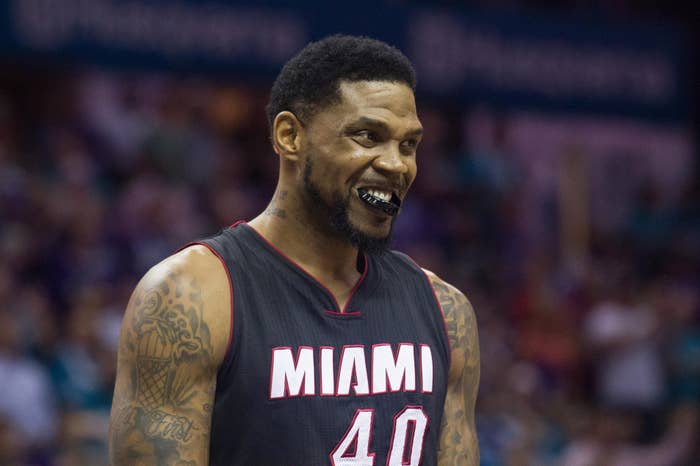 No NBA player is more no-nonsense, no bullshit than Miami Heat forward Udonis Haslem. Once an integral part of the Heat starting lineup, Haslem has transitioned into a consigliere role with the team. But don't mess with the Miami legend, as Dwight Howard found out earlier this season. Haslem intimidates both opponents and teammates alike (did you see him destroy a chair during Game 4 against the Bucks). Fans would fall in line pretty quick in his presence. 
Serge Ibaka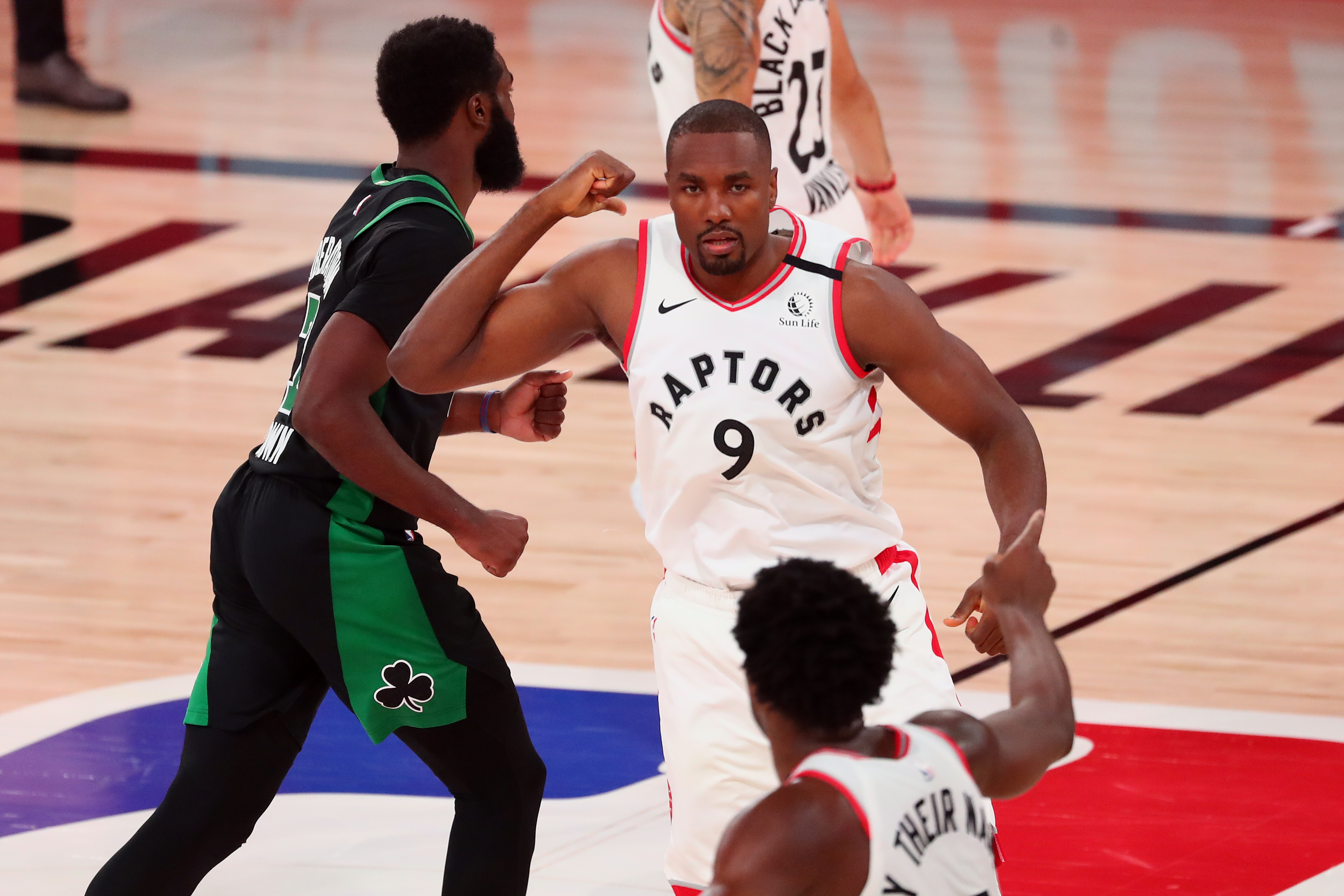 Don't let the pre-game tunnel fashion and YouTube cooking show fool you, Serge Ibaka will be the first to take matters into his own hands (ask Marquese Chriss if you don't believe me). The Clippers forward has turned into an endearing media personality in recent years, but he would be at the top of my list to play the role of peacemaker with out-of-line fans.
Charles Oakley & Anthony Mason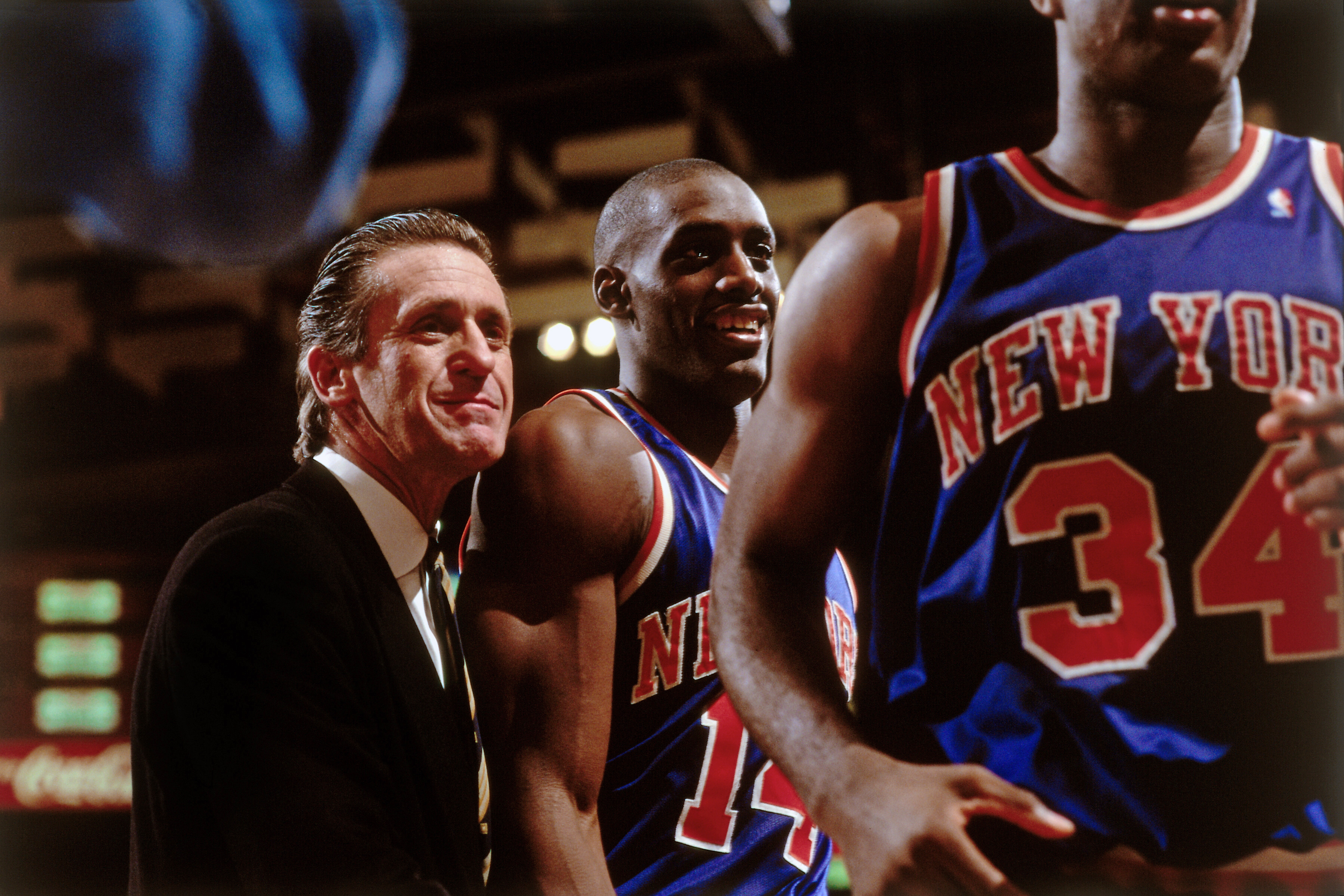 The 90s Knicks have to be represented on this list, and I can't think of two better choices for this role than Charles Oakley and Anthony Mason (R.I.P.). As someone who grew up watching this team, even on the television screen, it looked unpleasant to go up against this squad. Put it this way, a 22-minute video called "Charles Oakley Fight Compilation" exists on YouTube. Also shoutout to Xavier McDaniel.
Boban Marjanovic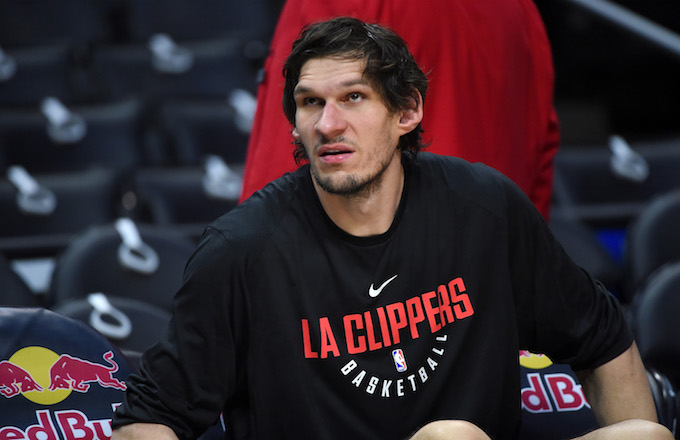 All I'm saying is nobody wants to disappoint Boban. You don't want to throw a water bottle and have Boban come up to the stands, have a heart-to-heart with you, and make you re-evaluate everything you've ever done in your life. Also, if you've seen John Wick 3, you know why Boban is included on this list. That's all. 
Rasheed Wallace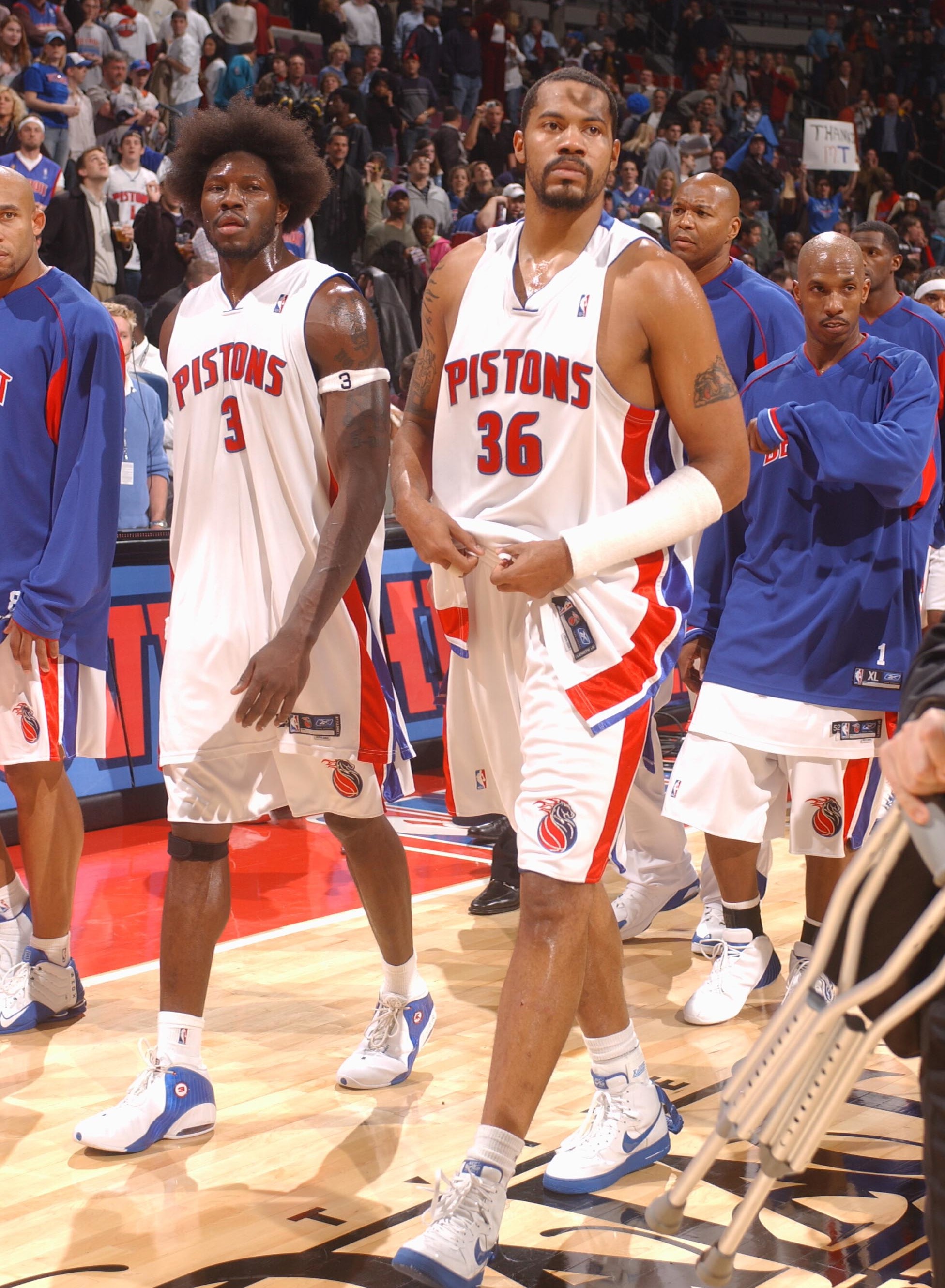 Sheed is more of the quiet intimidator, generally not the kind of guy looking for a confrontation, but also not someone who would shy away from it (just ask any referee who had the privilege of calling one of his games). I don't think any popcorn is flying towards the players if Sheed is in the arena with a WWE championship belt on his waist.
Ron Artest & Stephen Jackson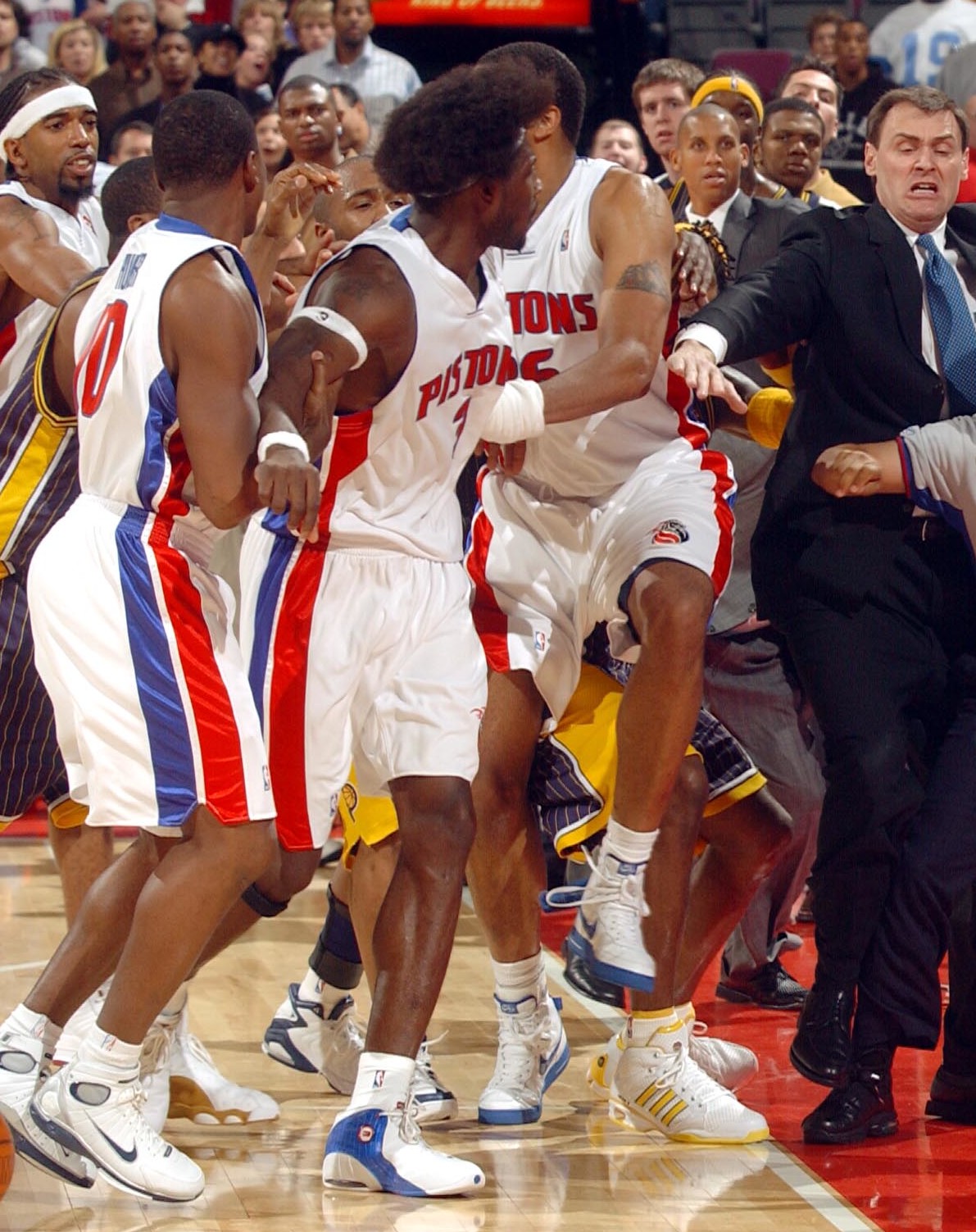 "Malice at the Palace" was a black eye for the league, but we should not forget the entire incident was triggered by a fan who decided to throw something at Ron Artest. Being in an arena and shelling out your own hard-earned money for a seat to an NBA game doesn't give you a right to treat players like animals in a circus, as Kevin Durant said this past weekend. A few Pistons fans faced the consequences for crossing the line in 2004.
Bill Laimbeer & Rick Mahorn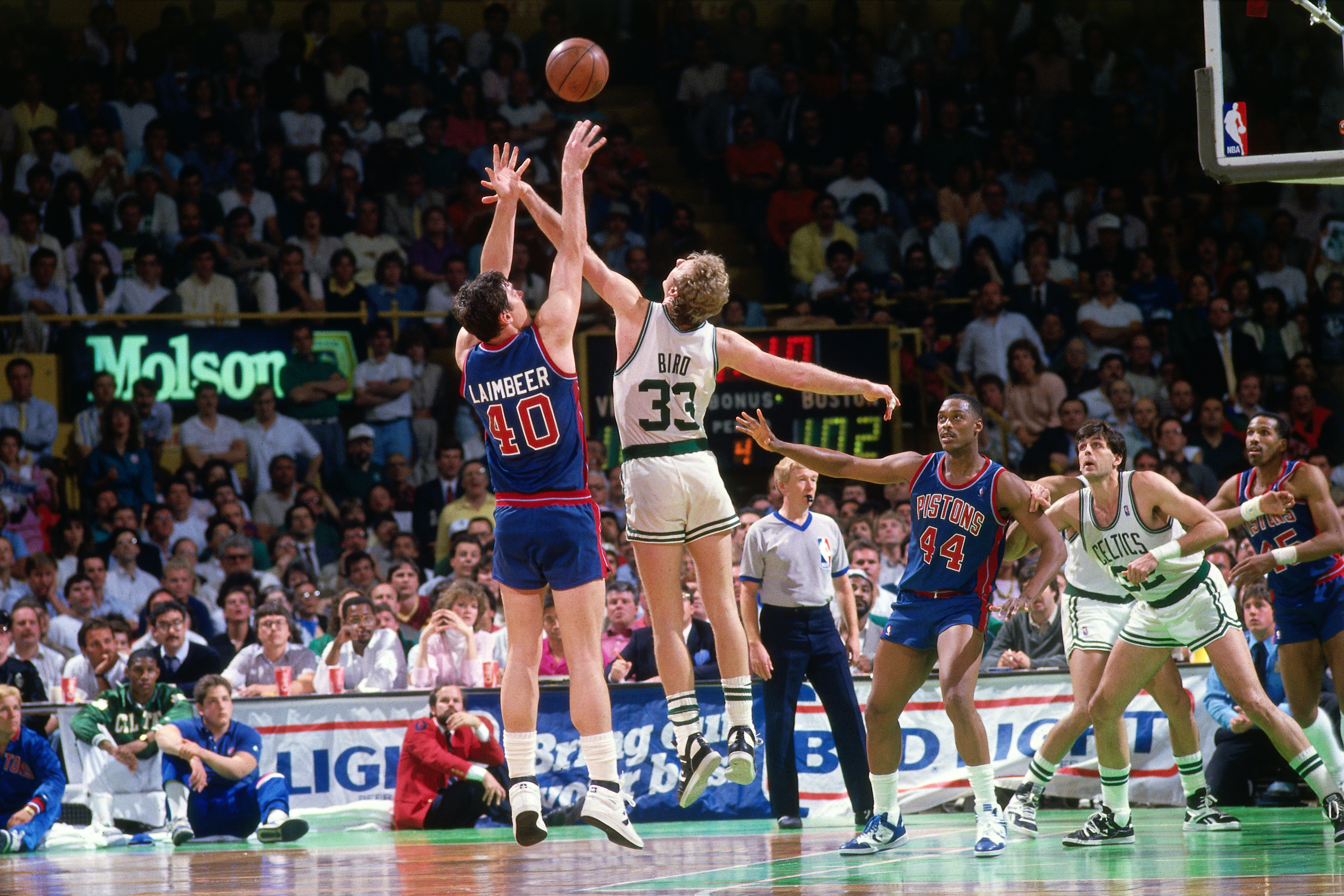 The "Bad Boy" Pistons left a mark on every team they faced in the 1980s. Bill Laimbeer's physical play made him the most hated player in the league. To this day, players like Larry Bird have not forgiven him for what they considered to be dirty play. Throw in Rick Mahorn, and I can't think of a more intimidating duo to make sure no one from the crowd acts out.
Vernon Maxwell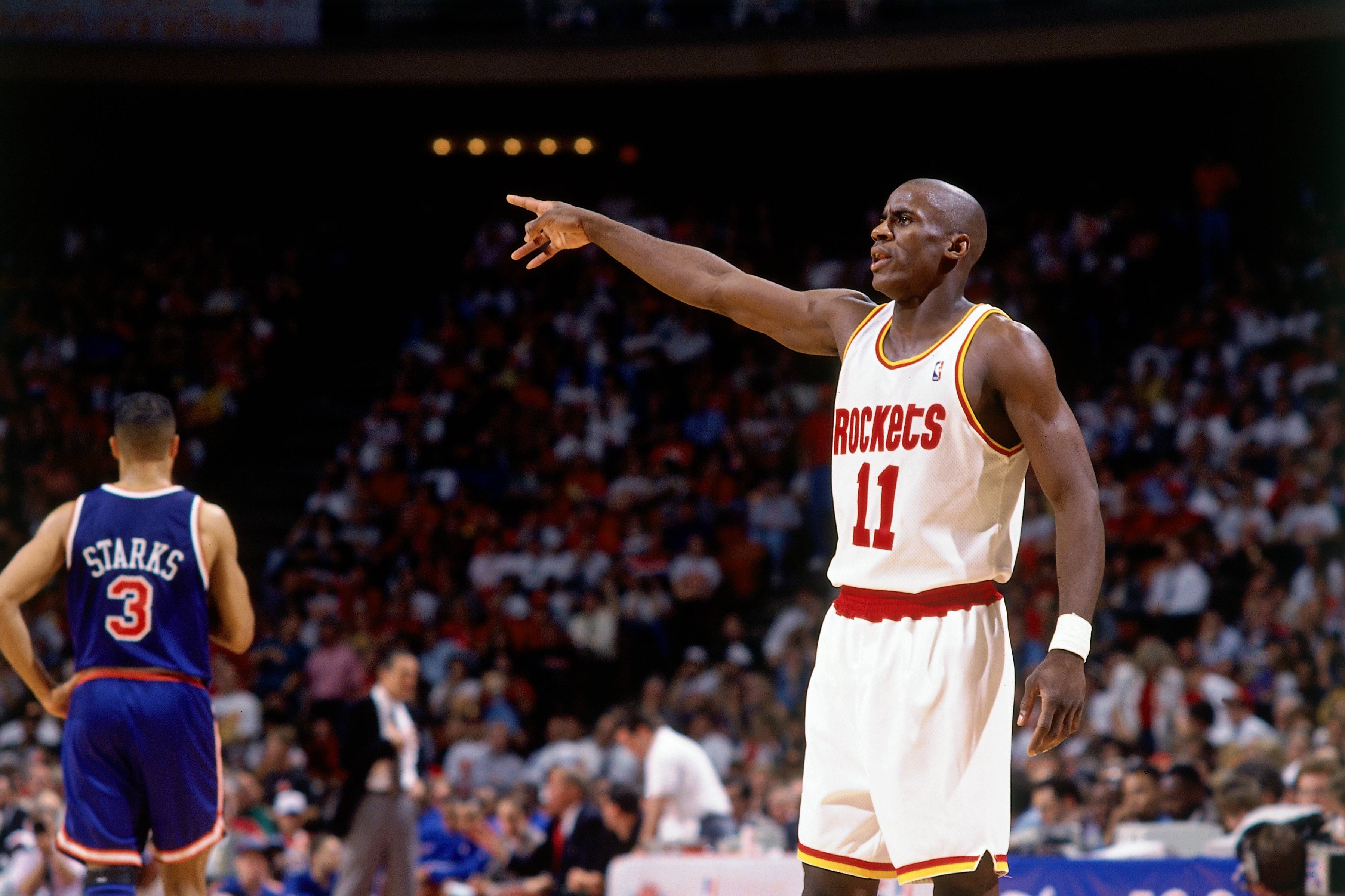 The man known as "Mad Max" did in fact go into the stands to confront a fan during his NBA career for over-the-line personal comments that were directed towards him. He also seems open to taking on this actual role:



It's just a bottled water right? If you feel disrespected then do something about it or it will keep on happening. Guess how many times a fan made a comment about my stillborn daughter? It cost me some money & a suspension but I sleep fine every night knowing I stood up for her https://t.co/6b0fmBXVR7


— Vernon Maxwell (@VernonMaxwell11) May 31, 2021
Jazz fans should be worried.



I'd like 2 apologize Jazz fans that were offended by my tweets. If I knew u guys had internet in Utah I would've never made those tweets.


— Vernon Maxwell (@VernonMaxwell11) March 9, 2017
Draymond Green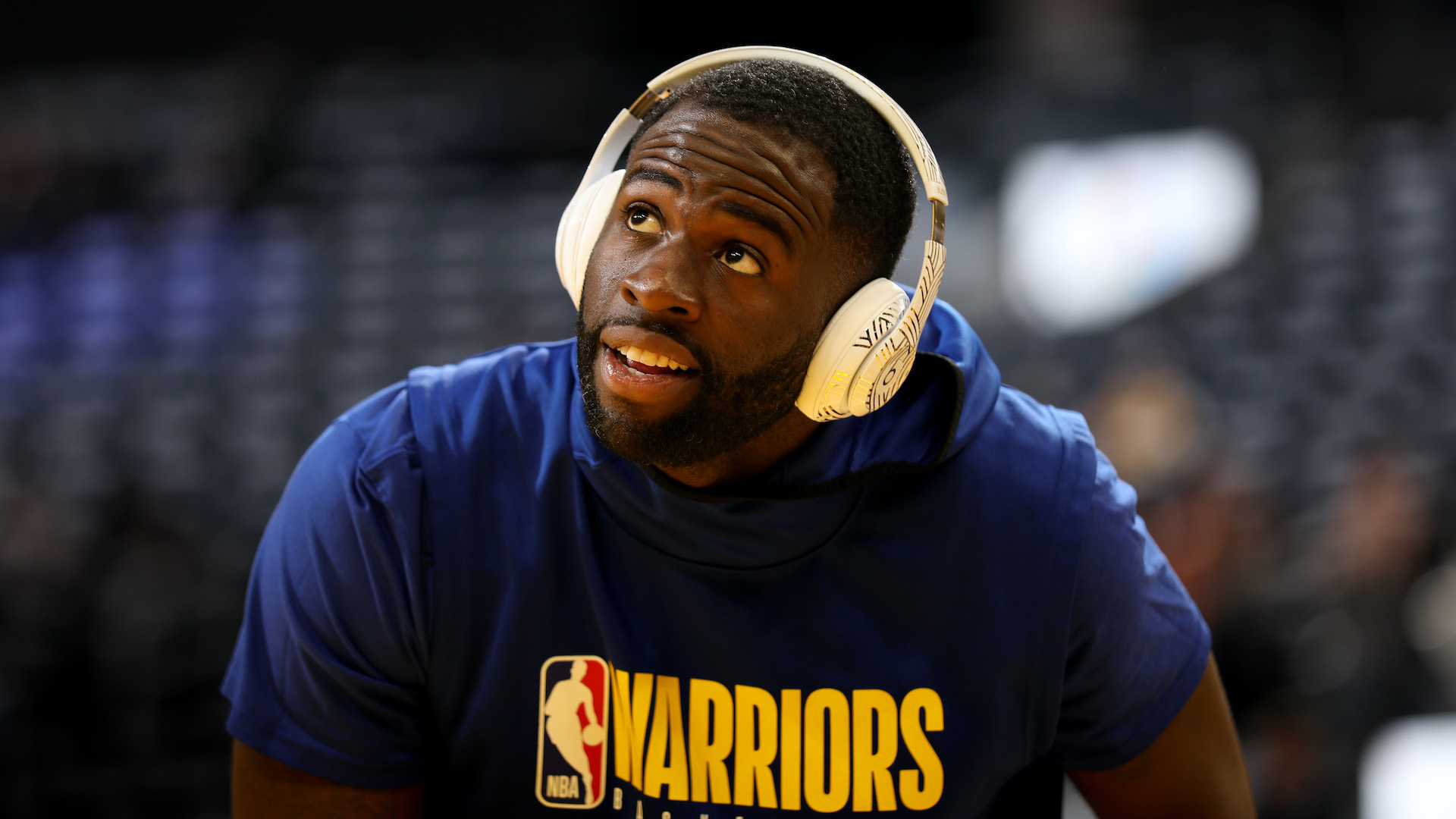 Draymond Green isn't just one of the smartest players in the league. He's also an elite trash talker. It was on full display during Paul Pierce's final season when the Warriors forward completely dressed him down during an exchange in between free throws. If we're going to assign a chief of trash talk to keep fans in line, I'm nominating Draymond.
Gary Payton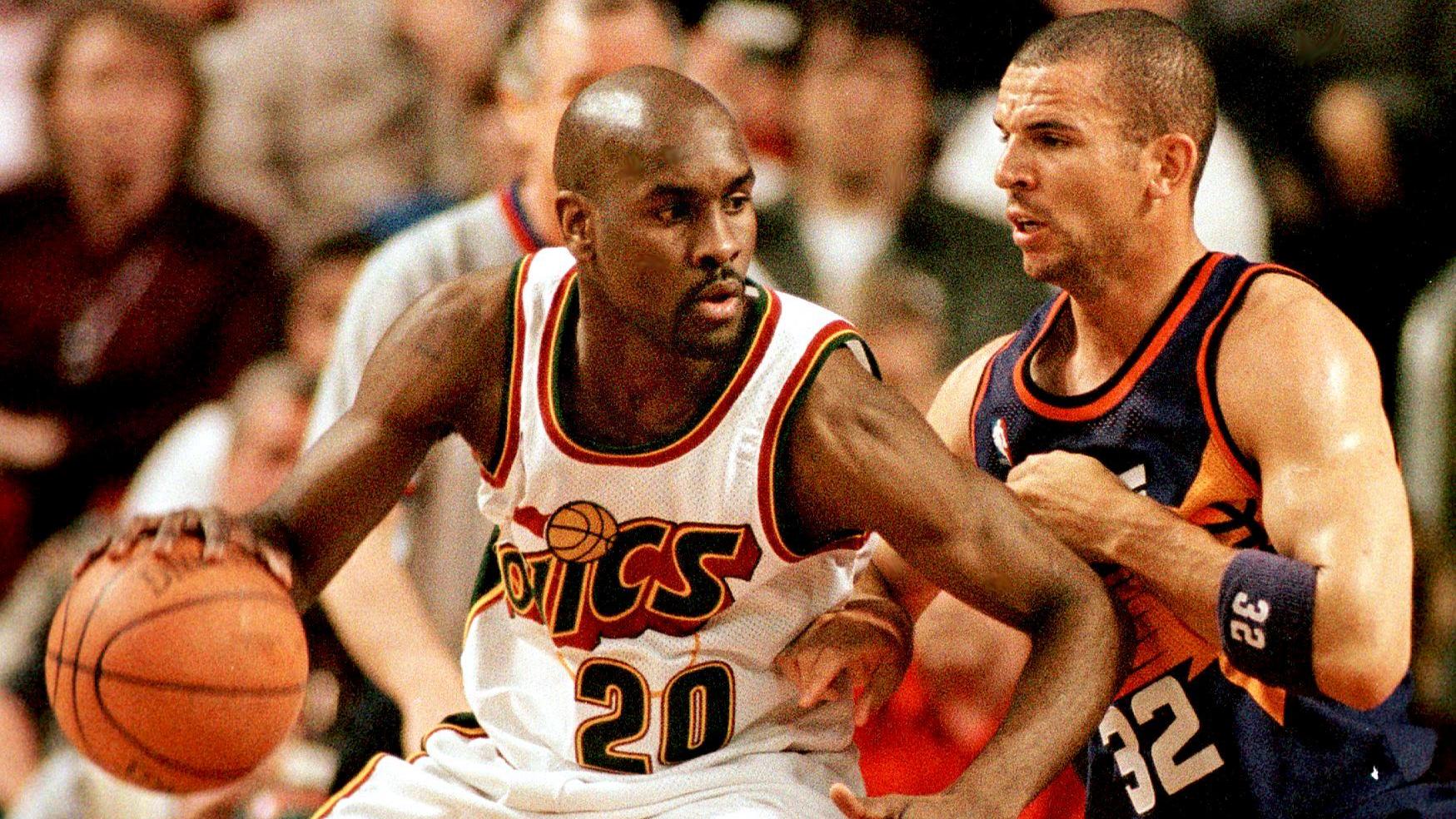 Along the same lines as Draymond, Gary Payton's trash-talking skills would shush fans pretty quick. We should actually make it so if you cross the line, you have to get roasted by "The Glove" at halftime in front of a sold-out crowd. Honestly, that sounds like a pretty strong deterrent to poor fan behavior.
This Random New Orleans Pelicans Fan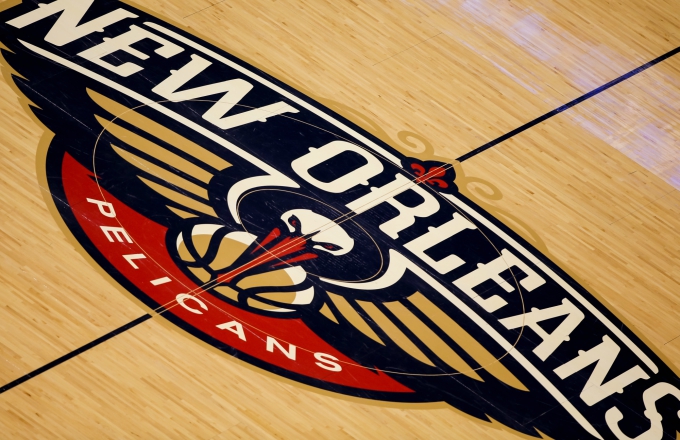 Not technically an NBA player, but file this under the "takes one to know one" category. To this day I am impressed at how this Pelicans fan was able to dress in full team warmup gear, blend himself with the rest of the team, and get some shots up before he was told by security to get off the court. Look at how giddy he is. Completely harmless, just wanted to literally shoot his shot. My man would know all the angles and blind spots to get on to the court making him a perfect candidate for this gig.
Zach Randolph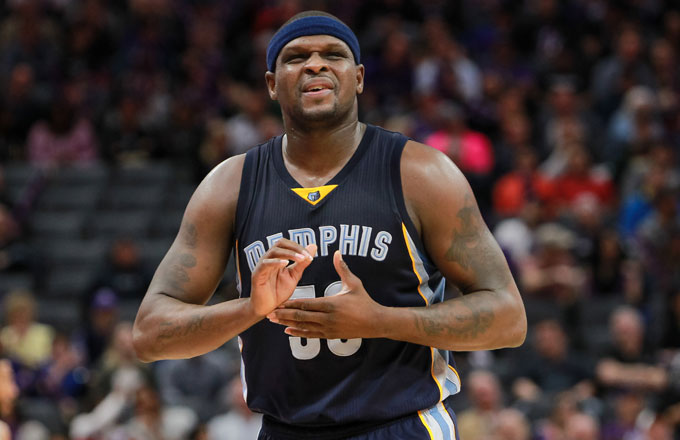 Z-Bo summed it up best when he told DeMarcus Cousins: "Where I'm from, bullies get bullied." Few modern-day players combined skill and intimidation like Randolph. One of the leaders of the "Grit and Grind" Grizzlies, Randolph would be the perfect person to de-escalate any fan situation in the arena. You don't mess with someone who comes from a place where bullies get bullied.
Russell Westbrook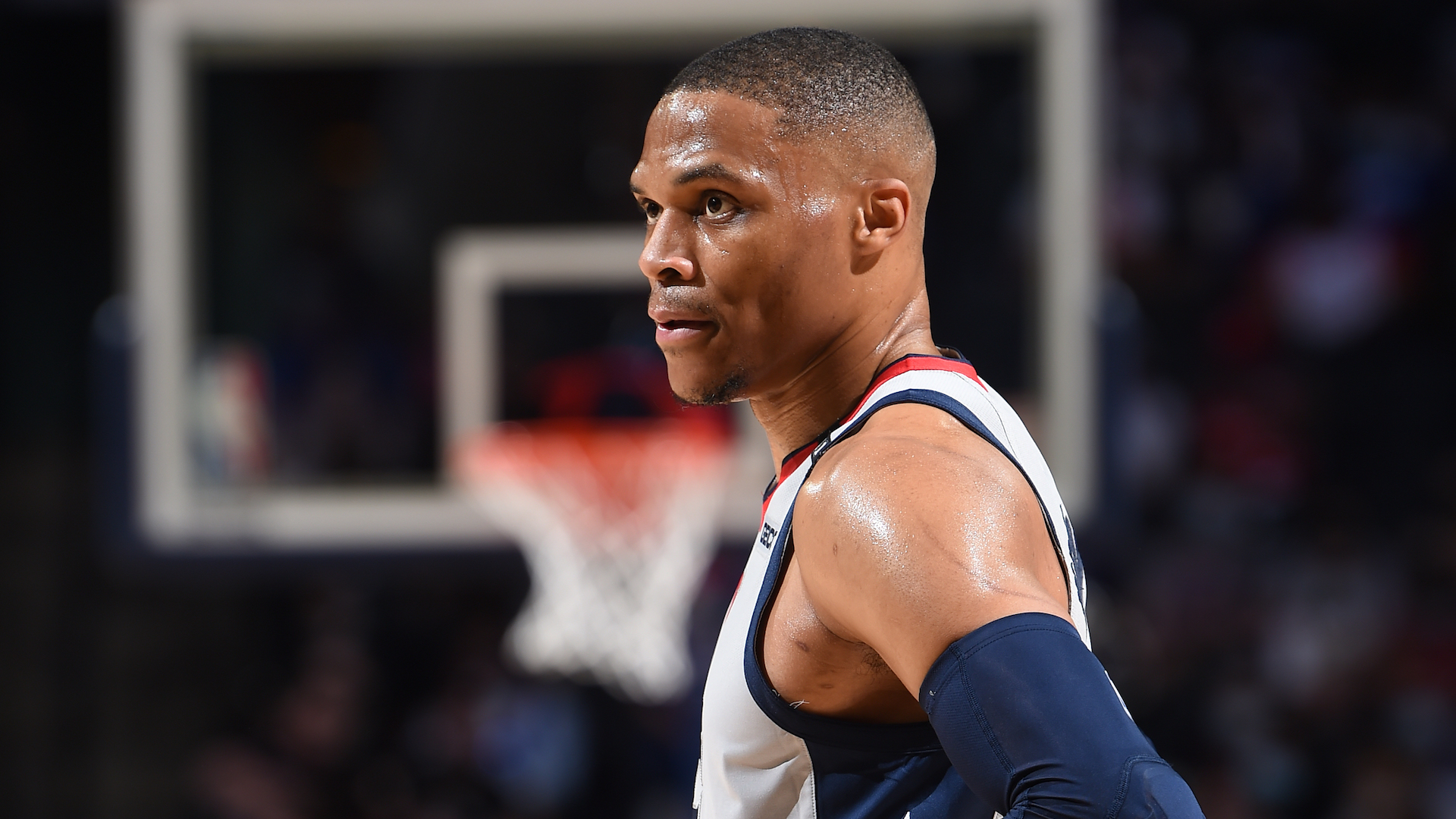 It's honestly a surprise Russell Westbrook hasn't gotten into an incident with a fan by now, considering how often he has been on the receiving end of inappropriate gestures and comments. The popcorn incident last week wasn't even his first encounter with a Sixers fan. A few years ago, a courtside Philly fan gave him the middle finger. In 2019, Westbrook also got into it with a Jazz fan after some inappropriate comments were made. Install Westbrook in this peacemaker role, and I imagine fans would not be as brazen.
Kevin Garnett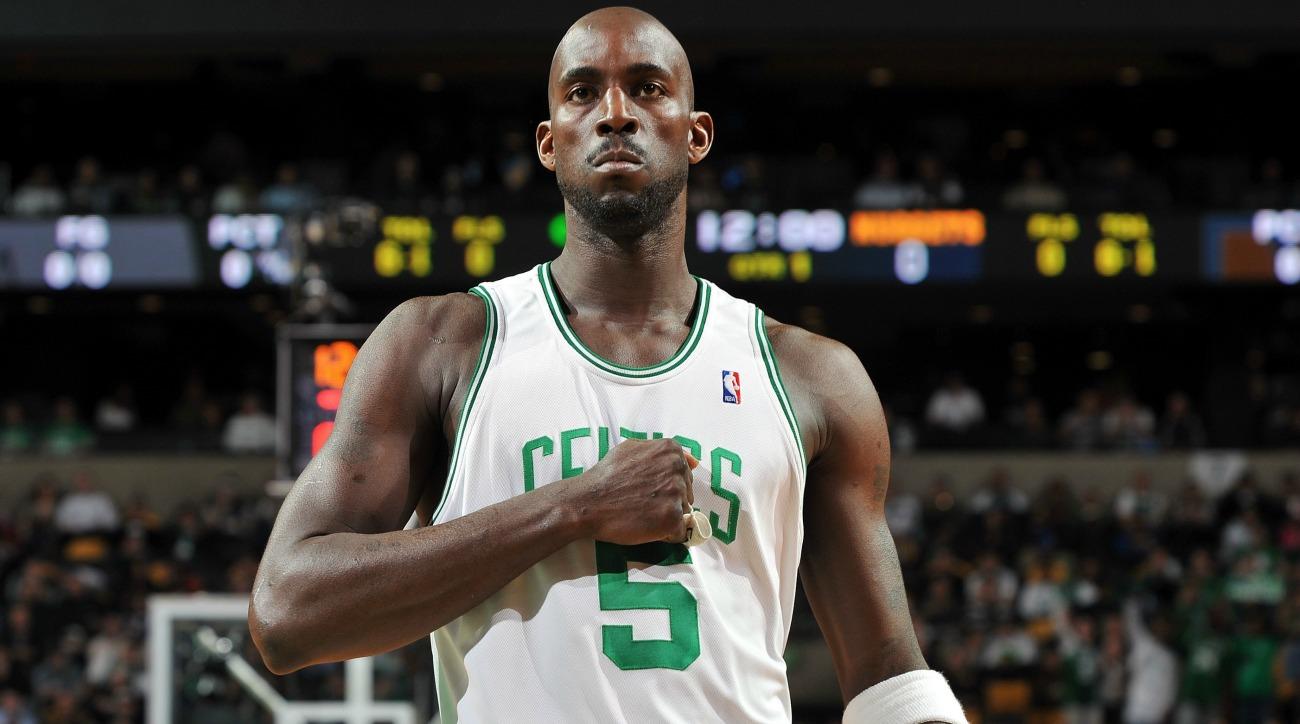 Whether it's competing on the floor or acting as himself in "Uncut Gems," no one is more locked into any role he takes on than Kevin Garnett. So we know how seriously he would take the assignment of making sure no fan gets out of line at the arena.
Steven Adams
I trust any man who regularly wears shorts and slides in the middle of winter to NBA games. It's somehow even more frightening knowing Steven Adams has his own branded slides.