Fans Support Mesut Özil as He Resigns From German Team Over Racism
In a parting letter, Özil claims criticism he faced after taking a photo with Turkish president Recep Tayyip Erdoğan exposed the racism he's been subjected to throughout his career, writing "enough is enough."
Getty
Image via Getty/Michael Regan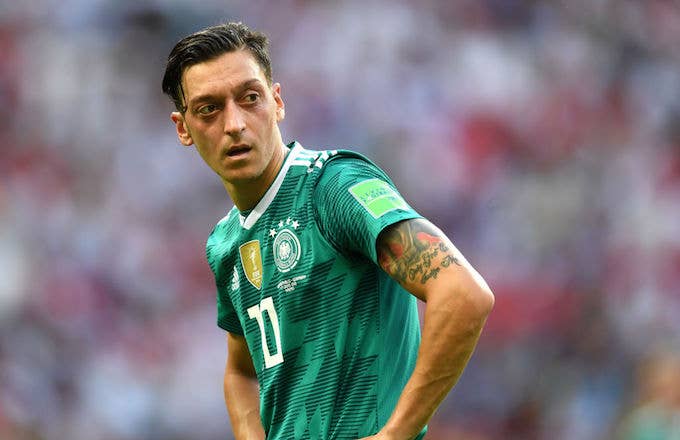 In his letter, Özil—who is of Turkish descent—says the criticism he faced after taking a photo with Turkish president Recep Tayyip Erdoğan exposed the racism he's been subjected to throughout his career, writing "enough is enough."
"Having a picture with President Erdogan wasn't about politics or elections, it was about me respecting the highest office in my family's country," the three-time World Cup player wrote, defending the photo.
Here's an excerpt of his statement:



I was called by Bernd Hozhauer (a German politician) a "goat-fucker" because of my picture with President Erdogan and my Turkish background. Futhermore, Werner Steer (Chief of German Theatre) told me to "piss off to Anatolia," a place in Turkey where many immigrants are based.



These people have used my picture with President Erdgoan as an opportunity to express their previously hidden racist tendencies, and this is dangerous for society. They are not better than the German fan who told me after the game against Sweden ..."Ozil, fuck off you Turkish shit, piss off you Turkish pig."
Toward the end of his letter, Özil also claims he's been a scapegoat for the German team after their disappointing showing in the 2018 World Cup. He scored a goal in the 2014 competition, when Germany won.  
"This decision has been extremely difficult to make because I have always given everything for my teammates, the coaching staff and the good people of Germany," he wrote. "But when high-ranking DFB officials treat me as they did, disrespect my Turkish roots and selfishly turn me into political propaganda, then enough is enough. That is not why I play football, and I will not sit back and do nothing about it. Racism should never, ever be accepted."
 The German Football Association, or DFB, responded to the player's letter saying it is committed to "diversity."
German Chancellor Angela Merkel is one of many high-ranking officials/famous people to react to Özil's departure. Fans are also supporting the player's decision online. Check out some of the reactions below.