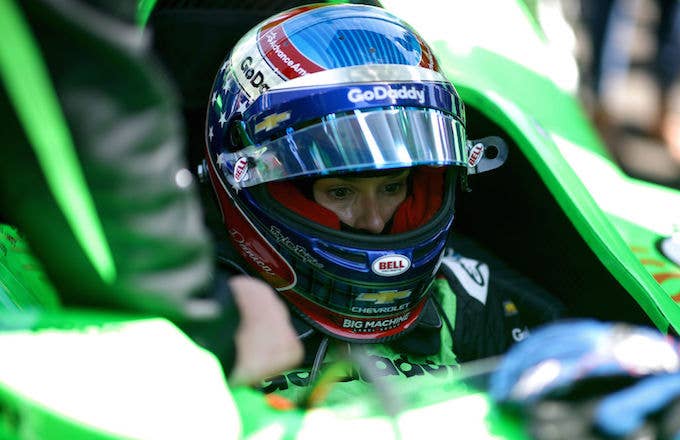 During the final professional race of her career, Danica Patrick crashed on the 68th lap of the 2018 Indianapolis 500 on Sunday at Indianapolis Motor Speedway. The crash is a disappointment for Patrick, who is best known for being the only woman ever to win an IndyCar Series race.
The crash finished Patrick's worst race in eight Indianapolis 500 competitions. She is the highest-finishing woman in the Indianapolis 500, third in 2009, and the Daytona 500, eighth in 2013, according to ESPN.
Footage shows Patrick losing control of her car during a turn, and slamming into a wall. She held 16th place before the crash. "I'm a little sad. I will say that I'm for sure very grateful for everybody and for being able to finish it up like I wanted to," Patrick told ESPN. "There still were a lot of great moments this month, a lot of great moments this year ... Today was really disappointing for what we were hoping for and what you want for your last race, but I'm grateful for all of it."
Patrick announced she would be retiring from her full-time racing career in November 2017. She competed in only two races in 2018, the Daytona 500 and the Indianapolis 500, and crashed out of both, finishing in 35th and 30th respectively. "It was definitely not a great ending, but I said before I came here that I feel like if it was a complete disaster—as not in the ballpark at all and look silly—then people may remember that and if I win people will remember that," Patrick said.
Patrick is famous for breaking down gender barriers in the world of competitive racing. Her career consists of 116 career starts in IndyCar and 191 starts in NASCAR with seven top-10 finishes, according to ESPN. "I wouldn't want it to end any year like that but of course it being the last one, it makes it a lot worse," Patrick said. "I did have some good moments here this month, and I won't forget that either."