Why Trading Kristaps Porzingis Wasn't a Bad Move for the Knicks
The Knicks traded a fan favorite in a very unpopular move. We're here to tell you the reasons why it actually made sense.
USA Today Sports
Mar 13, 2018; New York, NY, USA; New York Knicks injured power forward Kristaps Porzingis (6) waves to the fans before a game against the Dallas Mavericks at Madison Square Garden. Mandatory Credit: Brad Penner-USA TODAY Sports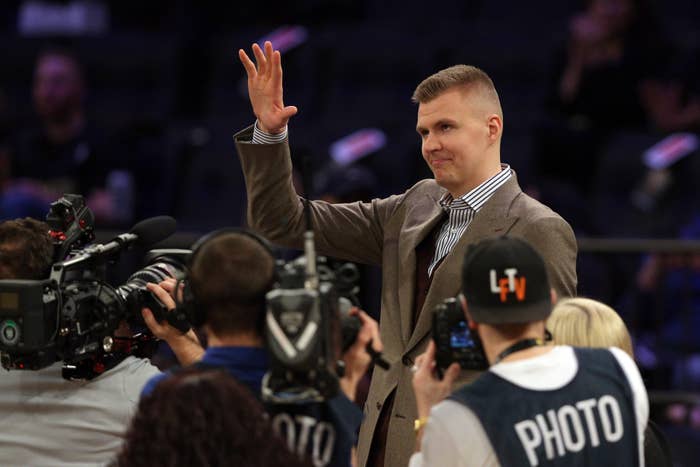 Knicks fans never get what they want, and for almost all of them Thursday, the end of the Kristaps Porzingis era was another low blow from the team they have sullenly supported through perpetual malaise.
The Unicorn's trade to the Dallas Mavericks shook the NBA, and Knicks fans got all in their feelings when the news broke. That shouldn't have come as a surprise, considering how much of a fan favorite Porzingis had become—at 7'3", with surprising athleticism and a personality to match his cartoonish frame, it didn't take the Latvian long to endear himself to New York's passionate fan base. He was an unknown when he was selected fourth overall in 2015 and booed on draft night in Brooklyn, but quickly blossomed into an All-Star who was destined to be the next Knicks superstar. More than anything, he represented hope—basically the only thing Knicks fans have been able to hang their hats on for the last 20 years. Porzingis was destined to be the Knicks' savior—he would attract top-tier talent to play alongside him and eventually do what Carmelo Anthony and Patrick Ewing were never able to. He showed that the organization, despite all its missteps over the years, could actually get it right with a player and develop him.  
That lasted less than four seasons, and Knicks fans feel betrayed. More accurately, they're pissed, ready to burn down Madison Square Garden. To nearly all of them, it feels incredibly shortsighted that they shipped off their best, albeit injured, player for so much uncertainty. The current version of the Knicks is supposed to be rebuilding through the draft and around everyone's favorite player, KP, as he rehabs from a torn ACL. Another high lottery pick is on the way in June, thanks to another horrific season. And while Knicks fans probably experienced PTSD upon hearing the trade—taking them back to the days of Scott Layden, Isiah Thomas, and Phil Jackson sabotaging long-term success with atrocious short-term transactions—I'm here to tell you trading Porzingis wasn't a bad move. Maybe it wasn't the most prudent thing right now, and I definitely understand why Knicks fans killed them for it, but here's why I'm not piling on.
Internally, it's crazy how quickly KP went from the favorite to the most hated. It's going to be even crazier how quickly Knicks fans forget about him if that $71 million is put to good use.
While the real winner of the deal won't be known for three, four, maybe even five years, I'd contend that the Knicks have paved a quicker path to relevance and winning thanks to the mountain of cap space they cleared in Thursday's trade. By throwing in Tim Hardaway Jr., Courtney Lee, and Trey Burke in the deal with Dallas, GM Scott Perry managed to carve out $71 million in cap space this off-season so the Knicks can make serious, serious offers to not one but two of the most attractive free agents come July. And if you didn't already know, this summer's crop of free agents is loaded.
The options are stupefying, with Kevin Durant, Kyrie Irving, Kawhi Leonard, DeMarcus Cousins, Jimmy Butler, Klay Thompson, and Kemba Walker (plus a few more All-Star-caliber players) all potentially available. Maybe the Knicks know something the rest of the league doesn't and have some kind of under-the-table deal worked out to bring in a Kyrie and/or a KD (insert kramer-mind-blown.gif) and that's why KP was traded in what felt like a matter of minutes. How could you turn down a deal to ship out a disgruntled player who requested a trade and two terrible contracts (Hardaway and Lee) that netted them the chance to pursue much, much better players?
Maybe they can attract a Butler and Cousins, which would be a massive upgrade over what they had 24 hours ago. Even if the Knicks signed only one of the guys mentioned above, I'd make the case they're going to be the winners of this trade. Because at that point, with June's high lottery draft pick, impressive rookie Kevin Knox, and a TBD free agent (not to mention extra future first-round picks acquired from Dallas in Thursday's trade), I'd argue the Knicks, post-KP, are much closer to being a legit team in the East with that core than one made up of a rehabbing Porzingis, Knox, Hardaway, and June's pick. A healthy Porzingis was maybe the eighth-best free agent available (at best) this summer. Post-injury? Maybe he's top 15. Plus, let's not forget his history of other injuries (back, ankle, shoulder, etc.). Landing any of the above names would immediately calm crazed Knicks fans. And if they somehow attracted two top-tier free agents? It would be a grand slam for management. KP who?!?
Haters of the trade can easily counter: When was the last time the Knicks got a high-level free agent? When they tried to pull this off in 2010, all they ended up with was Amar'e Stoudemire. So they'd be right. But when a team has as much money as the Knicks to throw around, how can they not attract someone—anyone—to play for them? Cousins is looking to recoup money after taking a one-year deal with the Warriors. I know he's not sexy, but don't sleep on Tobias Harris of the Clippers. Hell, get Nikola Vucevic from the Magic, who is an underrated, skilled seven-footer, and another high-level guard and the roster is instantly upgraded over what it just was. And if you can only get one, save some of the money for later.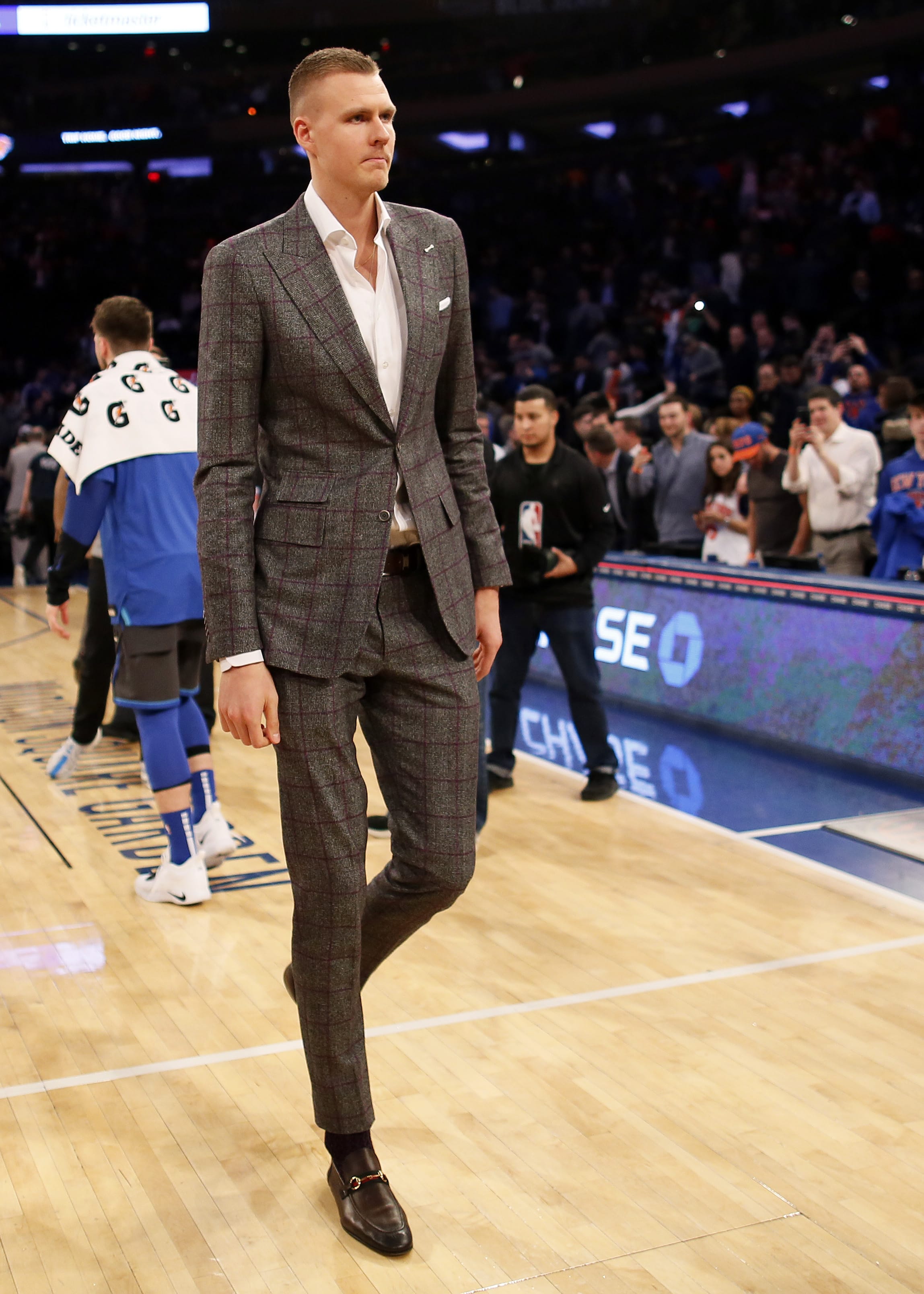 I can't fight haters of the trade on how bad it looks—that the Knicks were foolish not to shop Porzingis around way longer than it seems they did. It felt like we went from a random Woj bomb about rumors of Porzingis wanting out of New York Thursday afternoon to a confirmation of the trade in minutes. It was crazy and surreal, and completely blindsided so many NBA observers. The rationale: Porzingis wasn't on board with management's direction. Plenty of Knicks fans will laugh at that, considering Porzingis played for four head coaches. Shipping KP to the Mavericks seven days before the trade deadline only for Dennis Smith Jr., DeAndre Jordan, Wesley Matthews, and two future first-round picks (one that's unprotected) felt deflating. For many, it felt treasonous. Doesn't KP deserve a bigger return? Shouldn't they have called the Pelicans to see what Anthony Davis' deal was?
Yes, they should have, and maybe we'll find out they did. And you can make the argument that an injured KP doesn't deserve a bigger return. Maybe the Knicks could've played hardball and gotten more from another squad, but let's not forget Porzingis isn't playing again until next October, most likely. At only 23, he should have his best days ahead of him, but I have some reservations that Porzingis is going to magically be the player he was before the ACL tear when there is no track record of a player of his height and athleticism returning to form after such a devastating injury. Also, let's not gloss over the fact he was a restricted free agent this summer and probably would have been aggressive in getting out of town. Sure, the Knicks could have matched any offer, but they'd be bringing back somebody who didn't really want to be there in the first place. So, really, why? Either you want to be with somebody or you don't, and Porzingis let it be known he was done with the Knicks. Wouldn't it be better to pair Knox and whoever is drafted with somebody who wants to be at the Garden and isn't going to continue beefing with the organization? And, real talk, we can have a whole other argument about whether Porzingis is even good enough to demand being traded after two and a half years of service. What has he done in the NBA to pull an Anthony Davis?
So kill the trade, kill me for not killing it, slander me for being cool with it. The Knicks cleared cap space—a ton of it—Thursday, so how is that a bad thing? Internally, it's crazy how quickly KP went from the favorite to the most hated. It's going to be even crazier how quickly Knicks fans forget about him if that $71 million is put to good use.