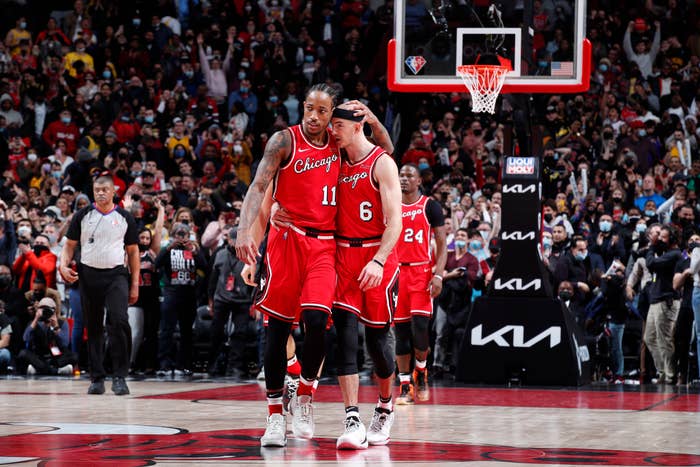 As Chicago began to revamp its roster, starting at last season's trade deadline, the head-scratching decisions practically negated the no-brainers. 
Trading for Nikola Vučević surprised many NBA observers last March. Lonzo Ball, acquired via a sign-and-trade during free agency this summer, made a ton of sense, since Chicago needed a dynamic, play-making point guard, and Ball had been linked to the Bulls for months beforehand. There was no knocking the signing of Alex Caruso, with the Bulls stealing him from the Lakers. But DeMar DeRozan? At that money? Teamed up with those guys? Taking away touches from the team's burgeoning superstar? As the frenzy of free agency was winding down this past August, no signing elicited more moans and groans than Chicago's inking of the mid-range specialist. 
Heading into the 2021-22 season, the Bulls had certainly upgraded their talent after they flirted with making the Play-In Tournament last spring, thanks largely to the brilliance of Zach LaVine. But the general reaction to the roster Chicago's front office assembled, with all those disparate pieces costing an eye-popping amount of money, was meh. 
"It's going to be an experiment," Shaquille O'Neal, the Hall of Fame center and Inside the NBA co-star, told Complex Sports in September. "So hopefully the experiment does pretty good, but you ain't going to win a championship with that team."
Nobody's ready to crown Chicago champions before Christmas, but with a 19-10 record after back-to-back wins over the Lakers and Rockets at home which currently puts the Bulls in second-place in the East, let's give props where props are due. 
The Bulls have defied expectations more than a quarter of the way through the season and are easily the most surprising team in the East not named the Cavaliers. Chicago has jockeyed with Brooklyn, Miami, and Milwaukee for the honors of owning the East's best record, reeled off a number of impressive wins, and has the look of a team that isn't just going to end the franchise's four-year playoff drought—it could make some serious noise in April and May. 
"When you try and take as much of a 30,000-foot view of a very competitive Eastern Conference as you can, a reasonable ceiling would be a competitive second-round series against a team seeded higher than them," says Adam Amin, the Bulls' play-by-play announcer for NBC Sports Chicago. "Now, could they win that series? Sure."
Hey, if the Hawks made a run to the Eastern Conference Finals last spring, why can't the Bulls do it this spring? 
Featuring a top 10 net rating (3.3, fifth-best in the league as of Tuesday) and an even better defense—Chicago finished 12th in defensive rating last season—the Bulls are a legit squad despite the reservations of so many before the season tipped. The Athletic's John Hollinger, the analytically savvy former executive with the Memphis Grizzlies, issued a mea culpa in November for his gloomy preseason projection. But it was a sentiment shared by the overwhelming majority of NBA observers, who never thought Chicago would resemble a contender. Oddsmakers pegged the Bulls' over/under at 42.5 wins, good enough for a hypothetical eighth-place finish in the East. 
"If you want to debate DeMar DeRozan's contract value, Lonzo Ball's contract value, Alex Caruso's contract value, and whether Zach LaVine's a max player, those are perfectly fine discussions to have. But on the basketball side of things, though, I was fairly surprised that people didn't like the mix." — Adam Amin
Turns out Chicago deserved way more respect than it received. Considering it boasts three players who easily rank among the NBA's 50 best—LaVine, DeRozan, and Vučević—how did NBA observers largely dismiss Chicago's chances of being anything more than a fringe playoff team? The Bucks, Heat, Jazz, Lakers, Nets, Suns, Sixers, and Warriors are the other teams that entered the season featuring three players in our top 50. Every one of those squads had a preseason over/under of at least 48.5 wins.
Having two bona fide closers in LaVine—who is eligible for a massive max extension this summer—and DeRozan is a luxury few teams can match. It feels like they take turns hitting the biggest shot from night to night. Meanwhile, Lakers fans lament that the franchise let Caruso waltz to Chicago, while Ball is hitting a career-high clip from beyond the arc. Question the merits of spending nearly $200 million on Ball, Caruso, and DeRozan over the long haul all you want—plus giving up two future first-round picks for Vučević—but you can't argue with the return so far.
"If you want to debate DeMar DeRozan's contract value, Lonzo Ball's contract value, Alex Caruso's contract value, and whether Zach LaVine's a max player, those are perfectly fine discussions to have," says Amin. "But on the basketball side of things, though, I was fairly surprised that people didn't like the mix."
Perhaps an underestimated element, Amin points out that the Bulls' top players each have a chip on their shoulder, and that could low-key be a reason why Chicago jumped out to such a good start. While Ball, the No. 2 pick in the 2018 draft, is unquestionably talented, he's playing with his third team in five seasons. Was Caruso's ascent from a two-way player to an in-demand free agent a product of playing alongside the brilliant LeBron James and Anthony Davis? Vučević is a gifted big man and two-time All-Star who had spent eight and a half seasons playing in relative anonymity in Orlando. Sure, DeRozan, a four-time All-Star and master of the pump fake, is a known commodity. But his supreme skills below the 3-point line have been panned since the modern game values threes and layups over 17-foot jumpers. Despite owning a higher assist percentage than Ball so far this season, DeRozan still carries a stigma of being a ball-stopper that hasn't been true since his early days in Toronto. 
The ride, of course, hasn't been without its bumps. Two games were postponed last week as COVID rampaged through the Bulls organization, and Patrick Williams—the highly regarded second-year power forward who was taken with the No. 4 selection in the 2020 NBA Draft and turned into a helluva defensive player—suffered a dislocated wrist in late October that's expected to keep him out for the rest of the regular season. Caruso's dealt with a hamstring injury, while Vučević has struggled offensively. And if you're keeping score at home, Chicago was slapped on the wrist by the NBA after the league ruled the franchise had illegal contact/conversations with Ball before free agency began. The tampering charge cost the Bulls a future second-round pick. 
Chicago fans don't care about that. The franchise has some juice for the first time since the heyday of Derrick Rose a decade ago. Health and luck haven't necessarily been on its side recently, but DeRozan's been earning "MVP" chants at the United Center, and the deeper we get into the season, the more prognosticators will have to follow Hollinger's lead and soon enough eat some crow. 
"Are they front-runners in the East? I'm not willing to say that," says Amin. "But the Bulls are part of the mix."