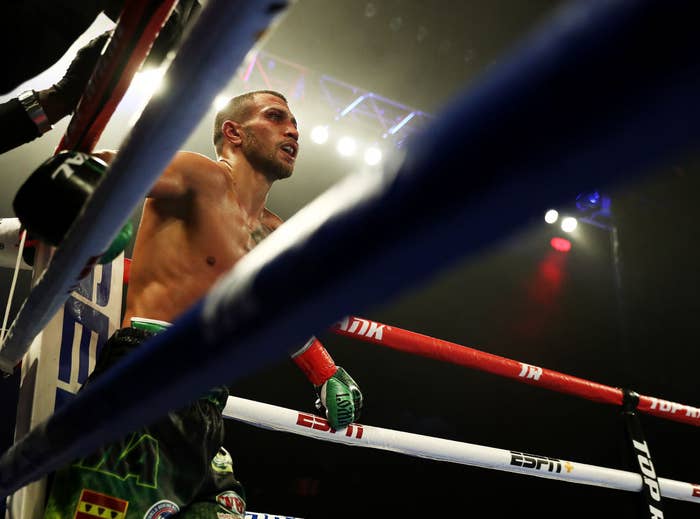 Talk all the trash you want about the world's best boxer, but he isn't going to respond. Part of that has to do with a language barrier Vasiliy Lomachenko is quickly overcoming, but mostly it's because that's how business is conducted back home.
"The way I was raised and where I live, everything you say, you have to prove," says the lightweight champion, who hails from Ukraine. "Here, it goes into the air."
The pound-for-pound best boxer in the world (depending on whose mythical rankings you subscribe to) is just fine letting his fists do all the talking. The next chance we get to see the fastest man in boxing history to become a world champion is Friday night—that's when Lomachenko will put his WBA and WBO lightweight belts on the line against the UK's Anthony Crolla. Real talk, it should be light work for Lomachenko (12-1, 9 KOs) since Crolla (34-6-3, 13 KOs) has never faced anyone of the champ's caliber. Crolla's been doing some talking, though, saying Lomachenko has shown signs of vulnerability. But that's nothing compared to what you'd hear from one of boxing's most notorious trash talkers, the man Lomachenko would love to travel back in time to fight.
"It would be a very interesting fight with Floyd Mayweather. I want to check my skills," says Lomachenko.
Debating what would happen in that mythical matchup between two all-time greats from different divisions is part of boxing's charm. So before his showdown at Staples Center (11 p.m. ET, ESPN+), we talked with Lomachenko about some hypotheticals, including a mythical fight with Floyd, why he wants to fight top 10 pound-for-pounder Mikey Garcia next, and why he doesn't want to hear Teofimo Lopez's name.
(This interview has been edited and condensed for clarity.)
Anthony Crolla has said he's been studying your tape, and noticed in recent fights with Jose Pedraza and Jorge Linares that you took more shots than we've normally seen you take. How does it feel to hear him say that?
It's just his opinion. He's not right. What he said, I don't care. I'm a three-time world champion. I'm the fastest [to become a] champion in the world. You can't compare how many punches or how many punches you [threw]. Results—that's what talks. So we'll see.
How many people recognize you today, compared to a few years ago?
Some people who follow boxing, they of course recognize me. But it's not often. I'm more popular in Ukraine [laughs].
Many consider you the best pound-for-pound boxer in the world. Why are you?
I want to be No. 1 pound-for-pound, but now I can't answer because I'm too shy to say.
Teofimo Lopez is not a name. Why do a lot of people talk about Teofimo Lopez, because he said a couple of stupid things about me? That's why people know about him. But he's never fought with the top fighters. That's why I don't like trash talking.
You're in the middle of cementing yourself as an all-time great as a professional, but you had a legendary amateur career that few really know about. How proud are you of that amateur career?
Oh, I'm very proud. I was two times an Olympic [champion]. It was my childhood goal. My father gave me this result. Without him, I couldn't do this. Now it's only a memory.
Are you more proud of what you did as an amateur or as a professional?
You can't compare. Not a single title in professional [boxing] would give me so much joy I got the first time becoming an Olympic champion. What I want to do in my boxing career is I want to put my name in the history books.
Do you prefer professional boxing to amateur boxing?
Yes and no. [Money] is only second or third on my mind. I like professional boxing because you have 12 rounds, three minutes [each], you have a very long time to introduce yourself and show your skill.
When you step into the ring, do you feel pressure to keep collecting belts, or to maintain your pound-for-pound status, or to entertain people?
I don't feel pressure. I'm nervous a little bit—it's an athlete's nervousness. I don't know how to explain it. It's not pressure, you know. I'm more nervous about my result. I don't like losing. I don't want to lose. I've lost only two times during my boxing career, so that's why I'm nervous before the fight, a little bit.
What motivates you?
Boxing history.
What kind of history do you want to make? What is the big goal you're trying to achieve?
Unify titles, of course, and beat a couple of big names. And of course show very high-level, top boxing skill. That's it.
People often question your weight class. Are you best suited for 135 pounds, or is 130 your ideal weight?
I think my best weight class is 130, but there's better competition [at 135]. I can do 130 or 135, and maybe in one or two years I can go up to 140, but it depends on names.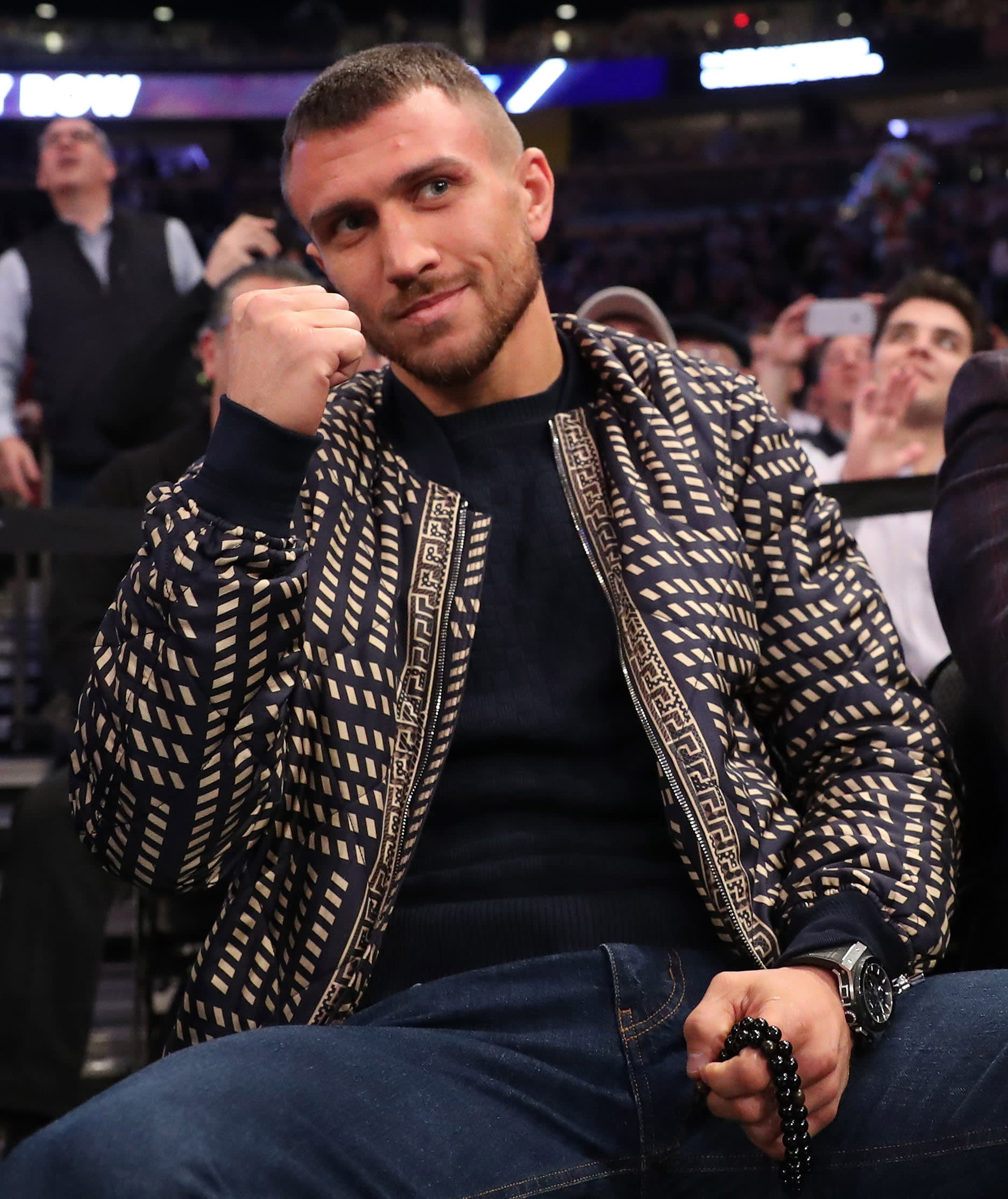 Boxing observers and fans say that you need to start pursuing more legacy-building fights. Will that be part of your strategy going forward in 2019 and into 2020?
I agree. I want fights with top fighters. We have a couple of names, three or four names in my weight division or down a category. It depends on the promoters.
You've mentioned Mikey Garcia and Gervonta Davis as targets, and Teofimo Lopez is mentioned a lot, as one of the up and coming guys in your division.
Teofimo Lopez is not a name. Why do a lot of people talk about Teofimo Lopez, because he said a couple of stupid things about me? That's why people know about him. But he's never fought with the top fighters. That's why I don't like trash talking. We organize this fight and I school this guy, and everybody says, "Who is this guy?" He's a nobody. Before, people all around are talking about Teofimo Lopez. But after the fight, nobody would talk about him.
Of the names we've mentioned, is there one person you really want this year that can get made?
I want Mikey Garcia. He's one of the best pound-for-pound boxers. He's still in my weight classes, he still holds a title, and that's why it's interesting. I respect him. I want this fight; it will be a competition. If I organized the fight, I would call up Mikey and say, "Hey, let's do this next week." It doesn't depend on me. I want this. I always tell my manager, my promoter, to organize a big fight for me.
The business of boxing is very frustrating for fans and those who follow it. How frustrating is it for you?
Of course I don't like it, but I understand it. After a couple of years in professional boxing, I've changed my mind. Now I understand that it's a business and you need to wait a little. I hope in the future I will have very big fights [against] very big names.
What does it feel like to deliver a knockout?
I'm happy because I won this fight, but I also don't like it because I understand this guy has a family; a mother, a  father. Of course, people who follow boxing are happy, too. But they never think about his family.
Would you rather knock somebody out with a body punch or a shot to the head?
Body, because it's more comfortable for me. It's pain for a few minutes. It's not as big of a punishment to the body.
Is there one fighter in history you really would have loved to face?
Maybe Muhammad Ali.
Muhammad was a little bigger than you.
You talking about my weight class? You asked me about history.
You're right. That was a broad question.
Maybe Mike Tyson. But for me, it would be a very interesting fight with Floyd Mayweather. I want to check my skills. When he was younger, I loved his style. His style was very smart. He had very big, interesting combinations. He had power. Good defense. But of course, he grew up and changed his business.
Have you had a chance to talk to Floyd?
Never.
What did you admire most about Floyd?
Of course his defense. He had the most skillful defense.