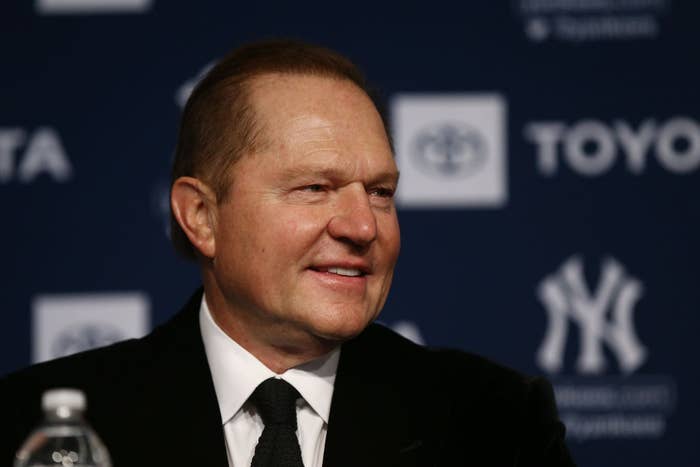 On an album that will largely serve as an afterthought in the catalog of (arguably) the greatest rapper of all time, there was a taunt that caused plenty of sports fans to perk up when they heard it.  
In the first verse of the eighth track of his 2013 offering Magna Carter Holy Grail, JAY-Z dropped two lines that perfectly fit the ethos of rap where bragging and boasting forever remains standard operating procedure.
Scott Boras, you over baby
Robinson Cano, you coming with me 
Six years later, would you like to take that one back, Hov?
If you haven't been paying close attention to baseball's hot stove this winter, then you might not know that the 67-year-old Boras, for years considered the most powerful and influential agent in baseball, is the furthest thing from over. In fact, he's thriving and on his way to consummating a staggering amount of free agent contracts just this off-season that JAY-Z and company dreamed would be theirs instead of Boras's earlier this decade.
Remembering back to the days when Roc Nation Sports launched in 2013, in a partnership with CAA, it signaled a new way of doing business in the world of player representation. Roc Nation Sports was an exclusive club for the ultra cool kids and Hova couldn't pass up the opportunity to flex on a track (and later perform it live) how his fledgling company convinced the 30-year-old superstar second baseman from the Yankees to be its first client. To do that, Cano had to sever ties with Boras—the guy that always got his clients the biggest deals.
Cano's mega-pact with the Mariners for 10 years and $240 million announced that December was staggering and served as a Bat Signal to the baseball world that the stodgy white guy, known for presenting binders filled with exhaustive statistical analysis and other pertinent information on his players to prospective teams, wasn't the only one out there that could get guys God-level money.
Others like Yankees pitcher CC Sabathia and hyped Cuban prospect Rusney Castillo (look him up if unfamiliar) soon signed with the Roc. It was just the beginning for them while Boras continued to do his thing. He's lost his fair share of prominent clients over the years (like Alex Rodriguez and Nolan Arenado, to name a few) and he wasn't the agent responsible for Mike Trout's record-breaking $426 million extension with the Angels this past spring or Manny Machado's $300 million free agent deal with Padres last off-season.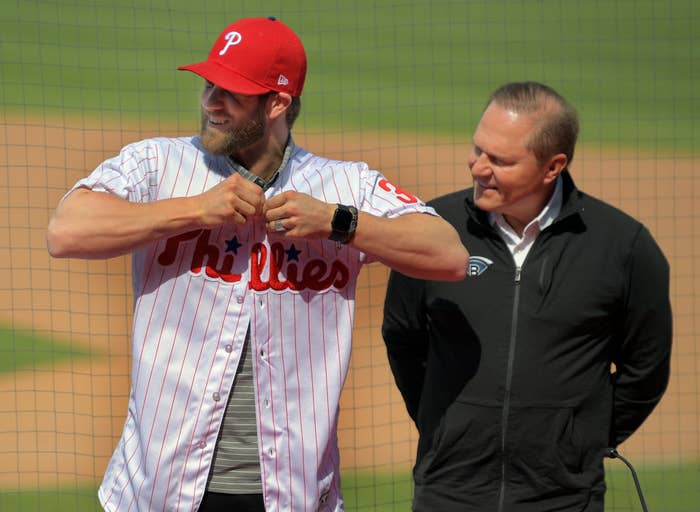 But six years after JAY forecast his demise, it's Boras who is laughing all the way to the bank. An off-season after he got Bryce Harper $330 million from the Phillies, six of Boras's top seven free agents this winter have collectively signed deals totaling over $1 billion. Yeah, you read that right. One. Billion. And with a 5 percent commission on all negotiated deals, Boras stands to make over $50 million on the six deals he's cemented already with a seventh coming soon. 
For those keeping score at home, Boras negotiated the deals for Gerrit Cole: 9 years, $324 million with the Yankees; Stephen Strasburg: 7 years, $245 million with the Nationals; Anthony Rendon: 7 years, $245 million with the Angels; Hyun-Jin Ryu: 4 years, $80 million with the Blue Jays; Dallas Keuchel: 3 years, $55 million with the White Sox; and Mike Moustakas: 4 years, $64 million with the Reds. Those six contracts equal $1.0135 billion in guaranteed money. He still has to find a landing place for slugger Nicholas Castellanos. 
Our attempts to reach Boras for comment were unsuccessful.
So Scott Boras ain't over, baby. He owned free agency. And we point all of this out not to add insult to injury and pile on Roc Nation Sports because we have zero reason to do that. But it's funny to look back on a "take" that's aged terribly. While Roc Nation Sports doesn't have the baseball roster Boras does (Cano and his Mets teammate Yoenis Cespedes remain its two most high profile baseball players), the agency reps stars like Kyrie Irving, Spencer Dinwiddie, Saquon Barkley, Todd Gurley, Juju Smith-Schuster, Melvin Ingram, and others from the world of soccer, boxing, and sports media.
Those guys have and will continue to rep Roc Nation Sports with pride, sign lucrative deals, and attract plenty of others to join them. The agency and JAY-Z, of course, will be just fine. But when Cole signed his gargantuan deal with the Yankees (thank you, Hal Steinbrenner) we were reminded of Hov's boast. And when one of the GOATs—ballin' repeatedly, highlights on SportsCenter—misses a shot like that we wouldn't be doing our job if we didn't call it out.