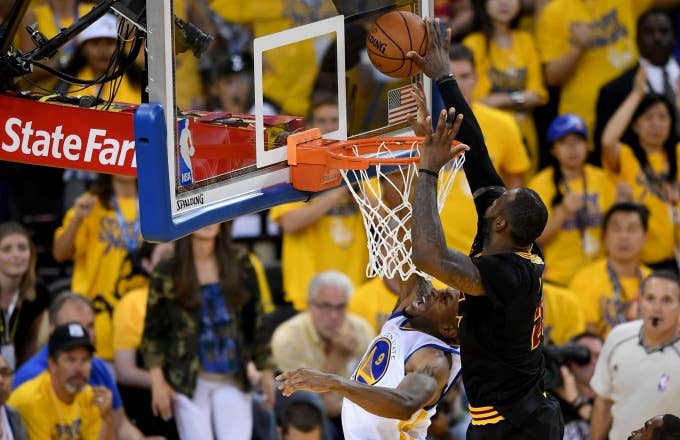 We're hoping the NBA returns by the summer and a proper champion can be crowned, but while we wait things out we're looking to NBATV On Demand to provide us with a basketball fix of the classic variety. 
Fans can access some of the greatest NBA Finals games over the past 10 years to pass the time and we highlighted 10 that were simply unforgettable and more than worthy of a re-watch. One quick warning that just about every NBA fan will understand: A lot of these games feature LeBron James because The King went on an unprecedented run of making eight-straight NBA Finals from the Eastern Conference. But only the most miserable LeBron hater would object to watching one of the GOATs do his thing on the game's biggest stage. 
We can debate which game and which individual performance of the 10 highlighted below is worthy of the highest praise, but for now enjoy the luxury of reminiscing about the better times and some of the best basketball we've seen over the past decade.
---
Game 7 2016 Finals — Cavaliers 93, Warriors 89
For my money, there aren't too many better basketball games you could watch. Not only was an NBA title on the line, but it capped off the greatest comeback in NBA Finals history. LeBron James sealed his legacy, which was already likely sealed. This was like the cherry on top. Kyrie Irving cemented himself as one of the best young players in the league and the Cavs pulled off something that nobody thought they could do. Game 7 of this series was all over the place. Draymond Green couldn't miss from deep in the first half and then the Warriors suddenly went very, very cold late in the fourth quarter. You could argue that this game gave us two of the most iconic moments in league history, with Kyrie's shot and LeBron's block. — ZF
Game 2 2001 Finals — Mavericks 95, Heat 93
The Mavericks lose this game and they're staring at a 2-0 hole. Instead, Dirk Nowitzki led a furious fourth quarter comeback from 15 down and Dallas pulled out an improbable win on the road. Dealing with an injured left-hand, Nowitzki took the Mavericks on his back in the final frame, scoring the Mavs' final 9 points to finish with 24. As much credit as Dirk is due, the Dallas defense deserves just as much. Despite Dwyane Wade going off for 26 points, Dallas held the Heat to one field goal over the game's final 7:15 in one of the most impressive stands in Finals history. — AC
Game 5 2016 Finals — Cavaliers 112, Warriors 97
Folks, we're back at the 2016 NBA Finals. The series was so epic that it gets two games on this list. While it didn't have the drama of Game 7 because of the stakes, we did see Kyrie and LeBron go into Oakland and both drop 41 on the Warriors to avoid elimination. It's the game that really gave the Cavs hope to comeback from a 3-1 hole. Yes, Draymond Green was suspended, but the game was still epic on many levels with Klay Thompson going wild for 37 points and six makes from deep. The Warriors were ready to celebrate a championship, but LeBron and Kyrie had other things in mind, hitting a series of insane shots down the stretch to send things back to Cleveland. A truly special performance by one of the best duos in recent NBA history. — ZF
Game 7 2010 Finals - Lakers 83, Celtics 79 
It's jarring looking at the final score of this game compared to the brand of basketball we currently enjoy, but don't let the 162 combined points fool you. I mean, what's more dramatic than a winner-take-all Finals game between the NBA's most storied rivals? This one lived up to the hype as the Lakers rallied in the fourth quarter led by—who else?—Kobe Byrant who won his fifth and final title. The Celtics played ferocious defense and once enjoyed a 13-point lead. But the Finals MVP pulled it out with 24 points despite a putrid night shooting—Bryant would later admit he "was on E...really, really tired." Ron Artest added 20 (and gave an incredible post-game speech), Phil Jackson won his 11th ring (moving him past Red Auerbach in the record books), and the Lakers became the first team to rally from a 3-2 deficit in the Finals since the Rockets in 1994.  — AC
Game 3 2017 Finals — Warriors 118, Cavaliers 113
As a Cavs fan, this one is tough to write about. I still think the 2017 squad was better than the team that won the title the year before, but, well, the Warriors added Kevin Durant. It's about that simple. In this game, KD shut a whole lot of people up, especially when he dotted a deep ball in LeBron's eye to seal the game. I remember the sinking feeling of him hitting that shot. It's one of those career-defining moments and for KD, it sealed him getting Finals MVP for the series. — ZF
Game 5 2019 Finals — Warriors 106, Raptors 105
Everyone's going to remember this one because Kevin Durant's Achilles snapped in the second quarter. In his first action since being sideline for a month with a severe calf strain, KD was cooking, scoring 11 points in 12 minutes and lifting the spirits of the severely banged up defending champs who were on life support heading into this one. Then Durant went down, the Warriors looked like someone just ran over their dog, and we all thought it was goodnight for Golden State. What we should never forget is how the Warriors' core—Steph Curry, Klay Thompson, and Draymond Green—rallied after watching Durant hobble to the locker room and stole a win from the Raptors who were mere minutes from celebrating their first NBA title in a raucous environment in Toronto. Curry had 31, Thompson had 26, and Green messed around and almost finished with a triple-double. Golden State's run at a three-peat ended a few days later, but the last stand of the Warriors dynasty was something special as the Splash Brothers knocked down three straight 3-pointers and rallied from a 6-point deficit over the game's final 3 and a half minutes. — AC
Game 6 2013 NBA Finals — Heat 103, Spurs 100 OT
How could we not include the Ray Allen shot? One of the best NBA Finals ever peaked in Game 6 when the Spurs were on the verge of winning another championship. Chris Bosh and Allen had other things in mind, though. We all know the play by now, but it's still amazing to watch. Bosh with the rebound and Allen with the amazing shot from the corner to tie it. Probably the best Mike Breen "Bang" call of all-time. The Heat went on to win the series in Game 7, but everyone remembers where they were for this one. — ZF
Game 4 2000 Finals — Lakers 120, Pacers 118
One of the late, great Kobe Bryant's signature Finals games. He had actually missed Game 3 and a lot of Game 2 nursing a serious ankle injury (think about how bad it really was if Kobe had to miss a Finals game). But he brought it in a pivotal Game 4 in Indianapolis. Shaquille O'Neal fouled out in this one, so it was Kobe to the rescue. He finished with 28 points in 47 minutes, including the key basket—a putback off a Brian Shaw miss—that gave the Lakers the win and put them in a commanding 3-1 lead over the Pacers.  — AC
Game 1 2001 NBA Finals — 76ers 107, Lakers 101
This is honestly one of the first NBA games where I really remember being emotionally invested. Allen Iverson was my favorite player so I was rooting hard for him and the 76ers. I was young and thought they could make it a series, and, man, Game 1 gave me so much hope. AI going up against Kobe and Shaq, putting the team on his back, and stepping over Ty Lue in the process. If anyone says this isn't one of the best NBA games ever, they're lying to you. — ZF
Game 1 2018 Finals — Warriors 124, Cavaliers 114 OT
Tune in for the unforgettable drama of JR Smith forgetting how much time was left on the clock at the end of regulation, but revel in arguably LeBron James' most brilliant performance as he scored 51 points and nearly single-handedly pulled off a massive upset over the heavily favored Warriors. Instead, Smith committed a blunder that created a million memes when he dribbled out the clock after rebounding a missed free throw from George Hill with 4.7 seconds to go in the fourth, mistakenly thinking Cleveland had the lead when the game was actually tied. In OT, it all went to hell for the Cavs who wasted a performance for the ages from LeBron. "I don't know what was going through JR's head," Kevin Durant said after the game. "He made a great rebound and gave them an opportunity to win the basketball game." Except he didn't, really. The opportunity for the Cavaliers to make it an interesting series with the odds stacked against them evaporated as Smith dribbled out the clock. — AC